Occupy The Throne 2.21.13: Welcome To The Rousey Show
February 21, 2013 | Posted by
Ronda The Ring Leader
Jeremy Lambert: The UFC makes history this weekend when Ronda Rousey and Liz Carmouche become the first female fighters to ever step into the octagon. Not only are they the first female fighters to fight in the UFC, but they'll be in the main event over the likes of former champions and future hall of famers.
Women's MMA isn't new, but for years Dana White was gun shy on allowing women to step into the cage with him as the promoter. That all changed last year when Rousey became the biggest female star since Gina Carano and the only relevant thing about Strikeforce during their final year of existence.
Whether or not Women's MMA sticks around in the UFC will largely depend on Rousey, as the UFC's entire marketing campaign has centered around her. While the organization has signed, and even booked, a few female fighters, there's no guarantee that they'll be around past their currently scheduled fight if things don't go well for Rousey or if she decides to leave fighting for a better opportunity.
Samer Kadi: On the short run, the future of women's MMA is safe in the UFC. Even in the disastrous event of a Rousey loss this weekend, Zuffa simply will not do away with a newly established division – not so soon anyway. However, for the sake of momentum, it is absolutely vital for Rousey to emerge victorious in her first UFC bout, on a card she happens to be headlining, no less.
For their part, the UFC have come out all guns blazing in their promotion of Rousey, and deservedly so. Irrespective of individual stances on her shtick, Rousey succeeded in going beyond in-cage success: she caught people's attention – a feat very few women fighters have managed to achieve. And while history advises against a promotion putting all of its eggs in one basket, in this case, Rousey is the only available egg of note, leaving the UFC without much of a choice. For women's MMA to kick off its UFC life on a high note, it needs for Rousey to flourish.
During its tenure on Elite XC and Strikeforce, women's MMA has relatively delivered in terms of ratings. Rousey herself has been able to generate some decent numbers on Showtime. However, the real test of her potential drawing power will be on PPV. And while UFC 157's buy-rate should not be used to formulate a definitive judgment regarding the champion's drawing power, it should be a strong indicator nonetheless.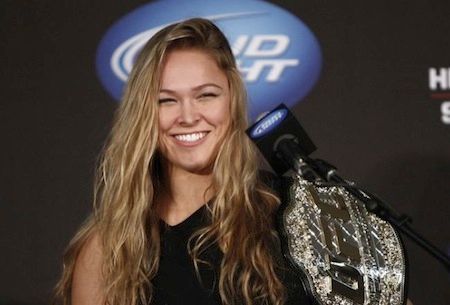 Jeremy Lambert: Rousey is a proven television draw. But proven television draws don't always draw on PPV, the best examples being Fedor Emelianenko and Kimbo Slice. The problem with putting someone on PPV after nothing but TV fights is the fact that we've all seen Rousey for free and now we're expected to pay to see her.
And if you pay to see her, you know what you're getting: an armbar in the first round. The UFC and Rousey can sell Liz Carmouche as a tough competitor and "the only girl who wanted this fight," but they're not kidding anyone with a brain. Unless a monumental upset happens (and I know that we can never say never in MMA), Rousey is going to dust off Carmouche the same way she's dusted off her previous seven opponents.
That's not to say that people won't pay for a first round massacre. Mike Tyson made a lot of money getting people to pay to watch him knock some poor kid unconscious in a couple of minutes. You knew what you were getting with Tyson and you know what you're getting with Rousey.
While there is no baseline indicator to determine whether or not Rousey's PPV numbers will be successful, I'd say that the numbers better be above average or the event could be looked at as a failure. The attention on Rousey this week has be astounding. She's done a ton of mainstream media and gotten more coverage than some of the UFC's biggest stars. And she's not selling a fight, she's selling herself.
Samer Kadi: Ultimately, what fans and media consider a "success" or "failure" will vary. What truly matters is Zuffa's expectations, and their subsequent interpretation of the PPV numbers. Unfortunately, the UFC's typical hyperbolic approach pre-fight, coupled with their typical PR damage control should the numbers disappoint makes it difficult to truly gauge their real expectations, or get a grasp on the internal reaction to the buy-rate.
With no precedent to serve as an indicator, there will be plenty of room for speculation as to what constitutes a satisfactory buy-rate. Reasonably, anything below 300,000 buys will be a bit of a disappointment, but Zuffa shouldn't be expecting considerably higher numbers either. If Rousey manages to surpass the 400,000 mark, it will be a huge feather in her cap and a terrific sign for her PPV future. That however, is a tough ask.
Most interesting will be the UFC's decision should the PPV numbers fail to flatter. Luckily, Rousey will find a suitable home on FOX, as woman's MMA has produced solid television ratings in the past, and the FOX executives should be more than pleased to have her headlining. A couple of fights on FOX could serve as a "rebuilding stage" before Rousey is ready to test her feet on PPV again.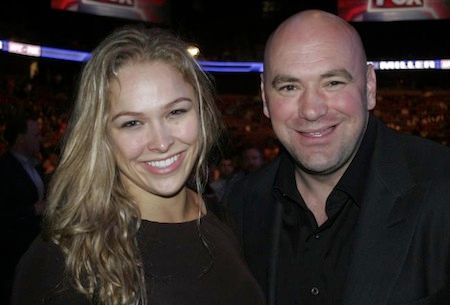 Jeremy Lambert: Long-term, the UFC women's division is going to live or die with Rousey. Dana White's creepy obsession with her guarantees that he'll continue to promote her as the female Michael Jordan mixed with Muhammed Ali combined with Wayne Gretzky as long as she keeps winning. And if she loses, it guarantees that he'll go crazier than Ron Burgundy in a telephone booth.
Even though the UFC has other women under contract and booked for upcoming events, if they build up the division as poorly as they've built up some of their lighter weight classes, we can expect no one to care if a women's title fight features Liz Carmouche against Cat Zingano as it'll likely take place on FuelTV at 9 in the morning somewhere in Lebanon.
Rousey winning, and continuing to win, is obviously the best case scenario, but then the UFC runs into the problem of finding her competition and trying to sell that competition, not only as someone we've actually heard of, but as a real threat. If she continues to run through these women with little struggle, it'll be tough for the company to line up fights or sell rematches that people will care about. And if Rousey keeps winning and keeps drawing mainstream media attention, there's also a chance that she gets an offer to make more money to do less work in Hollywood.
Samer Kadi: For the women's 135 lbs. division to be established, it has to go beyond Rousey dominating. It needs a bout that captures the imagination. Unfortunately, the two men responsible to make such said fight a reality are Dana White and Tito Ortiz. In the now tortured words of Joe Rogan: "if you had to design the perfect guys to screw up Rousey vs. Cyborg, it would be Dana White and Tito Ortiz."
The first phase of negotiations went about as badly as you'd expect given the relationship and personalities of the two men involved, and now Cyborg finds herself a part of another promotion. And while this hardly means the two women will never lock horns inside the UFC Octagon, it does put the fight on hold for at least eighteen months.
For Rousey however, it is about crawling before she can walk. Before thinking about a potential "super-fight" with Cyborg, she needs to deliver at UFC 157. Another first round armbar will do the trick.
For more from the Occupy The Throne duo you can follow Samer Kadi and ManCaveThoughts.com for more writings and podcasts.
NULL
comments powered by Disqus