Occupy The Throne 2.28.13: Rank Em
February 28, 2013 | Posted by
Unimportant Rankings
Jeremy Lambert: When the UFC announced "official rankings" at the start of the year, only a choice few took them serious. After all, the only reason they implemented these rankings were to appease the FOX network, who thought they could appeal to a more common audience if they saw numbers next to fighters in order to determine just how good someone is. It's also the reason why we're seeing more and more statistics thrown out by Mike Goldberg on every broadcast.
Within 24 hours of the first set of rankings being released, the UFC treated them like the joke we all thought they would be. Despite being ranked as the #1 featherweight contender, Ricardo Lamas was passed up for a title shot against champion Jose Aldo in favor of Anthony Pettis, a highly ranked lightweight who has never competed at 145.
Since then, rankings have continued to be ignored as top 10 ranked Jon Fitch was released and completely removed from the rankings page, leaving a blank spot in his place. Then there's the upcoming Montreal event, where (c) Georges St. Pierre battles (3) Nick Diaz in the main event while (2) Carlos Condit faces (1) Johny Hendricks in the co-main event. Even though Diaz vs. St. Pierre was booked prior to UFC instituting these rankings, if you're a casual fan looking at the card and seeing those numbers, you're probably scratching your head as to how the UFC came up with that piece of match making.
Samer Kadi: For all intents and purposes, the UFC employing "official" rankings shouldn't necessarily be treated as a big deal. In the ever volatile world of MMA, even the most congruent application of the rankings will not turn the UFC's match-making into a pure meritocracy. Injuries, fights getting turned down, contractual headaches and other unforeseen circumstances will often dictate otherwise, and Joe Silva and company will be forced to deviate from the plan.
Fortunately for the UFC, their match-making process is hardly that rigid. As Dana White put it recently, "this is a business." That at least, explains why Nick Diaz's loss to Carlos Condit earned him a welterweight title shot, or why Chael Sonnen's failure to capture middleweight gold granted him a shot at the light heavyweight championship.
The cited examples only make the timing of the UFC's official rankings all the more puzzling: they have come at a time where the company is increasingly heading in the business direction, while seemingly doing its utmost to neglect the sport aspect. And while the upcoming welterweight and light heavyweight title fights were announced before the official rankings were implemented, Anthony Pettis' shot at Jose Aldo was made official less than two days later.
Naturally, very few are ever going to complain about a mouthwatering fight of this magnitude, and rightly so. However, if the rankings were introduced to add some legitimacy, such a piece of match-making could prove counter-productive when your average fan takes notice of Pettis' "unranked" status. In fact, in a rather amusing twist of irony, Aldo and his camp are using the official rankings as an excuse as to why they deem "Showtime" to be undeserving.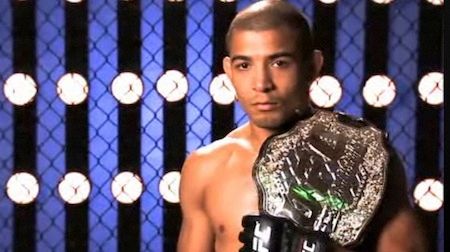 Jeremy Lambert: By instituting rankings, the UFC has opened themselves up to a lot of criticism from fans, media, and even fighters. When Pettis was given his title shot, Ricardo Lamas openly questioned how the UFC came to this conclusion given his status as the number one ranked contender. Other featherweights also questioned the UFC's decision, wondering why they were randomly passed up by an unranked fighter.
As mentioned by my partner, Aldo is actually citing the rankings as to why Pettis doesn't deserve a title shot. While this has opened Aldo up to the typical, "Jose is ducking Pettis" criticism by anyone searching for a false narrative, I believe that Aldo is just throwing the rankings back in the face of the UFC, possibly even trolling them, which is a typical Brazilian technique also employed by Anderson Silva. Aldo actually took his trolling to another level though, by eventually accepting the Pettis fight, but asking for a lightweight title shot should he defeat "Showtime" even though he'll be unranked at 155.
Rankings have also given fighters a little bit of power, at least in theory, when it comes to negotiating a new contract or taking fights. For example, Chris Weidman could look at the fact that he's the #1 ranked middleweight and cite that as to why he deserves equal, if not more, money than guys like Vitor Belfort and Michael Bisping. It also gives him the power to turn down a fight against the #8 ranked guy, claiming that he has nothing to gain and everything to lose. Of course, I say "in theory" because asking for more money or turning down a fight when Dana White doesn't feel like you're in a position to do puts you on the UFC sh*t list, which is where no fighter wants to be, especially after a loss.
Samer Kadi: The UFC has always prided itself on being home to the best mixed martial artists in the world. For all the talk about sport vs. entertainment, the fact that the Octagon is where the best of the best compete is why the company is so successful. It is the one sporting aspect that can never be taken away, no matter how many Chael Sonnen title shot type of decisions we encounter in the future. In that regard, the rankings can be a positive, serving as a reminder as to where exactly does each of the world's elite fit in his respective division.
Unfortunately, it didn't take long for the UFC to put another dent in the rankings' legitimacy, as number 9 ranked welterweight Jon Fitch received his marching orders from the company. A perennial top 5 fighter for the majority of his Zuffa tenure, Fitch amassed a highly impressive 14-3-1 record inside the Octagon. In fact, Fitch's welterweight resume is only third to current champion Georges St-Pierre and hall of famer Matt Hughes.
None of that stopped UFC president Dana White from providing a string of arbitrary reasons justifying the former number one contender's release, ranging from his not-so fan friendly style and recent record all the way to his fight salary. Of course, every excuse could be deconstructed within a couple of paragraphs but that is another issue for another day.
While the Fitch release hardly shoots down the UFC's claim of possessing the best fighters in the world under its umbrella, it does set a dangerous precedent – one in which the company was willing to dispose of one of its all-time most successful fighters while retaining the services of some who are far less deserving, and happen to get paid significantly more.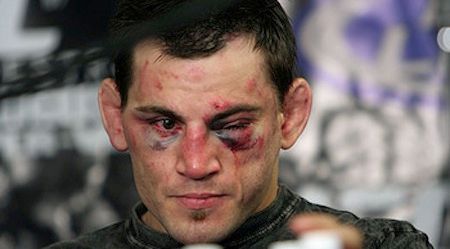 Jeremy Lambert: Rankings are a tool for the casual fan to understand where fighters stand in the current landscape. If you view them as such, and nothing more, then you're using them correctly. When you put actual stock into these rankings, that's when you waste your time on something meaningless that the UFC clearly doesn't care about.
If these "official rankings" were meant to be taken serious, Anthony Pettis wouldn't have received a featherweight title shot less than 24 hours after Ricardo Lamas was ranked as the number one contender, Anderson Silva would be fighting Chris Weidman next and there would be no hassle in making that fight happen, Demetrious Johnson would rematch Joseph Benavidez, and Antonio Silva would save a lot of blood because Cain Velasquez would be fighting Fabricio Werdum.
I suspect more top ten fighters will be released and more number one contenders will be passed over. The UFC is a business first. Rankings bring a sport aspect, but if they prevent the UFC from making money, they're going to be ignored.
For more from the Occupy The Throne duo you can follow Samer Kadi and ManCaveThoughts.com for more writings and podcasts.
NULL
comments powered by Disqus