Planet Tapout 11.27.07: Interim Is Not So Bad
November 27, 2007 | Posted by
Hopefully you are out of your turkey coma by now…otherwise I think there was something extra in your turkey. Welcome back to Planet Tapout one and all. I am the man crowned as Lotfi Sariahmed. Hope your Thanksgivings (or your breaks for my international audience) went well. Before we get started lets delve back into the mailbag.
Mailbag!
Jason's back with a little love after our lesson in Sambo.
Now that's an e-mail response!!! Once I saw the column was addressing Fedor and sambo, I was excited. Seeing my name and e-mail dropped in there, that made my day! I'm sure MMA fans will find the column as informative and insightful as I did. It will also give the regular UFC fan a healthy dose of cultural awareness.
Thanks Lotfi and everyone at 411,
Jason
No Jason. Thank you.
The email address remains the same so don't be shy and give me some love (or hate, I'm down for both). It's [email protected] . Now lets dance.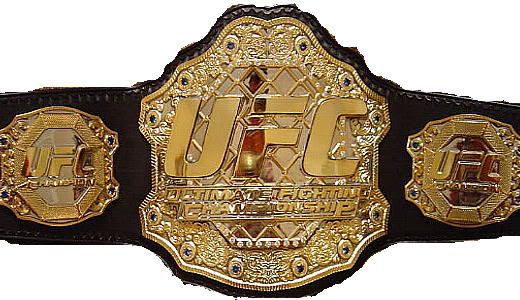 Interim…
Dictionary.com defines it as a temporary or provisional arrangement. They also define it as a stopgap or makeshift. I'd look up more definitions but lets be honest, you understand what interim means by now.
It's the buzzword in the UFC with two interim titles being awarded for the next two PPV's. UFC 79 has Georges St. Pierre taking on Matt Hughes for the interim welterweight belt after the title holder Matt Serra was forced to pull out with herniated discs. Then at UFC 80 Joe Stevenson is fighting BJ Penn for the interim lightweight title (in England no less) thanks to Sean Sherk's debacle with the CSAC and his "positive" test for steroids.
But in the ever-consistent world of MMA forumers now you have people complaining about this that and the other thing when it comes to the interim belts. They say, "It's watering down the titles" or "Hughes won't get to fight Serra now" or "Why hasn't Rampage been stripped?" The questions never seem to end and frankly get a bit more absurd every time a new one presents itself. So, in an attempt to quell the anger from the masses on forums and possibly elsewhere, Planet Tapout is your source for bringing you to the light and explain to you why, in this situation, the UFC's done everything right.
So about using season six of The Ultimate Fighter to build up to a title fight between coaches Matt Serra and Matt Hughes as the main event…seems like some herniated discs got in the way. So instead of the rivalry being settled in the ring, we'll have to settle for the champ and the former champ trading verbal jabs. With Serra down and out for the time being, Hughes went on a bit of an offensive. This is what he had to say at a conference call on Monday:
"I just feel that Matt Serra is getting the easy way out. If he would have beat me, then he would have fought Georges again; so he would have fought both of us. Now, he's getting the easy way out, fighting just one of us, possibly."
So the UFC was left in a bit of a quandry. Chuck Liddell v. Wanderlei Silva, for as captivating as it will be, is not a main event. On its year-end card, the UFC also couldn't have an eight fight card. Most importantly, what did this injury mean for the UFC's welterweight division? It was already a division that was working six months behind every other division thanks to the reality show. It couldn't afford to go without a title fight for too much longer. But without Serra, who was Hughes going to fight? Jon Fitch was a name that was tossed around. But why? Just because he's available? It's a nice fight but it's coming out of nowhere. On top of that, despite Fitch's rise up the welterweight ranks is he ready for Hughes? Even if you're not sure about the answer, did the UFC want to risk losing one of its prize welterweights in a makeshift bout?
While Serra's injury about six weeks out from the fight posed a lot of problems for the UFC, it was also a blessing in disguise. Arguments ran wild about welterweight fighter "x" (mainly Karo Parisyan) having to wait so long between potential fights because of the reality show. After beating Josh Koscheck at UFC 74 in August, Georges St. Pierre was potentially going to be left waiting up to as many as eight months between his fight with Koscheck and a title fight he was awarded after his win. But after the Serra injury, the UFC decided to put things back on schedule. So now we have GSP v. Hughes III at UFC 79 for the interim UFC welterweight belt.
Now as for the yelling and screaming about this "interim" welterweight belt; it's stupid and here's why. The people yelling about this interim belt and its "watering down" titles, will be the same people complaining that GSP v. Hughes III was only three rounds. GSP and Hughes are the best two welterweights in the world. Period. To have them fight for three rounds and only fifteen minutes could have been disastrous. But the UFC can't make fights five rounds unless its for a title, in accordance with commission regulations. So they made it for a title and gave the best two welterweights in the world the proper format upon which to have their third battle.
In the short term, with regards to the reality show, it stinks. Sure the UFC loses any real pull it may have gotten from the reality show for UFC 79. But lets be real here folks. No one was watching season six of The Ultimate Fighter anyway. But for the long term for the welterweight division it works out beautifully. Hughes v. GSP becomes a glorified #1 contenders bout to take on the Champ. Then we could potentially have a huge card in March with two titles on the line as Dan Henderson takes on Anderson Silva and the winner of GSP/Hughes takes on Matt Serra.
July 7th 2007. That was the last time we had a lightweight title fight in the UFC. We're still about a week out from figuring out if the UFC lightweight champ, Sean Sherk, can fight again before next July. Given the way the CSAC has handled the situation, hearings might be put on hold until July anyway.
After the Athletic Commission delayed the latest hearing, Dana White just said forget it (in more colorful terms) and decided to keep things moving. Sherk will be stripped of the belt if his suspension is upheld. But in the meantime, lets have a lightweight title fight shall we?
With regard to the status of the UFC lightweight division, while it's only beginning to get fighters cracking the Top 10, it has a bunch from 11-20. But when evaluating contenders there's really only one name that stood out, BJ Penn. It wasn't really a matter of if Penn would be fighting Sherk when he moved down to lightweight but when. After Sherk and Penn there seems to be a big gap between the #2 and #3 lightweight.
But Joe Stevenson is at or near the top of most of those lists. The 25-year old with 35 fights is a strong wrestler with decent standup and a fight against BJ Penn is the most entertaining fight the division could have right now. So why not have them go at it at UFC 80 for the interim belt in Newcastle, England? There are a few good fighters in the division with a lot of potential. But this lightweight bout features the next two lightweights in line if Sherk does get stripped of his belt.
As for the reasoning behind, well it's simple. This will work the same way as the welterweight interim belt if Sherk keeps his belt. Stevenson v. Penn is a glorified #1 contenders bout and the "unification bout" v. Sherk will be in April. If he does get stripped, Sherk will come back in June and in the meantime you have one more title fight between the Stevenson v. Penn winner and one of the other up and comers in the division.
Before we finish up today I wanted to delve into this last potential "interim" situation with Quinton "Rampage" Jackson, the UFC light heavyweight champ. He hasn't fought since September in his bout against Dan Henderson. He might be out for a long period of time because of an injury suffered and might miss a potential bout on that Super Bowl card because of it. Now there are some rumblings as to whether or not to strip him of the belt or at least create another interim one in the process. There's just one big problem with that. The welterweight and lightweight divisions have people waiting for their title shots that deserve it. The light heavyweight division is in a lot of disarray right now despite all the talent it has. While Silva might be deserving of a title shot with a win over Liddell, the same cannot be said for "The Iceman." Then look around the rest of the division. Where's the Karo Parisyan or BJ Penn of the light heavyweight division?
That's it for this week on Planet Tapout! Don't be shy. Email me your thoughts and opinions; I know you've got some. Besides, your email could be the subject of my next column! It's [email protected] .
Meehan is good people so go read his stuff…he made the banner.
Join the Planet Tapout Army on MySpace!
Make sure you come back next Tuesday for another edition of Planet Tapout! This week in MMA gives us cards from Rio Heroes, Pancrase and Cage Rage. Enjoy the fights everybody.
NULL
comments powered by Disqus