The 411 MMA Top 5 10.19.12: Week 96 – Top 5 Fighters You Have To See Fight
October 19, 2012 | Posted by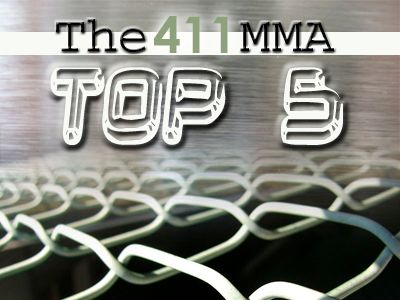 Welcome:
Welcome back to the MMA Top 5! What we are going to is take a topic each week and all the writers here on 411 MMA will have the ability to give us their Top 5 on said topic, plus up to three honorable mentions. It's highly non-official and final, like WAMMA.
And now it's…
---
TOP 5 FIGHTERS YOU HAVE TO SEE FIGHT
Jonathan Solomon
5. Ben Askren – There's something awesome about watching Ben Askren's style of wrestling in MMA. He doesn't lay and pray, always striving for an improved position and a style that's earned him the name, "Funky." Plus, he has that arrogant nature to him in MMA, ironic since he is still relatively young in terms of the sport (even with his Olympic background).
4. Nick Diaz – Not too many fighters find a way to trash talk their opponent while they're in a middle of a brawl. Ironically, the two who immediately come to mind are the Diaz brothers. I'm listing Nick because you are almost always guaranteed an action-packed fight. Unfortunately for Nick, his penchant for smoking weed cost him a second paycheck in MMA, but there's always another day.
3. Anthony Pettis – Pettis may have earned me as a fan for life with his WEC title win over Ben Henderson almost two years ago. The final fight in that promotion, the story of those five rounds was something out of a movie. The fifth-round-stealing showtime kick off the cage is still the greatest kick I've seen in an MMA fight. Even when he was being taken down and smothered by Clay Guida, it was an intriguing fight to see whether Pettis could make him pay with a submission (despite his damnedest effort, no such luck). Injuries have cost him much of 2012, too, but there's so many awesome match-ups with the likes of Cowboy Cerrone, a rematch with Ben Henderson and Nate Diaz, either one of these would be fight of the year candidates.
2. Anderson Silva – It's amazing to me that despite his run of awful fights in 2009 and 2010, he's rebounded in explosive fashion ever since the first Chael Sonnen fight. He's been in grudge fights with Sonnen and Vitor Belfort and combined with a Yushin Okami rematch, the end result have been four finishes (two Sonnen wins and finishes against Belfort and Okami). Plus, we see things that are anything but the norm in this sport. His front kick knockout of Vitor Belfort was incredible. The clutch submission win over Chael is something we'll remember for as long as the sport lives. His dominant knockout of Yushin Okami (knocked him down with a weak looking jab!) and the painful looking knee and punches Sonnen experienced in their rematch was more of the same sweet fight finishes. What's not to love about watching Silva fight?
1. Ronda Rousey – Very few fighters' fights feel like an epic event. Anderson Silva or Georges St. Pierre against the right opponent, probably. Jon Jones is not even there yet on a consistent basis. Amazingly, Ronda Rousey is. Her four Strikeforce fights have lasted a combined seven minutes. Why? It's all about the armbar. In each of her fights, you go in thinking there's no way she can lock it on again. After all, her opponent has had weeks and weeks of time to study defense and ways to stay upright. Nope. Of late, Miesha Tate and Sarah Kaufman both could not stay on their feet and ended up either tapping or having some ligaments stretched out. Plus, Rousey has a bit of an edge to her that not too many fighters have (certainly, no female fighter we've seen) that only exudes superstardom after she's completed her armbars. Any MMA card with Ronda Rousey is must-see television and it may not even matter who she fights.
---
Stewart Lange
5. Dan Hardy – At the very least, with a Dan Hardy fight you know his ring announcing is going to be exciting. In all seriousness, Dan is one of my favorite fighters, albeit due to the fact he's British, but I'll not miss him fight. If he was cut from the UFC and was fighting in BAMMA or Cage Rage, I'd still strive to watch the tape.
4. Donald Cerrone – This time last year, I was getting pretty high on Donald Cerrone. My workmates got in on it- the Nate Diaz "hat incident" was a running gag for months afterwards. The Cowboy always comes to fight, although, ironically, not in that Diaz fight. The rest of his UFC fights have been awesome and if you've followed him since the WEC, you know you really can't afford to not watch him fight.
3. Nick Diaz – I hate the Gracie team, especially Jake Shields, but boy do I love watching Nick Diaz fight. He's an ass, goading his opponents and talking to them throughout but is he ever in a boring fight? Of course not. He's almost the ultimate bad guy.
2. Wanderlei Silva – This is purely on the strength he's my favorite fighter ever, but Wand makes this list easily. I can't say I've enjoyed his fights since, well, the Chuck Liddell fight, but come on. He comes out to Sandstorm by Darude, which is so terrible it's awesome and he's one of the most violent knockout artists in history. I'll watch him fight until he retires in the pure hope he lives up to his nickname and forgets there are rules in MMA. He has that potential.
1. Anderson Silva – How Solomon can have Ronda Rousey top his list over this man is incredible. The human highlight reel, the most consecutive UFC title defenses and the greatest fighter of all time? Come on, man. Anderson Silva IS MMA at this point. The guy is making a last minute fight against Stephan freaking Bonnar seem like can't miss television so what does that say for him? In fact, I feel so strongly about this, if Anderson doesn't top everyone else's lists, I've lost a little bit of faith in my colleagues today.
---
Wyatt Beougher
5. Jose Aldo – Aldo is one of those fighters where he's so much better than his opponents that it almost seems unfair when he fights. The fact that 13 of his 21 wins have come by knockout or TKO, and generally in impressive fashion at that, are what ensured Aldo's place on this list, and Aldo stepping into the Octagon with the man he narrowly bumped out of the fifth spot on my list, Jung Chan-Sung, is at the top of my list of fights that I wish Joe Silva would make sooner, rather than later.
4. Benson Henderson – Even in defeat, which itself is something of a rarity, I think Ben Henderson is incapable of having a bad fight. Fast, agile, creative, and basically impossible to submit, the UFC lightweight champion belongs on any fight fan's "can't-miss" list, and it's a shame that so few fans apparently agree with me.
3. Chael Sonnen – Sure, Sonnen does his best work before a fight, using his mouth to sell the fight like few others in MMA can. However, you can't help but watch when he steps into the cage, just to see if he'll be able to back up anything that he said prior to the fight. Admittedly, I'm a Sonnen fan, but if you check the comments section here on the site, Sonnen's detractors don't miss his fights either, simply because they want to see him get his comeuppance.
2. Ronda Rousey – When you take a seemingly unbeatable fighter who manages to win in spite of her opponents knowing exactly what she intends to do, add in a healthy dose of personality and good looks, you wind up with the star of must-see television every three months or so. Ronda Rousey is Mike Tyson in his prime, ending main event fights in less than a full frame in a manner that's as impressive as it is predictable, and people are tuning in to see if she can just keep doing it. I've made my professional (*ahem*) infatuation with the Strikeforce champion no secret, so of course she comes in near the top of my list.
1. Jon Jones – More than any other fighter on this list, when you watch Jones fight, you get the sense that you're watching a master perform his craft. That's not a knock on any of the other fighters listed here, to be sure, but watching a Jon Jones fight is the MMA equivalent of watching Alan Gilbert conduct the New York Philharmonic. The way Jones performs inside the Octagon, with his deliberate feeling-out process in the opening round followed by a slow, dramatic build to the crescendo of violence that generally finishes his opponent, is akin to a maestro urging his musicians on to the performances of their lives. When Jones refused to fight Chael Sonnen because he didn't feel like he'd be able to give his best performance, I thought it was just Jones' ego talking. However, after watching the Belfort fight, I realized that Jones truly does treat fighting like it's an artform, and the results show in the impressive record that he's compiled in his young career, especially when you factor in how easy he makes it look. Regardless of what my haggis-loving Scottish colleague would have you believe, it is Jon Jones who defines MMA today, not Anderson Silva, especially when you factor in that Jones has never had a fight like Silva did against Demian Maia (or Patrick Cote…or Thales Leites). For being a true artist in a sport full of relative neanderthals, Jones tops my list.
---
Jeffrey Harris
5. Ben Henderson – Watching Henderson's run to the top throughout the WEC and now UFC has been stunning to behold as we've seen the legend of an amazing phenom unfold before our eyes. Henderson's coming out party was the first fight with Donald Cerrone where before the fight no one knew who he was but he spoiled the show for Cerrone and the Cerrone/Varner rematch. Bendo then went on a hot streak by beating Jamie Varner to capture the WEC lightweight title and then submitted Cerrone in their rematch. Following a loss to Anthony Pettis, Bendo was not content to being a footnote in MMA history by being on the receiving end of the highlight reel Showtime Kick. Henderson's performances have been nothing short of amazing. His fights with Jim Miller and Clay Guida are some of my favorite UFC fights and performances ever. I also got the chance to see the fight with Clay Guida and Ben Henderson live and it was freaking amazing. Bendo is a fighter I will never miss a fight for.
4. Chael Sonnen – The first live UFC event I ever went to was UFC 110 with the first fight between Anderson Silva and Chael Sonnen, and it's still probably the best fight I've ever seen live and the best live fight card I've ever seen period. Sonnen brought it to Silva for several rounds but in the fifth round Silva managed to get a late submission to save his title. I don't think I've ever seen a Sonnen fight I didn't enjoy. If Sonnen isn't dominating in impressive fashion he'll make a mistake and get beaten in glorious fashion. Not to mention with how well Sonnen promotes fights, that makes his fights always must see for me.
3. Ronda Rousey – I've yet to miss a fight with the only real talk of the women's mma town right now. Rousey's established an amazing resume pulling off all her wins by submission via armbar in the first round. Rousey is so talented and aggressive not to mention with a winning personality, she's become a must watch personality for women's MMA at a time when such faces were sorely needed.
2. Donald Cerrone – Go get 'em Donald Cerrone! Cerrone's a kooky cowboy from Colorado, but his fights are always entertaining. His feud with Jamie Varner brought a lot of attention to the WEC along with his war with Ben Henderson that put Ben Henderson on the map. Cerrone is so talented and fights so often he will likely be a perpetual top 10 or top 5 lightweight. He's got some mental blocks that I think keep him from being a title contender, but there is some a Cerrone fight or performance I do not enjoy.
1. Dan Henderson – Dan Henderson is without a doubt a candidate as being one of the greatest professional athletes and MMA fighters of all time if he isn't already. Unfortunately we did not get to see him fight and beat Jon Jones at UFC 151, but the fight will happen sooner or later. Even Jon Jones knows he has unfinished business with Hendo. Hendo always brings it and his overhand right is one of the most patented, deadliest weapons in the entire sport. It's put away the likes of Fedor Emelianenko. And in December, it could very well happen to Machida as well..
Matt White
5. Urijah Faber – Never puts on a boring show, his worst fight coming with his most recent loss, Renan Barao. His bout with Dominick Cruz and the fact that a guillotine can literally come out of nowhere with him is another great attribute to make sure I never miss his fights. Even in the WEC, his title defenses were awesome to watch. I can watch the Jens Pulver fight any time of day. Urijah Faber constantly puts on entertaining fights and I will continue to tune in and see him fight now later into his career.
4. Michael Bisping – I absolutely HATE this man. He's arrogant, I don't believe he's ever really beat top competition with Stann now being his biggest win. I will buy EVERY UFC PPV, FX, show on Fox, if he gets cut and goes to Bellator or another small show, I will watch it. I don't think he's exciting but I must see Bisping get another H-Bomb dropped on him. I usually am very level headed when picking fighters who are going to win, but no matter what, when Bisping is in a fight, I will come up with a way that Bisping will lose. It doesn't matter if it's Anderson Silva or Denis Kang, in my mind Bisping is going to lose somehow and I will find a way.
3. Dan Henderson – Hands down my favorite fighter. I want to see him fight everyone, middleweights, light heavyweights and heavyweights. His fights are very entertaining, his early bouts in Pride is what sold me. Then he started a bad reputation off in the UFC when he lost back to back to Rampage Jackson (which I'd love to see that rematch) and Anderson Silva (not really looking forward to that rematch if it were to happen). However, I knew there was more to Hendo, and he has shown it with his highlight reel KO's and FOTN performances.
2. Junior Dos Santos – I love an athletic heavyweight, it's incredible what JDS can do in the cage. He's got great takedown defense and KO power makes me feel as if we've got another Chuck Liddell. JDS won't get taken down (also, most people don't want to take him down either) and he's got so much skill on his feet that you don't want to stand with him. This is a heavyweight with cardio for days and makes it look easy when he's in the cage.
1. Carlos Condit – It sucks because of his 'running' from Nick Diaz recently, but maybe it's the nickname, 'The Natural Born Killer!!!!!!' and then the fact that he goes out and finishes most of his fights. Then his calm demeanor following his fights. Everything about Condit makes me tune in. I respect his decision to wait got GSP and I think he's got a hell of a shot to dethrone the true Welterweight Champion. This could end up being one of the best fighters in the world and the most exciting one as well.
Todd Vote
5. Roy Nelson – Call him a freak show, I call him chin of iron. Sometimes it is just fun to watch Roy Nelson get beat on for 3 rounds. This is a guy who should be pictured in the dictionary under iron chin.
4. Forrest Griffin – Forrest, at one time, was my favorite fighter to watch in the UFC. A lot of that was of course credited to his run through the first season of TUF. Forrest just always reminded me of a friend of mine, so I was always down to watch him fight. He's had a bumpy road as of late, but I still like to watch him fight. TRT be damned!
3. Donald Cerrone – What's not to like about Cowboy, the man comes to fight every time out, and I can't say that I have ever seen the man involved in a boring fight, whether it's over in two minutes, or a three round war, you can always bet Cerrone will bring the entertainment.
2. Anderson Silva – The best pound for pound fighter in MMA. Barring his lackluster performances against Maia and Leites, Anderson is one of the most exciting strikers to watch in MMA, or any contact sport for that matter. He makes it look easy from top to bottom.
1.Carlos Condit – I've long been a supporter of the "Natural Born Killer", even going as far as flat out predicting him to be the man that unseats GSP. Condit has been one of my favorite fighters since I first found the WEC airing shows on Versus. The man can go, and it is scary to think that he is still probably just getting better.
Robert Winfree
5. Jose Aldo – I do my very best to never miss a fight that involves Jose Aldo. The man is a wrecking machine. Sure his weight cut against Mark Hominick was bad and he couldn't finish the Canadian striker, and Kenny Florian insisted on clinching against the cage, but of those only the Florian fight wasn't worth watching more than once. Aldo brings unpredictability and some crazy finishes into his fights, and he's always worth watching.
4. Ronda Rousey – Ronda Rousey is a big deal. More importantly, she feels like a big deal. When Ronda fights, it feels like a fight that matters. It doesn't matter if her competition is in over their head, it matters that she's fighting. Plus I love seeing how many different ways she can set up and win by armbar.
3. Junior dos Santos – Junior dos Santos was a coach on the last season of TUF that I bothered to watch. While that show overall wasn't great, Junior came off as a really genuine and nice person. The fact that he'll kill you dead inside the cage is a huge bonus, but knowing where he came from and what a genuinely nice guy he is makes him a real draw for me. I don't anticipate ever missing a JDS fight.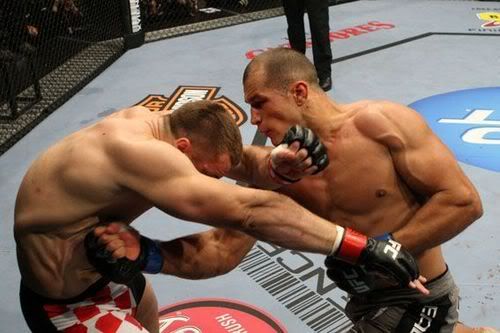 2. Jon Jones – I was watching live when Jon Jones fought Stephan Bonnar in his coming out party, and I was surprised by the variety of throws, the elbows, everything he brought to the fight. Once he hooked up with Greg Jackson's camp he became a monster, smashing everyone he got in the cage with. Lately his style has evolved a little, but he's still younger than me, so there is of course some growth to be expected. I for one am excited to see how he keeps growing as a fighter.
1. Anderson Silva – I was watching live when Anderson Silva made his UFC debut against Chris Leben. I was an MMA fan at that point, but not actively looking for it every chance I got. In fact it was a bit of random luck that had me watching that fight. Watching Anderson Silva dismantle another human being like that in under a minute was absolutely stunning. His follow up was the destruction of Rich Franklin, a fighter I've never especially cared for, and that did it. I was a fan of Anderson Silva. My fandom waned when he fought Patrick Cote and Thales Leites, and I was just as pissed as everyone else at what happened when he fought Demian Maia. Then he reminded everyone why he's the best ever by stopping Chael Sonnen at the end of the fifth round. Silva could always go fight and lay another egg like he didn't against Maia, but it seems more likely you'll see him destroy his opponent in a flurry of accurate violence.
YOUR TURN!
List your Top Five for this week's topic on the comment section using the following format:      
5. CHOICE: Explanation
       4. CHOICE: Explanation
       3. CHOICE: Explanation
       2. CHOICE: Explanation
     1. CHOICE: Explanation
TWITTER
Your heart is free. Have the courage to follow it…TO CSONKA'S TWITTER!
http://www.twitter.com/411wrestling
http://www.twitter.com/411moviestv
http://www.twitter.com/411music
http://www.twitter.com/411games
http://www.twitter.com/411mma

comments powered by Disqus