The 411 MMA Top 5 11.23.12: Week 97 – Top 5 Challengers For Ronda Rousey
November 23, 2012 | Posted by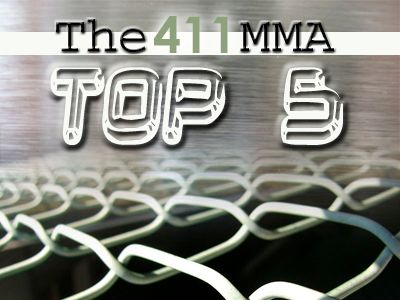 Welcome:
Welcome back to the MMA Top 5! What we are going to is take a topic each week and all the writers here on 411 MMA will have the ability to give us their Top 5 on said topic, plus up to three honorable mentions. It's highly non-official and final, like WAMMA.
TOP 5 RONDA ROUSEY CHALLENGERS
Jonathan Solomon
5. Julie Kedzie – Kedzie is a fighter I'd like to see fight Rousey at some point, not necessarily in the near future, but eventually. She's tough and guaranteed to go all out in each of her fights. Just a few months ago against Miesha Tate, she helped put on arguably the best fight of the year so far. She has never been able to put together a prolonged winning streak but assuming things are moved to the UFC, three wins should do the trick.
4. Liz Carmouche – Again, Carmouche is someone I'd like to see build herself up in front of the new fan base for women's MMA in the UFC over the next 12+ months. A former U.S. Marine and the only openly gay fighter among the major MMA promotions, she's been having great success in Invicta FC following her two losses in Strikeforce last year. She's coming off a knockout win against Ashleigh Cury and a submission win over Kaitlin Young. At 7-2, she's still young as a professional but could easily be a tough opponent for Ronda Rousey if she's able to keep the belt going into late next year or 2014.
3. Cyborg – As we all know, Rousey/Cyborg is the biggest money fight in women's MMA and being able to push it in the UFC adds even more to the equation. Would she seriously be putting her body in grave risk by attempting to cut down to 135-pounds? Who knows. Since I'm ordering my picks on the basis that #1 is who should fight Ronda first and #2 is next and so forth, Cyborg fits in right here. Why? Easy, you want a slow build for this fight to maximize the revenue on pay-per-view. You may be taking a major risk if either woman loses beforehand, but that could only open up another money fight in a rematch. With Cyborg, assuming she fights at 135, book her against Alexis Davis and promote her under the UFC banner as though she's the baddest fighter on the planet. Then, when the summer or fall 2013 rolls around, you can have your huge fight with Rousey on PPV.
2. Miesha Tate – I have Tate getting a rematch here as Ronda's second fight in the UFC. As I mentioned earlier, she is coming off an epic win against Julie Kedzie in August and there's no reason she should not get a second crack at Rousey. Plus, the UFC has all the footage from their first fight including the pre-fight promos and the post-fight interviews so it's an easy sell. Put the fight on a Fox broadcast because it's the most logical way to get as many new viewers watching as possible.
1. Sara McMann – My first fight for Ronda Rousey is 2004 U.S. Olympian Sara McMann. Sure, you could go straight to Tate but from a wins/losses standpoint, McMann is more than deserving. Plus, in her introductory fight for the UFC (presumably, the UFC), you have a fight where Rousey can match-up with an undefeated former Olympian and a fantastic grappler in her own right in McMann. If Rousey wins, great because she can move right into fights with Miesha Tate and/or Cyborg for the big money. If Ronda should somehow lose, it's not the end of the world. There's money to be made in a rematch, especially on PPV when people see Ronda face adversity for the first time in her professional career. Barring injury or something out of the blue, there really is no negative to either situation, especially for MMA fans.
---
Jeffrey Harris
5. Liz Carmouche – Carmouche is a former title contender in Strikeforce against Coenen and had a three round war with Sarah Kaufman as well. She lost both those fights, but she's still an experienced veteran and has recently won her last two fights in Invicta. I would say put Carmouche in there if you just want to have her first fight put together soon to get over with as a tune-up of sorts.
4. Marloes Coenen – Coenen would at least be a fresh opponent with a bit of a name to face Rousey. Coenen recently rebounded from her title loss to Miesha Tate and is now fighting in Invicta. Coenen has experience with Strikeforce and used to be a champion in Rousey's weight class in Strikeforce as well. Coenen is a very good striker and that could make for an interesting bout with Rousey due to her size and length as well.
3. Miesha Tate – Tate is also reportedly bound for the UFC. And if a fight deal with Cyborg can't be worked out, a rematch with Tate might be in order. Tate and Rousey previously main evented a Strikeforce event on Showtime with great success. While Tate still got her arm snapped, she still put up the strongest performance anyone has had to date against Rousey though its probably not saying much. At least it was Rousey's longest fight to date so far. Tate recently rebounded with a win over Julie Kedzie and the bad blood is clearly still there with Rousey based on some of her recent statements. This fight would be an easy sell if they were to put on FX or Fox.
2. Cris "Cyborg" Santos – This is perhaps the biggest money fight you can book for Rousey at the moment. The only problem is the declaration from Cyborg's camp that she is only willing to fight Rousey at a 140 lb. catchweight. Rousey and her camp don't seem to be too keen on that. It's justifiable since Cyborg was caught cheating, and it's hard to believe she was never juicing or on steroids before. Still Cyborg presents the biggest physical threat to Rousey size-wise. Most of Rousey's opponents have been smaller and Rousey is good at using her size and length to out-muscle and bully her opponents to the ground.
1. Sara McMann – This fight probably won't happen right off the bat, but it's kind of the fight I want to see for Rousey next. You can market the hell out of this fight since you have the background of both fighters being Olympic medalists, Rousey in judo and McMann in wrestling. McMann is also undefeated in MMA and off to a solid start. The Countdown videos can showcase how the two at one point were slated to face each other in their amateur MMA careers but it didn't materialize. McMann was extremely critical of Rousey in her rise to the top so I think seeing Rousey trash talk for this bout would be fun.

---
Patrick Mullin
5. Sara McMann – While I think stylistically this fight would play to Ronda's strengths you never want to count out someone with the credentials of Sara McMann. She's a decorated international wrestling and submission grappling champion unbeaten in her MMA career. Could be a lot of fun.
4. Gina Carano – Yes I realize this is a pipe dream. Does that mean you want to see it any less? Not in my book. Gina was able to hang tough in a striking battle with Cyborg until ponderously giving up the mount position. Gina's Muay Thai would be fun to see against Rousey's judo.
3. Cris Cyborg – This one isn't as high up on my list as it would be if Cyborg hadn't been officially exposed as a cheater. However right now they're still the two most dominant female fighters that are active in the sport and you tend to always want to see the best fight the best. Rousey hasn't been shy about calling out and insulting the Cyborg so why not find a way to make this happen?
2. Marloes Coenen – Coenen is one of the most talented female fighters around. She went toe to toe with Cyborg despite giving up a significant size advantage and not being able to use her ace in the hole, her submission skills. Rousey has beaten opponents who aren't as technical on the ground and don't recognize traps as well as the veteran Coenen does. It would be interesting to see how she would do against a competitor as well rounded as Coenen who could test Rousey defensively.
1. Bryan Caraway – I don't give a damn what anyone says, I want to see this. Mr. Miesha Tate wanted to be a tough guy and talk about punching Ronda, let him put his money where his mouth is. They fight in the same weight class and like the Iron Sheik I would enjoy seeing a jabroni get humbled. Caraway is a mediocre fighter who will always be more well known as the significant other of the much more talented Tate. Let him try to break out of that shadow by doing something she couldn't and beat Ronda Rousey. Personally I think he lasts about half as long as Miesha did.
---
Dan Plunkett
5. Marloes Coenen – I don't see Coenen as much of a threat to Rousey, but she's a former champion with at least somewhat of a name and a fresh challenger. If she can win another fight or two, I wouldn't have a problem with a Rousey vs. Coenen match.
4. Sarah Kaufman – Despite losing quickly to Rousey in August, Kaufman is still one of the very best women at bantamweight. It may be a difficult sell given she knew exactly what to look out for in August and Rousey just did whatever she pleased. However, the field of challengers is currently weak (though that can certainly change by the time the three women ahead of Kaufman fight Rousey), and Kaufman is good enough to beat every fighter in her path leading to a Rousey rematch.
3. Sara McMann – Rousey vs. McMann would be a battle of Olympic medalists and an intriguing clash between judo and wrestling. McMann, 32, only has six fights under her belt and hasn't looked nearly as overwhelmingly talented as Rousey, but she would make for a very interesting challenger.
2. Miesha Tate – Her first fight with Rousey was an excellent one round bout will go down as a pivotal fight in women's MMA history because it's the fight that changed Dana White's mind about bringing women into the UFC. The rematch is an easy sell, with the first fight being so strong and the competitors having a strong disliking for one another.
1. Cyborg Santos – With the UFC push, Rousey vs. Cyborg would be the biggest women's fight in any combat sport in recent history by leaps and bounds. There's the issue of weight, but I think the UFC won't have much of a problem with that. The fight itself is far more intriguing than any other potential match-up for Rousey. Both have looked unstoppable, with Rousey easily handling all of her opposition and Cyborg battering hers. It's a fight that could headline a successful UFC PPV, and by all rights it should happen in 2013.

---
Mark Radulich
5. Amanda Lucas (4-1) – Yep, George Lucas' kid is an MMA fighter (mostly for DEEP at this juncture). That might seem like a wacky pick considering some of the other possible names out there but hear me out: This first year will probably be the most important for the UFC women's bantamweight division. They need to make a splash and create some high profile match-ups for their star performer, Ronda Rousey. There is no doubt that the UFC can quickly grab some major headlines by pitting their champion against George Lucas' daughter. Some of you in the know might balk at this idea because she currently competes at about 155lbs. She's also 5'4″ so I'm fairly certain she can make 135lbs if given sufficient time and incentive. Some might say that she doesn't deserve a title shot since she's only 4-1 as a professional. Boulderdash! We've already established that the UFC will put any match together if they think it will make money and one can only imagine the marketing campaign behind a potential Rousey vs. Lucas fight. Lastly, on the subject of deserving a shot, Lucas recently won the DEEP Openweight Women's Championship (2/2012) and is set to compete again for DEEP this December. Another win places her at 5-1, which is better than Brock Lesnar's record when he took on Randy Couture for the title so I say what the heck!
4. Marloes Coenen (20-5) – This woman got a raw deal when Zuffa bought Strikeforce and I think she deserves a second shot. You cannot deny she's a talented individual and I think she would give Rousey a real test. Coenen is capable both on the ground and as well on her feet. She boasts 14 submission wins, which is a great selling point against Rousey's record of all wins by 1st round submission. She's a former Bantamweight champion herself so I think the marketing writes itself.
3. Cat Zingano (7-0) – Nothing says contender like being undefeated. Zingano has a 7-0 record with almost all of her wins coming by submission or TKO/KO. She was the hot new thing in Strikeforce a few months ago and was probably being groomed to be the next potential contender for Rousey before events started being cancelled and the whole thing went KAFLOOEY! I would pit Zingano against an Amanda Nunes or Sarah Kaufman and if she wins then set her up for a title shot. Undefeated vs. Undefeated always makes for a good story.
2. Miesha Tate (13-3) – Rematch! Tate and Rousey seem to genuinely dislike each other and for Tate's part I believe jealousy plays a role in her feelings. I think Tate feels eclipsed and embarrassed by Rousey and wants desperately to be the one who derails her. Just listen to her interviews regarding Rousey even today:
"It's not just Ronda, it's not just myself, that's for sure. If Ronda's coming over to the UFC obviously there's going to be a division around that, it's not just Ronda. I know Ronda's getting a lot of the credit and what not, but she didn't have a lot to do with from the ground up…Our rivalry is very real. I know a lot of people don't believe that Ronda can't be beaten, that she's just untouchable, but I beg to differ…If I do get that rematch in the UFC, it's going to be one hell of a fight."
Yep, Tate actually believes that all the credit shouldn't go to Rousey for women being allowed into the UFC, despite the fact that Dana White has said the only reason he's even bringing a women's 135lbs division in is because of the Rowdy one. Tate is either a lunatic or insanely envious or both of Rousey and that makes for compelling television. Make them coaches on TUF and you've got ratings gold!
1. Sara McMann (6-0) – Speaking of undefeated fighters, McMann is probably the most decorated female bantamweight around right now. She is the first American woman in history to receive a silver medal in women's wrestling at the 2004 Summer Olympics games in Athens, Greece. That alone pitted against Rousey's Olympic judoka cred is story enough to make for a compelling match-up. McMann was set to make her Strikeforce debut against Liz Carmouche before that event was cancelled. I say remake that fight and if she wins she'll be 7-0 so why not set up the title fight? Of all of the women I've listed, she's probably the one I would set up as Rousey's fist title fight (besides Lucas ; ) ). She's got the best creds, an undefeated record and had Strikeforce not gone completely off the rails, that seemed to be what they were aiming for anyway. When White says that there are 4 – 5 good fights for Rousey he's definitely talking about McMann as one of those fights.

---
YOUR TURN KNOW IT ALLS
List your Top Five for this week's topic in the comment section using the following format:

5. CHOICE: Explanation
4. CHOICE: Explanation
3. CHOICE: Explanation
2. CHOICE: Explanation
1. CHOICE: Explanation
TWITTER
Your heart is free. Have the courage to follow it…TO CSONKA'S TWITTER!
http://www.twitter.com/411wrestling
http://www.twitter.com/411moviestv
http://www.twitter.com/411music
http://www.twitter.com/411games
http://www.twitter.com/411mma

comments powered by Disqus