The 411 MMA Top 5 12.21.12: Week 98 – Top 5 Hall of Famers
December 21, 2012 | Posted by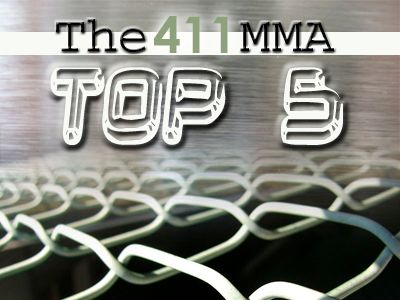 Welcome:
Welcome back to the MMA Top 5! What we are going to is take a topic each week and all the writers here on 411 MMA will have the ability to give us their Top 5 on said topic, plus up to three honorable mentions. It's highly non-official and final, like WAMMA.
TOP 5 HALL OF FAMERS
For the purpose of the column, the staff members were given the following guideline…
"Pretend you are starting YOUR personal MMA Hall of Fame. Who are the first FIVE fighters you would place into your Hall of Fame?"
Patrick Mullin
5. Renzo Gracie – Forget about Royce. Royce chose hand picked opponents and tried to make up rules as he went along and claimed every loss he had was due to some unfair circumstance. Renzo meanwhile would fight anyone, anywhere, anytime. Often at a size disadvantage Renzo was the best of the Gracie clan and as the first family of mixed martial arts he deserves credit for being the only one with a true fighting spirit.
4. Frank Shamrock – I often credit Dan Severn with opening my eyes to mixed martial arts, but I credit Frank Shamrock for being the guy to make me follow the sport devoutly. Frank was the pound for pound best fighter of the 90's and the first dominant UFC champion. He had a lengthy fighting career that bridged the gap from past to present and his continued involvement in mixed martial arts has helped to legitimize the sport. He is to the UFC Hall of Fame what Bruno Sammartino is the WWE Hall of Fame. Without them in it those HOFs mean nothing.
3. Fedor Emelianenko – He's recognized as the greatest heavyweight fighter in mixed martial arts history and for good reason. For over a decade no heavyweight could top him and he saw and beat the very best in the world during that time. He provided constant excitement while cementing his reputation as the best heavyweight of all time and deserves recognition for it.
2. Bas Rutten – El Guapo started off as just a kickboxer but molded himself into a real mixed martial artist for years in Pancrase. He finished his career on a 21 fight unbeaten streak while capturing the UFC heavyweight title. However Bas has been a true ambassador for mixed martial arts being a constant defender of the sport against its detractors and staying involved as an analyst, trainer, and commentator. He continues to try to help the evolution of MMA and between his efforts and career he's HOF all the way.
1. Anderson Silva – He's the best fighter in the history of mixed martial arts. Do we really need to explain why he's a deserving hall of famer? The hall of fame is generally designed for people who are of importance and reach a certain level of success. Nobody has achieved greater success than Anderson Silva. He's the pinnacle that every fighter strives to be from now on. Period.
---
Jonathan Solomon
5. Dan Henderson – When you look at accomplishments in the ring/cage, there are few fighters who match up with Dan Henderson. UFC tournament winner, Rings King of Kings tournament winner (where he defeated Gilbert Yvel, Minotauro Nogueira and Babalu Sobral in the same night), Pride welterweight grand prix winner, Pride middleweight champion, the first man to simultaneously hold two championships at different weights and Strikeforce champion. Go further and you see Hendo's participation in arguably the best MMA fight of all-time (versus Shogun Rua), he knocked out Fedor Emelianenko, he knocked out Wanderlei Silva, he beat Big Nog and a host of others. Not afraid to fight anyone at any weight, how many fighters (or how many non-heavyweights!) can say they beat the two best of all-time?
4. Frank Shamrock – You can look back through the history of MMA and point out the usual characters who helped in some way to impact the sport in a profound way. Frank Shamrock is one of those people. He was one of the first "modern" athletes in MMA at a time when things like conditioning, stamina and a well-rounded skill set were not the norm. His famous fight at UFC 22 against a rugged wrestler named Tito Ortiz is the poster child for that. Shamrock pulled the MMA version of the 'rope-a-dope' and by the 4th round when Ortiz was gassed, Shamrock finished him with strikes. His early Pancrase fights with Bas Rutten are still some of the more entertaining and brutal fights you'll see. Unfortunately, Shamrock's prime did not come about in the cage because of business disagreements, otherwise, he'd be considered by the masses in the same light as guys like Chuck Liddell or Randy Couture. Aside from his successes in the cage (UFC champion, WEC champion, Strikeforce champion), Shamrock was also the enormous draw in San Jose (although that market's been killed off by Zuffa now). Don't forget, the Shamrock/Cesar Gracie fight in Strikeforce from 2006 is still the active record holder for highest paid attendance in the United States for an MMA show (17,465). Fighter, drawing power and ambassador for the sport, he was skilled at each.
3. Randy Couture – When Randy Couture made his professional MMA debut at the age of 33, nobody could have known what he could accomplish. Three fights in, he went up against the young phenom, Vitor Belfort, and finished him in eight minutes. He's a UFC tournament champion, three time UFC heavyweight champion and two time UFC light heavyweight champion. Couture was involved in a pair of fights which were considered the best of their year (vs. Pedro Rizzo in 2001 and vs. Tim Sylvia in 2007) and the success he had at multiple weights is always incredible. Plus, when you bring up the topic of older fighters having success, Couture is the definition of that discussion. He's the only man in UFC history to defend a championship as a 44-year-old. His trilogy with Chuck Liddell was big for business with the latter two fights taking place after his work on the original season of The Ultimate Fighter. Rarely was Randy the most physically impressive fighter in the cage, but he didn't let that stop him from overcoming the likes of Belfort, Kevin Randleman, Rizzo, Tito Ortiz, Liddell, etc.
2. Fedor Emelianenko – The greatest heavyweight fighter in the sport's history. There is no debate with that fact. Aside from a loss given to him by error, he was essentially undefeated from 2000 until 2010. Nobody has that type of consistently because humans make errors. In fact, Fedor made a lot of them during that run, but he was always able to remain calm and find a way to win. Kevin Randleman nearly broke his neck, Fedor regained his composure and quickly slapped on a Kimura for the win. Kazuyuki Fujita rocked Fedor with a massive punch but Fedor came back to choke him out. He fought a continuous stream of high level fighters and dispatched of them all (Arona, Babalu, Schilt, Herring, Nogueira, Fujita, Coleman, Randleman, Cro Cop, Sylvia, Arlovski) while never saying more than a handful of words. If you're talking the scariest mystiques in the sport's history, you're talking Fedor and Wanderlei Silva. When you have an undisputed king of a division all-time, known forever as one of the greats, he's an easy pick for any hall of fame.
1. Royce Gracie – The UFC was created to be a marketing tool for Gracie Jiu-Jitsu and the family chose Royce to be the instrument to deliver the message. At about 180 pounds, he looked more like a string bean than a deadly fighter as most Americans believed circa 1993. After all, he had no massive muscles, he wasn't a boxer and he wore that funny looking thing known as a gi. Little did most know, but they soon realized what he was capable of. He won three of the first four UFC tournaments, 11 fights in total all by submission. Years later, as the sport adapted and fighters cross trained with regularity, Royce only went 3-2-3 in MMA fights. There are plenty of reasons why Brazilian Jiu-Jitsu gyms are basically on every street corner in most cities in America these days and why MMA was able to grow into a multi-million dollar industry. Without Royce's performances at those early UFC's, does any of that happen?
---
Alex Rella
5. Matt Hughes – My favorite fighter and was the best fighter of all time when he was in his prime but then GSP had to come along and ruin it. UFC hall of famer, two time welterweight champion, most wins in the UFC, and he had a bunch of other records but Silva just keeps breaking those. Unfortunately the past few years haven't been great for him. Hughes' retirement seems almost definite after some interviews last week. I understand why he's retiring but it would be cool if one of the all time greats could go out with a win. Especially if it's against Dan Hardy.
4. Fedor Emelianenko – The last few years of Fedors career pretty much sucked but still the best heavyweight of all time. The Pride heavyweight champion and 2004 heavyweight world grand prix champion was untouchable for years. Fedor has defeated some of the best heavyweights of all time including Cro Cop, Big Nog, Mark Coleman and other former champions like Tim Sylvia and Andrei Arlovski. It's a shame he never fought in the UFC but that's his own fault.
3. Randy Couture – The Natural may not have the best record but he is still a true hall of famer. Three time UFC heavyweight and two time light heavyweight champion, oldest guy to do everything in the UFC, most title fights, most main events, and first fighter to hold titles in two different weight classes. He finally retired last year but I wouldn't be completely surprised to see him come back one more time just because he's that awesome.
2. GSP – The two time UFC welterweight champion is finally returning at UFC 154, win or lose GSP deserves to be in any MMA Hall of Fame. GSP's six title defenses are second only to Anderson Silva. GSP is the best welterweight of all time and is only 31 years old. It will also help if he ever decides to start finishing guys again.
1. Anderson Silva – The Spider is easily the best fighter of all time. Silva is on his way to owning almost every record in the UFC since joining in 2006. Most consecutive wins, title defenses, most finishes, and most post fight awards. GSP is the only fighter even close to having a better career but it's tough even for him to pass his accolades. I'm surprised he isn't in the UFC Hall of Fame at this point, plenty of other guys went in while they were fighting.

---
YOUR TURN KNOW IT ALLS
List your Top Five for this week's topic in the comment section using the following format:

5. CHOICE: Explanation
4. CHOICE: Explanation
3. CHOICE: Explanation
2. CHOICE: Explanation
1. CHOICE: Explanation
TWITTER
Your heart is free. Have the courage to follow it…TO CSONKA'S TWITTER!
http://www.twitter.com/411wrestling
http://www.twitter.com/411moviestv
http://www.twitter.com/411music
http://www.twitter.com/411games
http://www.twitter.com/411mma

comments powered by Disqus