The 411 MMA Top 5 12.27.12: Week 99 – Top 5 Predictions For 2013
December 27, 2012 | Posted by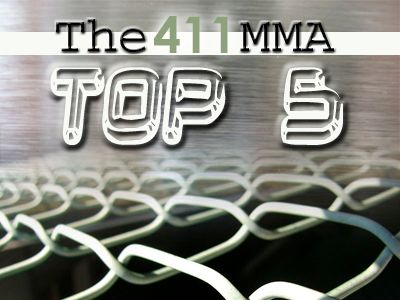 Welcome:
Welcome back to the MMA Top 5! What we are going to is take a topic each week and all the writers here on 411 MMA will have the ability to give us their Top 5 on said topic, plus up to three honorable mentions. It's highly non-official and final, like WAMMA.
TOP 5 PREDICTIONS FOR 2013
Patrick Mullin
5. Junior dos Santos Will Remain Heavyweight Champion – While heavyweights have seen an upswing on the talent level in the last few years there's seemingly no one capable of beating JDS. His superior boxing mixed with excellent takedown defense will allow him to remain the king of the heavies for at minimum one more calendar year. There's just no one good enough to hang with him.
4. World Series of Fighting Will Close Up Shop – I hate to be a naysayer and seeing the rise of a successful alternative promotion to the UFC would be great, but the WSOF isn't it. They're operating at a loss right now and while nothing was wrong with their product they don't have the names to draw in big enough crowds and they have to pay for television air time. Its just a bad start for a company that doesn't have megabucks to make it last and the UFC will likely try to steal anybody of interest from them to shut it down quickly.
3. Dan Henderson Will Retire – With a loss to either Lyoto Machida(probable) or Jon Jones(definite) Dan Henderson loses what is likely his last title shot. He can't comfortably make middleweight anymore and even if he could he's already lost to that champion too. Hendo has made good money and has nothing left to fight for at that point, so retirement is the answer for him. I wish him well on what has been a Hall of Fame career.
2. At Least Three Interim Champions Will Be Crowned in the UFC – The naysayer in me takes over on this one as while the UFC is running less events in 2013 than they did in 2012 I still expect at least three title fights to be postponed due to injury to one or more of the participants. We haven't seen any changes to training habits with multiple sparring sessions happening in cages and injuries running amuck because of the negligence. Prepare for more interim titles in 2013.
1. Anderson Silva vs. Georges St. Pierre Will NOT Happen – Wow I'm just a huge downer. Sorry but I don't believe this fight will ever happen due to the egos involved and the demands that will be made by both sides. I honestly also believe that despite having definite stylistic threats to Anderson Silva that GSP has no desire to make this fight happen as he seems to get extremely uncomfortable and even somewhat skidish whenever someone mentions this fight to him. Despite how good this could be for all involved (even the loser) I just don't see it happening.
---
Scott Kuczkowski
5. Injuries will rule every division – Zuffa is in a precarious position, in that injuries, so much as they have been a common problem in MMA since its inception, have begun to dominate the landscape of every division. After 150+ events, it was the injury bug that eventually forced the UFC to cancel a card. It is that same bug that has crippled Strikeforce. There is a fix out there; the issue is whether or not Zuffa is willing to play behind-the-scenes hardball with their fighters. This article is too small a place to discuss the solution, but I predict injuries will continue to plague each and every UFC event until Zuffa is forced to do something about it. A conservative estimate is that 35% of advertised main events will not happen next year.
4. A Dead Horse will be Beaten – The dead horse in question is The Ultimate Fighter, and the beating it will take is in the ratings department. Neither a move to Wednesdays nor the inclusion of Jon Jones or Chael Sonnen will have any lasting effects on the show's ratings. Fox might pretend to remain optimistic and the UFC will probably try to put the best spin on it, but another unimpressive season will eventually see the showed moved to another night/timeslot or altogether cancelled. Perhaps, the wizards at Fox will be able to provide some insight to freshen the show up, but if the UFC continues to try to play the reality TV market, the show is most certainly doomed.
3. Strikeforce free-for-all – It is easy to predict that Strikeforce will close its doors in 2013; the writing has been on the wall since its purchase. The biggest story out of this will be how many fighters ARE NOT signed by the UFC, and are just released to become free agents. If I had to guess, I'm going to say that a little more than 10% of the roster will join the UFC. Who will be among them? Moving from heaviest to lightest: Daniel Cormier, Rafael Cavalcante, Luke Rockhold, Tim Kennedy, Ronaldo Souza, Tyron Woodley, Nate Marquardt, Gilbert Melendez, and Ryan Couture. The rest will be a boon of talent for promotions like Bellator, OneFC, and MFC. Why won't the UFC sign the rest? They'll never tell.
2. Flyweights will fail to impress – It's safe to say that the Flyweight experiment has been a bust. Not only did the inaugural tournament get screwed by poor math skills, but also the fans have voted their own displeasure with the little guys through boos throughout their bouts. The division is unfortunately paper thin with few personalities that make fans really care. For as much as Demetrious Johnson is a talented fighter, he doesn't finish and he's fairly vanilla during interviews. John Dodson might change all that, but the he's just one fighter in a division many people don't yet care about. Next year, I think we will see the Flyweights used as the perpetual co-main event; always the bridesmaid and never the bride. Sure, they might make it as the main event on a free show, but it would be foolish to have a Flyweight main event for a PPV without a stacked card to hold it up.
1. Underutilization of Rousey – Rhonda Rousey will probably have her first UFC bout in the spring or the early summer. After that, we won't see her for the rest of the year. Why Not? Well, a lack of contenders is going to be a big issue. Couple that with commitments she will have once she's become an even bigger star, and we'll probably see more of Rousey on the covers of magazines than we will inside the octagon. Don't believe me? Right now, aside from Jon Jones, most champions fight about every 9 months, and those are champions with full rosters of challengers underneath them. Who will be waiting in the wings for Rousey? That's what I'm wondering too.
---
Jonathan Solomon
5. Chael Sonnen Retires – By the time West Linn's O.G. steps into the octagon in April to fight Jon Jones, he'll be 36-years-old. He will lose to Bones Jones, meaning he'll have lost a pair of title fights in two separate weight classes in under a year. Maybe he will take one last fight in the second half of 2013, but for all intents and purposes, his days as a top contender are done. He has made big money from his fights with Anderson Silva and no doubt he will be well compensated for participating on The Ultimate Fighter and getting the fight with Jones. The point is, Sonnen does not need to continue fighting as he brushes up against 40. Chael is great on television as a talking head on the Fuel shows (take my word for it) and ESPN love the guy, too.
4. Junior dos Santos Emerges as GOAT? – JDS has been on a crazy run in the UFC, only Anderson Silva has done more over a longer period of time without losing. He's fighting Cain Velasquez in their rematch days before the calendar flips to 2013, but next year the tasks do not get any easier. Assuming he lays waste to Cain, his next opponent would almost definitely be Alistair Overeem (assuming he beats Antonio Silva). Naturally, expectations for such a fight would be in JDS' favor. With the belief he fights just twice a year as champion, let's say he finishes 2013 with another title defense against Fabricio Werdum. Sure, perhaps he fights Daniel Cormier, but I'm thinking he drops to 205-pounds. By this time next year, JDS may have wins against Mir, Overeem, Cro Cop, Carwin, two over Cain Velasquez and two over Fabricio Werdum. I'd say such a resume looks more impressive than Antonio Rodrigo Nogueira's legendary run in Pride and comparable to Fedor Emelianenko's best days in the same promotion.
3. Anderson Silva Fights Jon Jones – I won't predict an outcome but this fight will happen before the end of 2013. Why? Well, here's a secret for you: Georges St. Pierre is not very fond of the idea of packing on muscle and moving up in weight at the moment. GSP is not a dumb jock, he's intelligent enough to understand doing so is not in his best interests. So, this leaves Anderson Silva in a bit of a quandary. Who will he fight? Could he take a fight with Michael Bisping in the spring? Perhaps. Really, there is no other viable title fight for him with Chris Weidman injured. Meanwhile, Jon Jones will crush Chael Sonnen in April and he'll be prepared to fight again by the fall. What's that? Oh yes, the sound of Dan Henderson getting PISSED he loses out on another title fight. Sorry Hendo, but these are bigger fish to fry for the UFC. Late in 2013, Jones will be convinced to take the fight and Silva will do it because it's the only fight available to him where he can make a gold-boatload of money.
2. New York Finally Legalizes MMA – Call me a masochist if you will, but the optimist in me wants to believe 2013 is THE year. Any Cubs fans out there? Anyway, the state legislature will do the deed by the end of spring and what happens? It takes the New York State Athletic Commission a few months to get their ducks in a row but they are prepared for a sanctioned show by the end of the year. You guessed it, the UFC makes their long waited Madison Square Garden debut with Anderson Silva fighting Jon Jones. Over 18,000 people sell out the "World's Most Famous Arena," the NY media lowers their collective nose and Dana White does the happy happy joy joy dance.
1. Johny Hendricks Knocks Out Georges St. Pierre – Maybe, I'm being partial here (big fan of Hendricks), but the Okie has the tools to beat GSP. The only factors going against him are the facts Georges has a seven-inch reach advantage and he's the bigger man. Despite this, Hendricks is not going to be taken down and held for five rounds. What does this mean? Well, Johny will have plenty of opportunities to close in and swing his fists like they're exploding sticks of C4. St. Pierre can be rocked, the difficulty has been for his opponents to land that big punch or kick. If not for Carlos Condit most recently, can you even recall the last time a challenger (not named Serra) landed a great strike, which rocked the champion? Hendricks will knock GSP out and become the new undisputed champion.
---
Mark Radulich
5. Ben Henderson vs. Anthony Pettis II – I believe these two will meet again in 2013 to conclude their unfinished business from the last days of the WEC. I believe that they will vie for the UFC Lightweight title and this time Black Jesus Smooth will be victorious.
4. Rousey Goes Undefeated – I believe that nobody will unseat Ronda Rousey for the UFC Women's Bantamweight title. She will defeat Liz Carmouche, Cyborg and anyone else they deign to match her against. I suspect she will fight 3-4 times so added to that list will be some combination of Miesha Tate, Sarah McMann and/or Marloes Coenen.
3. Rampage Leaves UFC for Bellator/Impact – After having his head knocked off by Glover Texiera, Rampage will leave the UFC to sign with Spike TV and split his time between wrestling for Impact and fighting for Bellator. While in Impact, he and King Mo will form a tag team and win the titles.
2. Dan Henderson Will Quit the UFC – I'm not sure when or exactly why but I feel like 2013 will be Henderson's swan song. Naming Gustafsson as the number 1 contender essentially snubs Henderson (and Machida for that matter) for being apart of the clusterBUCGAW that was UFC 151. White has basically sent a message to Henderson that regardless of what was promised in the past, if you don't play ball the Dana White way, you will be punished. I think Henderson will get through the Machida fight and see what happens but if he doesn't get his title shot by the second half of 2013 he'll probably just call it day. Now, if he does fight Jones, he will definitely quit when Jones hands him his ass. Either way, Henderson will join Randy Couture, Tito Ortiz and many others in retirement by the end of 2013.
1. Anderson Silva vs. GSP Is Never Happening and Neither is Jones vs. Silva – Much like Pacquiao vs. Mayweather, they keep promising but life has this nasty habit of getting in the way. That fact is that GSP knows he can't beat Silva and he isn't willing to take the chance of his legacy being tarnished. Silva also probably feels like Jones is his biggest threat so he's also not willing to take that fight either. However, Silva probably feels like he can take GSP so that's a safe fight for him and he can make a lot of money in the process. Either way, we're never getting the superfights we all want because these guys aren't dumb. They know that their brands will suffer from the inevitable loss and there's still money to be made fighting the Bisping's and Hendricks' of the world. You want a superfight? Enjoy Aldo vs. Edgar because it's the only one that is going to happen in 2013. However, Jones vs. JDS will probably happen for the HW title in 2014 so you have that to look forward to.

---
Jon Butterfield
5. A Gracie wins in the UFC – Anyone who follows One FC knows that there are currently three Gracie fighters on their books – Igor, Gregor, and Rolles. Unfortunately for that triumvirate, however, Rolles has already had a shambolic UFC debut, losing to Joey Beltran after displaying something akin to the gas tank of a 50 CC moped. Things aren't going so well for Gregor and Igor either, with both suffering defeats in the indies recently as they try to adapt to the multi-faceted sport of MMA, but there are two other shining lights bearing the 'Gracie' name. Roger and Kyra. With Strikeforce set to finally close its doors in 2013 (thank goodness), Roger is the most likely Gracie to win a fight in the UFC in the next 12 months – but with Kyra training to make her debut, and with the UFC finally bowing to the awesome might of the Ronda Rousey media storm, it's not outside the realms of possibility that they will sign her up early and try to make a new star in women's MMA!
4. Stefan Struve fights for the UFC heavyweight title – Stefan Struve averages three fights a year for the UFC, and is ultra-reliable in terms of getting a finish and putting on an exciting fight. He's also finally putting to bed the idea that he's the most hittable of all heavyweights, and that any good striker is sure to knock him out. Dave Herman, Lavar Johnson and Stipe Miocic may not exactly represent the uppermost echelon of the UFC heavyweight division, but all of them pack a mean punch, and none of them were able to tag the ever-improving Struve in 2012. Pat Barry before them also came up short (no pun intended), showing Struve can hang with some pretty fierce strikers and come away with his chin intact. Though he still doesn't take full advantage of his often-gigantic reach advantage in terms of keeping distance, Struve doesn't need to – he's becoming a very dangerous puncher in his own right, and doesn't need to hide behind a jab considering the volume and efficiency of the combos he throws. He's also lethal on the ground, and far too good for most UFC heavies. If he beats Mark Hunt in March, which I would expect, Struve should progress to a Werdum/Bigfoot Silva-level opponent, where I'd give him a pretty solid chance of winning – and if there's enough time left in the year, there could well be a title shot come November/December. There's a lot of ifs and buts in there, but hey – these columns only come round once a year, right?! Gotta make 'em count!
3. All three male Strikeforce champions lose in the UFC – Luke Rockhold, Nate Marquardt, and Gilbert Melendez will all be the recipients of some pretty big fights when Strikeforce is folded into the UFC – but I wouldn't bank on them coming in and dominating like, say, the WEC fighters in the lighter weight categories. While Gilbert Melendez could well be hurried straight into a unification title fight with whoever the UFC Lightweight Champion may be by then (say, Benson Henderson), his most recent performance against Josh Thomson suggests he may struggle – and with the UFC lightweight division being so stacked, there's always the possibility that another top five fighter dethrones him before then anyway. Jim Miller, Anthony Pettis, Donald Cerrone and Gray Maynard would all be extremely tough tests for Gilbert, and it wouldn't be a surprise if any one of them beat the reigning Strikeforce Lightweight kingpin. As for Rockhold, Michael Bisping, Chris Weidman, Tim Boetsch and Vitor Belfort all await, a veritable murderer's row of incredibly talented 185 lbers. Marquardt, as we've seen before, is prone to hiccups despite his obvious talents, and remains entirely beatable – not that I'm suggesting he's a soft touch at 170 lbs. While all three will compete very nicely in the division, the fact is, Alistair Overeem remains the best hope for the ol' Showtime crew to gain their very own UFC Champion.
2. Shinya Aoki fights for the UFC – Shinya Aoki's refusal to give up on the Japanese MMA scene is admirable, but ultimately futile. With the UFC now scheduling regular trips to the Land of the Rising Sun, it's not like Aoki would be selling out by signing with the Zuffa-owned company, and he wouldn't even be forced to compete on American soil – where he's had some pretty mixed results. The greatest thing about Aoki debuting in the UFC would be, we'd finally get to see who was right in terms of the 'would he/wouldn't be able to compete' debate. My thinking? Anyone without truly outstanding takedown defense (and that includes most wrestlers/grapplers outside of Melendez, Maynard and Henderson) will fall prey to the single-slickest ground game in all of MMA.
1. Anderson Silva loses – If the UFC was a computer game, Anderson Silva would have pretty much completed it. He's set record after record, gone undefeated for 6 years, utterly dominated the 185 lbs division, and made a mockery of perfectly serviceable fighters at 205 lbs. It's no surprise, then, to see that Anderson Silva is looking to take more risks than ever. While many wouldn't class dropping your hands against Stephan Bonnar or offering Chael Sonnen a rematch as a particularly big risk for someone like 'The Spider', bouncing around the weight classes looking for super-fights surely constitutes some degree of peril for the 37 year old. Though Anderson has largely looked damn near unbeatable, cutting to a catchweight to meet Georges St Pierre – a statistically better MMA-oriented wrestler than former nemesis Chael Sonnen – would put his record in serious jeopardy for the first time in, well, 6 years! Anderson is a big middleweight, and should he choose to pursue the ultimate MMA dream match with GSP, I can certainly see him losing. But let's say that fight never happens, and Anderson looks to Jonny 'Bones' Jones instead for the 'other' dream match… well, you know what, losing that is perfectly plausible too. I propose, then, that 2013 is the year Anderson Silva finally falls…
---
Stewart Lange
5. Big Changes – Now, this seems a little vague, but I think there's going to be a rule change tweak next year. I mean a decent change to the standard rules of MMA. I don't think it's going to be something huge like soccer kicks, necessarily, but a big rule change non the less.
4. The UFC will announce a show in another new Country – I'm talking along the lines of China, expanding into a new market, rather than an actual newly formed country. The UFC is yet to hold a show in Russia, so perhaps that's a market they could tap into? Surely it's only that one Russian Dana had the problem with, not the whole country.
3. Dana White doesn't sign a big name Strikeforce fighter – This may very well have been rebuffed by not only the time this column goes live, but by the start of 2013. Never the less, here it is. Purely out of spite, Dana White will avoid signing one of the big Strikeforce names remaining, be it Gilbert Melendez, Josh Barnett or Luke Rockhold. He'll find it funny. The fighter in question will not.
2. Still no Superfights – Anderson Silva is taking time out. Well, he's cost himself one of his two potential Superfights because I predict the option won't be there for him and he'll announce (but not actually go through with until 2014) his retirement. I'll not specifically say GSP or Jones lose their belts, but circumstances will prevent us from seeing Anderson against either of them.
1. UFC women's division implodes – This is a bit of a vague one so forgive me, but this is what I'll predict happens. First, the UFC arrange a quick turn around for Rousey after she defends her title in her first fight. Then, she loses her belt in what was meant to be little more than a "gimme" match up. Without a marketable name as champion by no later than the end of the summer, the UFC all but quit promoting WMMA and there are no female fights on their cards through the last 2 months of the year.
---
Dan Plunkett
5. Ben Henderson will not fight with a toothpick in his mouth. – I expect a full examination of Henderson's mouth in the prep point before entering the cage in every one of his fights in 2013. Perhaps they'll even start banning tiny, pointy wooden objects from arenas so as to discourage him. He could poke his eye out with those things.
4. Daniel Cormier only Strikeforce champ to get UFC title shot. – Is Daniel Cormier the official Strikeforce heavyweight champion? I honestly have no idea. Regardless if he is, and I think he might be (maybe), he'll fight for a UFC title in 2013 while the other current Strikeforce champions won't. Cormier could challenge either the heavyweight or the light heavyweight champion, so that increases his odds a bit. Gilbert Melendez is the champion with the next best chance of getting a title shot, but he'll almost certainly have to take a fight before that and the 155-pound division is stacked at the top. Due to not having a big name and Anderson Silva only fighting one or two times per year, I don't think Luke Rockhold will receive a title shot no matter how many fights he wins in 2013. Nate Marquardt is defending his title against Tarec Saffiedine on 1/12, but the welterweight division already has Hendricks lined up after Diaz (and if not Hendricks, perhaps Anderson Silva for GSP).
3. Increase in UFC PPV business. – They may only be slightly up from 2012 (where, barring a huge number for UFC 155, they'll come in below 2011), but I think the UFC has enough major fights lined up that they'll see an increase in domestic PPV buys. The April bout between Jon Jones and Chael Sonnen should exceed 700,000 buys despite Sonnen's chances (or lack thereof) in the bout. Georges St-Pierre vs. Nick Diaz should be one of the biggest events of St-Pierre's career as a headliner. Anderson Silva will continue to do healthy numbers, and depending on the challenger and fight location could do huge numbers (it's not unreasonable to think a Bisping match could do around 700,000 buys). Should he win in February, Alistair Overeem's title match against Junior dos Santos or Cain Velasquez will be a big deal. Plus, the timing should work out for at least one more fight from Jones, Silva, and GSP in 2013. Of course, there will be injuries and big fights will certainly be derailed, but I still think they'll do well. To this point in 2012, UFC has only had three events break 600,000 buys (the December 29 show has a good chance of beating that as well). Right now, they have one definite 700,000+ buy fight lined up, another has a good shot at reaching that number, plus the heavyweight title and Anderson Silva. Right now, all of the key guys (GSP, Silva, Jones) are all healthy. There's also the wild card in Ronda Rousey, headlining UFC 157, that may or may not turn out to be a draw on PPV. Either way, she should be able to pull in above basement-level numbers, and a bout with Cyborg Santos would do a very healthy number.
2. Bellator only a mild success on Spike TV. – It's one thing to be the number two promotion in the world when the sport is really hot, but MMA has cooled down considerably since the peak years of 2006-2010. It's certainly a far more established and accepted sport than it was when UFC came to Spike in 2005, but that's not necessarily a great thing for Bellator. They're the imitators while the UFC had the advantage of being the trailblazers and thus the name everybody associates with the sport. Bellator has the advantage of being on a channel that has a vested interest in the company and will promote them as their top brand, but they'll still be "the other" MMA promotion. Perhaps they'll be able to get past that, but it's a big wall to climb over. They're entering the deal with arguably one established star in King Mo, but he was never a big star and is still relatively unproven in that area. Bellator will significantly grow its audience in 2013, but I don't see them initially catching on to the point they could run a PPV and do business comparable to a lower level UFC show.
1. Anderson Silva won't fight Jon Jones or GSP. – Like many of you, I was strung along over the past month or two and believed UFC would actually make Silva vs. Georges St-Pierre. However, it now looks as though UFC is going to put together St-Pierre vs. Nick Diaz, a completely undeserving challenger, and Silva will fight at middleweight. Perhaps there's a chance they'll change course and realize they have to strike while the iron is hot (learning a lesson from able favorite over Johny Hendricks). Jones shouldn't have much trouble with Chael Manny Pacquiao's knockout loss), but that's something they should have been able to realize before. I do think UFC wants those fights to happen, and should Jones, Silva, and GSP keep winning, there will undoubtedly be talk of one of the super-fights going down late next year. However, I have a feeling they'll just go with the top contenders at each weight class (probably while still ignoring rightful 205-pound challenger Dan Henderson no matter what he does). Of course, the longer the super-fights are put off, the longer the odds are they'll ever happen. Anderson Silva turns 38-years-old in April, and at some point will go into decline, perhaps very rapidly. St-Pierre, who will turn 32, should continue to enjoy his prime throughout 2013, but he has tough challenges ahead (though he'll be a big favorite against Nick Diaz and a considerable favorite against Johny Hendricks). Jones should easily beat Sonnen in April and will be a big favorite over anybody he fights.

---
Alex Rella
5. Chael Sonnen defeats Jon Jones – This one is a bit of stretch but I think Sonnen has a chance at pulling it off. It's possible that Belfort showed the weak point in Jon Jones' game. Sonnen has been training with Vinny Magalhaes and even Jones' old trainer said that Jones is weak on his back. I'm really looking forward to seeing if Sonnen's wrestling is good enough to take Jones down to the ground. Even if he destroyed, Sonnen will be more aggressive than all the other guys that just stood in front of Jones and got picked apart.
4. Anderson Silva ducks Chris Weidman – Silva and his camp are scared of Chris Weidman. It's obvious he doesn't want that fight and understandably so. Weidman is a great wrestler that showed off equally good striking in his fight with Mark Munoz. Luckily for Silva, Weidman hurt his knee so it's likely he only fights twice or so in 2013. I wouldn't even be that surprised if Silva doesn't defend his title at all next year.
3. Daniel Cormier wins gold in the UFC – While I'm disappointed that Strikeforce is closing down in January, I'm looking forward to seeing how their top fighters do in the UFC. Daniel Cormier is in a position where he can win a title in either the heavyweight or light heavyweight divisions. Cormier is currently Strikeforce's heavyweight champion but his teammate Cain Velasquez is the number one contender for the UFC title. So Cormier has said that he would cut weight if Cain were to win. Cormier used to wrestle at 211 lbs so he could drop down to 205. He also expressed that he wants to take on Jon Jones. His great striking and Olympic level wrestling are no joke.
2. Ronda Rousey goes undefeated– I think Dana White will get his wish that Ronda Rousey stays at the top of her new division. The UFC and women's MMA as a whole needs her to stay at the top for a little while longer and I don't see anyone that will beat her. Carmouche, McMann, and a rematch with Tate make for intriguing fights but Rousey should come out on top. Maybe Cyborg cuts to 135 but who knows if that actually happens and if so how she fights that light and clean.
1. Silva vs. GSP Doesn't Happen – I just don't see it happening. GSP has no interest in fighting Anderson Silva no matter what Dana White and Silva say. GSP was not cool with how disrespectful they were to Condit before their fight at UFC 154. The welterweight division has always been his priority and now he has Nick Diaz and Johny Hendricks waiting for him. Anderson Silva has no interest in defending his title against guys like Bisping and Weidman. I think it's more likely that we see Silva vs. Jones instead.

---
YOUR TURN KNOW IT ALLS
List your Top Five for this week's topic in the comment section using the following format:

5. CHOICE: Explanation
4. CHOICE: Explanation
3. CHOICE: Explanation
2. CHOICE: Explanation
1. CHOICE: Explanation
TWITTER
Your heart is free. Have the courage to follow it…TO CSONKA'S TWITTER!
http://www.twitter.com/411wrestling
http://www.twitter.com/411moviestv
http://www.twitter.com/411music
http://www.twitter.com/411games
http://www.twitter.com/411mma

comments powered by Disqus