The 411 MMA Top 5 2.08.13: Week 100 – The Top 5 Anticipated Fights in 2013
February 8, 2013 | Posted by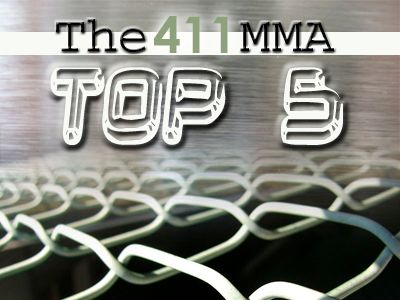 Welcome:
Welcome back to the MMA Top 5! What we are going to is take a topic each week and all the writers here on 411 MMA will have the ability to give us their Top 5 on said topic, plus up to three honorable mentions. It's highly non-official and final, like WAMMA.
TOP 5 ANTICIPATED FIGHTS OF 2013
These are the top five fights that have either already been announced, are possible to happen or dream fights that may be a long shot, but have a real chance of happening.
Mark Radulich
5. Anderson Silva vs. Michael Bisping – I was hoping Bisping would dispatch with Belfort earlier this year and that this could happen over the summer but Bisping blew is opportunity so such is life. However, he's already got a fight lined up with Alan Belcher in April and then may with another win over the summer they can end the year with Bisping finally getting his title shot against Silva. He'll get killed but it will be a lot of fun watching finally get there. With any luck they can do it in England and we can all laugh as an entire country exhales in dismay all at once.
4. Alistair Overeem vs. Junior Dos Santos – Title or no title this fight still holds a lot of interest for me. Overeem and JDS both have comparable boxing skills and a clash between the two should be lots of fun. Of course I thought a fight between Bigfoot and Overeem would be fun too but let's see what happens Overeem isn't worried about his title shot and just fights.
3. Ben Henderson vs. Anthony Pettis – I've been calling for this fight since this time last year after the Japan PPV. These two deserved a rematch after their stellar WEC finale title fight. However, it didn't happen and Pettis has been chasing his promised LW title shot for 2 years now. Finally Pettis has earned another title shot and if all goes according to plan, Henderson will defeat Melendez and we can finally have a lightweight title that will actually sell on PPV (and it will be fantastic).
2. GSP vs. Nick Diaz – Superfight 2: Electric Boogaloo. This would have been a bit better had it happened when it supposed in October of 2011 or even a year ago but GSP's bum knee and Diaz' previous inability to catch a flight on time scuttled those plans. In any case, I've been dying for these to fight ever since Diaz threw a tantrum back in Strikeforce about being overworked, underpaid and overpaid (it totally makes sense if you speak Diaz-ese). I stand by my initial prediction that if Diaz takes the fight to GSP he will end the Tyranny of Decisions that the GSP-Era has wrought. And even if he doesn't I'll still love watching him try.
1. Cain Velasquez vs. Fedor Emelienko – The rules of this Top 5 stated there had to be a hint of reality. The UFC is planning an event in Russia this year and there are currently no viable contenders at heavyweight for Velasquez to fight (minus Cormier whom he doesn't want to fight) so therein lies your hint of reality. I realize this isn't likely but a man can dream. With all of this talk about almost making Lesnar vs. Fedor at Cowboy stadium it reminded me that M-1 was looking to do this fight in Russia last year. I know Dana White said that after Fedor's father died the whole deal fell a part but I think that if the fight were in Russia and was for the title, someone close to Fedor would talk him into it. I'd still love to see that fight. It annoys me that the last time we'll ever see Fedor fight is in Russia against Pedro Izzo on a card nobody outside of Russia saw. I think Velasquez vs. Fedor in Russia would be an awesome way to open that market and obviously it would be a fun fight to see.
---
Jon Butterfield
5. Hector Lombard vs. Vitor Belfort – After his dreadful UFC debut, Lombard appears to have lost some of the mystique he garnered through his domination of Bellator – however, the ease with which Lombard dismantled dangerous leg lock specialist Rousimar Palahares was a timely reminder of the Cuban's awesome punching power. Lombard, realistically, will need another win over a top ten fighter to even get close to a fight with Brazilian 'Phenom' Vitor Belfort, but I hope he gets there, because this would be a veritable 'blink and you'll miss it' affair between two of the most devastating strikers in the world. Neither fighter is known for letting their opponents off the hook, and, when shots land, the end is never far away. The question here is, who would land first, and, subsequently, who would end up staring blankly up at the lights?
4. Johny Hendricks vs. Jake Ellenberger – This one is going down at UFC 158, and I cannot wait! The parallels between the two are there for all to see, with both possessing outstanding wrestling, but preferring to rely on their incredible punching power and solid chins. In truth, both men are prototypical modern-day MMA fighters, whose styles are both extremely effective and good to watch. Who wins, I have literally no idea at this point – which is, for me, the sign of a great bit of match making. Bring it on!
3. Anthony Pettis vs. Jose Aldo – Anthony Pettis apparently told Dana White he wanted to drop to 145 and face dominant featherweight champion Jose Aldo – and for me, that's an offer the UFC should not refuse. 'Showtime' made mincemeat out of Donald Cerrone's liver, finishing the tough Colorado native in just over two and a half minutes, whilst further evidencing his standing as one of the very best strikers in the UFC. Jose Aldo belongs in that very same bracket, and also proved himself once more with a decision win over Frankie Edgar, where he evidenced superior boxing through the first three rounds. Aldo's gas tank is one of the very few doubts that stand against the champion's name, though, and both Edgar and Hominick were able to enjoy good success in the championship rounds. That could be massive if Pettis is able to better Aldo early, because it's unlikely given 'Scarface's' record that he would be able to turn it round. And frankly, I wouldn't bet against Pettis having a measure of success on the feet anyway. Not that I'd bet against Aldo either… Yeah, I'm probably not betting on this full stop!
2. Daniel Cormier vs. Cain Velasquez – Cain Velasquez says he has no interest in fighting Daniel Cormier for the UFC Heavyweight title, prompting discussions about an imminent drop to 205 for Cormier in order for him to chase the gold held by Jon Jones. As good a fight as that is, I'd still prefer to see Cormier vs. Velasquez, and, quite frankly, you should never say never in this business. Provided Cormier beats Frank Mir, which he should, and rather comfortably so, then few men present as big a threat to Cain as Cormier. In fact, with Alistair Overeem disappointing in his loss to 'Bigfoot' Silva, there is ONLY Cormier – or a rubber match with Junior dos Santos. But, if this particular fight never happens between these two outstanding athletic freaks, we can always console ourselves with either Cormier-dos Santos or Cormier-Jones, and that ain't half bad!
1. Anderson Silva vs. Jon Jones – Anderson Silva is peerless. In fact, he's so good, he's almost challenger-less. Chris Weidman certainly thinks he could beat Anderson, and Luke Rockhold would no doubt love to fly the flag for Strikeforce in a title unification bout, but neither have the track record (yet) to suggest that they'd be any different to the plethora of challengers Anderson has already annihilated over the years. And besides, Weidman is injured right now, and Silva's camp are intimating that they wouldn't want either bout due to a lack of 'name value' on the challengers' behalves. What better time, then, for Anderson to make the jump up to 205 – a jump he's made a couple of times already – and challenge the phenomenally gifted Jon Jones? Of course, Anderson would probably argue he would need to acclimatize at 205 in order to face the biggest test of his career, and the UFC would likely be reluctant to risk having a champion coming off a loss, but if this fight ever DOES happen, it will be the biggest in the history of MMA, and should be a surefire million buys, MINIMUM.
---
Jonathan Solomon
5. Eddie Alvarez vs. Gray Maynard – Assuming Eddie gets out of his Bellator shenanigans and moves over to the UFC, this would be one hell of a introductory fight. It may not be the best match-up for Eddie, given his propensity for leaving his chin out in the open when brawling, but fireworks are what we're interested in. A win over Maynard gets Eddie right into the title mix while Gray is looking to stay as far away from gatekeeper status as possible.
4. Benson Henderson vs. Gilbert Melendez – A fight years in the making as Gilbert finally challenges for the UFC crown. His opponent is not B.J. Penn nor Frankie Edgar, but perhaps Benson is an even tougher fighter at the moment. Neither of these two have shown much in the ways of weaknesses, and being finished? Hell no. Two bulls lock horns, the fans win.
3. Anderson Silva vs. Jon Jones – You never know and perhaps this is an even bigger pipe dream than seeing it inside the hallowed halls of Madison Square Garden. Nevertheless, many talk as though these two men are the only legitimate challengers for one another, and maybe they're right. Bones is a beast and it looks like there is no regular 205-pounder alive who can put him in a tough spot. Meanwhile, Silva has been ridiculously dominant (with the exception of 4.5 rounds against Sonnen in 2010) and his striking is lights out. Would Jones be crowned the best fighter in the world, or is Silva apt to cement his place as the best fighter of all-time?
2. Ronda Rousey vs. Cris Cyborg – With Gina Carano secure in Hollywood, this is one of the most talked about possible fights in the entire sport. Of course, Cyborg (and her manager, Tito Ortiz) must sign with the UFC and before that even, agree to compete at bantamweight. Regardless, these two ladies have shown plenty of anger at the other over the past several months and can you begin to imagine the awesome interviews in the build to a fight? Then you get to the fight, you'll have the arm collector against the smasher. Who comes out on top, can Ronda withstand the powerful punches from Cyborg or will the Brazilian phenom fall and become just another victim of the armbar? All are titillating questions.
1. Benson Henderson vs. Anthony Pettis 2 – Personally, this is a fight I've wanted to see ever since December 2010 when their first bout ended. It was as close as possible entering the fifth round with the WEC championship (and what we believed was a shot at the UFC title) on the line. The showtime kick sealed the deal for Pettis and he's struggled to maintain that momentum ever since thanks to a loss to Clay Guida and injuries. When he's been back in the cage since, he's looked special with a pair of knockout wins against Joe Lauzon and Donald Cerrone. Meanwhile, you have Henderson who came off the loss to Pettis with a ball of fire to improve. He's taken immense leaps and bounds to improve and become the best lightweight in the world. His wrestling, his striking, movement, defense, the whole nine yards have taken a step up since his days as WEC champion. Perhaps, nothing can live up to their first fight but when you have two action-driven fighters in the cage, what can go wrong?
---
Wyatt Beougher
5. Georges St. Pierre vs. Johny Hendricks – If Hendricks wins at UFC 158 next month and Dana White makes any fight for GSP that doesn't involve Hendricks, it's going to do serious damage to the credibility of the welterweight title. Hendricks is 9-1 in the UFC, with his last three fights all being against top 5 competition. Hendricks has put together the most impressive resume of any UFC welterweight not named Georges St. Pierre, and he deserves his title shot for that.
4. Benson Henderson vs. Gilbert Melendez – This is the only fight on my list that's actually confirmed, and that's an indication of just how awesome I think it should be that I've listed it with four other hypothetical fights. Henderson has improved greatly since transitioning to the UFC, while a lack of real competition in Strikeforce has arguably dulled Melendez's edge (I'm basing that on his struggle against Josh Thomson, a man he was favored to beat fairly handily). Now that Melendez has the UFC contract he's been clamoring for since 2011 and he'll be facing off with Henderson in a lightweight title unification match, as well as fighting for the right to be called the number one lightweight in the world. If this fight isn't a Fight of the Year contender, then something is wrong with one or both of these guys.
3. Georges St. Pierre vs. Anderson Silva – I don't particularly care for GSP, yet he's made my list twice. While his last appearance was basically just to right a wrong, this one is simply because this is too big a fight for an MMA fan to want to pass up. Silva and GSP have separated themselves from the rest of UFC's storied champions by looking so dominant during their respective title reigns that fans have no choice but to speculate about a fight between the two. As it stands, I don't think this fight will happen in 2013, as I think GSP already has his fight with Diaz upcoming and neither he nor Silva seems inclined to fight more than twice per year. I think the only way this works out is if the UFC decides to book Luke Rockhold against Chris Weidman (assuming Silva gets the Cung Le fight that Ed Soares says that he wants) AND Johny Hendricks loses to Jake Ellenberger. If Hendricks win, that has to be GSP's second fight in 2013, which would prohibitively push GSP/Silva back until next year. But it's still a fight that I'd love to see in 2013.
2. Jon Jones vs. Daniel Cormier – I'm not really sold on Cormier as a heavyweight – he's absolutely a dangerous fighter but he just doesn't look like he belongs in the division. He's a big strong guy, to be sure, but he's one of those guys that you look at and immediately wonder how they'd do in a different weight class. It doesn't hurt that Cormier's friend and training partner Cain Velasquez is the UFC heavyweight champion and Cormier has no interest in fighting him so a drop to light heavyweight makes sense. While I'd like to see him win a fight at light heavyweight before facing Jones for the title, this is a fight that I very much would like to see. Cormier's an Olympic-caliber wrestler with knockout power and while I'm not sure that'll be enough to overcome Jones' incredible athleticism and overall skill set, it will be a fun fight for as long as it lasts.
1. Jon Jones vs. Anderson Silva – I realize GSP/Silva would be the bigger moneymaker (assuming neither guy loses between now and it hypothetically happening), but Bones/Silva is the fight that I'd rather see. Silva usually enjoys a height and reach advantage over his opponents, so I'd be curious to see how he'd fare against a lankier fighter with good wrestling and dangerous submission skills. Throw in the fact that Silva's already competed in Jones' division with success, and both he and Jones are running through competitors as quickly as the UFC makes them, and this fight just makes sense.

---
Patrick Mullin
5. Jon Jones vs. Lyoto Machida 2 – Lyoto is probably my favorite fighter. I love his approach to the fight game and his composure. His karate technique is beautiful and lethal at the same time. However Jon Jones is as great a fighter as there is and he proved his mettle when he choked out Machida with a standing guillotine. That being said you fight to be the best and the champion and Machida isn't getting any younger. If he's ever going to succeed against Jones, which admittedly is not likely, it has to be soon. A win over Dan Henderson probably nets him another title shot and I'd like to see a healthy Lyoto with a full camp and extremely motivated push Jon. While Jones is the definite favorite as a fan I'd love to see if Lyoto could make necessary adjustments and provide a more competitive outing this time. Plus if he wins I'd scream like a fangirl.
4. Georges St. Pierre vs. Johny Hendricks – This is more me wanting to see a guy who has done nothing wrong get what he deserves rather than the proverbial shaft yet again. Johny has gone out and beaten top welterweight after top welterweight, more often than not by KO. We saw GSP tested in his last fight by Carlos Condit and I think Hendricks is actually a tougher fight for him. Greats rise to the occasion though and generally when he has to GSP has shown he can dig deep and dominate even the toughest of opponents. Johny deserves this shot and GSP is at his best as a fighter and entertainer when he has an opponent who pushes him. Hendricks will do that.
3. Anderson Silva vs. Chris Weidman – Honestly this fight is a little bit different as to why its on my list. Every all-time great in any sport but particularly combat sports will always be accused of ducking someone when they decide to retire. Lennox Lewis heard it about Vitali Klitschko (despite beating him while being totally out of shape), and Anderson Silva is going to hear it about Chris Weidman if they don't fight. The reason being that people are stupid. If Anderson in fact does fight Weidman and retires, they'll say he ducked Luke Rockhold. If he beats Rockhold he didn't want to fight Lombard, and so on and so on. There will ALWAYS be somebody else because you simply CANNOT FIGHT EVERYONE. So I'd like this to happen just to see that exact scenario play out.
2. Daniel Cormier vs. Cain Velasquez – Cain Velasquez is the king of the mountain amongst heavyweight MMA. That being said I feel Daniel Cormier is the pound for pound best heavyweight MMA fighter. Yes they are training partners and while Velasquez has said he doesn't want to fight DC, Cormier has never outright said as much. It would be absolutely interesting to see what two guys who know each other so well would be able to do when they actually have to fight for the biggest prize in MMA.
1. Jose Aldo vs. Frankie Edgar – By the time you read this column this fight will have already happened. However this fight is the one I feel was the absolute best fight that could be possibly made by any promotion in 2013. The matchup is just about as even as you can get in terms of everything these guys have to offer in their skill sets, and even their size is relatively comparable. They're two of the best pound for pound fighters in the world in their prime each in need of an opponent capable of testing everything they have to offer. That's what makes a fight great. When you have two legitimately great opponents at their very best going at it on even terms. You just can't beat it.
Dan Plunkett
5. Renan Barao vs. Frankie Edgar – Edgar should be able to make the weight, so why not? Assuming Barao beats Michael McDonald, throw another title shot Frankie Edgar's way (to extend his streak to eight consecutive title fights) since Dominick Cruz won't be back yet anyway. I don't know how Edgar would handle the cut to bantamweight or if he'd be the same fighter at 135-pounds, but it'd be a Frankie Edgar title fight so it'll probably be close and good. And even though Edgar isn't a big draw, it'd still be the biggest fight you could put together in the bantamweight division in Cruz's absence.
4. Ronda Rousey vs. Cyborg Santos – No matter the weight issue, this fight should happen. If Cyborg gets down to bantamweight, whether by dieting or cutting an unsafe amount of weight (if she chose the latter she'd probably just miss weight), she probably won't be the same fighter. In the interest of seeing the most interesting fight possible, I'd like to see the fight at 140-pounds or maybe featherweight, but bantamweight makes the most sense for the UFC. Regardless of the weight, it's a big fight. All of Cyborg's clips are of her destroying people, and all of Ronda's clips are taken from conspiracy videos of her destroying peoples' arms. They also dislike each other. That sounds like a promoter's dream to me.
3. Jon Jones vs. Daniel Cormier – Let's look at the challengers in line for Jon Jones. Chael Sonnen poses little threat. Dan Henderson has a right hand, but he'll have a hard time getting inside and can be taken down. Lyoto Machida put up a good fight against Jon Jones, but I don't think the ultimate result would change in a rematch. Alexander Gustafsson is tall, but I have questioned his chances against a high level wrestler. Then there's Daniel Cormier. Cormier has never fought at 205-pounds and the last time he tried to get around that weight he went into kidney failure, but with a good diet (at least prior to this last Strikeforce fight he always ate whatever he wanted) I think he could get there.
Assuming he can make the weight, Cormier is an awesome opponent for Jon Jones. Cormier has fast hands and the key to the fight would be his world-class wrestling ability. If anybody can put Jones on his back, it's Cormier. The height disparity is an issue, but not to the point where I'd discount his chances against the much taller Jones.
2. Ben Henderson vs. Anthony Pettis II – Put me in the category of people that were happy when Aldo vs. Pettis was made because it's a great match-up, but disappointed because it means that he probably won't fight Ben Henderson again this year. But, with injuries and Pettis' desire to fight at lightweight after the Aldo fight, perhaps there is a glimmer of hope of seeing the rematch in 2013. The first Henderson vs. Pettis bout was a back-and-forth fight that Pettis winning, but not out of the woods, when he landed the Showtime Kick with a minute left to put the fight out of reach. The fight is mainly remembered for that kick, but even without the kick it would've been an awesome fight. Since that match, both have improved and a rematch is the natural move.
1. Anderson Silva vs. Chris Weidman – Normally this is the slot where I'd put Silva vs. Georges St-Pierre, but after the bout fell apart in favor of Georges fighting Nick Diaz I lost all hope that it would ever happen. Silva vs. Jon Jones is more likely, but I think Jon Jones' schedule is pretty full this year. So we're left with Silva vs. Weidman. I put this fight in the top spot for a couple of reasons. First, Anderson Silva is the greatest fighter of all-time and at 37-years-old (probably 38 by his next fight) all of his fights are can't-miss. Secondly, Chris Weidman is an awesome fighter and has a style that has traditionally caused problems for Anderson. Weidman is a very good wrestler and has quickly adapted to Brazilian Jiu-Jitsu. As much as I like seeing Anderson Silva destroy people (and I really, really do), for however long of his prime he has left I want see him face fighters that will give him tough fights. Chris Weidman is one of those fighters.
"I WILL POUNCE ON THAT BOY AND BEAT HIM LIKE HE OWED ME MONEY!"
---
YOUR TURN KNOW IT ALLS
List your Top Five for this week's topic in the comment section using the following format:

5. CHOICE: Explanation
4. CHOICE: Explanation
3. CHOICE: Explanation
2. CHOICE: Explanation
1. CHOICE: Explanation
TWITTER
Your heart is free. Have the courage to follow it…TO CSONKA'S TWITTER!
http://www.twitter.com/411wrestling
http://www.twitter.com/411moviestv
http://www.twitter.com/411music
http://www.twitter.com/411games
http://www.twitter.com/411mma

NULL
comments powered by Disqus