The 411 MMA Year-End Awards 1.09.13: Part Three – The Breakout Fighters of 2012
January 9, 2013 | Posted by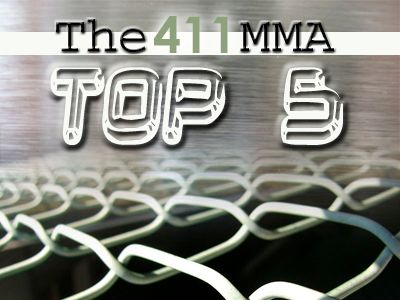 Welcome:
Welcome back to the MMA Top 5, year-end awards edition! What we are going to is take a topic and all the writers here on 411 MMA will have the ability to give us their Top 5 on said topic, and the end, based on where all of these topics rank on people's list, we will create an overall Top 5 list. It looks a little like this…
1st – 5
2nd – 4
3rd – 3
4th – 2
5th – 1
At the end we tally the scores and get our overall top 5! It's highly non-official and final, like WAMMA. What we are going to do over the next few weeks is run the column twice a week to crown our best of 2012. From best and worst fight to best fighter and KO of the year, the staff will come together to share out best. Thanks for joining us, and lets get down to work.
And now…
THE BREAKOUT FIGHTERS OF 2012!
Patrick Mullin
5. Renan Barao – Barao was one of those guys no one was really sure about when he came into the UFC. He had a long unbeaten streak but the UFC has a funny way of making those disappear. Barao went on to beat gatekeeper Scott Jorgensen in a good performance but really wowed the MMA world when he dominated title fight favorite Urijah Faber to win the interim bantamweight title.
4. Glover Teixeira – I don't know if anyone could be the beneficiary more by not fighting someone than Glover was when Shogun Rua turned him down as an opponent. All of a sudden Glover became the darling of the internet and was apparently feared by everyone. He justified a good bit of the hype with a dominant and quick victory over Kyle Kingsbury and followed with a horrific beating of Fabio Maldonado. This should have led to a fight with Rampage who must have injured himself walking to the fridge because it was postponed into 2013. That said Glover put himself on the map big time.
3. Demetrious Johnson – While 2012 didn't start off ideal for Johnson with his controversial draw against Ian McCall. He responded by dominating McCall in the rematch to advance to the finals of the UFC's inaugural featherweight title tournament. In the finals he took on the heavily favored Joseph Benavidez and pitched a near shut out beating Benavidez to the punch and stifling his wrestling to finally wear UFC gold.
2. Johny Hendricks – Hendricks left 2011 on a high note by beating former title challenger Jon Fitch in seconds with one punch. 2012 would be the year he proved it wasn't a fluke as he beat two time title challenger Josh Koscheck and followed it up with a KO win over Martin Kampmann inside of the first round to leave no doubt as to who the top welterweight challenger was, or so we thought anyway.
1. Ronda Rousey – There's no one who had a bigger 2012 than Ronda Rousey. Through her combination of ripping off arms, impressive trash talk, and sex appeal she became the face of women's mixed martial arts and single handedly is responsible for women being brought into the premier mixed martial arts organization in the world. Between the cover of ESPN's Bodies Issue, the UFC and Strikeforce titles, and remaining unbeaten Rousey became a superstar.

---
Jon Butterfield
5. Ronda Rousey – Whilst it's true Ronda Rousey became a superstar as well as a historic figure in MMA (by becoming the first woman to sign for the UFC) in 2012, I'm basing my list on in-cage accomplishments. In that regard, Rousey certainly didn't have the best year out of everyone in MMA – but she did have a pretty damn good year! By defeating Meisha 'Takedown' Tate with, yes, a takedown and an armbar, Rousey made the Strikeforce Women's Bantamweight title her own. Then, by defeating Sarah Kaufman to continue her phenomenal perfect-streak of 6 straight first round armbar submission victories, she unwittingly became the first ever UFC Women's Bantamweight Champion – and it's fair to say, she'll be expected to retain that belt when she meets the very game Liz Carmouche at UFC 157.
4. Alexander Gustafsson – Alexander Gustafsson had been racking up the wins quite nicely in the 205 lb division prior to 2012, but the European light heavyweight had always been in the shadow of one-time conqueror and current training partner Phil 'Mr Wonderful' Davis. After Davis was defeated by perennial contender Rashad Evans, however, people looked to pin their hopes on another up-and-comer. Enter 'The Mauler'. While Gustafsson's takedown defence looked sharp against Davis, he was ultimately out-wrestled and submitted by the prodigious upstart. Could he improve that aspect of his game and reach his potential? Well, since then Gustafsson has continued to improve, and entered 2012 with numerous wins over strong wrestlers. James Te Huna, Matt Hamill and Vladimir Matyushenko were all outclassed on the feet, and unable to get their takedowns going – question answered, then. A new question to pose: just how good is his striking? The answer: very, very good! Dangerous Brazilian Muay Thai practitioner Thiago Silva was well and truly outclassed by Gustafsson, which was impressive enough, before one of the very best stand up fighters at 205 lbs was comprehensively outpointed, on the feet. That man was Mauricio 'Shogun' Rua. Rua, who proved his skills by dethroning the wonderfully talented Lyoto Machida in a career-defining performance, had no answer to Gustafsson's movement, high-volume striking, and pinpoint boxing accuracy. Another question answered, then. Only two more remain: can he beat Lyoto Machida? And if he can, can he beat Jon 'Bones' Jones?
3. Chris Weidman – The best victory Chris Weidman held coming in to 2012 was against either Tom Lawlor or Alessio Sakara, depending on how you view the middle-of-the-pack 185 lb fighters. Either way, he'd hardly lit up the division, though it was clear even then he was a prospect progressing rather nicely from fight to fight. In 2012, however, Weidman entered the fray at the top of the middleweight ladder. A convincing unanimous decision victory over the prodigious BJJ practitioner Demian Maia was followed by an even more impressive win over Mark Munoz. That second round KO victory cemented Weidman as arguably the most-rapidly improving fighter in the division, and, even now, as a very real threat to the throne of the great Anderson Silva. Weidman's ability to master whichever art he chooses to focus in recalls UFC Light Heavyweight Champion Jon 'Bones' Jones – and his performances inside the cage are becoming all the more impressive as time goes on. While it still feels a little early for Weidman to be considered the top contender in the division, only the incredibly foolish would consider greatness beyond the reach of the All-American from Garden City, New York. So far, he's made it look easy.
2. Demetrious Johnson – While some will argue that Demetrious Johnson lost the first of two semi-final bouts against Ian McCall, there are few that will question the reliability of the scorecards of 'Mighty Mouse's' follow up win in June. Still, it didn't matter for a number of onlookers, since Joseph Benavidez was the uncrowned champion of the division, and a man who would, in all likelihood, be capable of beating EITHER Johnson OR McCall. Still, things don't always play out the way we expect them to, and THAT'S how you end up 'breaking out'. Johnson outpointed Benavidez in a scintillating bout that culminated in a split decision – and it's hard to argue that he didn't deserve to have his hand raised in the end. In short, Johnson spent 2012 adapting to a new weight class, perfecting game plans against world-class opposition, and becoming the first man to lift the UFC Flyweight Championship. Hats off, Demetrious! Well played sir!
1. Renan Barao – There are a number of guys out there who possess crazy records, most notably fighters from Brazil and Russia – Khabib Nurmagomedov, Alexander Sarnavsky, Hacran Dias and Yuri Alcantara all immediately spring to mind – but quite how high their ceiling is when they come in with 20+ wins juxtaposed to very few defeats is another matter entirely. Forgive those, then, who saw Barao's incredible skillset, virtually unblemished record, and thought "Yeah, but he hasn't fought a top tier bantamweight yet. Don't worry, Scott Jorgensen and Urijah Faber will snap his 10,000 fight win streak on the biggest stage of them all." Well, those people may have been wrong (very wrong, in fact), but really, anyone sat on the other side of the fence can't have been that certain they'd prevail in the biggest fights of their careers. Some men crack; some wilt under the pressure. Some men just aren't as good as they initially appeared. And then, there's the Renan Barao's of the world – men who have taken so much experience and sharpened their skills to such an extent (even against lower level opposition) that they've become BEASTS. Barao is a beast – and 2012 was a great, great year for the UFC interim bantamweight champion. The real champion, Dominick Cruz, will probably enter their unification bout as a favorite – but few will be ruling Barao out this time around. And just think, if Barao wins, is anybody likely to pick against him in the near future?! I doubt it – no matter whom he faces!

---
Jonathan Solomon
5. Cub Swanson – Swanson was one of the prototypical entertaining fighters in WEC for three years, going 6-3 and going through his fair share of injuries. When he debuted in the UFC in 2011, he was choked out by Ricardo Lamas (after returning from multiple injuries), but last year was the beginning of a new leaf. With consistent health throughout the year, he reeled off three knockout wins against George Roop, Ross Pearson and Charles Oliveira. He's going to fight Dennis Siver in February, a fellow contender in the featherweight division. Cub has the potential to force his way into the UFC title picture this year and before last year, such a thing seemed too incredible.
4. Tyson Nam – Perhaps a reach, but Tyson Nam was one of the few fighters at the crux of some semblance of a bidding war in 2012. Prior to this year, he fought exclusively between Hawaii and the Northwest. He was suppose to debut in Bellator on two separate occasions but each time ended up being for naught. Instead, he was able to secure a fight in Brazil for Shooto in August where he took on reigning Bellator champion Eduardo Dantas (in a non-title bout). 96 seconds later, Nam knocked out Dantas and had the MMA landscape buzzing as word emerged around the United States. Bellator finally wanted him to participate in their next tournament, while the UFC and World Series of Fighting also shared interest. After a long, drawn out battle outside the cage over his contract with Bellator, he ultimately signed with WSOF and is preparing to fight Marlon Moraes this year. It's funny how 96 seconds of cage time during a calendar year can completely flip a professional fighting career on its head.
3. Johny Hendricks – The former Oklahoma State two-time national wrestling champion has had some hype around him ever since he had his first professional MMA fight. Then, he debuted in WEC and was quickly moved to the UFC when they absorbed the former's welterweight division. He was doing well, winning all but one of his fights and then everything changed on December 30, 2011. He knocked out Jon Fitch in 12-seconds, something no one had ever done before. He followed that up with a decision win over Josh Koscheck and he closed out 2012 with another sub-60-second knockout of Martin Kampmann. Georges St. Pierre chose not to fight him for business reasons and Hendricks settled on a bout against Jake Ellenberger for March. Make no mistake, Hendricks is a dangerous fighter and 2013 could prove to be even bigger than the previous two years.
2. Glover Teixeira – Prior to 2012, you probably heard about Glover whether it be from his early days in WEC or his numerous wins in Brazil. Either that, or just from his connection to Chuck Liddell and John Hackleman over the years. Either way, the descriptions about Teixeira were all about how much of an awesome fighter he was. In fact, he has not lost in over seven years. He debuted in the UFC in May and choked out Kyle Kingsbury in the first round. Unable to get a fight for the longest time (then Quinton Jackson was injured), he had to settle in to fight Fabio Maldonado and what transpired was one of the nastiest beatdowns you saw in 2012. Now, he's talked about as a viable challenger to Jon Jones and after he finally fights Rampage this month, he could take another giant leap up the UFC ladder.
1. Ronda Rousey – No fighter, whether it be MMA or boxing or kickboxing or any other combat sport, emerged as a superstar even remotely like Ronda Rousey did last year. She received a Strikeforce title shot and although it took her over four-minutes, she slapped the armbar on Miesha Tate and won. Then, she defended the gold against Sarah Kaufman with a 54-second win via armbar. Yes, her streak of nine consecutive armbar wins (counting her amateur fights, too) is still intact. She's been all over mainstream media outlets for the past six months and that only figures to ramp up later in 2013 if she is able to fight Cris Cyborg in the UFC. In February, she'll be the headliner at UFC 157 in the promotion's first ever women's bout and the only reason it's happening in 2013 is because of Ronda.

---
Jeremy Lambert
5. Alexander Gustafsson – Many people were high on Gustafsson entering 2012 and he didn't disappoint, notching wins over a light heavyweight staple in Thiago Silva and a former light heavyweight champion in Mauricio Rua. Even though he's not quite ready for Jon Jones, he proved that he belongs among the top 205ers.
4. Johny Hendricks – After knocking out Jon Fitch in stunning fashion, Hendricks had himself a strong 2012 by defeating Josh Koscheck on FOX and then knocking out Martin Kampmann on one of the biggest Pops of the year. It looked like Hendricks made a strong case for a title shot with those two victories, but he doesn't smoke enough weed or talk enough trash.
3. Renan Barao – Barao ended 2011 with a nice victory over Brad Pickett, but he made a name for himself in 2012 by defeating former title contender Scott Jorgensen and then winning the bantamweight interim title by defeating Urijah Faber. Neither fight was all that memorable because it lacked lions and sharks, but Barao proved in both fights that he's the top bantamweight in the world while Cruz is on the shelf.
2. Demetrious Johnson – When the UFC announced the Flyweight division, most people figured it would be Johnson and Joseph Benavidez in the finals. They were right, but those same people got the winner of that fight wrong. Johnson won the flyweight tournament and the inaugural flyweight title by defeating Ian McCall (kind of sort of twice) and Benavidez. Johnson was just a guy in the bantamweight division, who likely never would become champion due to his size, but at flyweight he's become the fastest person in the history of MMA and damn talented fighter.
1. Ronda Rousey – We all knew Rousey had an outstanding judo game and a hell of an armbar. But she took things to another level this year. Not only did she defeat two of the best female fighters in the sport, both by armbar in the first round, but she took womens MMA to heights that it hadn't reached since Gina Carano retired and arguably surpassed them. Rousey capped off her 2012 by becoming the first ever UFC female champion and will now become the first female to headline a UFC PPV in 2013.

---
Mark Radulich
5. Alexander Gustafsson – Gustafsson started off the year doing everything just like Jon Jones with a decisive decision victory over Thiago Silva. He then went on to defeat perennial top contender Shogun Rua. Depending on how things go with Dan Henderson/Lyoto Machida and whether or not Dan Cormier drops to LHW, Gustafsson may find himself vying for the gold in 2013. If he does it will because of his continued success in 2012.
4. Johny Hendricks – Always the bridesmaid, never the bride. Hendricks had a controversial split decision in 2012 over Josh Koscheck but then went on to KO Martin Kampman in the same fashion he did Jon Fitch. In a fair world, he'd be fighting GSP in Montreal this March but despite his accolades, most paying fans don't know what a Johny Hendricks is. That said, GSP still wants to serve Nick Diaz a knuckle sandwich so Hendricks will have to settle for fighting Jake Ellenberger instead. 2012 will be remembered for the year Hendricks became a contender but was subsequently defeated by money and politics.
3. Demetrious Johnson – Johnson rebounded from his loss to injured Bantamweight champion Dominick Cruz in 2011 by dropping to the newly minted Flyweight class and winning the very first championship belt. He did this by fighting Uncle Creepy twice (due to Australian math) and then upsetting another MMA bridesmaid, Joe Benividez. This was obviously Johnson's year.
2. Renan Barao – One man's loss is another man's gain. Renan Barao was talked about as a contender but the UFC wanted to do a Faber-Cruz trilogy before moving on to new business. However, fate had other plans and Renan Barao reaped the benefits. He slid in to replace Cruz and became the Interim Bantamweight champion by defeating perennial contender and former champ in his own right, Uriah Faber. Not bad for a guy who was occupying the same role as Hendricks until he was able to capitalize on Cruz' terrible luck.
1. Ronda Rousey – In 2012 this woman became a star. She was granted a title shot based solely on her public image and then won the title by mangling Miesha Tate's arm. She then went on to defeat Sarah Kaufman in mere seconds, cementing herself as the bonafide, undisputed Women's Bantamweight champion and a super star. Nobody had a better year in the cage or in the media as the Rowdy One.

---
Jeffrey Harris
5. Alexander Gustafsson – Gustafsson ended his 2011 strong with his knockout over Vladimir Matyushenko. He continued to look great throughout 2012 with two big wins over Thiago Silva and former UFC and Pride champion Mauricio "Shogun" Rua. Gustafsson was under a lot of pressure as he got to main event a UFC event in his home country of Sweden and came out the victor. Then he was put on the main card of UFC on Fox 5 against a former champion who he dominated and bested. Gustafsson now is unarguably one of the top five light heavyweights in the world.
4. Glover Teixeira – Glover Teixeira was a guy not many people knew about coming into 2012. He has a decent record and he's trained with the likes of Chuck Liddell. He destroyed Kyle Kingsbury in his UFC debut and he followed it up with a dominant victory over Fabio Maldonado. Now he's a prospect getting a ton of hype as people anxiously anticipate his potential showdown with former UFC champion Quinton "Rampage" Jackson. A fight, which according to a rumor from one Chael P. Sonnen might no longer be happening.
3. Stefan Struve – Despite having three tough knockout losses in the UFC at heavyweight, Stefan Struve had a pretty impressive year overall. He finished all three of his fights at heavyweight in 2012 all against guys who were unbeaten in the UFC in Dave Herman, Lavar Johnson, and Stipe Miocic. Miocic was undefeated in his MMA career and 3-0 in the UFC when Struve beat him. Struve looks like he's finally turned a corner in his MMA career and becoming a more complete and dangerous fighter.
2. Demetrious Johnson – I'd say Johnson was far from the favorite going into the 2012 UFC flyweight tournament to determine their first ever flyweight champion. I'd say the favorite was without a doubt Joseph Benavidez. Johnson was coming off a loss for the bantamweight title to Dominick Cruz. He had a tough fight with Ian McCall where we should've seen a fourth round. He won the rematch, and then he bested the favorite in Benavidez to take home the first ever UFC flyweight title. 2012 was Demetrious Johnson's year.
1. Ronda Rousey – Ronda Rousey I think fell just short of this list in 2011 since she made her Strikeforce debut toward the end of the year. But either way, 2012 was an amazing year for Rousey and she blew up like no one had anticipated. She single-handedly brought women's MMA into the UFC. She's the only MMA fighter to have been named on a top athletes of 2012 list by Sports Illustrated. Rousey I think could very well be the breakout and fighter of the year for 2012.

---
Robert Winfree
5. Johny Hendricks – Hendricks ended 2011 with a big KO win over perennial #2 welterweight Jon Fitch. Coming into 2012 he first fought another former title challenger in the from of Josh Koscheck who he defeated by split decision. The fight wasn't really that close, but judges are funny. Then in his final fight of the year he knocked out Martin Kampmann in much the same fashion as he did Jon Fitch. Hendricks should be the one fighting GSP in Montreal, he's more than earned his spot as the second best welterweight in the world right now.
4. Demetrious Johnson – 2012 started off a little rocky for the current flyweight champion. He fought to a majority draw with Ian McCall and had the math been done properly the first time he could have lost in the fourth round of that fight. But Johnson learned from that encounter and decisively won the return bout, and then upset the tournament favorite Joseph Benavidez to become the first ever UFC flyweight champion.
3. Alexander Gustafsson – Coming into 2012 the only loss on the record of Alexander Gustafsson was a submission loss to the fast rising Phil Davis. Then Davis turned in an awful performance against Rashad Evans and people began looking at the Swede as the new potential title challenger to Jon Jones. Gustafsson fought twice in 2012, both decision victories, but both wins came over stiffer competition than he was used to. His first fight of the year came against Thiago Silva who was returning to the UFC after a suspension. Gustafsson controlled the entire fight standing and grappling. His second fight was against former light heavyweight champion Mauricio "Shogun" Rua, a substantial step up in competition for the Swede. Gustafsson was able to use his reach and footwork to score another unanimous decision victory. Coming into 2012 people were talking about Gustafsson and his potential, coming into 2013 he's likely getting a title shot sometime this year.
2. Renan Barao – Renan Barao had won twice in 2011, defeating Cole Escovedo and Brad Pickett before getting a slightly stiffer challenge in the form of former title contender Scott Jorgensen. Barao was never in any danger during that fight and out classed his opponent in pretty much every way. Then Dominick Cruz got injured and the UFC needed a new opponent for Urijah Faber. Barao got that particular call and made the most of it. While it wasn't quite on par with his training partner Jose Aldo's domination of Faber, Barao clearly won that fight and will actually defend his interim title next year. 2012 was very good to Barao.
1. Ronda Rousey – I don't think anyone broke out in 2012 as much as Ronda Rousey did. Rousey's combination of trash talk, good looks, charisma, and vicious armbars inside the cage helped turn her from somewhat unknown female fighter into the face of female MMA and first ever woman to be signed to the UFC. Two wins this year, both first round submissions over former champions Meisha Tate and Sarah Kaufmann highlighted just how much better she is than everyone else in the division right now. 2012 could easily be remembered as the year Ronda Rousey took the MMA world by storm.

---
Stewart Lange
5. Alexander Gustafsson – Well, it's been a while since we saw a 205lb wonder-kid come up, and we all know where that ended up! Gustafsson is showing a lot of the same abilities and attributes as Jon Jones did in his rise to the top of the division, which could see him, with a little bit of luck and some "right place, right time" injuries in his favor and Alex could see himself right at the top of the heap in 2013.
4. Glover Teixeira – One of the big expected debuts of 2012 didn't disappoint as Glover Teixeira choked out Kyle Kingsbury in fairly easy fashion, which led to us expecting a huge bout between Teixeira and Rampage Jackson. The bout was cancelled, but we'll see it this month. Instead, we saw Fabio Maldonado step in and despite being written off, he lasted pretty well against Glover, despite having his face smeared across the Bud Light logo. A heavy hitter at 205lb's and one I list higher than Gustafsson due to the amount of terrifying wins he has outside the UFC.
3. Johny Hendricks – Sucks to be Johny Hendricks right now. The heaviest hands at Welterweight will be forced to wait a little while longer for any chance at a title due to GSP choo-choo-choosing Nick Diaz for the next shot at his title, but Johny Hendricks had a brilliant 2012, and despite not doing well against Josh Koscheck, another big name knockout showed everyone that it wasn't a fluke shot against Jon Fitch and Hendricks is the real deal.
2. Demetrious Johnson – Good old "Mighty Mouse" made a fool out of me this year. I've literally never had so much bad luck with fighter picks as I had with Johnson, as everytime I pick against him, he wins. He had a fantastic year this year, fighting three times on route to winning the inaugural UFC Flyweight championship match. Getting past Ian McCall over two fights was impressive, but beating Joseph Benavidez was the star making performance for Johnson and with any luck, he'll defeat that moron John Dodson, too. Unless this runs after they fight and he's lost, in which case, never mind.
1. Ronda Rousey – As much as I've had a hard time for my lack of interest in Women's MMA, something I tried to sort with my involvement with Women Fight Back, it's a sad fact that not many people take the female fight game seriously. Well, in 2012 this woman was able to do what Gina Carano, Cyborg Santos and, well, nobody really otherwise, have wanted to do for years- get a women's division within the UFC. That's right, Rousey has single handed done more for WMMA than any other woman can hope to, hell, even probably more than Invicta ever would have on it's own.

---
Alex Rella
5. Renan Barao – Renan Barao hasn't lost since his first professional fight back in 2005 and 2012 was a career year for him. He started it off right in February when he defeated former WEC number one contender Scott Jorgenson at UFC 143. He was supposed to take on Ivan Menjivar in a number one contender fight but he got promoted to the interim title fight when Dominic Cruz got injured again. Barao proved he was the top bantamweight in the UFC when he defeated Faber at UFC 149.
4. Johny Hendricks – Hendricks set himself up nicely for 2012 when he knocked out Jon Fitch in the last show of 2011. He beat Josh Koscheck in a close split decision on Fox and got himself in a then number one contender fight with Martin Kampmann. Kampmann showed off his good chin in his previous fight with Ellenberger but Hendricks knocked him out in 46 seconds. Hendricks is gonna have to wait a little while to get his title shot but he poses a legitimate threat for GSP when it does happen.
3. Glover Teixeira – Teixeira had the most intimidating year of any newcomer. He put every light heavyweight on notice when he made quick work of Kyle Kingsbury. It would take awhile for him to get another fight as Shogun Rua turned down a fight with him in August. He was supposed to take on Rampage in November but he got hurt and Maldonado stepped in. This was one of the most brutal beat downs you'll ever see in MMA. I'm really looking forward to his fight with Rampage this month.
2. Alexander Gustafsson – The Mauler continued to break through the light heavyweight division this year. Gustaffson has now won six in a row and would have a title shot already if the 205 lb title picture wasn't so crowded. He first defeated Thiago Silva by unanimous decision in his home country of Sweden in April. Then came the best fight of his life as he defeated former champion Shogun Rua on Fox in Decemeber. In both fights he used long reach and great jabs to control his opponents. I'd like to see him take on a top wrestler before he goes for the title but he could give Jon Jones a run for his money.
1. Ronda Rousey – Rowdy Ronda Rousey is quickly becoming one of the biggest stars in MMA today. The Olympic medallist got everyone's attention with her heated feud with Miesha Tate that culminated in March. This was a great fight as Tate was able to push Rousey more than anyone else ever has before but still she would fall to the armbar. Then came her first title defense against former champion Sarah Kaufman. She was the favorite to win but nobody thought it would last 54 seconds. And Rousey has gotten more media attention than almost any other fighter as she was in ESPN's Body Issue, went on Conan, Showtime sports did a special on her, and she's been on various other sporting outlets. Then at the end of the year she became the first woman signed in the UFC. This was an historic year for Rousey and 2013 could be even bigger if the fight with Cyborg happens.

---
AND 411's BREAKOUT FIGHTERS OF 2012 ARE…
5. Alexander Gustafsson and Glover Teixeira – 13pts.
4. Johny Hendricks – 16pts.
3. Renan Barao – 18pts.
2. Demetrious Johnson – 24pts.
1. Ronda Rousey – 41pts.
THE 2012 AWARDS
*
The Biggest Story Of 2012
: The Drama Surrounding The UFC 151 Cancellation – 33pts.
*
The Most Disappointing Fighter Of 2012
: Nick Diaz – 33pts.
*
The Breakout Fighter Of 2012
: Ronda Rousey – 41pts.
*
The Worst Fight Of 2012
: TO BE ANNOUNCED
*
The Best KO Of 2012
: TO BE ANNOUNCED
*
The Best Submission Of 2012
: TO BE ANNOUNCED
*
The Best Fight Of 2012
: TO BE ANNOUNCED
*
The 2012 Fighter of the Year
: TO BE ANNOUNCED
TWITTER
Your heart is free. Have the courage to follow it…TO CSONKA'S TWITTER!
http://www.twitter.com/411wrestling
http://www.twitter.com/411moviestv
http://www.twitter.com/411music
http://www.twitter.com/411games
http://www.twitter.com/411mma

comments powered by Disqus