The 411 MMA Year-End Awards 1.10.13: Part Four – The Worst Fights of 2012
January 10, 2013 | Posted by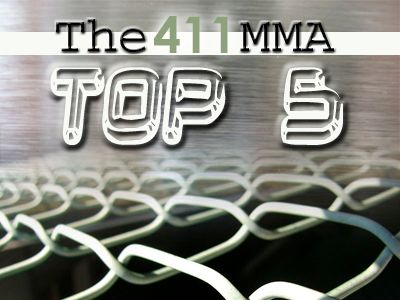 Welcome:
Welcome back to the MMA Top 5, year-end awards edition! What we are going to is take a topic and all the writers here on 411 MMA will have the ability to give us their Top 5 on said topic, and the end, based on where all of these topics rank on people's list, we will create an overall Top 5 list. It looks a little like this…
1st – 5
2nd – 4
3rd – 3
4th – 2
5th – 1
At the end we tally the scores and get our overall top 5! It's highly non-official and final, like WAMMA. What we are going to do over the next few weeks is run the column twice a week to crown our best of 2012. From best and worst fight to best fighter and KO of the year, the staff will come together to share out best. Thanks for joining us, and lets get down to work.
And now…
THE WORST FIGHTS OF 2012!
Patrick Mullin
5. Chan Sung Jung vs. Dustin Poirer, UFC on Fuel TV: Korean Zombie vs. Poirer – There are people who loved this fight. These are the same people who think seeing two drunkards throw punches that miss by a mile and fall over their own feet is awesome. This was three and half rounds of the worst stand up fighting you'll ever see, with weak grappling and bad cardio to boot. This fight is everything that's wrong with the UFC featherweight division. Just awful.
4. Demian Maia vs. Chris Weidman, UFC on FOX 2 – Boy this was pretty awful. Weidman stepped in as a late sub and had to cut a lot of weight in a short time so part of the dreadfulness he brought to the cage is understandable. I still wonder what Demian Maia's excuse was as for 15 minutes these guys threw powder puff strikes while sucking wind and hitting sloppy takedowns with no action afterward. This fight was so bad it convinced Maia to move down to 170. Anyone hyping Weidman as the guy to beat Anderson Silva should remember this fight first.
3. Gray Maynard vs. Clay Guida, UFC on FX 4 – While Running Man Guida gets most of the blame here and rightfully so, let's not forget to throw the right amount of blame at Gray Maynard too. Despite being a professional fighter for six years Maynard showed he still doesn't know how to cut off the cage to chase down an opponent and he doesn't know how to set up his strikes by punching in combination. Guida not only showed a cowardly streak by running for the last three rounds, he also showed that math is not his strong suit by willingly giving away three rounds of a five round fight. This was awful and stupid all at the same time.
2. Yoshihiro Akiyama vs. Jake Shields, UFC 144 – Talk about two guys who just didn't want to fight. Akiyama and Shields both appeared to be on the chopping block going into this fight and they both should have been its victims following their lack of effort here. Akiyama barely threw any strikes, showed his "world class judo" all of twice in the bout, and looked disinterested. Shields tried just a little bit harder on some half hearted takedowns and by walking forward leading to him getting the decision. Let's be honest though, nobody really won in this fight.
1. Cheick Kongo vs. Shawn Jordan, UFC 149 – You have to really stink it up to be the worst fight on a card that was full of bad fights. Kongo and Jordan gave as little as they could in the cage in a fight that looked more like two large animals during mating season in the wilderness. They clinched, pulled shorts, staggered, and threw less punches than you'd see at a convent. This was as bad as it gets.

---
Jonathan Solomon
5. Thiago Santos vs. Eric Prindle, Bellator 75 – Enough was enough. Santos and Prindle fought in the finals of the season five heavyweight tournament and it was ruled a no contest after 84 seconds. Why, you may ask? Well, the big Brazilian purposefully hit Prindle in the groin with a kick but the referee decided against a disqualification for whatever reason. So, the fight was postponed five months later to this past March, but it was postponed because Eric Prindle was ill. After delaying the fight another week, Thiago Santos was 12-pounds overweight and Bellator awarded the $100,000 prize and automatic title shot to Prindle. FINALLY, they met again in the season 7 quarterfinal and what happened? You guessed it, this time it was Santos on the receiving end of a groin kick and he was awarded the win by disqualification. A person's inclination to overreact may have landed both men without contracts, but a las, that did not happen. What a sequence of abomination between these two men.
4. Cheick Kongo vs. Shawn Jordan, UFC 149 – Shawn Jordan replaced Antonio Rodrigo Nogueira on about a month's notice to fight Cheick Kongo in July. The two heavyweights must have spent all 15-minutes of the fight in the clinch, or so it seems thinking back. A sloppy fight which saw the crowd turn against them by the second round and nobody wants to see either man back in the cage for fear of a reprisal.
3. K.J. Noons vs. Josh Thomson, Strikeforce: Tate vs. Rousey – Josh Thomson in one of the worst fights of the year? I'm afraid so. It was "The Punk's" first fight in nearly two years after injury and it showed. The fight consisted mostly of Noons unable to figure out Thomson's wrestling. Thomson easily won the fight and afterwards, Josh let the world know what he thought of his own performance (it wasn't too positive). On the bright side, Thomson went on to have one of the best fights of the year against Gilbert Melendez (again) while Noons returns at Strikeforce's final show to fight Ryan Couture.
2. Clay Guida vs. Gray Maynard, UFC on FX 4: Maynard vs. Guida – Five rounds. 25-minutes. More hopping around the cage and swinging at air than actual fighting. Did I mention this fight went five rounds? Clay Guida had such a terrible performance in New Jersey that by the end of the fight, it was Gray Maynard receiving the majority of the support from Frankie Edgar's fans. It was easily Guida's worst performance of his UFC career, he never appeared comfortable and for the third time since 2006, he has lost two consecutive fights. Hopefully, 2013 is better for both men (Maynard blew out his knee before his scheduled fight in December).
1. C.B. Dolloway vs. Jason Miller, UFC 146 – The first round had plenty of action with both men being rocked and Miller nearly finished Dolloway with a guillotine choke. Then, things got rough in the second round after Mayhem injured his knee. The final 10 minutes of the fight featured scenes of C.B. taking Miller to the ground and enjoying his position. Jason Miller retired after the fight (which is what Dolloway wanted to happen based on his pre-fight interviews) while Dolloway will return to the cage in Brazil this month to fight UFC newcomer Daniel Sarafian.

---
Jon Butterfield
5. Amir Sadollah vs. Jorge Lopez – Amir Sadollah is an exciting fighter, if the UFC's hype machine is anything to go by. After all, anyone with a background in stand up fighting must be exciting, right? Stand up, after all, means punching people in the head! As for Jorge Lopez, well, he's trained by Wanderlei Silva, therefore he's reckless, exciting, and bloodthirsty – it simply cannot be any other way!
Well… I tell a lie (or two, or three, or four), because neither men are anything like the fighters the UFC hyped them up to be, and even if we knew that about Sadollah already, it was hard not to be disappointed by Lopez. Fixated on ineffective clinches that he hadn't fully mastered, Lopez lulled Amir into a false sense of security… then BAM! He did away with that tired, old cliché, and continued to allow Amir a great deal of security! Lopez had no obvious weapons from the clinch, but that didn't put him off as he ate punches and kicks any time the two separated, and did next to nothing with his 'control', outside of a takedown in round one. Really bad fight, and a really bad strategy.
4. CB Dollaway vs. Jason Miller – No 'Mayhem' ensued as Miller met Dollaway in one of the very worst fights of 2012, leaving both fans and fighters alike with a sour taste in their mouths. In fact, Miller called it quits pretty soon after, and doubtless a small number of fans probably did too. The fact that Miller appeared to be rather obviously injured didn't stop Dollaway from lay-and-praying his way to victory, even though he was effectively fighting a one-legged man. Dollaway obviously has very little faith in his hands considering how lackluster 'Mayhem' has looked on the feet during his UFC stint, and he should really feel a bit embarrassed about this one.
3. Gray Maynard vs. Clay Guida – Clay Guida loves to perplex. He perplexed the hell out of Takanori Gomi in their fight, with his jerky, wild movements. He used the same 'perpetual motion' tactics against Anthony Pettis, and used takedowns to grind out a win. And then he came up with another mind-boggling strategy against Gray Maynard by… not fighting. Not since Caleb Starnes fought Nate Quarry has the UFC seen such a staggeringly awful performance from an individual fighter. Harnessing the spirit of Stephen King's 'Running Man', Guida desperately fled his foe as he struggled to avoid any and all contact in the hopes of pleasing boss Dana White, UFC fans worldwide, and, presumably, the judges. None of which happened. Wait, scratch that, one judge saw it Guida's way, and there were even rumblings that Guida should have won overall – but those rumblings quickly died down, as it was impossible to care who won, and most just wanted Guida punished.
Gray Maynard must have expected a good, solid fight out of Guida, but what he got was, essentially, a race around the cage. People say you can't blame Maynard for this atrocity of a fight, but any man who gets out-paced for five rounds in a footrace needs to hit the treadmill pretty bad.
2. Ben Askren vs. Douglas Lima – I don't care if Ben Askren is a world class wrestler. I certainly don't care that he's an 'easy target'. All I care is that when Ben Askren fights, I die inside. To his credit, what Ben does, he does very well – the only thing is, what he does very well wouldn't hurt a toddler. Ben hasn't yet harnessed the spirit of mixed martial arts, and pretty much misses the point altogether when it comes to combat – but, in Bellator, nobody is capable of stopping him scoring a takedown, laying on top, getting stood up, scoring a takedown, laying on top, and getting stood back up again. Wash, rinse, repeat, and after five of the worst rounds of MMA I've ever seen in my life, Ben Askren beat Douglas Lima, another Bellator fighter who proved incapable of avoiding the most one-dimensional, most repetitive offensive 'assault' in the sport. It's going to fail eventually, and Askren will be in huge trouble when someone denies him a takedown – but sadly, there just aren't any top class wrestlers in Bellator who can keep him standing and make him fight.
1. TIE: Bob Sapp vs. Rolles Gracie, Bob Sapp vs. James Thompson, Bob Sapp vs. Mariusz Pudzianowski, Bob Sapp vs. Soa Palelei, Bob Sapp vs. Tolegen Akylbekov, Bob Sapp vs. Jong Dae Kim, and Bob Sapp vs. Dusan Panajotovic – If I had a rich lawyer, I'd happily put into print that Bob Sapp's fights are rigged. After all, Sapp has spent 2012 traveling all over the world, from India to Indonesia, Kazakhstan to Australia, and Korea to Serbia and Croatia, and literally all he has done is flopped to the mat, often in the most bizarre circumstances imaginable (seriously, watch Bob Sapp vs. James Thompson – Sapp taps out to a takedown), and given up to a local 'star', conceivably for far more money than some up-and-comers earn across five or six fights. Sapp's 'bouts' would be classified a joke if they weren't so disgracefully cringe worthy – this man trumps everyone in MMA, and is likely the single worst fighter in the sports history. His fights, if they qualify as fights, have been the absolute worst of mixed martial arts in 2012. Any other selection is wrong – but I wouldn't blame anyone for giving themselves a Men In Black-style mind wipe after every fight and forgetting all about them.

---
Alex Rella
5. Jake Shields vs. Ed Herman – I was actually looking forward to this fight when it happened. Jake Shields was returning to middleweight and Herman won his three last fights. Shields used his great grappling to control the entire fight but he just didn't do anything with it. Instead of going for a submission or doing any real damage, Shields was content with just holding Herman down. What makes it even worse is that Shields failed his drug test afterwards.
4. KJ Noons vs. Josh Thompson – This fight literally put me to sleep and it was just all around bad. It was Thompson's first fight since 2010 but even he said it sucked in the post fight interview. Noons is usually better than that too. At least Thompson redeemed himself with his great fight with Gilbert Melendez later in the year. But Noons is now most likely in a must win situation in his next fight with Ryan Couture. I doubt the UFC will bring him over with back to back losses.
3. Hector Lombard vs. Tim Boetsch – This wasn't the worst fight at UFC 149 but it was the most disappointing. Boetsch was coming off a great comeback victory against Okami and this was Lombard's debut in the UFC. But the two of them just looked awful and did nothing for fifteen minutes. Lombard didn't show his aggression that made him great over in Bellator. Boetsch sucked too as he just kept moving back and avoiding Lombard. At least Lombard was able to rebound in December and hopefully he looks more like that in the future.
2. Gray Maynard vs. Clay Guida – This was probably the most disappointing fight of the year. This was Maynard's first fight since losing the title fight to Edgar and Guida's first since losing to Henderson. You would assume their awesome performances would carry over at least a little but it did not. Guida blatantly ran away from Maynard for five rounds and Maynard sucked too because he was unable to adapt and cut him off. To make it even worse one of the judges somehow gave it to Guida. Hopefully this was just a onetime thing from both guys.
1. Cheick Kongo vs. Shawn Jordan – This was the worst fight on the worst show of the year. This is the worst case scenario when you think of how bad a heavyweight fight might be. Both guys were slow, barely showed any effort, and just grinded on each other up against the cage for most of the fight. I have no desire to see either guy fight ever again and I envy those that missed this one.

---
Robert Winfree
5. Ben Askren vs. Douglas Lima – I'm a firm believer that losses can make a fighter better, and that to evolve you need to face competition that pushes you outside of your comfort zone. Ben Askren not only hasn't lost, he's not going to fight anyone anytime soon that will force him to change how he fights. We're going to be stuck watching this type of fight over and over again where he secures a takedown, does very little in terms of ground and pound damage or submission attempts, and either rides out the round or gets stood up and immediately shoots in again. The frustrating thing about this is in the case of Ben Askren he's got the tools to be a legitimately great MMA fighter, and he's not tapping into any of the potential that exists there. This fight was just boring.
4. Jason Miller vs. CB Dolloway – You know, when a guy gets injured in the middle of a fight and it's obvious to everyone that it happened one fighter should be able to capitalize on it in some kind of meaningful way. When Jason Miller injured his knee in the second round, Dolloway did nothing of meaning with it. If you want to see what he should have done look at what Bigfoot Silva did to Travis Browne in their fight. If you want to see what he actually did, it involved takedowns, holding position, and not much else. Shame on everyone involved in this.
3. Cheick Kongo vs. Shawn Jordan – Boy was this ugly. I mean just ugly. Cheick Kongo is not the dangerous and devastating striker the UFC hype machine wants you to believe he is. Case in point, this fight. In many ways this fight was a copy of Kongo's fight with Travis Browne but without the copious short grabbing and a couple of nut shots. Both men seemed to do nothing but clinch against the cage, land no offense, and pretty much bore the crap out of people. Just an awful fight.
2. Clay Guida vs. Gray Maynard – I still have no idea what happened in this fight. I mean, it's no secret that Clay Guida can't win a fight if he can't out wrestle his opponent so he needed something different against the much better wrestler in Gray Maynard. For the first two rounds it looked like he was planning on trying to copy what Carlos Condit did to Nick Diaz, which objectively isn't a bad strategy looking at this fight on paper, then starting in the third round Guida decided he'd rather just run away. Seriously, just run away. I don't mind guys who fight while going backwards, Carlos Condit against Diaz and pretty much any Lyoto Machida fight are good examples, but running away is just awful. When you add in that Guida seemed to constantly complain about his hair being pulled, and thinking he won the fight it's getting worse and worse.
Then there's Gray Maynard's part in this mess. I know fighting a guy who is nearly literally running away is difficult, but Maynard didn't seem to adapt at all. He made no effort to cut off the cage and therefore hamper the movements of Guida, I'm not sure he tried for a single takedown in the entire fight, and he resorted to the Diaz brother tactics of taunting and making mean faces when the guy wont fight your fight. This was a serious black eye on the records of both men, and very nearly the worst fight of the year.
1. Bob Sapp's continued career – If not for the fact that Bob Sapp continues to get fights and then verbally or physically submit when his opponent gives him a stern glare I'd give Guida and Maynard this spot. Sadly Sapp does continue to get fights, give up at the drop of a hat, and then become angry when people call him on it. The reality is the guy is now getting paid to lose. He shows up, makes an effort for a minute or two until his cardio gives out and he meets any form of resistance, then he gives up. When people want to make a case against MMA all they need is a Bob Sapp fight and any interview he's done. Just horrible, it makes you want to scrub your eyes with bleach after watching this guy "fight".

---
Jeffrey Harris
5. Eric Prindle vs. Thiago Santos 2.5 – I put 2.5 since Bjorn Rebney says that Thiago Santos lost their "second" fight "on the scales" and Prindle was given the fight and heavyweight tournament via forfeit. Proving this match-up was cursed, Bellator tried to do it again at Bellator 75. And this time it ended with Prindle giving Santos a low blow, which had the fight ended in DQ. The first time they fought it was ruled a no contest when Prindle got a groin kick from Santos. What comedic irony.
4. Ben Askren vs. Douglas Lima – Even though you can win a Bellator tournament, that doesn't mean you are a top ranked welterweight. An ugly, dull, and boring fight. The only entertaining part was Askren yelling at the fans in his post-fight interview. I think Askren is decent fighter and legitimately talented. But I don't get why he doesn't use his wrestling to pass guard and try to finish.
3. Cheick Kongo vs. Shawn Jordan – Part of a maligned card with UFC 149 in a fight that certainly didn't do either guy any favors even Kongo coming away with the fight with a win. It's completely frustrating when you see guys so focused on sticking to a stupid game plan and this is how they end up fighting. It's frustrating because if a fight isn't working one way, shouldn't you try to do something different to see if you can take back the fight? I remember laughing out loud when Nate Marquardt claims he lost his fights with Yushin Okami and Chael Sonne because he "didn't follow the game plan." What the hell does that even mean?
2. Clay Guida vs. Gray Maynard – I expected a lot more out of both fighters. Going into this fight I was pretty excited. Maynard had put in two strong efforts against lightweight champion Frankie Edgar though he wasn't able to capture the title on either occasion. Guida though he can tend to have some hit and miss performances was coming off a fight of the year candidate and one of the best fights I ever saw live against Ben Henderson. Instead was saw Clay Guida literally running away the whole fight and trying to use an ineffective game plan and a frustrated Maynard. I was fine with Maynard winning the decision, he did the most damage in the entire fight despite Guida constantly running away. I think it is fine to use strategy and have a game plan but if you are literally avoiding the fight and running away points should be deducted.
1. Matt Hamill vs. Roger Hollett – Hamill had retired from MMA over a year earlier, and based off his performance I question if coming back was the right move for him and if he really wanted to come back. Hollett looked like he didn't belong in the Octagon or an MMA ring period. His style and striking was extremely awkward and sloppy. Both guys had horrible cardio and stamina as they completely gassed shortly into the fight. From there it was an ugly display that let Hamill dominate with his wrestling but unable to finish since he hardly had any energy left. Call it Octagon "jitters" or what have you, but it was an awful fight neither guy looked like UFC level fighters.

---
Dan Plunkett
5. Gray Maynard vs. Clay Guida – This fight would be higher if the crowd and Gray Maynard weren't so entertaining late in the fight. For virtually the entire fight, Guida avoided engaging with Maynard and only threw strikes every once in a while. There have been a ton of cases where a fighter has been very elusive but still offensively active, and that wasn't the case in this fight. In the fourth round, a frustrated Maynard dropped his hands and gave Guida free shots. That, along with Guida's dreadful performance, made Maynard a fan favorite to the Atlantic City crowd. Thankfully, in the end Maynard took home the decision he rightfully earned.
4. Ben Askren vs. Douglas Lima – Askren is an awesome personality and could become a legitimate star, but this fight was terrible. For 25 minutes, Askren got on top of Lima and did very little. Lima did very little as well. It was bad and so it finds itself a spot on this list.
3. Cheick Kongo vs. Shawn Jordan – Going in a lot of people thought this fight wouldn't go the distance, but it did. And worse, it was terrible. This was a fight with a lot of clinching and very little meaningful offense, not doesn't include Jordan's elbow to Kongo's junk, which was the most meaningful offense of the fight.
2. Hector Lombard vs. Tim Boetsch – This fight took place on the same show as Kongo vs. Jordan, and there were probably one or two other fights from the show that could have made this list. Lombard came into the UFC with big expectations and Boetsch was coming off a big upset over Yushin Okami. Instead of Lombard charging forward looking for a knockout and Boetsch going after a finish, it was largely a fifteen minute stalemate. Apparently, Lombard entered the bout with an injured sternum, which may explain the poor performance.
1. Josh Thomson vs. KJ Noons – This was just awful. Given their history of putting on good fights, one would have thought these two would continue the trend with their bout in March. That didn't happen as Thomson laid on Noons for much of the fight, for which Noons had no real reply. To his credit, Thomson did come fairly close to finishing the fight with a submission in the third round, but it was still an abysmal fight that had the potential to be much more.

---
AND 411's WORST FIGHTS OF 2012 ARE…
T~5. Ben Askren vs. Douglas Lima (Bellator 64)– 9pts.
T~5. C.B. Dollaway vs. Jason Miller (UFC 146) – 9pts.
T~3. Bob Sapp's List of Bullshit Fights – 10pts.
T~3. K.J. Noons vs. Josh Thomson (Strikeforce: Tate vs. Rousey) – 10pts.
2. Cheick Kongo vs. Shawn Jordan (UFC 149) – 21pts.
1. Gray Maynard vs. Clay Guida (UFC on FX 4) – 23pts.
THE 2012 AWARDS
*
The Biggest Story Of 2012
: The Drama Surrounding The UFC 151 Cancellation – 33pts.
*
The Most Disappointing Fighter Of 2012
: Nick Diaz – 33pts.
*
The Breakout Fighter Of 2012
: Ronda Rousey – 41 pts.
*
The Worst Fight Of 2012
: Gray Maynard vs. Clay Guida (UFC on FX 4) – 23pts.
*
The Best KO Of 2012
: TO BE ANNOUNCED
*
The Best Submission Of 2012
: TO BE ANNOUNCED
*
The Best Fight Of 2012
: TO BE ANNOUNCED
*
The 2012 Fighter of the Year
: TO BE ANNOUNCED
TWITTER
Your heart is free. Have the courage to follow it…TO CSONKA'S TWITTER!
http://www.twitter.com/411wrestling
http://www.twitter.com/411moviestv
http://www.twitter.com/411music
http://www.twitter.com/411games
http://www.twitter.com/411mma

comments powered by Disqus