The 411 MMA Year-End Awards 1.16.13: Part Six – The Best Knockouts of 2012
January 16, 2013 | Posted by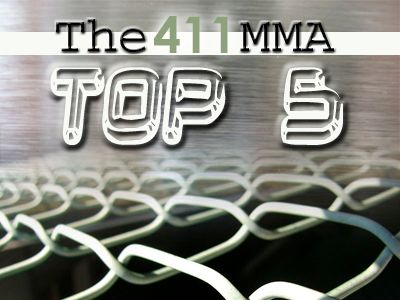 Welcome:
Welcome back to the MMA Top 5, year-end awards edition! What we are going to is take a topic and all the writers here on 411 MMA will have the ability to give us their Top 5 on said topic, and the end, based on where all of these topics rank on people's list, we will create an overall Top 5 list. It looks a little like this…
1st – 5
2nd – 4
3rd – 3
4th – 2
5th – 1
At the end we tally the scores and get our overall top 5! It's highly non-official and final, like WAMMA. What we are going to do over the next few weeks is run the column twice a week to crown our best of 2012. From best and worst fight to best fighter and KO of the year, the staff will come together to share out best. Thanks for joining us, and lets get down to work.
And now…
THE BEST KNOCKOUTS OF 2012!
Jonathan Solomon
5. Ryan Jimmo vs. Anthony Perosh, UFC 149 – New Brunswick's Ryan Jimmo went 16-1 in his MMA career leading up to his UFC debut in Calgary last summer. His first draw in the octagon was Australia's Anthony Perosh who had been on a three-fight winning streak since returning to light heavyweight. Seven seconds into the fight, Jimmo landed a textbook right hand that knocked Perosh out, clean. Following the win, he displayed his dance skills via the robot and the man's name was added to the record books as tied for the fastest KO in UFC history. Ryan Jimmo doesn't play.
4. Robbie Lawler vs. Adlan Amagov, Strikeforce: Rockhold vs. Jardine – Amagov was a 25-year-old prospect when he fought last January and was looking to take a step up in the middleweight division off of Robbie Lawler's name. Shortly into the first round of their contest, Amagov hit Lawler with an illegal knee (because Robbie's knees were touching the mat). After they resumed, only moments later did Robbie Lawler land a devastating flying knee to Adlan's head, knocking him out. He landed a few ground strikes for good measure before the referee jumped in to call the fight. It was a poetic turn of events and a sweet way to end a two-fight losing streak, no doubt.
3. Tim Boetsch vs. Yushin Okami, UFC 144 – This fight was part of card in which the UFC returned to Japan after so many years. Okami, fighting in his home country once again, was leading the fight going into the third round (Boetsch could have only won with a finish). During the final round, Boetsch finally had success with the clinch and his dirty boxing. He threw a barrage of uppercuts that Yushin could not defend and after eating too many, he was on his bicycle. Boetsch caught up to him and dropped him before the ref jumped in to stop the fight. It was easily the best comeback win of the year and as clutch of a knockout as you could imagine.
2. Johny Hendricks vs. Martin Kampmann, UFC 154 – Johny Hendricks' career jumped up a level in December 2011 when he knocked out Jon Fitch in 12 seconds. So 11 months later, when he met fellow top welterweight Martin Kampmann, it was no surprise when he knocked him out in 46 seconds. This time, it was a left hand which did the Dutchman in and it appeared as though Hendricks did all he could to seal a shot at Georges St. Pierre and his welterweight title. That proved to be wrong, but as long as the man's hands continue blasting opponents, he's not too far from his first UFC title fight.
1. Jose Aldo vs. Chad Mendes, UFC 142 – My personal favorite KO of 2012 had everything you could want. Its setting was the main event of the first PPV of the year, in Rio de Janeiro where featherweight champion Jose Aldo was defending against Chad Mendes. As everyone expected, Mendes spent the majority of the first round trying desperately to get the Brazilian champ to the mat. He had no success and on his final attempt with only seconds remaining, Aldo spanned out of his grasp before landing a picture perfect leg to his head. Mendes flew backwards and down to the ground where the fight was stopped and the champion began his celebration by running out of the cage and jumping into the crowd with his countrymen. It was the most memorable celebration of the year and the knockout that preceded it was glorious.

---
Patrick Mullen
5. Tim Boetsch vs. Yushin Okami, UFC 144 – The dramatic, come from behind knockout is a staple of some of the best drama produced by combat sports. This was your come from behind effort of the year as Boetsch was being easily bested by Okami through two rounds heading into the third and final round of their middleweight bout. Only able to earn a victory by finishing Okami, Boetsch rallied with a plethora of uppercuts against the cage to Okami's face that had him out on his feet. He tried to retreat but Boetsch was relentless and knocked him down again to force the referee to rule a TKO.
4. Jose Aldo vs. Chad Mendes, UFC 142 – Jose Aldo started off 2012 with a bang, and that bang was his knee into Chad Mendes' chin and face. Mendes spent the first and only round of this fight desperately trying to use his wrestling to take Aldo down and it was his last effort that ultimately ended his night. With a somewhat freakish display of strength, Aldo ripped apart the hands of Mendes who had him in a waistlock from behind, spun around and delivered a perfect knee strike to the challenger that turned his lights out. The Diamond Dallas Page-esque celebration of Aldo was one of the great moments of the year in MMA.
3. Pat Curran vs. Joe Warren, Bellator 60 – Guys who run off at the mouth with seemingly no base for it tend to really bother me. Joe Warren has as big a mouth with seemingly no reason for it in MMA, or at least did until he ran into Pat Curran. Curran exposed the "baddest man on the planet" as a guy who could wrestle and do little else. Curran timed a knee right into the grill of Warren on a takedown attempt and followed with a complete striking display beautifully mixing up his punch selection and knees. While it should have been stopped much earlier, Curran also showed mercy has no place in the cage as he continued his brutal and furious attack punctuated by brutal uppercuts as Warren could do little but take punishment and watch his title slip away.
2. Brian Rogers vs. Andreas Spang, Bellator 66 – I actually was youtubing some of Bellator's fights and this one came by and I couldn't believe I didn't remember it. Throughout two rounds Rogers was having things his way in this fight and looking to cruise into the finals of Bellator's middleweight tournament. However towards the end of round two Rogers got sloppy and walked into a gem of a left hook from Spang who was basically at the point he needed a finish. He got one and it was beautiful.
1. Brian Rogers vs. Vitor Vianna, Bellator 61 – While he was on the receiving end of my #2 KO of the year, Rogers found out that it is indeed sweeter to give than to receive in his preceding bout. In the opening round of the middleweight tournament Rogers and Vianna were the perennial favorites going in with the winner believed to be able to win it all. In round one after Vianna dipped low for an eventual takedown attempt, Rogers blasted him with a picture perfect flying knee that left Vianna out on his feet before he crashed like a corpse to the canvas. In Rogers' own words in the prefight interview he talked about having more flying knee KOs than anyone else and we were all told to, "Google that!"

---
Jon Butterfield
5. Nate Marquardt vs Tyron Woodley – Nate Marquardt has always had a huge amount of potential, but his history of choking in big fights has held him back from achieving true greatness. The former King of Pancrase put those issues behind him, however, when he blitzed the reigning, undefeated Strikeforce Welterweight Champion with a barrage of striking brilliance. Elbows over the top, haymakers, and an uppercut right on the money sent wrestling whizz Woodley crumpling to the mat, as Marquardt earned his biggest win to date in outstanding fashion!
4. Stephen Thompson vs Dan Stittgen – It's not very often that a kid comes into the UFC with so much hype and expectation and actually goes above and behind the praise lauded upon him, but Stephen 'Wonderboy' Thompson did exactly that when he posted a brilliant KO of Dan Stittgen! The sheer technique that went into his first round head kick was a joy to behold, and replays show clearly that Stittgen couldn't have even seen it coming – it was quick, it was subtle, and it was as efficient as any strike thrown in 2012. Stittgen was out cold the moment it connected.
3. Tim Boetsch vs Yushin Okami – Tim Boetsch gave everyone a lesson in how to approach a final round when you're clearly well behind on the scorecards. Looking battered and bruised after spending two rounds on the receiving end of an Okami ass-whipping, 'The Barbarian' turned the whole fight round with a scintillating and thrilling assault, punctuated by dropping Okami with a series of piston-like uppercuts. Okami must have been wondering how he lost immediately after this fight, but Boetsch deserves all the credit in the world for a masterclass in late-round tactics.
2. Jose Aldo vs Chad Mendes – I remember picking Chad Mendes for this fight, thinking his high-pressure style would be Aldo's kryptonite. In my head, he was going to implement a Cain Velasquez-Junior dos Santos-type strategy to dethrone the dominant Featherweight champion, and that would be a killer way to start off the New Year. It didn't work out like that, of course, because Mendes, who was always going to rely heavily on making it out of round one and dragging this thing out, saw his night ended early in stunning fashion! Mendes stooped in for a takedown the minute Aldo broke free from a rear waistlock, and BAM – Aldo sent him flying – literally – with a perfectly-timed and definitively-devastating knee to the head! Brutal.
1. Edson Barboza vs Terry Etim – It felt a little strange knowing from the very start of the year what the KO of the Year was going to be, but it was fun seeing if anybody could top Edson Barboza's sick spinning head kick KO of the unfortunate Terry Etim! Nobody could, of course, as no single strike from any single fighter was as sublime as this – and no knock out looked to be as instant or complete as when Etim fell, instantly prone, to the unforgiving canvas. Not that he'd have known it was unforgiving, or even that he hit it with force, of course, because he was, literally, KTFO. I'll say that again: KTFO. With this KO, and Aldo's stoppage of Mendes, UFC 142 wasn't that bad, was it?

---
BISPING STILL HAS NIGHTMARES ABOUT THIS
Jeffrey Harris
5. Rustam Khabilov vs. Vinc Pichel, The Ultimate Fighter 16 Finale – The visual of Khabilov doing rolling German suplex on poor Vinc Pichel was ridiculous. It's not often you see that technique used effectively in MMA fights but Khabilov was able to do it. It provided an impressive and unique knockout finish before the end of the year.
4. Anderson Silva vs. Chael Sonnen, UFC 148 – After the first round I expected a fight similar to their first bout at UFC 117. However, Silva quickly turned things around in the second frame as Sonnen was unable to get him to the ground and Silva started to let his hands go. Sonnen then missed big time on a spinning backfist and fell on his rear and in that moment it was almost like Sonnen knew he was beaten. Silva gave Sonnen a receipt for all of Sonnen's recent trashtalk in the form of a well-placed knee to the solar plexus and the end was academic. And from there Silva vanquished the evil Sonnen.
3. Cung Le vs. Rich Franklin, UFC on Fuel TV 6 – Cung Le proving age ain't nothing but a number even in MMA against former UFC champion Rich Franklin. This was a fight we were originally going to see at UFC 148, but Franklin ended up facing Wanderlei Silva in a rematch and Cung Le got his first UFC win against Patrick Cote. I didn't think Cung Le had it in him to beat Franklin, but Franklin left himself open and Le beautifully capitalized with an amazing right hook that effectively stopped Franklin with just one blow.
2. Johny Hendricks vs. Martin Kampmann, UFC 154 – Hendricks' has established his left hand as one of the most dangerous weapons in the entire welterweight division. In 2011, he was the first guy to ever knockout Jon Fitch or even stop him period in the UFC. Despite a lackluster decision over Josh Koscheck earlier in the year, he faced an equally tough competitor in Martin Kampmann. Once again he utilized his left hand and flattened Kampmann.
1. Edson Barboza vs. Terry Etim, UFC 142 – It's not often you see a knockout like this, so it being all the more rare made it all the more awesome. Often in MMA, you won't see a guy get put down with just a single punch or kick. But it happened here. What was also amazing was the visual of Barboza just about perfectly landing a spinning wheel kick, another movie you don't often see land or used effectively in an MMA fight, so that makes this knockout pretty special.

---
Robert Winfree
5. Rustam Khabilov vs. Vinc Pichel – I'm a big fan of unconventional knockouts, and a huge slam KO certainly qualifies. Khabilov landed three very nice belly to back (German) suplex's and the final one sent his opponent into unconsciousness. This was not only an impressive debut, it was something we don't see in the UFC very often and got people talking a bit about Khabilov.
4. Johny Hendricks vs. Martin Kampmann – Maybe this one should be higher, but given Kampmann's lack of head movement and overall striking defense in his MMA career it wasn't impossible to see this one coming. Still, Johny Hendricks landing a big left hand that quickly into the fight and sending Kampmann crumpling to the canvas was impressive.
3. Anderson Silva vs. Chael Sonnen – I mentioned above I love unconventional KO's, and a knee to the body of a downed opponent is a technique that is underutilized in MMA in general. Watching the greatest fighter of all time land a beautiful and accurate knee to the sternum of Chael Sonnen and pretty much put him out of the fight was awesome to see.
2. Cung Le vs. Rich Franklin – Really, did anyone see this coming? I know a few people picked Le, and by TKO since that was really his only shot to win, but how many people honestly thought we'd get the outcome we got? Cung Le landing a beautiful counter lead hook to Franklin's kick, right on the jaw and instantly putting the former middleweight champion to sleep, it had to be a shock. I was very tempted to make this higher, but I don't think there's anyway to surpass number one.
1. Edson Barboza vs. Terry Etim – I'm personally surprised at anyone who thinks something besides this is the KO of the year. I mean watch it. It's a full on spinning heel kick knockout in a real fight. I've never seen that in the UFC. At that level of competition, to land that kick at all, much less flush on the face and knock your opponent out before they hit the ground, it's incredible. Barboza may have lost his last fight, but this one kick will be in highlight reels for years and years to come. Absolutely incredible.

---
Alex Watt
5. Nate Marquardt vs. Tyron Woodley – Three right elbows, a left hook and an uppercut. The Tekken-style combination which Marquardt employed to send the formerly undefeated Woodley crashing to the mat was a thing of visceral beauty.
4. Anthony Pettis vs. Joe Lauzon, UFC 144 – Anthony Pettis may never better the "Showtime kick" of 2010 but his slick head kick of Joe Lauzon did top that unforgettable technique in one sense; it actually knocked out his opponent. The left high kick landed in a split second over the shoulder of Lauzon, who never saw it coming, and reminded everyone why Pettis is one of the most exciting strikers at 155lbs.
3. José Aldo vs. Chad Mendes, UFC 142 – In the first UFC title fight of 2012, the peerless José Aldo defended his UFC Featherweight Championship in style. The talented Mendes constantly threatened with takedowns throughout the first round of the contest but Aldo used his frighteningly good athleticism to stay upright for all but a few brief moments. Then in the final seconds as Mendes had a hold of Aldo's back, the 145lbs champ broke the grip and spun around quick as a flash to catch an attacking Mendes with a crushing knee to the face. A phenomenal KO was followed by one of the best moments of 2012 as an emotional José Aldo sprinted out of the Octagon and leapt into the crowd to celebrate with his fellow Brazilians.
2. Cung Le vs. Rich Franklin – About as perfect a counter right hook as you can land, what made Cung Le's one punch knockout of UFC veteran Rich Franklin all the more impressive was how unexpected it was. Nobody was giving Le a chance in Macau but as "Ace" attacked with a combination, he left his chin exposed and the Sanshou kickboxer timed his punch to perfection, leaving Franklin out cold, sprawled face first on the canvas.
1. Edson Barboza vs. Terry Etim, UFC 142 – "Maybe the most spectacular knockout in UFC history," said UFC commentator Mike Goldberg at UFC 142. And for once, he wasn't exaggerating. Edson Barboza's wheel kick knockout of Terry Etim in Rio de Janeiro was both beautiful and brutal in equal measure. The sheer audacity to attempt such a technically difficult strike, the flawlessness of the technique, the speed at which Barboza whipped his left leg around to the prone chin of his opponent, and the visual of an instantly unconscious Etim dropping to the mat like a felled tree. Although it came on the very first event of 2012, this unforgettable knockout was never likely to be bettered and it stands as, unquestionably, the best knockout of the year.

---
STANKY LEG
Mark Radulich
5. Nick Denis vs. Joseph Sandoval, UFC on FX1 – If you like straight up violence, then you'll love this KO! Essentially, Denis ran across the cage and elbowed Sandoval into oblivion until the ref saved his life. It was beautiful and I've been asking ever since, why exactly nobody else tries this in the UFC. It worked like gangbusters for "The Ninja of Love," and I'm surprised more fighters don't ratchet up their offense this way. Regardless, it was awesome sight to behold and a great way to kick off the inaugural UFC on FX event.
4. Roy Nelson vs. Dave Herman, UFC 146 – BOOM! That's the best way to describe this KO. After some dodgy defense, Roy Nelson threw an overhand bomb that simply crushed Dave "Pee Wee" Herman as he folded up like a lawn chair. It was short work indeed on a night of all heavyweight fights and it was the most memorable KO of the evening (Velasquez' mauling of Bigfoot notwithstanding).
3. Edson Barboza vs Terry Etim, UFC 142 – This was a pretty thing. Some KO's are brutal, some are ugly, but this was as perfect and gorgeous as a KO can get. In the third round, Barboza back Etim against the fence and threw a spinning heel kick that land square in the mush. Etim was out before he even hit the canvas. Some would say that this was THE KO of the year and I wouldn't quibble over placement. It was definitely one of the highlight KO's of the year.
2. Jose Aldo vs Chad Mendes, UFC 142 – I remember watching highlight reel clips of Aldo in the WEC that presented him as an absolute killer. Apparently, in the WEC days of yore the man left a trail of jacked jaws, tears and broken dreams. So you can imagine my disappointment when in his first 2 UFC title defenses he turned into a pair of meh decisions. I was expecting more of the same when he took on Chad Mendes at the top of the year and boy was I ever so glad to be wrong. Mendes went for a takedown (as you do when you're a Team Alpha Male fighter) and went Aldo stuffed it like oh-so-much-turkey, he followed with a knee to Mendes' face that put him to sleep. BLAMMO, Jose Killer Aldo was back!
1. Cung Le vs. Rich Franklin, UFC on Fuel TV 6 – Between being dismantled by Wanderlei Silva and the inherent bias against former/current Strikeforce fighters, nearly everybody except Mrs. Le wrote off Cung Le in this fight. That's why it was so sweet when he absolutely crushed him with a lead right hook. It was by far my favorite KO of the year not just because it looked cooler than Jesus but also because it flew in the face of many who thought that Franklin would walk right through Le. In the grand scheme of things it was relatively meaningless but fun nonetheless.

---
AND 411's BEST KNOCKOUTS OF 2012 ARE…
5. Tim Boetsch vs. Yushin Okami (UFC 144)– 7pts.
4. Johny Hendricks vs. Martin Kampmann (UFC 154)– 10pts.
3. Cung Le vs. Rich Franklin (UFC on FUEL TV 6) – 16pts.
2. Jose Aldo vs. Chad Mendes (UFC 142)– 18pts.
1. Edson Barboza vs. Terry Etim (UFC 142) – 23pts.
THE 2012 AWARDS
*
The Biggest Story Of 2012
: The Drama Surrounding The UFC 151 Cancellation – 33pts.
*
The Most Disappointing Fighter Of 2012
: Nick Diaz – 33pts.
*
The Breakout Fighter Of 2012
: Ronda Rousey – 41 pts.
*
The Worst Fight Of 2012
: Gray Maynard vs. Clay Guida (UFC on FX 4) – 23pts.
*
The Best KO Of 2012
: Edson Barboza vs Terry Etim (UFC 142) – 23pts
*
The Best Submission Of 2012
: Ronda Rousey vs. Miesha Tate – 25pts.
*
The Best Fight Of 2012
: TO BE ANNOUNCED
*
The 2012 Fighter of the Year
: TO BE ANNOUNCED
TWITTER
Your heart is free. Have the courage to follow it…TO CSONKA'S TWITTER!
http://www.twitter.com/411wrestling
http://www.twitter.com/411moviestv
http://www.twitter.com/411music
http://www.twitter.com/411games
http://www.twitter.com/411mma

comments powered by Disqus