The 411 MMA Year-End Awards 1.21.13: Part Seven – The Best Fights of 2012
January 21, 2013 | Posted by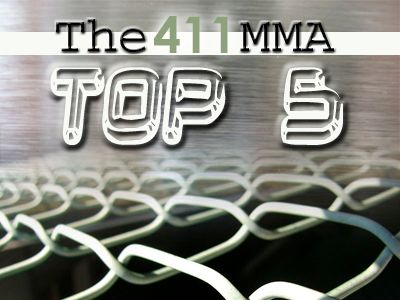 Welcome:
Welcome back to the MMA Top 5, year-end awards edition! What we are going to is take a topic and all the writers here on 411 MMA will have the ability to give us their Top 5 on said topic, and the end, based on where all of these topics rank on people's list, we will create an overall Top 5 list. It looks a little like this…
1st – 5
2nd – 4
3rd – 3
4th – 2
5th – 1
At the end we tally the scores and get our overall top 5! It's highly non-official and final, like WAMMA. What we are going to do over the next few weeks is run the column twice a week to crown our best of 2012. From best and worst fight to best fighter and KO of the year, the staff will come together to share out best. Thanks for joining us, and lets get down to work.
And now…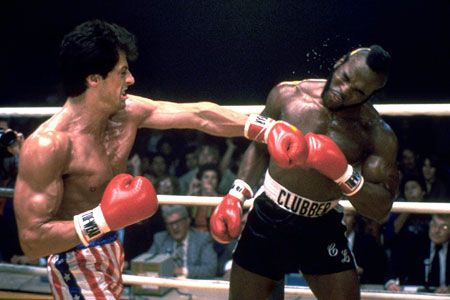 THE BEST FIGHTS OF 2012!
Patrick Mullen
5. Georges St. Pierre vs. Carlos Condit, UFC 154 – The king returned to fight for his throne against the interim usurper. For the first time in over a year GSP was back in action in what resulted in the most thrilling fight of his career. GSP faced a worthy challenger for his welterweight title and had to work for every bit of success in this fight. Condit rallied after falling in the hole two rounds to drop GSP with a brutal head kick, but GSP showed his championship spirit and roared back in exciting fashion to keep his title and remind everyone of how special he is.
4. Joe Lauzon vs. Jamie Varner, UFC on FOX 4 – You won't see much more action crammed into just under three rounds than you saw here. Varner came out strong and hurt Lauzon who had no problem returning the favor and it wound up looking like Rock 'Em Sock 'Em Robots. Ultimately Lauzon's stamina and submission skills allowed him to catch Varner posting up in dominant position and bait him into a triangle choke for the win in a thriller. Speaking of Joe Lauzon…
3. Jim Miller vs. Joe Lauzon, UFC 155 – This fight was literally all about blood and guts. Jim Miller came out more aggressive than ever and sliced open Lauzon's head with his left hand and elbow firing rapidly. You can't ever beat Lauzon's heart though and he continued to fight on and fire back, even attempting a drop heel hook and landing good strikes of his own on Miller. Ultimately Jim's early assault built up a strong lead and he finished the fight hard and took home the decision, but each man showed they define the word "fighter" in this bout.
2. Gilbert Melendez vs. Josh Thomson 3, Strikeforce: Barnett vs. Cormier – Great rivalries can be measured by how close the resulting fights are no matter where each man is ranked at the time. No matter what happens every time these two stand across the cage from one another they put on five rounds of warfare that get closer every time on the scorecards with neither really asserting any clear superiority to the other. Melendez and Thomson have had fifteen rounds of action and its arguably that the best five rounds came from their most recent outing, I can only hope we eventually get a fourth.
1. Miesha Tate vs. Julie Kedzie, Strikeforce: Rousey vs. Kaufman – Leave it to the ladies to upstage everyone. This fight had everything. Kedzie put on a phenomenal striking display and showed off excellent takedown defense to beat up Tate and take round one. Tate rallied back hard in round two with her wrestling to execute some near submissions and ground and pound. With everything on the line in round three both ladies gave you everything they had, which culminated with Tate securing an armbar from her guard and forcing the submission. It was a violent ballet with the momentum going back and forth and never slowing down. Bravo ladies, WMMA is for real.

---
Jonathan Solomon
5. Jon Fitch vs. Erick Silva, UFC 153: Silva vs. Bonnar – The story behind this fight had plenty of emotion. Fitch was returning from a shoulder injury and had not won a fight in over two years. Plus, he was struggling with money because of all that, so he needed an opportunity to tell the fighting world he was not done yet. Erick Silva, fighting in front of his home crowd in Brazil, was a top prospect in his first fight against a legit top 10 welterweight. In the first round, Fitch controlled the pace with his grappling and even landed a perfect uppercut to get the 10-9. In the second, they traded submissions with both men being near defeat and it was a toss-up as to who took the round. In the third, Silva was too tired to mount much offense but Fitch turned it up a notch and took his will. This performance earned Fitch (and Silva) 'Fight of the Night' honors and people are once again talking of Jon as one of the elite 170-pounders.
4. Gilbert Melendez vs. Josh Thomson, Strikeforce: Barnett vs. Cormier – How these two men consistently put on fight of the year candidates every time they step inside the cage against each other is crazy. Their third encounter last spring was five rounds of non-stop striking and some wrestling thrown in for good measure. Their first fight in 2008 went for Thomson and the rematch was equally as clear for Gilbert. In this fight, it was much closer than the previous two and although I personally scored it for Josh, it was Melendez retaining the Strikeforce lightweight championship. If a 4th fight ever happens in the UFC, what are the odds of 15 or 25 more minutes of the best action in MMA unfolding for us to enjoy?
3. Joe Lauzon vs. Jamie Varner, UFC on Fox 4: Shogun vs. Vera – Yes, Joe Lauzon had a spectacular year, even if he's no closer to the lightweight title than he was at this time in 2012. Varner entered the fight off the heels of his upset knockout win of Edson Barboza and a second chance at life on the big stage. Entering the final round, Varner was doing well with a mix of boxing and wrestling but his gas tank was running on empty. It was a triangle choke which did him in and Lauzon was the winner. It was closer than I'm giving it credit for but that in itself added to the excitement considering many thought Lauzon would run right through Varner (considering his previous KO win a fluke I presume) but that was not the case.
2. Miesha Tate vs. Julie Kedzie, Strikeforce: Rousey vs. Kaufman – On last summer's Rousey/Kaufman card, Strikeforce placed Miesha Tate and Julie Kedzie in the main event slot of the prelims on ShoExtreme. It was arguably the fight of the year with three rounds of non-stop action, back-and-forth sequences and if it had been featured on any UFC PPV or even a Showtime card, many more people would be talking about it. It was Kedzie who owned the first round with a great display of strikes including a kick which dropped Miesha. In the second, Tate was still eating a number of punches and kicks but finally found success with her wrestling. In the final round, Kedzie landed a blast of a head kick and dropped Tate again. This time, the former champion did not allow herself to lose, transitioned for an armbar and won by submission. It's A clutch win that will keep her in the mix at the top of the new UFC women's 135-pound division.
1. Jim Miller vs. Joe Lauzon, UFC 155: dos Santos vs. Velasquez 2 – Call me a sucker for la sangre and perhaps this is extra special because it's still so fresh in the mind since it happened a matter of weeks ago. Nevertheless, Joe Lauzon displayed immense heart over the course of 15-minutes in which he was beaten as bad as he's ever been in the UFC. Jim Milller was a ball of fire like you haven't seen, perhaps ever, too. The elbows from Miller cut Lauzon deep and only 40+ stitches were able to fix him up after the fact. Miller did his best to finish but could not put together the ultimate combination, a testament to Lauzon's guts. Late in the fight, Joe still tried to go for the finish with a submission but could not muster up the power to pull through (perhaps because his vision was impaired or everything was so slippery).

---
Alex Watt
5. Frankie Edgar vs. Benson Henderson, UFC 144 – Given Frankie Edgar and Benson Henderson's track records of engaging in classic fights, there was a great deal of anticipation surrounding their meeting for the UFC Lightweight Championship in February. They didn't disappoint, treating the UFC fans in Japan to a gripping five round encounter. Edgar broke from tradition by controlling the first two rounds with his clever boxing, before a Henderson upkick in the closing seconds of round two shifted the momentum in his favor. "Smooth" went on to control the majority of the next fifteen minutes – including an especially close fourth round guillotine attempt – but the plucky Edgar refused to give in and made the contest a highly competitive one. Henderson captured the 155lbs title with scores of 49-46, 48-47, 49-46. The inevitable rematch between Benson and Frankie in August was even closer and more controversial – many felt that Edgar deserved the nod from the judges – but it couldn't quite match the excitement level of their first contest in Saitama.
4. Miesha Tate vs. Julie Kedzie, Strikeforce: Rousey vs. Kaufman – Tate and Kedzie headlined the Showtime Extreme preliminary portion of Strikeforce's August event. The soon to be defunct promotion would surely come to regret the decision not to place this fight on the main card as the two fighters responded by delivering the most exciting women's MMA fight of 2012. Tate, fresh off her title loss to Ronda Rousey, came out looking for a big win but was dropped by a Kedzie kick in the first round and nearly finished. Tate showed her toughness by rallying and winning the second round with her wrestling skills. Then, in the third round, Kedzie dropped Tate with a solid head kick but "Cupcake" survived and pulled off a dramatic armbar for the victory. A true roller coaster of a fight – with a slick submission finish to boot – which likely played a role in changing Dana White's mind about women's MMA in the UFC.
3. Joe Lauzon vs. Jamie Varner, UFC on FOX 4 – Lauzon and Varner established a furious pace from the opening seconds of their August UFC on FOX bout and the pace rarely slowed from there, in what was an exhilarating display of Mixed Martial Arts. The two fought back and forth across the best part of three rounds; Varner rocked Lauzon with punches, "J-Lau" fought back and wobbled Varner with a solid knee. Lauzon constantly attacked with choke attempts but Varner constantly fought back to his feet and attacked with punches and takedown attempts. This thriller of a battle went all over the Octagon and came to a definitive conclusion in the third round when Lauzon used his Brazilian Jiu-Jitsu skills to transition Varner into a triangle choke for the submission win. "J-Lau" then closed out 2012 with a losing effort to Jim Miller in a thrilling bloodbath of a fight, which just barely missed out on my top 5.
2. Demetrious Johnson vs. Ian McCall, UFC on FX 2 – On March 3rd in Sydney, Australia, Johnson and McCall put forth a fantastic advertisement for the brand new UFC Flyweight division. Fighting at a furious pace, "Mighty Mouse" and "Uncle Creepy" battled back and forth in one of the most exciting, and controversial, bouts of 2012. Following two razor thin rounds in which McCall and Johnson exchanged frantic strikes and takedowns, "Uncle Creepy" took control of an exhausted Johnson in the third round. The judges' call was initially read as a majority decision win for "Mighty Mouse" but it later emerged that the contest had actually been rendered a majority draw. The scoring error robbed the fans of a fourth sudden victory round which could have pushed this fight into the No. 1 position on this list. Instead the two would meet again in June. The rematch, which Johnson won properly this time, was pretty damn good as well.
1. Chan Sung Jung vs. Dustin Poirier, UFC on Fuel TV 3 – When Jung and Poirier were matched up in a five round TV main event, we were expecting something special. And that's just what we got. The two thrilling featherweight contenders / bonus collectors turned in a highly compelling battle across the best part of four rounds. "The Korean Zombie", who seems incapable of being in a dull fight, secured the win in the "championship rounds" (or should that be, simply "main event" rounds?) with Poirier's signature submission hold, the D'Arce choke, after he had staggered "The Diamond" with an uppercut and a flying knee. The three rounds prior to the finish, however, were something special with the two 145-pounders going to war on the feet and on the mat, with hard strikes and submission attempts a plenty. There was never a dull moment in this UFC on Fuel TV main event and it made for the most exciting fight of 2012.

---
Jeffrey Harris
5. Joe Lauzon vs. Jamie Varner, UFC on Fox 4 – Another great fight for Joe Lauzon. Another fight that got overlooked on the underrated UFC on Fox 4 card. Varner was the comeback kid who was coming off an amazing return to the UFC where he destroyed the much hyped prospect in Edson Barboza. Lauzon was originally set to face Terry Etim coming off a tough knockout loss to Anthony Pettis. It was a back and forth battle that it looked like Varner was able to perhaps dominate and get the decision with his wrestling. But Lauzon's reputation of getting a finish or bust worked out this time as he was able to get a triangle choke out of nowhere to secure the win. While both guys got Fight of the Night, Lauzon came out of it with a double bonus for Fight of the Night and Submission of the Night.
4. Ben Henderson vs. Frankie Edgar, UFC 144 – A great lightweight title fight that headlined UFC's return to Japan, and I think it is a fight that often gets overlooked. Both guys are super tough and were very evenly matched. Ultimately though while this was a close fight, I think Henderson solidly edged it out despite that their rematch was even closer. Henderson just looked like he did more damage to Edgar. Edgar was able to grab some of Henderson's kicks but Henderson would quickly escape and it was not something Edgar made Henderson pay for. I think following the big upkick that clearly hurt Edgar, Bendo just seemed to be more in control in this impressive lightweight battle.
3. Miesha Tate vs. Ronda Rousey, Strikeforce: Tate vs. Rousey – Still my favorite Rousey fight to date. Tate early on got stuck in a nasty armbar attempt from Rousey but amazingly she survived and came back. It even looked like she might have Rousey in trouble as she got her back and gave Rousey the most adversity she's yet to have in a fight to date. But Rousey again proved why she is an amazing grappler as she took over yet again on the ground and took home yet another arm for her collection and this time her first Strikeforce title belt.
2. Jim Miller vs. Joe Lauzon, UFC 155 – When the original fight between Joe Lauzon and Gray Maynard got chanced to Lauzon vs. Jim Miller, I got excited since it came off like a much closer and compelling lightweight battle. And it did not disappoint. The fight lived up to all my expectations as both guys brought it and left everything in the cage. Miller started out with a blazing pace and threw absolutely everything at Lauzon who valiantly fought through the whole fight and a nasty cut. With scorecards arguably even going into round three, Miller was able to edge things out with his volume. But Lauzon ever the warrior didn't give up and fought every second of the final round going for some last ditch submission attempts in a thrilling and amazing MMA war.
1. Chan Sung Jung vs. Dustin Poirier, UFC on Fuel TV 3 – A fight that was the reason many of us wanted to start seeing UFC main events get five rounds. This was a big fight for both guys as it would determine some top rankings and contender status in the featherweight division. Korean Zombie after having a middling run in the WEC was on a roll in the UFC with defeats over Leonard Garcia (previous loss in the WEC) and Mark Hominick fresh off his featherweight title shot against Jose Aldo. Poirier was on his way to getting five straight UFC wins. The fight was an amazing battle that concluded in the fourth round with the Korean Zombie finishing the submission and grappling specialist in Poirier with a D'Arce Choke, one of Poirier's own go to holds.

---
Mark Radulich
5. Daniel Cormier vs. Josh Barnett, Strikeforce: Barnett vs. Cormier – First Monson, and then Bigfoot and finally Barnett. With a 5-round decision win over the Warmaster, DC was launched as the next big thing at heavyweight. Unfortunately, poor planning and worse luck stifled that momentum a bit but I'm sure he'll be right back where he needs to be shortly. Regarding the fight itself, Barnett didn't make it easy for DC to keep his win streak alive. Barnett came at him with everything he had. DC was the better man that night but I recall most fans and journalists regarding Barnett as a warrior, to the point that many want to see his redemption tour continue in the UFC. While DC may have won a unanimous decision, it was by no means an easy one and both men walked away with war wounds to prove it.
4. Tim Boetsch vs. Yushin Okami, UFC 144 – What can I say, I love a good comeback fight. Okami was handily controlling Boetsch for the entirety of rounds 1 and 2. Prior to the start of round 3 something wonderful happened. Matt Hume told Boetsch to go finish Okami (because it was going to lose by decision) and for once, an MMA fighter actually fought with urgency. Boetsch came into round 3 like a man possessed and delivered a series of uppercuts that ended the night for Okami and made Joe Rogan plotz right where he was sitting. My memory for the detail is not always the greatest but I still remember that fight and how I felt when it was over. That's good enough to make my list. It's just an awful shame Boetsch was never really able to capitalize on his spectacular come-from-behind victory.
3. Miesha Tate vs. Ronda Rousey, Strikeforce: Tate vs. Rousey – No guts, no glory. Know guts, know glory. By all rights this fight shouldn't have happened when it did as Sarah Kaufman (currently being played by Johnny Hendricks) was shoved out of her rightful spot so that Rousey could be hot shot into title contention as a sacrifice to ratings and the all-mighty dollar. Regardless of the injustice of it all, Rousey showed up to do work and Miesha Tate didn't make it easy for her. These two ladies but on arguably one of the best, most competitive rounds of MMA in all of 2012. Tate as a person lacks a lot of charm and integrity but in that cage on that night, she was all warrior. It took Rousey mangling her arm for her to finally quit and when she had, she had given Rousey her hardest fight in her short career. Though it ended as they all had before it (armbar, rd 1) it was still by far the most entertaining rounds of 2012.
2. Jim Miller vs. Joe Lauzon, UFC 155 – Ah yes, the fight that saved UFC 155. These two had a bloody brawl that went all over the cage for 15 minutes straight. It was by far the best fight of the night and the most competitive despite Joe Lauzon looking like he had gone through the windshield. If anything in modern post-FOX MMA is ever going to replicate Griffin-Bonnar I, this was be candidate for such honors.
1. Chan Sung Jung vs. Dustin Poirier, UFC on Fuel TV 3 – Chan Sung Jung never tries anything, he just does it! Dustin Poirier tried the Korean Zombie and he got clowned for it. MMA writers and fans far and wide were simply flummoxed. How could the anointed one get finished by a fighter the caliber of the Korean Zombie, they asked. It's simple, he's freaking awesome, that's why! But seriously folks, many people spent much of 2012 kvetching about UFC on Fuel cards and I maintain that it was fights like this one that made the UFC on Fuel series some of the most must-see MMA in all of 2012. KZ and Poirier put on a hell of a brawl and when it was over, a new contender at Featherweight had been made. Injuries stymied the Zombie's momentum but I think 2013 will see the rise of the Korean Zombie once more. In the meantime, go back and watch this fight and just try NOT to be entertained.

---
Alex Rella
5. Jon Fitch vs Erick Silva UFC 153 – Best Jon Fitch Fight Ever. I was torn on giving the five spot to either this or GSP's return but I think this one has the edge. Fitch had been the number two welterweight for years using his dominate wrestling to just smother guys for decision victories but the past few years haven't been great for him. Before the fight he was talking about retiring as he was trouble providing for his family. Up against him was the impressive prospect Erick Silva. There was just so much good about this fight. From Silva disrespecting the veteran and ending up getting the crap punched out of him, to the second round when Fitch refused to get submitted. Fitch came so close to actually finishing a fight but it was still great as he would end up saving his career.
4. Ronda Rousey vs Miesha Tate – This was one of the best feuds of the year and I hope it continues into the UFC. Ronda Rousey had wrecked everybody on her way to a title shot using her finishing maneuver. Tate came to fight though and really brought it to her. And to Tate's credit she was able to escape the first armbar and last longer than anyone else has. Rousey dislocated her elbow in the second armbar causing her to lose her title and later her mind if you've listened to her recent interviews. This was one of the most exciting one round fights ever.
3. Joe Lauzon vs Jamie Varner UFC on Fox 4 – I was really torn watching this fight as two of my favorite lightweights were going up against each other. Lauzon was originally supposed to fight Terry Etim but he got hurt and we got to watch one of the best fights of the year instead. Jamie Varner returned to the UFC after redeeming himself in 2012 and was coming off a great upset victory over Barboza. Varner would break his hand in the second but he kept going and these two never let up. Lauzon would rightfully get Fight and Submission of the Night awards after the show. Lauzon might be the most exciting fighter ever.
2. Joe Lauzon vs Jim Miller UFC 155 – Joe Lauzon just had to go and top his last awesome fight against Varner. I was originally disappointed when Gray Maynard had to back out of the fight but Jim Miller surprised me. Miller came out far more aggressive than usual and busted Lauzon up almost immediately. The cage was absolutely soaked with his blood as Lauzon had a huge gash in his head. Lauzon was on the defense for most of the fight but he held in there and was the star of the fight even though he lost. I was screaming at the TV when he went for the ankle lock.
1. Miesha Tate vs Julie Kedzie – This fight was just awesome. The first round was brutal with both fighters standing up and throwing powerful shots at each other. The highlight of the round was Kedzie rocking Tate with a sidekick. Tate battled back in the second round to even it up. Cupcake would then get dropped to the ground again in the third round by Kedzie but was able to get her legs around her to limit the damage. Then Tate used her great mat skills to pull out the armbar in a really patient and methodical way. A very impressive way to end the best fight of the year. The armbar was almost like a work of art. I think this fight also played a big part in changing Dana White's mind on women's MMA. And somehow this was on the preliminary card of the event.

---
Robert Winfree
5. Ronda Rousey vs. Meisha Tate – This was more about the rivalry than the actual fight in many ways. Tate had very little in the way of effective offense through the entire fight because she was too busy defending armbar attempts and trying to avoid being in bad positions. Tate survived the first armbar attempt and made it further into the first round before getting her elbow dislocated in a second vicious armbar from Rousey.
4. Meisha Tate vs. Julie Kedzie – I remember watching this fight live and being very impressed with it. I watched it again when assembling my list and wasn't as blown away. Kedzie landed some really impressive strikes in the first round, but she had no head movement and as soon as the fight hit the mat at the end of the first round she put in a bad position by Tate. The second was all Tate as she scored a takedown and Kedzie had nothing substantial to offer on the mat. The third round had Tate get hit with a huge head kick, but when Julie Kedzie went onto the mat to try and finish her it was an obvious mistake. Kedize allowed Tate to get full guard and grab an armbar that forced a tap out. Not a bad fight, but watching it a second time I got way too picky about elements of it I think.
3. Jon Fitch vs. Erick Silva – This was a very fun grappling match. Jon Fitch had been out of action for a long time, and was last seen unconscious after being hit by a Johny Hendricks left hand. Silva was highly thought of, exciting, great striking and good submissions. Watching Jon Fitch fight and try to finish, seeing him go for submissions and actually try to do damage instead of just hold his opponent down. This should be a learning experience for Silva and he'll come back scarier than before.
2. Dustin Poirier vs. Chan Sung-Jung – From a technical striking stand point this wasn't a great fight. What it did have was plenty of action, two guys going at it trying to beat each other, and a crowd that was into the whole thing. For four rounds Poirier and The Korean Zombie fought tooth and nail and the Zombie wound up choking out Poirier with a d'arce choke to cap off one of the better fights of the year.
1. Jim Miller vs. Joe Lauzon – I'm a sucker for action packed fights, I really am. For three rounds Jim Miller and Joe Lauzon fought. Jim Miller displayed some improved striking and an aggressive fighting style that served him well. He tore Joe Lauzon up with punches and elbows from the clinch and enjoyed a comfortable advantage striking. On the mat things were much more even, and just as exciting as Lauzon tried submission after submission while Jim Miller landed ground and pound strikes and controlled the positions. The fight was capped off by Joe Lauzon trying a flying leg scissor heel hook but couldn't force the submission from Miller. For my money the display of action, technique, and heart from everyone involved made this the best fight of the year.

---
AND 411's BEST FIGHTS OF 2012 ARE…
5. Ronda Rousey vs. Miesha Tate (Strikeforce: Tate vs. Rousey) – 9pts.
4. Joe Lauzon vs. Jamie Varner (UFC on FOX 4) – 12pts.
3. Miesha Tate vs. Julie Kedzie (Strikeforce: Rousey vs. Kaufman)– 18pts.
2. Chan Sung Jung vs. Dustin Poirier (UFC on FUEL TV 3)– 19pts.
1. Jim Miller vs. Joe Lauzon (UFC 155) – 25pts.
THE 2012 AWARDS
*
The Biggest Story Of 2012
: The Drama Surrounding The UFC 151 Cancellation – 33pts.
*
The Most Disappointing Fighter Of 2012
: Nick Diaz – 33pts.
*
The Breakout Fighter Of 2012
: Ronda Rousey – 41 pts.
*
The Worst Fight Of 2012
: Gray Maynard vs. Clay Guida (UFC on FX 4) – 23pts.
*
The Best KO Of 2012
: Edson Barboza vs Terry Etim (UFC 142) – 23pts
*
The Best Submission Of 2012
: Ronda Rousey vs. Miesha Tate – 25pts.
*
The Best Fight Of 2012
: Jim Miller vs. Joe Lauzon (UFC 155) – 25pts
*
The 2012 Fighter of the Year
: TO BE ANNOUNCED
TWITTER
Your heart is free. Have the courage to follow it…TO CSONKA'S TWITTER!
http://www.twitter.com/411wrestling
http://www.twitter.com/411moviestv
http://www.twitter.com/411music
http://www.twitter.com/411games
http://www.twitter.com/411mma

comments powered by Disqus