The Blueprint 1.04.13: Strikeforce, the Legend Continues
January 4, 2013 | Posted by
Happy New Year to all! Its 2013 and it's a new year where we can hopefully pick things up from the lows of 2012. The good news is that in 2012 the train wreck that we refer to as Strikeforce will finally de-rail and end its and our collective misery. The once promising upstart promotion quickly began to tank and eventually Zuffa stepped in and bought it out. Operations will cease following the last Strikeforce event ever on January 12th and Scott Coker will be out of MMA(hopefully). That said there were some good fighters toiling away in that mess of an organization and our job here is to take a look at the ones who are likely to come over to the UFC.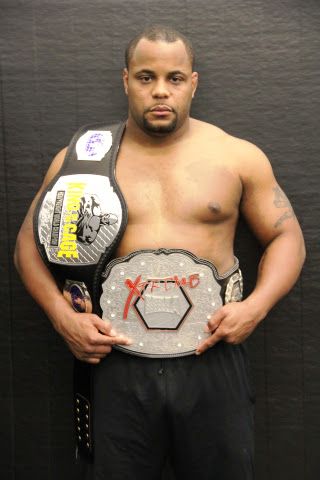 Daniel "DC" Cormier
Heavyweight
By far the best heavyweight in the Strikeforce organization, Daniel Cormier has already been confirmed as someone as high up in the Zuffa organization as Dana White to be coming over to the UFC. They're even offering him the option of a title shot at light heavyweight champion Jon Jones if he so desires to cut down in weight. However the likelihood is that Cormier is going to stay at heavyweight. Cormier is one of the exceptions in this group in that he's already fought UFC level opposition. To win the Strikeforce Heavyweight Grand Prix he took a dominant five round decision over former UFC heavyweight champion Josh Barnett and has a brutal KO victory over current UFC heavyweight Antonio Silva.
Cormier's skill set is amongst the best of all heavyweights. His Olympic level wrestling makes him nearly impossible to take down and a threat to put you on your back from seemingly anywhere. He bolsters that with some excellent stand up technique. He works diligently behind his jab, has excellent footwork, can hook off of the jab which most guys cannot do, and has absolutely brutal power in his right hand be it from his overhand right or uppercut. The UFC heavyweight title is a very realistic possibility for this man in 2013 and he can be matched up against ANY UFC heavyweight and not look out of place.

Gegard "Dreamcatcher" Mousasi
Light Heavyweight
As optimistic as I am about Cormier I'm probably the opposite towards Mousasi. I realize his only loss in the past six years is to King Mo. In that time though his biggest victories are over a past his prime Babalu Sobral and Mark Hunt who wasn't committed to MMA and in the middle of losing six fights straight. Otherwise he's beaten middleweights or largely unproven fighters. While currently he is the best 205 pound fighter in Strikeforce I can't like his chances in the UFC light heavyweight division.
While light heavyweight is not the same division it was a few years ago in terms of the talent level of its competitors, the cream of the crop are still as good as it gets. Would you like Mousasi's chances against Jon Jones, Rashad Evans, Dan Henderson, Machida, Gustafsson? No and there's seemingly not a reason to. If Mousasi could cut down to 185 pounds he might find his shelf life extended, but there are still a number of good fighters in that division who I can't favor him against right now.
Rockhold is the current and thus last Strikeforce Middleweight Champion. To earn that title he beat Ronaldo "Jacare" Souza and he's defended it against Keith Jardine and Tim Kennedy. Rockhold is an extremely talented grappler having twice won at the Long Beach Internationals. He's aggressive and has slick takedowns from the clinch and a good ability to finish as only Jacare and Kennedy lasted five rounds with him but each were clearly beaten. A fight with Lorenz Larkin was supposed to close out Rockhold's Strikeforce run but he cited a lingering shoulder injury and having never agreed to the bout it was called off.
Rockhold will be stepping into the UFC's middleweight division at a time when its at arguably its best. The reigning UFC middleweight champion is the best fighter MMA has ever seen so bringing in Rockhold in a title vs. title match is a bad idea to start with. Rockhold is still very much a grappler with basic level striking. He's going to need time to develop as a fighter if he wants to make a UFC run a successful one. Matching up Rockhold with lesser name middleweights like Rousimar Palhares, Dan Miller, and Ed Herman. Fights like these will allow Rockhold to develop a cogent striking game over this time and when he's ready he can move on to fights with guys at the next level like Brian Stann, Mark Munoz, and Alan Belcher.
Rockhold has the base skills to set himself up at the moment as a guy who can stick around at 185 pounds for a while in the UFC. The big question is whether or not he'll develop the all around game needed to really be successful and eventually compete for the championship. Most fighters seem to really hit their groove around the fifth or sixth year of their career and that's where Rockhold stands. I have faith that he has the ability within himself to be a UFC champion some day, but its going to be a question of whether or not he puts in the work that will determine his future.

Nate "The Great" Marquardt
Welterweight
Nate Marquardt's exit from the UFC was about as unceremonious as possible. The former middleweight title challenger apparently committed an act so heinous that he was immediately released from his contract without ever committing another transgression. Marquardt was a rudderless ship for a year signing with BAMMA yet never fighting for that organization after announcing a drop to welterweight. Somehow he wound up in Strikeforce after the Zuffa buyout and got a welterweight title shot in his first fight with the promotion. He beat wrestler extraordinaire Tyron Woodley to claim the vacant Strikeforce welterweight title and seemingly redeem his career.
The signing of Marquardt to Strikeforce by Zuffa was seen by most of us as a rehab assignment for Marquardt. He was a good fighter who slipped up and Zuffa wanted him to show he can come back and earn a spot in the UFC once again, this time as a welterweight. While Nate's submission game has been proven against a collection of much smaller guys during his time in Pancrase, he does hit very hard and has good offensive wrestling of his own. The win over Woodley was very impressive when you consider Marquardt had been off for over a full calendar year and it was his debut appearance at 170 pounds.
Marquardt seemingly makes the most sense of anyone if they decide to immediately have a champion vs. champion fight between the UFC and Strikeforce fighters. He already is a known commodity to UFC fans and even has a win over one of the UFC's top welterweights in Martin Kampmann. He has a well rounded skill set and isn't likely to be intimidated by the UFC atmosphere since he's been there before. His title defense against Taric Saffedine should be a good statement fight for his impending UFC re-entry. Marquardt has the skills to hang with just about any welterweight in the UFC and I look forward to fights like ones against Hendricks and Diaz amongst many other possibilities.

Gilbert "El Nino" Melendez
Lightweight
People have talked about the potential of Gilbert Melendez jumping to the UFC longer than any current Strikeforce fighter. Melendez has reigned as Strikeforce's lightweight champion since April of 2009 and in that time scored two victories over heated rival Josh Thomson, beat up Japan's premier lightweight Shinya Aoki with relative ease, and avenged a loss to Matsuhiro Ishida. He's seemingly been above the level of competition available to him in Strikeforce to the point where the possibility of UFC fighters showing up in Strikeforce to fight him. When you have that kind of hype around you its very difficult to live up to.
But Melendez is a guy who definitely has the potential to live up to that hype. He may not be the most publicized member of Cesar Gracie's team but he's probably the most well rounded of them. He wrestled throughout high school reaching his state finals twice and while in college wrestling met future training teammate Jake Shields in college and quit wrestling to focus on MMA. In that time he's developed into a BJJ brown belt under Gracie and has trained his boxing diligently under Richard Perez while training Muay Thai at the Fairtex Gym of San Francisco. Melendez has a complete offensive and defensive arsenal at his disposal.
There's not a UFC lightweight I can say is more likely to beat Melendez than vice versa. I think he can compete with any and everybody at 155 pounds and beat the majority of them. While the lightweight title logjam becomes a little bit tougher to sort out, there's absolutely nothing wrong with bringing in Melendez for an immediate title fight. However I do think Melendez is unknown to the UFC fan base to an extent and would benefit from fighting on the undercard of a lightweight title fight against a name commodity like a Gray Maynard. A big win in his debut on the undercard of a title fight really helps him cut the line to a title shot and gets people invested in Gilbert Melendez.
Possibilities – These are the guys in Strikeforce who I would hope to see brought over. The above fighters listed are essentially locks but these are guys who I feel bring enough to the table to get a roster spot.
Josh Barnett – Former UFC heavyweight champion(a title he was never beaten for), proven to still be able to hang with top heavyweights, fresh face in a somewhat stagnant division in need of fresh fights and guys who can sell a fight.
Rafael Cavalcante – It never hurts to have an aggressive KO artist who consistently brings excitement in any division.
Ronaldo Souza – Since his loss to Luke Rockhold we've seen Jacare commit to becoming a complete mixed martial artist by learning how to box. If he becomes a good stand up fighter lots of middleweights are in trouble.
Lorenz Larkin – Undefeated middleweight with improving techniques each time out.
Josh Thomson – 2-1 in the UFC and if it means a fourth with Melendez I'm all for it.
That's going to do it for this week. Don't forget to join us for a special edition of the 411 Ground and Pound Radio this weekend when its hosted by none other than THE BOSS…Larry Csonka! You can listen live on Blogtalk Radio or call into us during the show! Sunday at 11am EST, same Pat-time, same Pat-channel!
NULL
comments powered by Disqus