The Blueprint 10.11.12: Present Meets Future
October 11, 2012 | Posted by
Welcome back boys and girls. Its time to put on your learning caps because I am your professor of pain, dean of destruction, your headmaster of headhunting, I am Patrick Mullin and this is The Blueprint. This week's edition sees us take a look at what is in this writer's opinion the most interesting bout on the UFC 153 card. Erick Silva has looked like an unstoppable force of nature in his octagon appearances. He destroyed Charlie Brenneman and Luis Ramos in short order and were it not for blind officiating was on his way to doing it to Carlo Prater. It looks as though Silva's future is so bright he's got to wear shades.
Things at one time looked very much the same for Jon Fitch. While Fitch didn't destroy his opponents in the impressive fashion Silva has, he did manage to beat every top welterweight he was faced with prior to his title challenge against Georges St. Pierre. GSP remains one of only two men to have defeated Fitch as Jon was also knocked out last year by top contender Jonny Hendricks. During his year long layoff Fitch hasn't tasted victory since his second win over Thiago Alves in August of 2010. Fitch was a perennial top welterweight and it remains to be seen if he can remind people of what he once was, or if Silva exposes if he's become something less.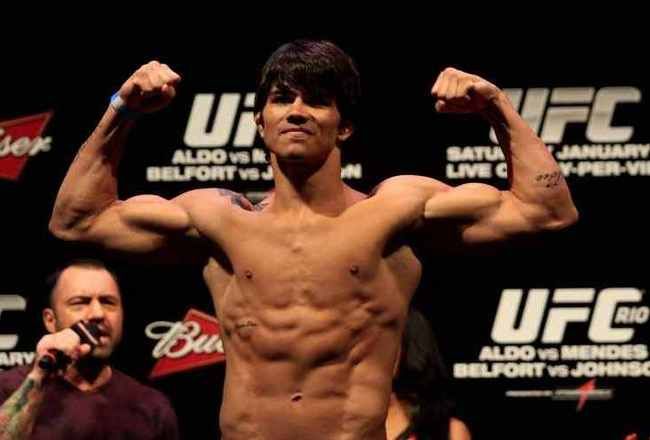 Erick "Indio" Silva
Height: 5'11
Reach 73 inches
Record: 14 Wins(3 KO, 8 Submission, 3 Decision) 2 Losses(1 Decision, 1 Disqualification)
Strengths: Speed, Jiu Jitsu, Aggression
Weaknesses: Lack of Big Fight Experience, Swings Wildly, Doesn't Look at Opponents When Striking in Combination
Erick Silva's Keys to Victory
1) Welcome Back Jon– Due to various circumstances Jon Fitch has been out of action for nearly a full calendar year. Fitch's last fight in the UFC lasted only 12 seconds as he was knocked right out by a left hand from Jonny Hendricks. So the last time Fitch was in a real competitive fight with true octagon time was back in February 2011 when he fought to a disputed draw with B.J. Penn. Inactivity can be a fighter's worst enemy so a young and hungry guy with something to prove needs to take advantage of it.
Jon Fitch is 34 years old which makes him an old timer in the fight game. He's not getting any younger and the lack of activity compiled with various injuries has to be taking its toll on him. Fighting is a lot like dancing in that some people need a song or two before they finally find their groove. Silva needs to come out fast and furious and not allow Jon to get comfortable and warmed up. Its clear Jon can be hurt to start a fight and to his credit he gets tougher as the fight goes on. Don't give him that option, rush him from the start.
2) Keep Knees Active – Jon Fitch had a great collegiate wrestling career as a Purdue University Boilermaker. He's kept the fundamentals that made him a successful wrestler as a successful fighter. The most prominent aspect is that Fitch will always look to take down his opponent and use his wrestling base to control them and set up a submission. Even talented grapplers like Paulo Thiago have struggled mightily and without success against Fitch's top control.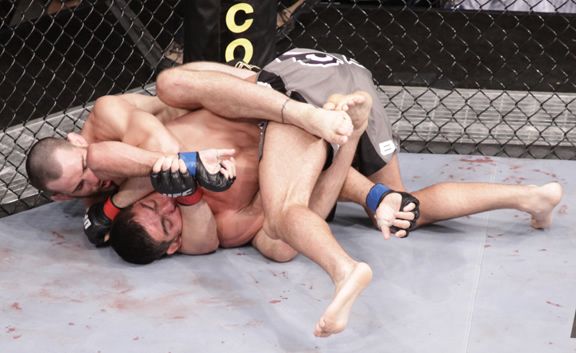 Silva employs wild strikes from wide angles when on the outside but on the inside he fights very technically with his Muay Thai. His knees are of particular effectiveness when stopping opponents in their tracks and he'll need them early and often against Fitch. Hard knees on the inside to the solar plexus will slow Fitch down and make him second guess his takedowns. Landing them with any kind of frequency will also allow Silva to develop an instinct on Fitch's timing and he can land a well placed knee to the head and potential hurt or knock out Fitch.
3) ABC…Always Be Circling – Moving is better than standing still. The holds true no matter if you're fighting an excellent wrestler or a knockout striker. The idea is not to be in front of your opponent. When you're standing in front of an opponent you're giving them a chance to execute offense. Jon Fitch has been wrestling and competing for too long to let an opportunity like that pass him by. Simply put Silva has to be on his toes and moving like a windshield wiper from side to side to avoid the potential of everyone's favorite dance the Jon Fitch Grind.
Erick Silva's Perfect Strategy – It is imperative for Erick Silva to take the lead in this bout. He has to strike early and often to try to tap Fitch's chin and control the pace. A quick pace against someone who hasn't fought in nearly a year can be a nightmare for them to adjust to. A tired fighter is an ineffective fighter and even if Erick doesn't knock out Jon early he'll still wear him down enough to likely finish him late or dominate the scorecards when the final bell has sounded.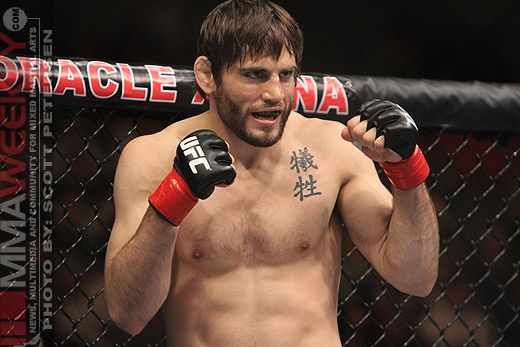 Jon Fitch
Height: 6'0
Reach: 74 inches
Record: 23 Wins(5 KO, 5 Submission, 13 Decision) 4 Losses(2 KO, 1 Submission, 1 Decision) 1 Draw
Strengths: Wrestling, Submissions, Pace Control
Weaknesses: Lack of Finishing Prowess, Inactivity, Striking Game
Jon Fitch's Keys to Victory
1) Make it Last – Jon Fitch has not finished an opponent since 2007. Depending on what kind of person you are this may be either a glass half empty or glass half full scenario. I believe Fitch himself sees it as half full. He's made a career out of outlasting guys in fights and just wearing them down and taking the fight out of them with his wrestling. While its certainly not the most aesthetically pleasing means of victory it has certainly worked in his favor more often than not. In this fight making this go any significant length of time is imperative to Jon.
Erick Silva has only gone the distance four times in his young career. There's no significant evidence to suggest Silva can't hack it in a grueling fifteen minute fight. However there is evidence that Jon Fitch is at his best in these situations. He'll need time to find his rhythm and work his usual "grind 'em out" game plan. The way to do it is to make this fight go as long as possible.
2) Counter-Wrestle – When Erick Silva comes forward at opponents they usually either get knocked down or taken down. It says a lot for both his striking power and his own wrestling ability. But he does have some bad tendencies in this situation. One of them is that he often drops his head to the point where his vision is to the mat instead of his opponent. When you can't see what your opponent is doing you can't adequately defend yourself against counter attacks. But rather than counter strike I'd like to see Jon counter wrestle.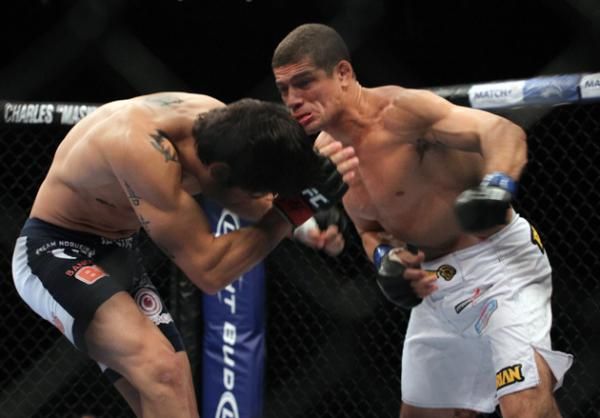 If Silva's eyes aren't on Fitch how will he know Fitch is shooting on him until Jon already has a hold of him? He won't. Rather than back away or cover up when Silva drops his head and swings a long left hook or overhand right shoot a low single into a high crotch grip and put Silva on his back. It's a position he's not yet been put into by someone with Fitch's ability to control you on the ground. Unfamiliarity in a fight often leads to panic, which often leads to mistakes, which always lead to openings to win the fight.
3) Use Your Jab – Because he tends to be a very boring fighter Jon doesn't often get credit for some of the things he does well. Jon actually has a decent idea of how to use his jab thanks to his time working with Javier Mendez. While he doesn't always use his deceptive reach to his advantage because he wants to be inside grappling, Jon can open up opportunities against Silva by using a stiff jab. We talked about how Erick throws very wide punches from the outside usually leading with a 3-2 combination. When he does jab he drops his hands while doing so.
Jon can catch an off balance Silva with a stiff jab and make him an easier takedown victim. He'll score points by beating Silva to the punch with his superior reach. There's also the chance that if he keeps Silva on the end of his jab he could simply box his way to victory or force Silva to try a desperation attack that leads to his demise.
Jon Fitch's Perfect Strategy – Simply put the best map for victory to Fitch is for him to do the old Jon Fitch Grind. Close the distance and force the clinch and grappling action. Use it to put Erick Silva on his back and control him. The Jon Fitch Grind is as much a psychological attack as it is physical because it frustrates opponents into either making a mistake out of desperation or getting them to give up before the fight is actually over. If it ain't broke don't fix it and the Jon Fitch Grind works more often than not.
Final Prediction – Perhaps it was all the lackluster fights and lack of general excitement during them, but Jon Fitch has done something to piss off the UFC brass for this fight to happen. After nearly a year off and having to recuperate from various injuries he draws an absolute wrecking machine as his comeback opponent. If Fitch were healthy and active I'd be very tempted to pick him to use his wrestling to smother and neutralize the awesome force that is Erick Silva. However he's been injured and inactive and likely to be very rusty. If you fight Erick Silva fresh off of rehabbing injuries without a tune up I don't like your odds.
And Your Winner Is… – Erick Silva, TKO, Round One
That's it for this week's Blueprint but don't forget to join us Sunday for the 411 Ground and Pound Radio Show on Blogtalkradio. We'll be recapping UFC 153 and talking about all the MMA news so don't forget to call in at (323) 657-0901.

NULL
comments powered by Disqus