The Blueprint 10.25.12: Body Snatchers
October 25, 2012 | Posted by
Hello future architects of mixed martial arts! Thank you for joining us for another edition of The Blueprint. If you listened to this weekend's edition of the 411 Ground and Pound Radio Show you know this edition was actually supposed to be about mistakes Stephan Bonnar made against Anderson Silva in their fight. Well as I used the ol' DVR to rewatch that bout as is custom for me to critique a performance. I decided to watch the rest of the fights from that card too and noticed that things I was going to pick on Bonnar for were prevalent in other bouts as well. As it happens an episode of UFC Unleashed played after and again I found myself immediately looking to pick on the same things.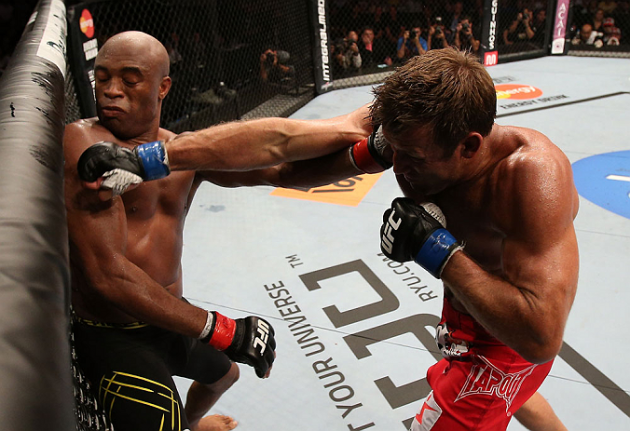 Quite frankly I've become extremely alarmed at the amount of head hunting with strikes we've become accustomed to from professional mixed martial artists. While watching Stephan Bonnar square off with Anderson Silva there was a point in that fight where Anderson Silva stood against the cage with his hands down, daring Bonnar to hit him in the chin. Bonnar played right into Silva's hands by trying to hit him with any punch he could muster on the jaw. Silva rolled away from the impact and because Bonnar isn't exactly fleet of hand he wasn't able to land anything serious. After moving some Silva planted himself right back against the cage and taunted Bonnar to hit him again.
Bonnar responded by throwing a foolish spinning back kick that Silva was able to easily evade and shortly thereafter was met with a knee that spelled his doom. People always like to reference that Bonnar was a Golden Gloves boxer. Well being a Golden Gloves boxer means you filled out some paperwork, passed a medical exam, and had a sanctioned amateur boxing match under tournament rules. So just because someone has a background in what Bobby Heenan would refer to as "amateur punk stuff" doesn't mean they're particularly skilled at that aspect of fighting. Bonnar throughout his career has shown himself to be little more than a tough brawler. His fistic acumen leaves much to be desired.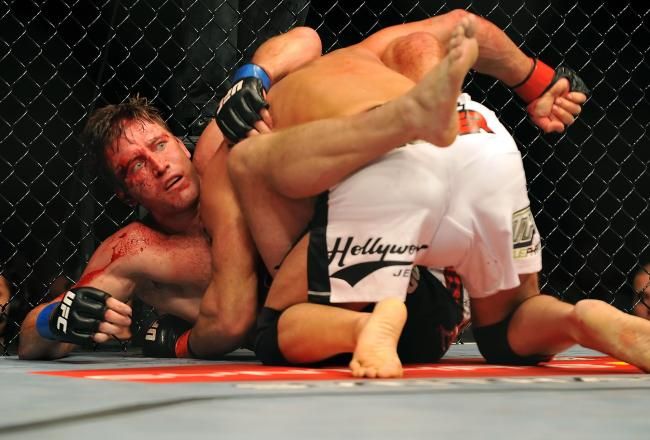 But in Bonnar we've seen something that's become all too common. Fighters are simply ignoring how effective body striking can be and how often striking to the head fails without striking to the body to set it up. Let's begin by discussing the virtues of body striking.
Hard to Miss
The body is generally always there to be hit. I always preach about head movement and high guards. Well the body is actually much more difficult to protect than the head is. While head movement and a high guard are great tools to defend the head you can't really effectively apply those to the body. In order to guard the body effectively you have to keep your elbows tight to your body while taking an angled stance to avoid being open up the middle.
The Art of Diversion
Part of what it takes to find openings for strikes is luck, but often times you have to create the openings and there is no better way to do it than to divert the attention of your opponent. By repeatedly striking to the body this will cause the opponent to take assault attempts at the midsection from your hands, feet, elbows, and knees very seriously. They will often attempt to defend them by dropping their guard upstairs. When that happens it gives you a green light at a very likely to land head strike of nearly any variety you so desire. Take advantage of it.
Running on Empty
We often see guys in mixed martial arts display an alarming lack of cardio vascular conditioning and as a result lose fights by virtue of being too tired to fight effectively. We saw it with Erick Silva having nothing left in the middle of the second round and beyond against Jon Fitch. Well beating up a man's ribcage with long distance kicks, knees in the clinch, or hard hooks to his liver and kidneys won't just make him urinate blood. It'll rip his fuel line apart and very soon he'll be looking for the Shell answer. A tired fighter is a weakened fighter and you're at your best when the opponent is at their worst. Why make it hard on yourself?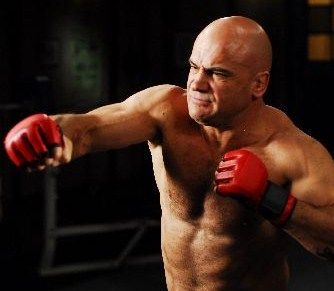 There are effective and aggressive body strikers in mixed martial arts. Among them are Eddie Alvarez, Nam Phan, Nick Diaz, and look to the older tapes to watch some guy named Bas Rutten. If you can find his fight with Jason Delucia where you'll witness an absolute body destruction. However at this stage body strikers are few and far between and as a result guys are costing themselves opportunities to win fights. It's a sad kind of cliché that the way for more guys to put wins together is literally right in front of them and yet they fail to recognize it.
That'll do it for this week's Blueprint. Don't forget to join us Sunday at 11am EST for another awesome edition of the 411 Ground and Pound Radio show LIVE on Blogtalkradio.com.
Win A FREE Copy of UFC: Ultimate Fight Collection – 2012 Edition 20-Disc DVD Box Set From 411!

Hey readers, 411 is giving away a FREE copy of UFC: Ultimate Fight Collection – 2012 Edition 20-Disc DVD set! This amazing box set includes 50 hours, 200 fights, on 20 discs, including fights featuring Anderson Silva, Junior Dos Santos, Jon Jones and many more!

To enter this amazing contest, simply head over to 411's FACEBOOK PAGE, make sure you have liked us if you haven't already, and post "411 & UFC Rule!" on our wall! Everyone who enters correctly will be thrown into a random drawing with one lucky reader winning the DVD box set!

The winner of the contest will be announced on 411 and our Facebook page on NOVEMBER 5th, 2012 (the day before the set is released), so be sure to check back then to see if YOU won!
NULL
comments powered by Disqus