The Blueprint 11.08.12: Franklin vs. Le
November 8, 2012 | Posted by
The Blueprint 11.8.12: Franklin vs. Le
The UFC middleweight division has been picking up steam in the past few months and it continues its roll on Fuel TV live from China. Former UFC champion Rich Franklin is looking for one more title run and standing in his way is former Strikeforce champion Cung Le. Does the Sanshou master have the edge or is it Franklin with an ace up his sleeve? Read on to find out who wins in The Blueprint.
Hello once again everyone and welcome to a delayed edition of The Blueprint. We were unfortunately not running last week whilst Superstorm Sandy ravaged New Jersey and New York and yours truly was left without power for days. Thankfully I was one of the lucky ones and didn't suffer any significant losses but there are many who did and I advise anyone looking to help to donate to the American Red Cross, Sandynjrelieffund.org or find a local collection agency bringing needed supplies to residents here stuck in shelters or worse. There are many people who need help and I would encourage anyone capable of giving aid to do so. No donation is too small.
Now let's get down to business because we've got the first ever UFC card emanating from Macaw, China on Saturday morning which our own Mark Radulich will be providing live coverage for right here starting with the Facebook prelims at 7am EST. On this weekend's 411 Ground and Pound Radio Show there was a lot of discussion about the main event pitting two former champions against one another in a significant middleweight fight. Rich Franklin is a former holder of the UFC middleweight title while Cung Le was the middleweight champion of the Strikeforce organization. Franklin is coming off of a grudge match win over Wanderlei Silva in Silva's home of Brazil. Le earned his first UFC win in his last bout against Patrick Cote. Enough of the hype, let's get to the breakdown.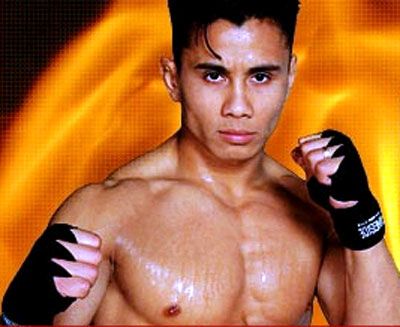 Cung Le
Height: 5'10
Reach: 69 inches
Record: 8 Wins(7 KO, 1 Decision) 2 Losses(2 KO)
Strengths: KO Power, Kicks, Foot Speed
Weaknesses: Stamina, Submissions, Questionable Chin
Cung Le's Keys to Victory
1) Leg Kicks – Cung Le has things his way when he is up against a stationary target who is willing to trade strikes with him. Rich Franklin likes to employ a lot of footwork and lateral movement against foes who offer dangers to him with the striking game. For Le to get Franklin in front of him he's going to need to take away his ability to move freely. The best way for Le to do this is to beat up Franklin's legs with his powerful and accurate kicks.
While I don't find Le's striking to be as technical as say…Joe Rogan does, it is particularly powerful and effective when he lands. The earlier and the more often he can pound his shins into the vulnerable areas of Franklin's knees, thighs, and calves the better a chance he has to stop Franklin's movement. If he can stop Franklin's movement he'll get him right in his crosshairs for powerful striking combinations to look for the win.
2) High-Low Kick Combinations – We've already talked about how devastating Le's kicks can be. They were strong enough to break Frank Shamrock's arm while he was attempting to block them from landing on his face. Franklin was in a similar predicament against Chuck Liddell but still managed to fight through it and knock Liddell out. Well since Franklin is such a tough nut to crack Le is going to have to find a way to land his most effective strike which is his left high kick. But how can he do that?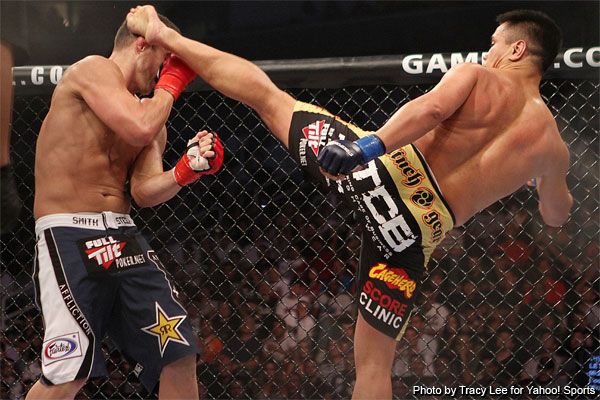 The best way he can set it up is to double up on kicks from the left side and go body to head with them. The left kick to the body is going to potentially preoccupy Franklin. The left kick to the body isn't terribly effective as a standalone strike against southpaws(more on that later) but it doesn't mean you shouldn't throw it. Le needs this to distract Rich so he can quickly bring the left kick to the head back at him to Franklin's blind side. The strikes you don't see or anticipate are the ones that knock you out, especially when they're as powerful as Le's left high kick.
3) Make Franklin Reach for Him – Despite the fact that Rich is a tall and lanky middleweight, he doesn't always fight as one. Franklin often likes to get in close and land his right hook and land combinations in close because there's a bit of a street fighter in him. Franklin likes to plant his feet and swing away at an opponent. The problem is when his opponent backpedals in this situation or Rich judges the distance wrong he ends up getting caught and getting hurt. Its what happened in his rematch with Wanderlei Silva when he thought he was out of Wanderlei's punching range despite reaching in and got clipped with a right hand that almost ended his night.
Despite being the shorter man Le is going to want to fight at a distance so he can maximize the effect of his kicks and avoid tasting Franklin's punches. Leaning in and making Franklin believe he can catch Le with a long distance punch can lead to Rich committing to offense that isn't there for him and eating a counter left high kick or spinning back kick that could be the beginning of the end for him. Rich's chin can be cracked and if Le is allowed not only to land but to load up and generate momentum on power strikes he has the potential to KO any middleweight.
Cung Le's Perfect Strategy – Le needs to get into the holiday spirit and believe that its better to give than to receive. The clock works against Le so he has to get off immediately and beat up Franklin's legs. Late in round one he should be afforded the opportunity to mix in the double up left kicks and can choose to follow with a step in right hook if he so chooses. The name of the game here is attack because he's not going to outlast Franklin and he has the power to end him, and end him he must.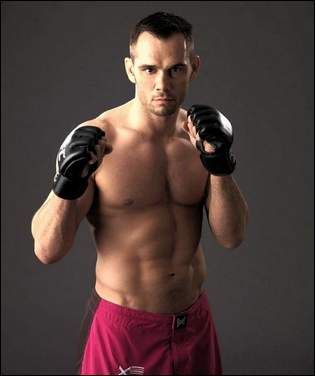 Rich "Ace" Franklin
Height: 6'1
Reach: 76 inches
Record: 29 Wins(15 KO, 10 Submission, 4 Decision) 6 Losses(4 KO, 2 Decision)
Strengths: Stamina, Well Rounded, KO Power
Weaknesses: Southpaws, Questionable Chin, Tendency to Brawl
Rich Franklin's Keys to Victory
1) Submissions – Forgive me for stating the obvious but when you're as well rounded a fighter as Rich Franklin is with a particularly bad record against southpaw strikers like Cung Le why would you even consider standing up to fight him? Franklin has had one of the more underrated ground games throughout his career outclassing even talented grapplers while the fight was on the ground. Jason MacDonald has some absolutely stunning BJJ skills and yet it was Franklin who put him on his back and unmercifully destroyed his eye until the fight was stopped. Do we really think Cung Le is more dangerous off of his back?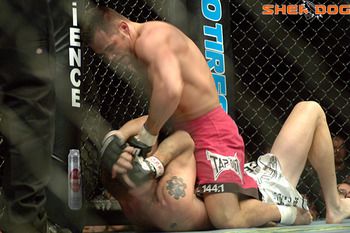 The smartest fighters tend to be the best fighters and the smartest thing Franklin can do is bring the fight to where he's at a complete and total advantage. Le has an amateur wrestling background from his high school years over twenty years ago and until he ventured into serious MMA competition submission grappling was completely foreign to him. Even if Rich pulls guard on Le its not likely Le will be comfortable having to deal with him on the ground and Franklin can pull submissions from the bottom like he did to Jorge Rivera with an armbar. Despite Le's age he is still a novice in many respects and this is one of them.
2) Smother the Kicks – Le is at his most effective when he can generate leverage on his punches and kicks by having the distance to do so. However in clinch situations and close quarter combat Le is not usually at his best. He still hasn't adapted to the use of elbows and knees when in close and thus trying to load up on strikes with an opponent mauling you gets him into trouble. Franklin has been beaten in the clinch by the very best in the game in Anderson Silva, but even Muay Thai and dirty boxing specialists like Wanderlei Silva and Dan Henderson were outhustled on the inside by Franklin. Again we have a situation where Rich is at a near complete advantage against Le.
If you can take away a guy's best weapon then do it. Smothering the kicks of Le is almost a guaranteed way to beat him. He's a one dimensional fighter and barring a fluke without kicks he cannot win a fight. Get in and dirty box and Thai clinch Le and he gets very panicky and doesn't know what to do. A confused and frenzied fighter is easy pickings.
3) Keep the Action Going – Has Cung Le ever gone into the second round of a fight looking like he isn't ready to pass out? I haven't seen it. His gas tank is constantly running on 'E' and you couldn't get a more opposite reading than Rich Franklin. Franklin is known for his Spartan-esque training regimen and even when taking a beating Franklin never looks tired. If you force Cung Le to work rather than to allow him to sit back and pick his spots he goes very quickly. Franklin is the hare if he had the tortoise's work ethic.
Rich Franklin's Perfect Strategy – Franklin is going to have to start the fight at a distance and as soon as an opportunity to close it shows he has to jump on it. He needs to spend time beating Le up on the inside mixing up the attack to the head and body keeping Le pressed against the cage. After wearing him down Franklin can put him on his back and use top control to work him over or to find an opening for a choke or armbar to finish him off.
Final Prediction – I know this write up seems fairly one sided in terms of what can be done in this fight. The fact of the matter is one dimensional guys without adequate defense against alternate forms of attack and suspect defense and conditioning don't beat elite fighters barring flukes. Rich Franklin may not be amongst the elite and he's certainly not the fighter he was five years ago. However he's amongst the most well conditioned and prepared fighters there are. He's competent everywhere and has several outs to beat Cung Le. Le has only a "puncher's chance" or in this case kicker's chance and he's not in the same class as the southpaw strikers who have bested Franklin.
And Your Winner Is… Rich Franklin, Submission, Round 2
That's all for this week. Don't forget to join us for another edition of the 411 Ground and Pound Radio Show Sunday at 11am EST on Blogtalkradio. We'll review this fight card as well as preview the comeback of Georges St. Pierre. Call in at (323) 657-0901 to join us and don't forget to vote in this week's edition of Fact or Fiction where I right the horrendous wrong in the judging of my first bout with Mark Radulich. It's the biggest rematch since Sylvia-Arlovski!
NULL
comments powered by Disqus