The Blueprint 11.15.12: Who's Number One?
November 15, 2012 | Posted by
The Blueprint 11.15.12: Who's Number One?
Martin Kampmann and Johny Hendricks have been a two man wrecking crew beating all the top welterweights in the UFC with the exception of each other. Now the warriors will come face to face in Montreal on Saturday to determine the next likely challenger to the UFC welterweight championship. Will the Hitman turn Hendricks' lights out or will the former NCAA Division I champion punch his ticket to a championship bout? We tell you here in The Blueprint.
Hello everyone and welcome back to The Blueprint. Now I know everyone is buzzing that GSP is finally back in the cage this Saturday and against a fighter the caliber of Carlos Condit no less. But as awesome as that is I happen to think there's another fight on this card that's a whole lot more interesting and potentially exciting. No I'm not talking about Tom Lawlor vs. Francis Carmont. I'm talking about Martin Kampmann and Johny Hendricks looking to determine who probably gets the next shot at the winner of GSP-Condit later that night.
Personally this is a fight I've been waiting on for some time as each man has been so impressive over their last few fights. Kampmann is 6-2 in his last 8 bouts and I personally believe he should be undefeated and was the victim of poor judging in his bouts with Jake Shields and Diego Sanchez. But he's managed victories over Jake Ellenberger, Thiago Alves, and even has a win over interim champion Condit. Johny Hendricks burst onto the UFC scene by smashing TUF 7 winner Amir Sadollah in less than half a minute and also has beaten former title challengers in Josh Koscheck and Jon Fitch. His only loss was a very close decision to Rick Story in a bout that could have gone either way. So you can see that each man is primed and ready to make their case for a title shot with a win in this bout.
This is a fight that's really almost too close to call. But we wouldn't be doing our job here if we took a pass on doing that. We're here to determine a winner and we'll do it as always by breaking down the stats and strategies. We'll start with the slight betting underdog in Kampmann.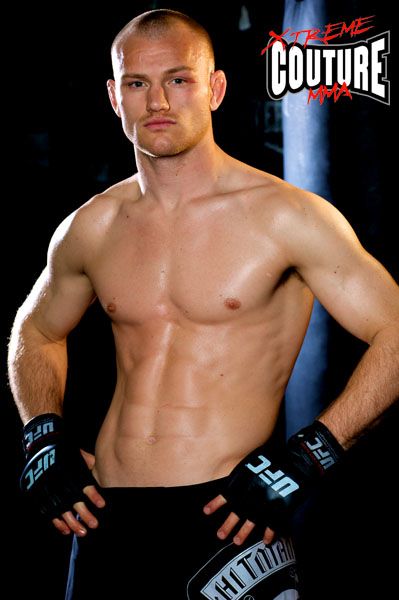 Martin "The Hitman" Kampmann
Height: 6'0
Reach: 72 inches
Record: 20 Wins(8 KO, 7 Submission, 4 Decision, 1 Disqualification) 5 Losses(3 KO, 2 Decision)
Strengths: Thai Boxing, Takedown Defense, Submission Skills, Grappling Defense
Weaknesses: No Head Movement, Defensive Minded, Fights to Opponent's Strengths
Martin Kampmann's Keys to Victory
1) Control the Distance – This is critical for Martin Kampmann if he ever wants to fight for a UFC title. Martin has a terrible habit of playing to his opponent's strengths during his fights. He elected to grapple with Jake Shields and while he likely should have won that decision he made that fight look closer than it was by grappling with him. He elected to brawl with Paul Daley and got knocked out for his efforts. Even in his most recent fight with Jake Ellenberger rather than use his technical advantages on the feet he chose to brawl with him and got clipped and hurt quite badly as a result.
Johny Hendricks is a very gifted fighter in many ways but his absolute strength is his wrestling. He's an NCAA Division I champion because he was the best 165 pound wrestler in the country. As good a grappler as Kampmann is he will not win a grappling match with someone with the pedigree of Hendricks. Thus he has to keep this fight at a distance by utilizing his jab, push kicks to the chest area with the rear leg, giving angles, and he must keep his orthodox lead foot outside the southpaw lead foot of Hendricks. It will allow Kampmann to dictate the movement and steer clear of Hendricks getting a good shooting opportunity on his front leg.
2) Put on Your Track Shoes – Moving is better than standing still. I've always been somewhat critical of Martin Kampmann's awkward and ponderous footwork, but even then he has better footwork than most UFC welterweights who look like they're stuck in the mud at times. He's going to have to move early and often against Hendricks. He cannot afford to stand still and brawl with Hendricks because he has poor defensive habits against strikes on the inside and standing still will make him that much easier to take down. If Martin is taken down he will lose this fight, no two ways about it.
Hendricks has also shown a good chin in his UFC run. Kampmann doesn't necessarily have a bad chin because the only guys who have knocked him out or hurt him are power hitters. Kampmann just doesn't move his head and holds his chin high which makes him more susceptible to being hurt. Hendricks has a big left hand punch so if these guys plant their feet and go toe to toe that's going to favor Johny, which is again why Kampmann cannot afford to stop moving.
3) Mix in and Time Knees – Unless we see Hendricks score a quick KO against Martin the way he did against Sadollah and Jon Fitch its very likely he's going to try to take this fight to the ground. Now sprawling and utilizing lateral movement are great, but a wrestler like Johny will eventually get you with a takedown if you're defensive the whole time and don't try to discourage the takedown attempts. Because of his Thai boxing background Kampmann has some very powerful knee strikes that he really doesn't utilize enough during his fights. They're arguably his best offensive weapons. If Kampmann is able to catch Hendricks shooting in on him with a knee to the chest or to the chin he can do big damage and stop Hendricks from bringing the fight where he wants to.
Martin Kampmann's Perfect Strategy – Boxing and combat sports as a whole suffered a loss with the recent passing of Emmanuel Steward. Steward helped to turn the careers of Lennox Lewis and Wladimir Klitschko into Hall of Fame worthy ones by teaching the tall men how to fight tall. He taught them how to keep opponents at the end of their reach and utilize movement to keep their opponents out of their striking range to avoid damage. Kampmann would be wise to utilize a similar tactical approach and use his knees the way Steward taught these men to use uppercuts. If he can do this then he stands a very good chance to outpoint Hendricks or even potentially set up a KO if he scores enough.

Johny Hendricks
Height: 5'9
Reach: 69 inches
Record: 13 Wins(7 KO, 1 Submission, 5 Decision) 1 Loss(Decision)
Strengths: Strong Wrestling Pedigree, KO Power, Clinch Control
Weaknesses: Prone to Inactivity, Lack of Submission Skills, Loads Up on Punches
Johny Hendricks' Keys to Victory
1) Smother – Just like we talked about Kampmann needing to break ground and establish critical distance, Hendricks needs to bring this fight into close quarters. Hendricks is very capable of knocking someone out but why fight on terms advantageous to Kampmann? Thiago Alves found success by pressing Kampmann against the cage and putting his weight on him. This left Martin unable to strike from a distance and he was unable to secure a Thai clinch to use his knees offensively. He was forced to try to turn Alves around or just to clinch and hope for a referee calling for the break.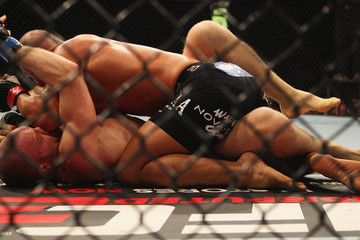 Alves is a tough guy with some skills but he's not half the wrestler that Johny Hendricks is. If Alves was able to control Martin with a high success rate in their bout the odds favor Johny being able to do the same. This will also serve the purpose of not only stifling the offense of Kampmann but it will also slowly wear Martin down and take the spring out of his step and the snap out of his strikes by taking away his stamina. Take away a carpenter or a plumber's tools and he can't do his job. Fighting is the same thing. A fighter's job is to win and when you take away the things he needs to win the fight he can't do his job.
2) Take Advantage of the Clinch – Martin Kampmann is a warrior at heart. Its one of the qualities that has endeared him to fans because it tends to result in exciting fights that provide unnecessary risk to him and he's usually fortunate and wins out. However if someone is smart enough to draw Kampmann into a fight that he'll engage in for the hell of it regardless if he's at a disadvantage they can use it to beat him. His Thai boxing background has him very comfortable in clinch fighting situations, one of the more prevalent ones being the collar tie. We all know the collar tie, you grab your opponent behind the head with a strong grip on the back of the neck to hold their head in place to strike them.
Wrestlers tend to do very well with the single collar tie in fights. Hendricks is no exception as in his UFC debut he used it to demolish Amir Sadollah in 29 seconds. When Hendricks gets the opportunity to unleash his left hand opponents fall down. Engaging in the single collar tie with Kampmann is something he can likely make happen and if he does and he starts throwing that left hand it'll be impossible to miss Martin and Johny could be looking at another early night in the octagon.
3) Be Cautious of Submissions – For all the talent Johny has, we haven't seen him in a dangerous situation with a good submission grappler. I will always hail Kampmann as one of the most underrated submission artists in the game. The submissions are really his ace in the hole if he gets into trouble striking or falls behind on the cards. Against Thiago Alves he snared a guillotine choke in the closing moments to snatch victory from the jaws of defeat. Kampmann has more than held his own with submission talents like Paulo Thiago and Jake Shields so he's the real deal.
Hendricks hasn't faced a guy with the submission credentials of Kampmann, a Robert Drysdale brown belt. Hendricks is out of a camp with guys who aren't very good submission fighters in the Rosholt brothers and the now retired Shane Roller. Hendricks needs to be respectful of Kampmann's BJJ skills and avoid getting into situations where he can apply them and take the fight away from Johny.
Johny Hendricks' Perfect Strategy – Johny quite simply needs to come at Martin head on. Press him right into the cage, grab him behind the neck, and start throwing that left hand into Martin's chin and solar plexus. Towards the end of the rounds shoot for takedowns to score points and prevent Kampmann from mounting any striking offense while not giving him enough time to apply a submission. At Close Range is one of my favorite films and it's a title Hendricks should remember as that's where he needs this fight to be in order for him to win.
Final Prediction – I don't know if you can tell but I'm really into this fight. Certain intangibles come into play here and when you have two fighters who are physically at a very even level we have to look to the mentality employed by these guys. Ultimately this is how I came to my decision on who is winning this bout. Martin Kampmann is absolutely one of my favorite fighters to watch but he tends to win in spite of himself. He often fights the fight his opponent wants and while he normally wins we've seen situations where his poor decisions have cost him fights.
I have yet to see a fight where Johny Hendricks doesn't try to make the fight as advantageous to himself as possible. I can see Kampmann trying to grapple with Hendricks much easier than I can seeing Martin do his best Muhammad Ali impression floating like a butterfly and stinging like a bee. Kampmann is a great fighter but he hasn't shown the mental stability a champion requires and I fear this is always going to hold him back in these situations.
And the Winner Is… – Johny Hendricks, Unanimous Decision

comments powered by Disqus