The Blueprint 11.22.12: Days of Future Past
November 22, 2012 | Posted by
The past meets the future live on FOX when the returning BJ Penn ends his retirement by facing the young and talented Rory MacDonald. Will Penn use his experience and talent to put himself back into the welterweight picture? Will MacDonald secure his first win over a big name fighter and move one step closer to a title shot? Find out all that and more here in The Blueprint.
Hello once again loyal readers! A Happy Thanksgiving to all of you and I hope you brought your appetite with you as The Blueprint is back. Last week we correctly predicted a KO win for Johny Hendricks in a big time welterweight clash with Martin Kampmann. This week we're going to stay in the 170 pound division with an intriguing if not bizarre match up. We weren't sure after losing to Nick Diaz if we would see BJ Penn fight again. However after some angry twitter action BJ's manager proclaimed "the old BJ is back" and after much ado we're set to see him return on December 8th against Rory MacDonald.
MacDonald took the Canadian MMA scene by storm drawing quick comparisons to countryman and training partner Georges St. Pierre. It was high praise that MacDonald may not have been ready for as after a successful UFC debut against Mike Guymon, he was TKO'd by former WEC champion Carlos Condit. MacDonald has rebounded with three straight wins and can put a feather in his cap by defeating a bonafide legend in Penn. That is much easier said than done though and whether or not MacDonald can do so is to be determined. That's where we come in and we'll start our breakdown with the legend himself.

"The Prodigy" BJ Penn
Height: 5'9
Reach: 70 inches
Record: 16 Wins (7 KO, 6 Submission, 3 Decision) 8 Losses (2 KO, 6 Decision) 2 Draws
Strengths: Boxing, Submissions, Takedown Defense, Balance
Weaknesses: Conditioning, Prone to Swelling, Mental Fortitude
BJ Penn's Keys to Victory
1) Throw Down – Freddie Roach is one of the better boxing trainers there has ever been. He's brought his talents to MMA by working with people like Georges St. Pierre, Dan Hardy, and Andrei Arlovski to improve their boxing technique. So it's pretty high praise when Roach says that Penn possesses the best boxing in mixed martial arts competition. The statement certainly has merit. In the past few years despite his BJJ pedigree Penn has used his grappling skills to force opponents to stand with him and he has the ability to outbox them or go for the kill and knock them out.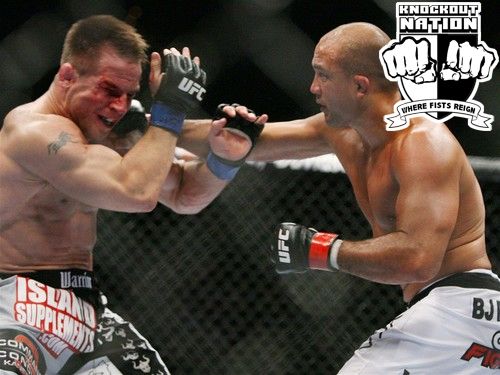 The best striker Rory MacDonald has fought so far is Che Mills who was doing fairly well until MacDonald decided to bring the fight to the ground. Mills is a good hitter who mixes up his strikes well to avoid predictability. However Penn utilizes better angles and because of his excellent jab is able to preoccupy opponents to mix in very unorthodox combinations that score. He can throw a jab-uppercut-knee sequence and make it look effortless. If Penn can turn this fight into a kickboxing match he'll make himself very comfortable in his first fight after a long layoff while putting the hurt on MacDonald.
2) Jab Early and Often – We alluded to this a bit earlier but Penn's jab is one of, if not his best weapon. Most mixed martial artists don't really know how to jab and either try to throw it as a power punch or simply paw with it ineffectively. Penn however understands just how useful a jab can be. BJ knows how to use his jab as a range finder to put power strikes behind it. He can pump his jab with some mustard to bust up the face of an opponent who has poor defense. BJ also knows how to use his jab to establish and control the critical distance.
This is a rare fight for BJ in that despite it being at 170 pounds Penn will be the one with a reach advantage in the fight. How is that you ask? MacDonald doesn't fight well on the outside while Penn is 9 times out of 10 excellent in doing that. Penn can effectively control the distance to defend against MacDonald trying to take him down and score points by utilizing his jab. The earlier he throws this punch with any regularity will set a course for a successful return to the octagon against one of the best young fighters at 170 pounds.
3) End it Early – We know that BJ Penn's conditioning is hit and miss. Against a young fighter in great shape BJ isn't likely to win a cardio battle no matter how hard he worked cardio in training for the fight. The best thing Penn can do is to get aggressive and try to land his power shots early. BJ has knocked out welterweights with one punch and while that may not necessarily happen here the earlier BJ can end this fight the less of a chance he has of losing the fight because he simply couldn't maintain the pace set by the younger fighter. BJ needs to be the guy who went after and put away Matt Hughes in less than half a minute.
BJ Penn's Perfect Strategy – BJ's best bet to start the fight is to take the center of the octagon so he can dictate the movement. Taking the center will allow him to force MacDonald to move evasively and circle or backpedal rather than vice versa. Penn is probably not in good enough shape to constantly pursue, but he is likely to be able to load up and catch MacDonald with powerful strikes along the cage. If he can put MacDonald on the defensive then BJ can open up without fear of being taken down and do to MacDonald what Carlos Condit did only much sooner.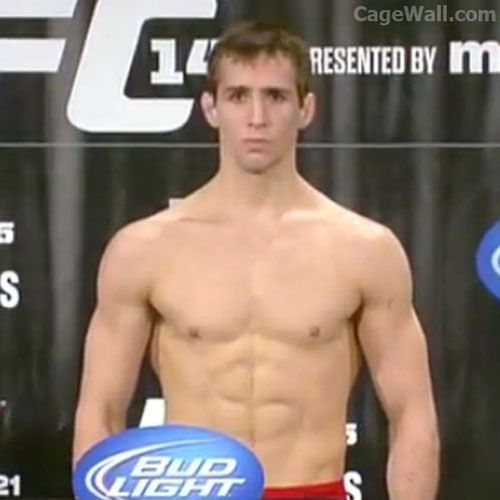 Rory "Ares" MacDonald
Height: 6'0
Reach: 76.5
Record: 13 Wins (6 KO, 6 Submission, 1 Decision) 1 Loss (KO)
Strengths: Takedowns, Tenacity, Top Control, Submissions
Weaknesses: Strike Defense, Predictable Striking Offense, Engages in Brawls
Rory MacDonald's Keys to Victory
1) Perpetual Motion – In the majority of BJ Penn's defeats the attribute that has separated the winner and the loser has been conditioning. Fast pace, high workrate, and constant movement are things that always have and always will trouble BJ Penn. MacDonald has youth and exuberance on his side and learned a hard lesson about conditioning in his fight with Carlos Condit. After a great start MacDonald couldn't maintain the pace and eventually the veteran Condit caught up with him in the closing moments of the fight and finished him off to take away what would have been a decision victory for Rory.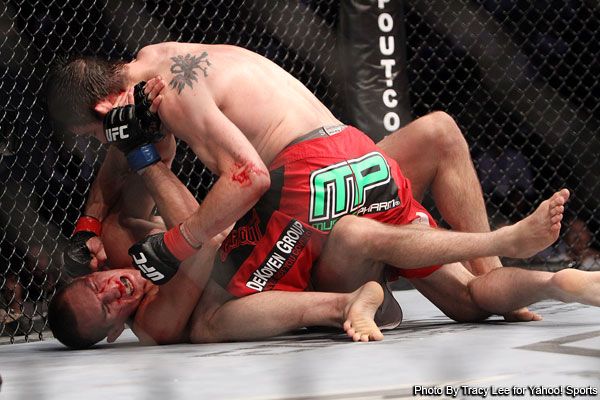 While Penn's training has seemingly always left something to be desired, MacDonald used that loss as motivation to work harder. The last thing Rory wants is to lose a fight again like that, because what it came down to was simply that the other man was in better shape than he was. After such an extended layoff and questionable training habits throughout Penn's career, cardio is going to be MacDonald's best weapon in this fight. Just don't stop pressing the action with takedowns and making Penn chase you and you have a very good shot at winning.
2) Ground and Pound – Takedowns are one of the things Rory MacDonald executes as well as just about anybody in all of mixed martial arts. It's been that way since he turned pro and has only gotten better since training with Georges St. Pierre. He possesses excellent timing and explodes as soon as he sees an opening, just as his mentor does. BJ has some of the best takedown defense (or at least did) due to his uncanny balance and leg strength. We've all seen the pool jump video I'm sure and if you doubt BJ's leg strength just watch it on youtube by searching "BJ Penn Pool Jump."
However even the toughest piece of rock will start to crumble if you continually chip away at it. Unless he gets quickly knocked out Rory will take down BJ Penn at some point and he has to make the most of the opportunity as its presented. We've seen MacDonald unleash some vicious ground and pound in his fights with Che Mills, Mike Pyle, and even on Nate Diaz. BJ doesn't respond well to adversity in fights. Once the going gets tough it's not a common site to see Penn rallying to a dramatic victory. If MacDonald can work his ground and pound it may do as much damage to Penn mentally as physically and set the stage for an easy fight going forward.
3) No Submissions – BJ Penn has never been submitted. This is after fighting high level grapplers like Matt Hughes, GSP, Kenny Florian, and Renzo Gracie. As the first non-Brazilian to win the Mundial World Championships in 2000 Penn is just about as good as it gets in the submission department. While I understand that MacDonald is a very good grappler going for submissions are like going for knockout strikes. They leave you open to the very same situation. Trying to submit BJ Penn will open Rory to be countered with a submission. For every hold there is a counter hold and Penn knows them all.
Rory MacDonald's Perfect Strategy – The name of the game for Rory MacDonald is activity. At the outset he should force Penn to pursue him knowing that BJ wants to box with him. So by utilizing lateral movement and forcing Penn to chase him he's going to make BJ expend energy, frustrate him, and open him up for takedown opportunities. Once he secures the takedown it becomes time to drop bombs and bust BJ up. Lather, rinse, repeat and its very likely Rory cruises to a decision or even forces Penn to quit on his stool.
Final Prediction – This is a really odd fight. It almost reminds me of Apollo Creed coming out of retirement to fight Ivan Drago in Rocky IV. Creed had been retired and over the hill while Drago was making his professional exhibition debut. Penn took a horrific beating in his last bout and it seemed as if retirement was imminent and instead he decides to take on a guy people are pegging as the future of MMA. You hate to count out someone with the talent of Penn, but the reason Penn has never lived up to his potential while still having a great career speaks volumes of his work ethic.
MacDonald may not have the natural talent of BJ Penn. I don't know that anyone who came into MMA at any point did or will. But hard work and being prepared to face situations you may not want to are what really separate fighters. Consider this a match up similar to the tortoise and the hare in that rather than put forth a maximum effort the hare put things on cruise control and the tortoise never stopped working and won the race.
And the Winner Is… – Rory MacDonald, Unanimous Decision
That's all for this week folks. Don't forget to join us Sunday for leftovers and another edition of the 411 Ground and Pound Radio Show. Listen on Blogtalk Radio, call in at (323) 657-0901, and do it every Sunday at 11am EST. Same Pat time, same Pat channel.
NULL
comments powered by Disqus