The Blueprint 11.29.12: Contenders or Pretenders?
November 29, 2012 | Posted by
The Blueprint 11.29.12: Contenders or Pretenders?
Alexander Gustafsson has been tearing it up as of late in the light heavyweight division. After a successful main event outing on Fuel TV against Thiago Silva he gets the biggest fight of his career live on FOX. His opponent is none other than the former UFC light heavyweight champion and PRIDE veteran Mauricio Shogun Rua. Is Gustafsson a legitimate title threat? Shogun becomes the measuring stick and we tell you who wins here first.
Greetings students of the game! Welcome to another edition of The Blueprint. Last week we previewed the comebacking BJ Penn and young upstart Rory MacDonald. This week we have a very similar situation with a former champion taking on a once beaten rising star looking better every time out. However our particulars this week are Shogun Rua and Alexander Gustafsson. Rua is 3-2 in his last 5 bouts, losing only to light heavyweight champion Jon Jones and consensus number two light heavyweight Dan Henderson. He put in wins against Lyoto Machida, Forrest Griffin, and a grueling battle with Brandon Vera in his last bout which aired on Fox.
Gustafsson on the other hand has been on an absolute tear putting together five straight victories after a loss to Phil Davis. However his last victory was his most impressive as he beat veteran Thiago Silva who had only lost to top talents at 205 pounds. His victories over James Te-Huna and Cyrille Diabate look even more impressive with each fight they win. This will be Gustafsson's first fight against a championship caliber fighter and it remains to be seen if in fact Alexander is a legitimate contender, with this fight being the proving ground in the eyes of many. We begin our look with the man many call "The Mauler".

Alexander "The Mauler" Gustafsson
Height: 6'5
Reach: 76.5 inches
Record: 14 Wins(9 KO, 3 Submission, 2 Decision) 1 Loss(Submission)
Strengths: Height and Reach, Boxing, Lateral Movement
Weaknesses: Holds Chin Up, Takedown Defense, Untested Inside Fighting
Alexander Gustafsson's Keys to Victory
1) Lateral and Forward Movement – In his last bout Alexander Gustafsson was criticized by many for being too passive when it seemed as though he had Thiago Silva hurt and may have been able to go for the finish. Those same people who criticized him are those who have never been in a fight in their lives. Finishes are great if you can get them but the problem is that when you go for the knockout you're opening yourself up to get knocked out. Thiago Silva is a very hard puncher and Gustafsson would have been a fool to open himself up to such a potentially devastating counter attack.
Shogun is also a pretty heavy hitter. Just ask Lyoto Machida who has fought the likes of Jon Jones, Rampage, and other heavy handed fighters yet Shogun was the only one who turned his lights out. Shogun's done it to a lot of good fighters so what Gustafsson needs to do is dictate the movement and not allow for the opening. Lateral and forward movement behind an intelligent jab will force Shogun to either chase him or move backward. Shogun is a very diverse and talented striker but moving backward and having to cut off the cage are not his strong suits.
2) Attack First – Just like you want to use movement to take away your opponent's opportunities to attack, attacking first can be just as effective. Gustafsson needs to have confidence in his hand skills and his own abilities to take the fight to Shogun. The problem with counterstriking is that you have to plant yourself to draw in the attacker and rely on your reflexes being good enough to avoid whatever they may throw at you. This gives the attacker the chance to make you guess and hit you with a knockout blow or take you down and submit you.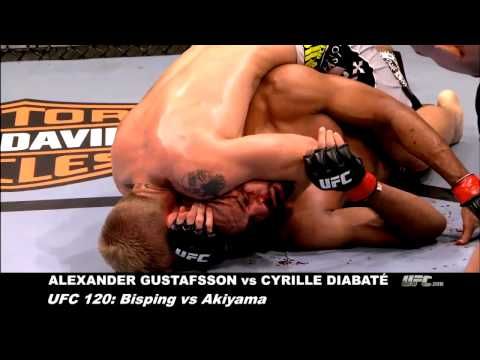 Shogun is at his best when he gets to attack first. When he gets into the kinetic chain of motion and throwing his body into his strikes he has the ability to KO just about anyone. Take that away from him by pumping your jab at him and following up with stiff right crosses and long kicks. Shogun tends to throw strikes in combination so picking off one usually isn't enough because there's one coming behind it. But he also tends to try to swing away when he should really be utilizing defense to reset himself and avoid further punishment. If Gustafsson can get off first he not only is likely to score himself, but also he should avoid the dangers of Shogun on the feet.
3) Leg Kicks – The problems of Shogun's knees are well documented. Well go for blood if you have to fight him. The proper technique behind the leg kick is to chop downward with the kick into the back of the knee. The downward angle of the kick allows you to turn your hips fully into the strike and land with maximum force. If Gustafsson can put a beating onto the knees of Shogun he could win this fight handily.
Alexander Gustafsson's Perfect Strategy – The key for Alexander in this fight is going to be distance control. By working behind his jab and mixing in leg kicks he should effectively stifle the offense of Shogun while beating him up. The best fight you can have is one where you totally control the action and take as little damage as possible in return. Lateral movement, strong punching, and leg kicks will allow Gustaffson to have a fight like that so long as he minds his p's and q's.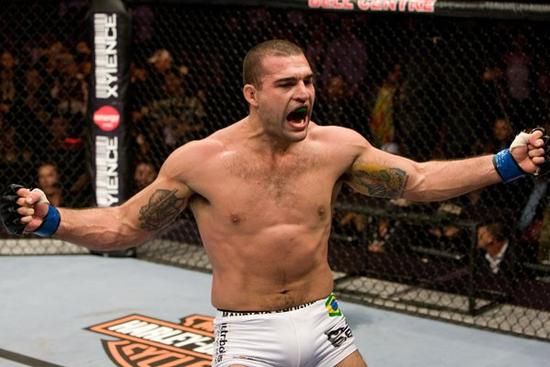 Mauricio "Shogun" Rua
Height: 6'1
Reach: 76 inches
Record: 21 Wins(18 KO, 1 Submission, 2 Decision) 6 Losses(2 KO, 2 Submission, 2 Decision)
Strengths: Experience, KO Power, Grappling, Muay Thai
Weaknesses: Injured Knees, Cardio, Strike Defense
Shogun Rua's Keys to Victory
1) Get Inside – Shogun is a very difficult man to keep off of you once he closes the distance. He stays busy and his clinch game is still very tough to fight out of. Gustafsson's style is very rooted in his boxing and he does fight very much like traditional European boxers do. He holds his chin a little too high for his own good, stands very tall, and fights behind a long jab. Those things have worked for him and for good reason. They maximize his physical attributes to make him the best fighter he can be.
However these stylistic traits can work against you just as easily when faced with a pressure fighter who wants to work you on the inside. The jab and right hand aren't as effective because the critical distance has been compromised and the high chin becomes a much easier target to reach. Silva shook Alexander up a little bit with a right hand in their bout but couldn't follow up because he landed it from the outside. If Shogun can land bombs in close he can put himself in position to follow up effectively and win the fight.
2) Ground and Pound – Shogun has some very good grappling skills when he chooses to use them. With the condition of his knees he should be much more reliant on taking the fight to the ground. Not only does it relieve the stress and wear and tear on his knees but it also in this fight puts him into an advantageous position. Gustafsson has won a Grappler's Paradise tournament but he's not the fighter Shogun is on the ground.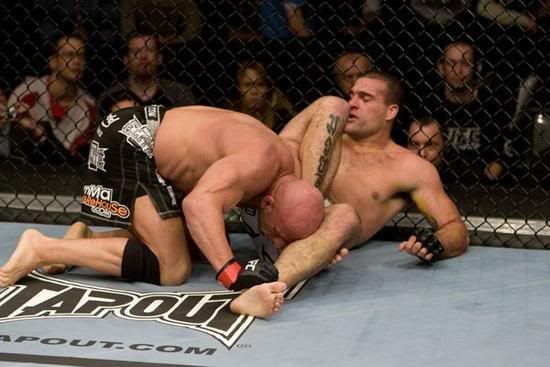 While Shogun only has one official submission victory on his record(Kevin Randleman, kneebar) he doesn't necessarily have to go to his usual strategy of working kneebars that don't finish for ground control. His top game is very good and he makes it extremely difficult to get back on your feet or stop him from advancing as his guard passes are amongst the very best. Gustafsson can be outwrestled and he can be submitted. Phil Davis proved both of those things true and Shogun has trained submissions a lot longer than Davis has.
3) Berserker Rush – Often times young fighters who lack big fight experience can get caught up in the moment. Young fighters can often suffer from deer in the headlights like moments when faced with a situation they've never actually been faced with in a fight. Gustafsson does have a tendency to backpedal and moving straight back against Shogun is asking to be beaten. If Shogun rushes him and Gustafsson moves in a straight line backwards that opens up Shogun's best attack opportunity to throw those looping shots from all angles that will catch you and put you to sleep.
Shogun Rua's Perfect Strategy – To be quite honest Shogun needs to try to end this fight as quickly as possible. He just doesn't have the stamina to last with guys who can finish fights by KO or submission quickly and his movement dramatically worsens through the fight. He needs to rush Gustafsson to make him have that fight or flight response and hopefully force him backward. From there the opportunity to work his clinch game arises and if he doesn't hurt Gustafsson inside than he can work to take him down and beat him up.
Final Prediction – I think Alexander Gustafsson is the real deal and I don't think this fight will help him prove that. Shogun is no longer an elite fighter. His knee injuries have taken away seemingly everything from him unless he gets an opponent stupid enough to play right into his hands. The evidence is overwhelming, particularly if you watch his last bout against Brandon Vera. Gustafsson is good at all the things you need to be to really shut Shogun down and I think we see it on display in full here.
And the Winner Is… – Alexander Gustafsson, TKO, Round 2
That's all for this week folks. Don't forget to read next week's edition where we preview the lightweight title bout between Ben Henderson and Nate Diaz, and as always don't forget to join us Sunday at 11am EST for Ground and Pound Radio live on Blogtalk Radio. Call in if you like at (323) 657-0901 where we'll be previewing the entire UFC on Fox card and discussing all the news that matters. Until then as my tag team partner Mark Radulich says, be well, be safe, and behave.

NULL
comments powered by Disqus