The Blueprint 12.06.12: Fox and the Pound
December 6, 2012 | Posted by
Hello once again everyone and the moment is finally upon us. Not since its first FOX broadcast has the UFC aired a championship fight on free television live but we're being given that opportunity Saturday night. Lightweight champion Benson Henderson is putting his gold on the line after running his UFC record to 5-0. Standing in his way and looking for his first championship is Nate Diaz who has won his last three lightweight fights since dropping back down from welterweight. This is the biggest opportunity in the career of both men and with that comes a lot of pressure and motivation. So who is going to rise to the occasion and who if anyone will choke?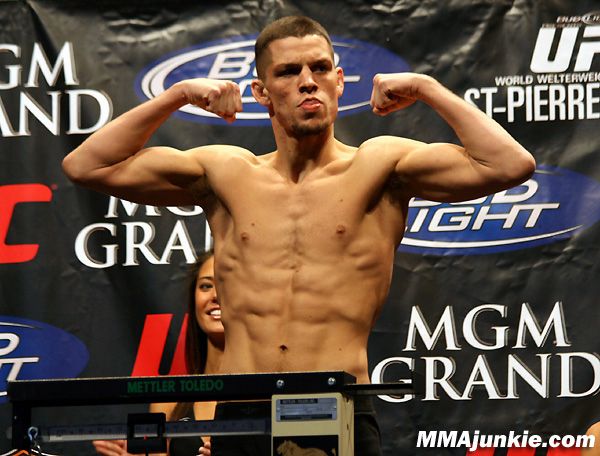 Nate Diaz
Height: 6'0
Reach: 76 inches
Record: 16 Wins(3 KO, 11 Submission, 2 Decision) 7 Losses(1 Submission, 6 Decision)
Strengths: Finishing Ability, Combination Punching, BJJ, Stamina, Chin
Weaknesses: Leg Kicks, Inside Fighting, Can Be Controlled by Bigger Men on the Ground
Nate Diaz's Keys to Victory
1) Keep on Punching – When Nate Diaz is at his best during fights we've seen him break guys down by battering them with his boxing before locking on a submission and making them quit or go to sleep. So why mess with success? Nate's jab is a long and powerful punch that allows him to prevent his shorter and often times stronger opponents from closing in on him and scoring the takedowns. He usually mixes a lot of strikes in behind it like a good left cross and some wicked body punches that really take the steam out of his opponents. This is what Nate has done to his opponents in his last three fights and he's never looked better in his career.
Its still a sad trend today in mixed martial arts that if you possess even the most basic of boxing fundamentals and know how to use them the majority of your opponents don't know how to defend you. Junior dos Santos has built his career on it thus far. Nate Diaz is building a reputation as arguably the best lightweight fighter in the world by employing the same tactics. He would be downright stupid to deviate from this unless it stops working.
2) Get an Early Lead – Nate Diaz is a finisher. When he wins fights guys tend to not last until the final bell to hear the scores read. Only Donald Cerrone and Josh Neer have taken Diaz the distance in defeat and only Cerrone has done it in the last four years. Nate is also an extremely difficult guy to get rid of. Only Hermes Franca has ever managed to score a victory over him by a stoppage of some kind, that being an armbar. This happened way back at WEC 24 six years ago when Diaz simply made a mistake and the veteran Franca capitalized. Diaz hasn't made that same mistake since.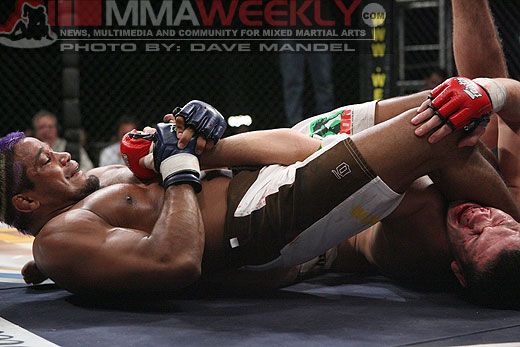 Benson Henderson is an extremely talented fighter. You don't win the title in the UFC's most competitive division without being something special. However in his UFC run he has not finished an opponent through five fights. If he doesn't build up a lead on the scorecards and is put into a position where he HAS to finish the fight this is going to be extremely difficult because he doesn't seem to have the power to hurt Diaz and no one has come close to submitting him in years.
3) Pick off Kicks – We all know that the Diaz brothers have a seemingly heredity linked habit of not checking leg kicks. They have yet to lose a fight because of it but that doesn't mean they shouldn't try to better prepare against them. Ben Henderson has very thick and powerful legs that can throw some pretty wicked kicks. However he does have flaws within his technique that Diaz should take note of.
Against Frankie Edgar we saw Henderson shift his feet every time he prepared to throw a kick. This allowed Edgar to undercut Henderson's kicks and force them upward to take away the impact of the blow. A true round kick is only effective if you are able to bring the shinbone into a downward angle when striking. Diaz has some very long arms and behind his jab is likely to be able to pick off kicks the same way and also counter with long punches because Ben will still be in range.
Nate Diaz's Perfect Strategy: One of the Diaz's frequent training partners for fights is super middleweight boxing champion Andre Ward. Ward is not an overly powerful puncher but he never throws one punch at a time. He constantly strikes in combination and really stiffens his jab into a battering ram like blow to back opponents up. Nate should fight like this(which is what he's done in his last few fights) and turn the fight into a boxing match where he enjoys a sizable skill advantage and never stops working on Henderson.

Benson "Smooth" Henderson
Height: 5'9
Reach: 70 inches
Record: 17 Wins(4 KO, 6 Submission, 7 Decision) 2 Losses(1 Submission, 1 Decision)
Strengths: Wrestling, Submissions, Stamina, Submission Defense
Weaknesses: Strike Defense, Complacency in Guard Position, Lacks Lateral Movement
Benson Henderson's Keys to Victory
1) Takedowns – For all of the differences in our two combatants both inside and outside the octagon they do share a few common traits. One of them is a very negative one in that they tend to not fight with any urgency off of their back to get out of a bad looking position to the judges because they're so comfortable in that position. It's a testament to both guys abilities that when they have been put on their back nobody has been able to knock them out or submit them from that position. However it has cost Nate Diaz fights on the scorecards(even when it shouldn't have) so Ben should take full advantage of it.
Fighting on the ground is where Ben would be if he had his choice every time. Not only is it where he wants to be during this fight, but if you put Nate Diaz on his back he can't use his boxing against you and you take away the biggest weapon he has to use against you. We've said it before and we'll say it again that the easiest way to win a fight is to take away the best offense your opponent has against you in order to maximize your own. This has arguably never been truer than in this fight.
2) Leg Kicks – We spoke about this earlier and we'd be remiss if we didn't mention leg kicks as a key to victory for Ben Henderson. Why? Well he's fighting a guy that's damn hard to finish in Nate Diaz. In a fight where a finish is not a likely outcome, then you have to work to score points. Now while leg kicks aren't fight finishers they do score points if you land them early and often. Ben is going to need to build up a lead on the cards in order to keep his title.
Leg kicks can also have a similar effect to working over a tree with an axe. Eventually if you take enough hacks at the tree with the axe it's going to fall down. Putting Diaz on his back is where Henderson wants to be anyway, and if takedowns aren't able to get him there working over his legs could eventually drop him. We saw Donald Cerrone do it to Diaz with leg kicks even while taking a horrible beating.
3) Never Stand Still – While the Diaz brothers are different people they do tend to fight very similar stylistically. The last time we saw Nick Diaz in a cage he was chasing the sticking and moving Carlos Condit mostly in vain. A great internet meme was born in that fight with a picture of Diaz with a word bubble saying "How can I hit you if you won't stand still?" So far Nate Diaz, impressive as he has been in the past few fights, has not faced anyone terribly difficult to hit. In fact Donald Cerrone seems to take offense if you miss him.
Benson Henderson needs to live up to his nickname of "Smooth" and show off some moves with his feet and head to evade the punches of Nate Diaz. We have yet to see how Diaz deals with a mobile target who refuses to engage him hand to hand. Again while the Diaz brothers are different people I'm willing to guess that Nate's reaction to having to deal with someone sticking and moving against him won't be all that different from that of his brother.
Benson Henderson's Perfect Strategy – The best thing that Henderson can do is to frustrate Nate Diaz. Try for the takedown at the get go but if you can't secure it then resort to the Carlos Condit gameplan of quick strikes with a lot of evasive lateral movement. Do not engage Nate and force him into making mistakes in pursuit that allow Ben to either take him down, counterstrike effectively, or even get a shot at a submission.
Final Prediction – This is arguably the most difficult prediction I've had to make since starting The Blueprint. Both of these guys are on the best runs of their careers and its difficult to bet against the hot hand. In situations like this its generally most rational to pick the guy who would appear to have more outs to win the fight. I see that as Nate Diaz.
Frankie Edgar does not possess great power in his hands and he was able to hurt Benson Henderson and knock him down in both of their fights. Donald Cerrone had several near submissions against Henderson in their first encounter that went the five round distance. Nate Diaz is a harder puncher than Frankie Edgar and is a much better grappler than Donald Cerrone. Diaz has improved leaps and bounds in his takedown defense and stand up game and I think he brings too much to the table to lose at this point.
And the Winner Is… – AND NEW UFC Lightweight Champion, Nate Diaz, TKO, Round 3!
That's all for this week folks. Don't forget to check out 411 Ground and Pound Radio this Sunday at 11am EST on Blogtalk Radio where we'll recap all the action and discuss the fall out from Saturday night's Fox card. Call in at (323) 657-0901 to join us and don't forget to read this week's Fact or Fiction to watch me embarrass Jeff Harris one sidedly and call into the show just to rub it in if you'd like.
NULL
comments powered by Disqus