The Blueprint 12.13.12: Achy Breaky Mistakey
December 13, 2012 | Posted by
Hello once again my future coaches and analysts. This is of course The Blueprint. Now we normally will preview an upcoming fight and Lord knows we have no shortage of it coming this weekend with the UFC running shows on Friday and Saturday and a Bellator card to boot. But watching the UFC on Fox this weekend really struck a chord with me. In three out of the four main card bouts I couldn't help but notice glaring mistakes made in each bout.
Anyone who competes in a combat sport and knows anything will tell you that its just as much mental as physical, and perhaps even more so. Thinking man's fighters are the ones who tend to achieve the greatest success because they're able to compliment their physical talents with sound gameplans, recognition of opposing techniques, and sharp mental reflexes to capitalize on any openings that get left. This is the reason why someone like Anderson Silva can have such an easy time with someone like Forrest Griffin, despite a size disadvantage. Silva is just as much a chess player inside the cage as a fighter, while Griffin seems to take pride in a lack of planning and preparation and just looks to brawl and roll.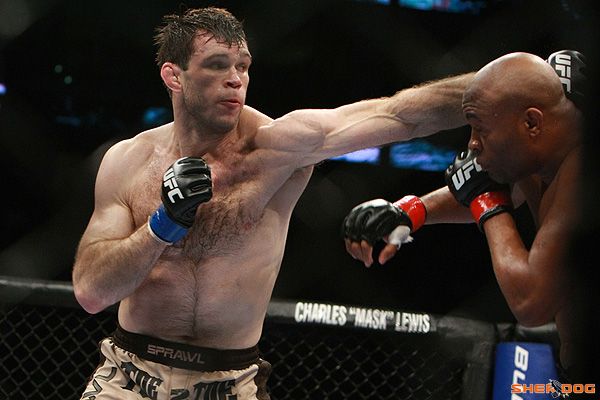 Speed Gets Killed – Every week on the 411 Ground and Pound Radio show when the name Mike Swick comes up I cringe a little bit before I can start talking. I have nothing against Mike Swick and don't know him to be anything other than a perfect gentleman and an extremely hard worker. After being on the shelf for as long as he was to see him come back and win a fight in his last Fox bout for the UFC was a very nice story. The UFC has always seemed to be invested in Swick because he almost always puts on a good fight and is one of the original alumni of The Ultimate Fighter.
However despite all his hard work Mike Swick doesn't seem to do smart work. I attribute this in part to his training at American Kickboxing Academy under Bob Cook and Javier Mendez. Thus far with the exception of Daniel Cormier, seemingly every AKA fighter has lackluster strike defense. Swick takes it to another level because he tends to always be hurt or finished by the same punch, a left hook. Matt Brown is likely never going to so much as sniff a title fight, but he was smart enough to see the opening that Swick left and was probably prepared in advance to land that punch.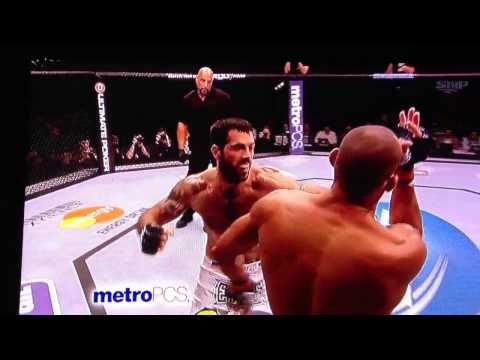 The fundamental problem Mike Swick has in leaving the opening for this punch is really simple. Swick is an orthodox stance fighter and thus he tries to circle to his right in order to manipulate his opponent to be closer to his power hand. Swick tends to carries his hands low to begin with and when he tries to move away he drops his hands or holds them low and extended and leaves a gaping hole for his chin. Because Swick is moving to his right he's also closer to his opponent's left hand and that's why he always gets caught with it.
Matt Brown initially threw a right hand that was short and Swick made the same mistake he always does and as a result Brown landed a big time left hook that had Swick going down in a heap. The right hand that followed wasn't even necessary at that point. This really shouldn't be surprising to anyone though. In Swick's last two bouts before his injury layoff he fought Dan Hardy and Paulo Thiago. In both of those fights he was hit with left hooks that caused him to hold on for dear life(Hardy) or dropped him hard and set him up for a fight finishing choke(Thiago).
Mike Swick is extremely talented when he is on the offense. He has quick hands and feet and has an above average guillotine choke. We've seen all three of the last men to beat him knocked out by lesser punchers or choked out by guys with less of a guilltone. If Swick had learned how bad his constant mistake was perhaps we'd be talking about him in a different light. Unfortunately the brain has not caught up to the body and Mike Swick will be his own worst enemy unless this is corrected.
Insanity…Doing the Same Thing Over and Over Again and Expecting a Different Result – Shogun Rua is not the fighter he used to be. It's a sad fact that we've all had to acknowledge and move on from. However for all his injury related woes Shogun's chin has never wavered. He's still able to absorb just superhuman amounts of punishment to his head to the point where he would make the Cro-magnon man jealous. However when you fight a guy called "The Mauler" who happens to be a giant of a light heavyweight who specializes in putting people out with his hands its probably going to be a long night.
Oddly enough though it's the winner who committed a crucial mistake in this fight. Alexander Gustafsson sure did land a plethora of hard strikes to Shogun's head. However he probably made things a lot more difficult for himself by absolutely neglecting the body of Shogun for almost the entirety of the fight. Shogun's typical guard to defend against opposing strikes is to fold his elbows up around his head and basically use them like earmuffs. He neglects to try and protect his body and this is what gave Jon Jones the opening to nearly fold him in half with a left hook to the body. I can recall Gustafsson throwing one good body kick and not making the effort to do so again.
Gustafsson is a promising young light heavyweight for sure. The UFC is even already looking to get him involved in a title fight with Jon Jones as soon as possible. However if he can't recognize a glaring opening like the one Shogun provided him its very unlikely he'll succeed against Jon Jones in that situation. Jones is a young and complete fighter in his prime. Gustafsson is young and prime but not yet complete. That is what thus far makes the difference between the two.
Check 1-2 – Want to know what makes the difference in a good leg kick against just a feeler or a leg kick? A good leg kick is one where you can fully rotate your hips behind it. After you lift your leg upward into the air you turn those hips over and chop down with the leg kick into the back of the knee joint. Those are the kicks that don't necessarily make the slappy noise that people think is impressive and it shows how little John Q. Public knows about fighting. Next time they try to cite the slappy shots as the effective ones ask them if they'd rather get open hand slapped or hit with a good hook. One makes a sound, the other doesn't.
Benson Henderson threw those types of kicks early and often in his title defense against Nate Diaz. They didn't make that nice slappy sound and they didn't need to. Diaz almost immediately started stepping very gingerly and tentatively on his lead leg where the kicks were landing. Both Diaz brothers are pressure fighters and in order to fight that way effectively you have to be able to plant that leg and advance on it. Especially when you try to throw a powerful and prodding jab the way the brothers do.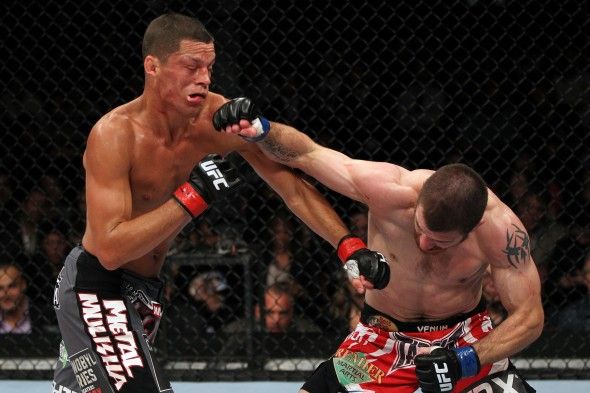 Now all Nate had to do was check the leg kicks to an extent and take away the impact so that he could advance and pressure and fight his fight. Benson doesn't fight pressure fighters well as we saw against Frankie Edgar and Diaz could have done a lot of the things Edgar did. However because of his outright refusal throughout his career to check leg kicks he gives every opponent a big opening to exploit. Benson Henderson is smarter than the average bear and really worked hard to make his leg kicks impactful, devastating blows that did significant damage to the lead leg of Nate.
This caused Nate to have to change up what he wanted to do, and as my co-host Mark Radulich pointed out the Diaz brothers are not very adaptable in the cage. They have a set way of fighting where they're going to go right at you with their boxing and eventually break you down until they submit you or knock you out. When that doesn't immediately work their answer is to mean mug, curse at you, and flip you the bird. Its entertaining television and sustains the "bad boy" reputations but it doesn't win fights. A simple thing like that can decide who is a champion and who remains just a challenger.
That's all for this week folks. Don't forget to join us Sunday morning for a jam packed edition of the 411 Ground and Pound Radio Show on Blogtalkradio. We'll discuss at length both UFC cards this weekend featuring variations of TUF finales, Roy Nelson vs. Matt Mitrione, Ross Pearson vs. George Satiropoulous and much much more! Call in at (323) 657-0901 at 11am EST and join us every week same Pat time, same Pat channel!

NULL
comments powered by Disqus