The Blueprint 12.27.12: 5 Reasons Cain Will Lose
December 27, 2012 | Posted by
Happy Thursday everyone! Now that you've recovered suitably from your eggnog induced hangovers and we're all out of Holiday cheer we can get back to the brutal business of fight science here in Anderson Silva's favorite 411mania column The Blueprint. I hope everyone is as excited as my broadcast colleague Mark Radulich about Saturday's heavyweight title fight between Junior dos Santos and former champion Cain Velasquez. The reason I say this is because this column is going to completely deflate your hopes for a great and competitive fight and potentially kill some of this PPV's buyrate potential. We all have fighters who are personal favorites but the thing about our column here is objectivity. We eliminate the personal biases that we have for or against certain fighters to objectively review or preview fights when we look at them.
I'm a Cain Velasquez fan and it's pretty hard not to be, racist chest tattoo aside. He's an action fighter who presses the attack and possesses skills that make him dangerous on his feet or with his specialty his wrestling. That being said I have to put my like for Cain aside here and break some hearts along the way as I present to you why he will not walk out of UFC 155 with the heavyweight championship. I know some people are going to reign down the hate on me for dismissing the consensus number two heavyweight in the world and that's fine. Before the hate comes let's use some evidence to back up our as of yet unproven hypothesis.
Followers Don't Lead – In the first fight between these two Cain made an early and significant fundamental mistake. Cain wanted to close the distance between himself and JDS by cutting off the cage so he could have a better opportunity to take Junior down. The big problem is that rather than utilize footwork and strikes to dictate the movement of the then challenger, Cain stalked JDS by following him around the cage like a lost puppy looking for someone to take it home. Following someone is a bad idea in general because you're always going to be playing catch up with them and giving them the opportunity to dictate not only movement, but also the pacing of the fight and the moments when they choose to fight rather than forcing them to.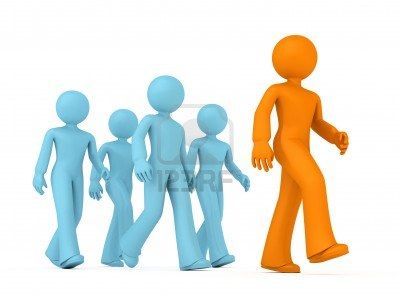 Cain also fights very squared up as a lot of wrestlers tend to do. This makes them much easier to hit as their presenting a full target to the opponent to aim at and a greater chance of success due to the larger surface area of the target. Junior dos Santos uses a more traditional boxing stance having his body angled to present less of a target to the opponent. Squaring up and chasing someone is a recipe to take strikes and as we saw, that's exactly what happened. Cain still has shown no changes to this method of fighting.
2) Protect Yourself At All Times – I mentioned that one of the things I love about Cain is that he's an action fighter. Even though the guy is a wrestler first he has no qualms about getting in there and throwing rapid fire punch combinations and mixing in leg kicks. He blew out Big Nog in short order with this strategy and had significant success against Brock Lesnar by doing it. However when you fight this way against someone with the technical prowess of Junior dos Santos mixing it up like this is a bad idea. Junior has shown the ability to take Cain out with one clean punch and when hit by punchers like Shane Carwin and Roy Nelson we've seen JDS show a pretty reliable chin.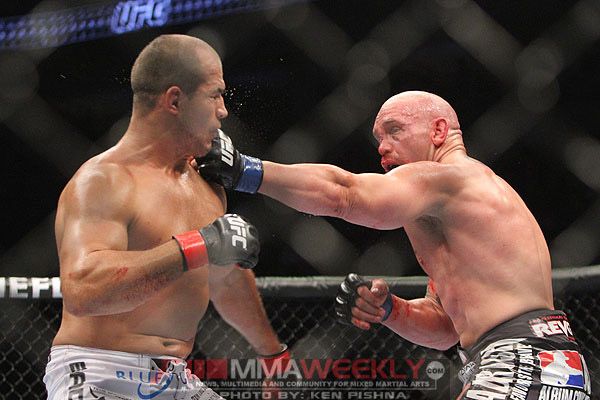 This is compounded by Cain having one of the worst habits of all. When Cain goes on the offense he doesn't have a defense in place. While throwing hook after hook he drops his hands every time. He also doesn't hold his hands very high to begin with, and while moving his head he also moves his hands away from his head in the opposite direction. Against someone who is a very accurate puncher in addition to a powerful one this is just asking to be knocked out. Defense can set up your offense while keeping you alive, but your offense will always open holes in your defense.
3) The Injury Excuse – This one really bothers me. Fighters get hurt. Fighters often fight hurt. If a fighter is healthy enough to walk into a fight with a pre-existing injury then its really not significant enough to have merit in how the fight played out. Yet constantly from both Velasquez and his coaches/trainers we've had to hear about how he lost the first fight because he went into it with a knee injury that hurt his speed and his ability to take JDS down. In the first fight Cain was able to secure a very strong grip on the leg of JDS who had attempted a push kick and could not take him down. That had nothing to do with Cain's knee and everything to do with the takedown defense of his opponent.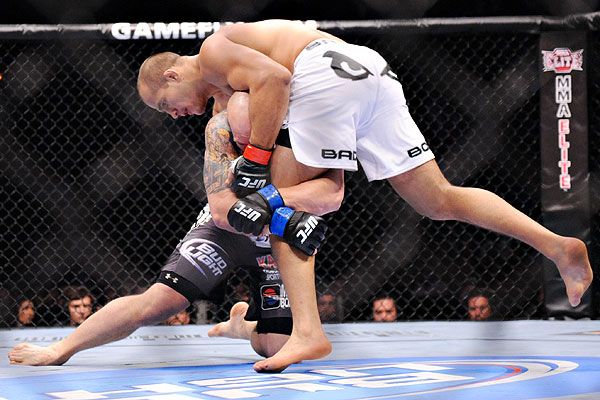 Being an avid fan of the TV series Seinfeld, George Costanza is one of my all time favorite characters in any medium. During an episode when the title character has to try and cheat during a lie detector test he looks to George for advice who leaves him with the line, "It's not a lie if you believe it." People are easily impressionable where we see them say something no matter how ridiculous enough times to themselves that they start to believe it. I worry that Cain is actually drinking his own Kool Aid and truly believes that his injury was the sole factor in his loss. If he does than he is in deeper trouble than even I believe.
4) Assuming Makes Well…You Know – One of the other statements coming from staunch Cain supporters is that when/if Cain is able to take Junior down the fight is all over at that point. It's a dangerous principle to assume that someone doesn't have tools that they may possess. This is how guys ended up getting submitted from top position despite being a good wrestler like Dan Severn against Royce Gracie. This is also how strikers end up knocked out by guys with less of a technical style like when Melvin Manhoef was knocked silly by Robbie Lawler.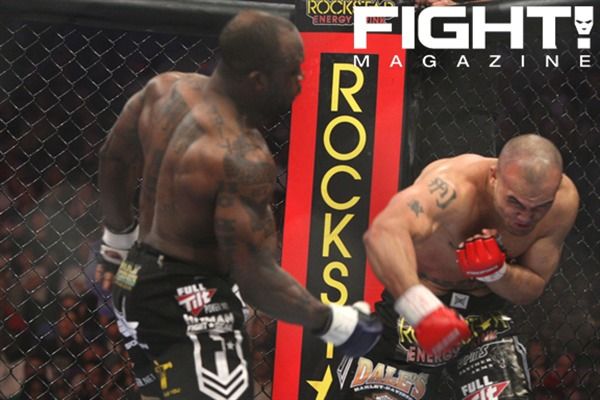 Junior trains as a part of Team Nogueira. Say what you will about the deficiencies possessed by the Nogueira brothers as complete fighters, that's valid. However to try at all to discount their abilities when it comes strictly to fighting off of their back using Brazilian Jiu Jitsu is laughable. Junior has been a member of that camp for years so to think that he would immediately be close to defeat when put on his back is baseless and dangerous. This is the kind of thought process that could lead to us seeing Cain locked up in an armbar or a triangle after finally securing the elusive takedown against JDS.
5) Junior dos Santos – We talk a lot about how fighters constantly cost themselves victories with mental errors. However when you fight an elite level fighter and lose, a lot of it has to do with just how good the guy you're facing off with is. This is part of the problem Cain is running into on Saturday. Heavyweights tend to be put to the back burner of pound for pound lists due to a flawed bias against them, yet Junior is a consensus top five pound for pound fighter. He has the best boxing ability of any heavyweight and arguably anyone in mixed martial arts. He forces fighters to have to deal with this because he also possesses what is arguably the best takedown defense in the sport thanks to great anticipation and excellent hips.
He's also good enough to flip scripts on their ear. After beating up Shane Carwin with his boxing for the majority of their fight, he surprised everyone by putting the former NCAA wrestling champion on his back with a takedown of his own. Junior happens to be one of those special fighters who is so good at what he does that its damn near impossible to see someone beat him until his age begins to show and he shows signs of slowing down. There's no shame in losing to a great fighter at the top of their game because its expected. Its expected to happen to Cain here.
That's going to do it for this week's Blueprint and the last Blueprint of 2012. Its been a fun full year back with 411Mania's MMA Zone working with a great group of guys and I appreciate all of the feedback from my readers. As 2013 rolls in look forward to another year with the 411Mania crew bringing you the best in MMA and wishing you the best as the new year approaches. Don't forget to listen in on Sunday to the final 2012 edition of the 411 Ground and Pound Radio where we'll review UFC 155 in detail. Listen live on Blogtalk Radio and don't forget you can always call in at (323)657-0901 every Sunday at 11am, same Pat-time, same Pat-channel.

NULL
comments powered by Disqus