The Blueprint 2.01.13: SuperFight 156
February 1, 2013 | Posted by
Hello once again everyone and I hope you're excited for a particularly difficult edition of The Blueprint. I don't think I ever express just how much fun it is to break down fights. I genuinely love and get excited to do this every week and the better and more difficult the fight is to pick the more fun I have. So you can imagine just how much I've been looking forward to working on this particular showdown between two of the best pound for pound fighters in MMA. I'm a huge fan of the NFL but I'm honestly looking much more forward to the featherweight clash between Jose Aldo and Frankie Edgar than I am to the Super Bowl.
Frankie Edgar is making his featherweight debut after the controversial loss of his lightweight championship to Ben Henderson. The former champion has made a career out of beating the odds it would seem, from his UFC debut against Tyson Griffin to his title fight victories against the legend B.J. Penn. Jose Aldo has been an absolute wrecking machine under the Zuffa banner in both the WEC and UFC. He's notched 11 Zuffa brand victories with only 3 men making it the distance with him. His combination of destructive power and overt athletic ability is matched by arguably no one. We'll begin our breakdown with the challenger.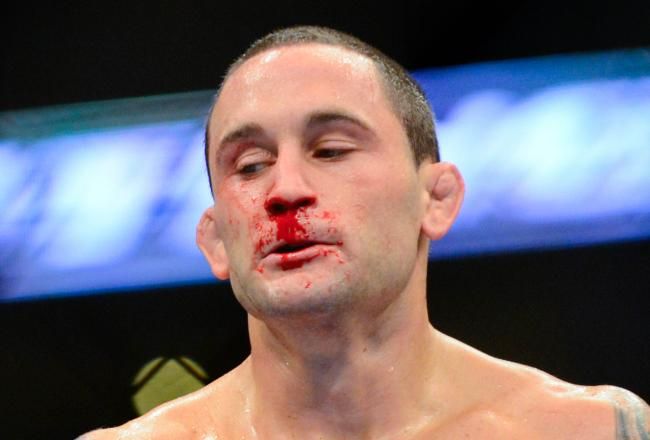 Frankie "The Answer" Edgar
Height: 5'6
Reach: 68 inches
Record: 14 Wins(3 KO, 3 Submission, 8 Decision) 3 Losses(3 Decision) 1 Draw
Strengths: Takedowns, Stamina, Footwork, Boxing Combinations, Recovery
Weaknesses: Slow Starter, Tendency to Cut/Swell Easily, Not A Finisher
Frankie Edgar's Keys to Victory
1) Stay Active – Aside from maybe Dominick Cruz, you're very hard pressed to find a fighter who stays as active throughout every moment of a fight without slowing down as Frankie Edgar. His conditioning is absolutely phenomenal and he beats many of his opponents simply by being in better cardio vascular shape than they are. He never stops working and in turn forcing his opponents to be active when they want a reprieve. His style was once described as "Ask for no quarter, and give no quarter in return." In my opinion this is going to be his most vital strategic component against the champion Aldo. He CANNOT let Aldo rest.
As great as Jose Aldo is he's not perfect. In a fight where he produced some of the most disgusting sub-dermal swelling this side of Hasim Rahman, Mark Hominick rallied against him and closed the fight in top position pounding away at Aldo. Hominick stays nowhere near as active as Edgar does during a fight and he's nowhere near the wrestler than Edgar is. If Hominick can take a profuse beating, against an Aldo who wasn't coming off of a layoff of over a year, and still finish that strong I don't see why Frankie Edgar couldn't do it too.
2) Pick off the Leg Kicks – Certain guys excel at doing certain techniques in a fight. KJ Noons is particularly good at hitting guys with knees on the way in for takedowns. He turns at a good angle and cracks them in the head as they change levels and shoot in. One of the techniques that Frankie Edgar excels at is to pick off incoming kicks to his legs and body and use them to take down his opponents. His recognition combined with his handspeed and wrestling base are why he's so good at doing this.
Jose Aldo's leg kicks are his most potent offensive weapon. They set up every aspect of his offense and also limit what his opponents are able to do against him. Edgar's movement is going to be crucial for him, as is keeping Aldo on the defensive. In order to be able to do this throughout the fight he has to limit the amount of leg damage he takes and that means picking off those leg kicks, even if he can't utilize them for takedowns. He should try to put Aldo on his back but its not the worst thing if he has to settle for stopping the damage to his legs.
3) Keep the Fight Inside – Aldo is great when he can fight at a distance and keep his opponent chasing him. He's been able to outmuscle guys when he gets uncomfortable and force them into a clinch or take them down. However there are times when guys have gotten to him once on the inside and made him extremely uncomfortable to the point where he becomes passive and seems to be looking to just wait until the next round to get some distance. His fights with Kenny Florian and Mark Hominick have shown this tendency.
Edgar does his best work when standing on the inside. He fires off quick combinations and doesn't allow his opponent room to strike back effectively. He has easy access for bodylocks and single legs or high crotch grips in order to score takedowns. On the inside he's in the driver's seat and is likely to be very aware and capable of defending Aldo's vaunted knees.
Frankie Edgar's Perfect Strategy – Frankie has to basically follow his usual gameplan here. He has to use his hand and foot speed to force a higher activity level from Aldo. His awareness of Aldo's strengths should provide him ample counter opportunities to take advantage of and get the fight to the mat or against the fence where he's in total control. His combinations and newfound strength at 145 pounds has the potential to stifle, frustrate, and defeat Aldo.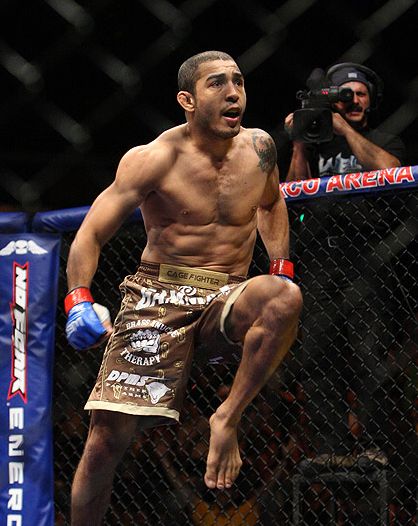 Jose "Junior" Aldo
Height: 5'7
Reach: 70 inches
Record: 21 Wins(13 KO, 2 Submission, 6 Decision) 1 Loss(Submission)
Strengths: Power Striking, Muay Thai, Leg Kicks, Takedown Defense
Weaknesses: Questionable Training Habits, Complacency, Fades Late
Jose Aldo's Keys to Victory
1) Misdirection – For Jose Aldo to win this fight he obviously needs to make his offense happen. To do that he has to avoid being predictable. We always talk about how the strikes you don't see are the ones that knock you out or hurt you very badly. However a guy like Frankie Edgar is difficult to land clean strikes on when you throw everything with the intent of landing it. One of the oldest intelligent training habits during sparring is training to miss. Why? I'm so glad you asked.
There's no substitute for sparring. Sparring gets you used to fighting in the proper intervals, it gets you used to dealing with being hit, and it also allows you to see the various reactions possible to what you do to increase your odds of knowing what to do when faced with that situation come fight time. Beating guys up in the gym and learning how they evade his attacks will allow Aldo to judge where can potentially have success against Frankie Edgar. Combine this with mixing in feints and fakes and Aldo's offense becomes far less predictable and thus far less easy to counter, such as picking off his leg kicks for takedowns.
2) Control the Distance – This is one of the first times in a fight that its very likely, at least for the earlier rounds, that Frankie Edgar is going to be at a speed disadvantage. The old saying is that speed kills, and while that's most certainly true speed only kills when it has the proper distance to work with. Now sometimes that means when a brilliant defensive fighter with shorter arms is in close and able to pick off attacks and counter effectively. In this case which is all the more common its about keeping the opponent away and using that speed to allow yourself to attack from the outside and not allow the fight to get close.
Now Jose can most definitely fight on the inside. Most Muay Thai strikers are only good from the inside with anything they have other than leg kicks. Aldo actually has some very good boxing skills to his credit though. He has a very quick and stiff jab from the outside and is actually very good at body punching for someone who stands as tall as he does as a featherweight. Aldo's control of distance can help to eliminate the pressure Edgar will try to apply on him and speed is only beaten by timing(which is near impossible to try on Aldo, particularly when using misdirection) and pressure.
3) From the Ground Up – Because of how valuable Frankie Edgar's legs are to him Aldo has to attack them. Edgar's biggest strengths are arguably his movement and his stamina. His movement is obviously predicated by what kind of condition his legs and his gas tank are in. So Aldo needs to work like an architect and build his offense from the bottom floor up to the roof. He has to start by scoring on Edgar's legs. Whip those leg kicks in hard and stifle Frankie's movement by cramping him up. From there he can do a number on Edgar's gas tank by bringing those kicks up to the ribs and mixing them in with punches.
If you kill off Frankie's legs he becomes much easier to hit. If you work over Frankie's body his activity level is going to drop off and he's no one punch KO artist. From there Aldo can bring his attack upstairs. With Edgar in close he can batter him in the Thai clinch with knees to the chest and then bring them up to the chin. At that point things become very desperate for Edgar who becomes a punching bag.
Jose Aldo's Perfect Strategy – Aldo must take a nod from a guy he's often compared to, Anderson Silva. He has to stay patient early and not try to force things to happen that Edgar isn't in position for to start with. He has to methodically create his offense and as we said, build it from the ground floor up. Aldo's success will come from mixing up his offense and utilizing feints and fakes to create opportunities moving up the ladder. Edgar is notoriously tough and Aldo must stay composed and not try to rush for a finish. Working diligently will produce positive results for Aldo.
Final Prediction – This is an amazing fight. Each of these great athletes are competing against the toughest opponent they've ever seen, much better than anyone else they've ever fought. There are of course intangibles here. How will Edgar react to his first weight cut to 145 pounds? How will the over one year layoff affect Jose Aldo's abilities? Will Aldo's leg kicks win him the fight or will Edgar pick them off and put Aldo on his back? Is it Edgar's pressure or Aldo's speed that controls the fight?
This is the toughest pick I've ever had to make in The Blueprint. Ultimately I see the fight playing out well for Aldo at the start, scoring with his leg kicks in the first round at will. Towards the end of the first round we may see Edgar get a takedown but Aldo will bounce back to his feet. The next round Edgar will step into his range and find success with some punch combinations and score with multiple takedowns. Round three will see an Aldo onslaught take place with his Muay Thai at the forefront with Edgar weathering the storm. In rounds four and five Edgar's superior conditioning will allow him to not only take down Aldo but control him and work some ground and pound in as well. Edgar will close stronger down the finish line and win a close unanimous decision, sparking talk of an immediate rematch.
And the Winner Is… – AND NEW, UFC Featherweight Champion, Frankie Edgar
NULL
comments powered by Disqus