The Blueprint 2.15.13: Barao vs. McDonald
February 15, 2013 | Posted by
Welcome back everyone and hopefully you weren't a member of the Lonely Hearts Club Band yesterday on Valentine's Day. This is the Blueprint and speaking of Valentine's Day we've got a potential massacre on our hands as two of the top bantamweight fighters in all of mixed martial arts meet Saturday night. At stake is the interim UFC bantamweight championship held by Renan Barao. Barao won the title with a dominant performance against Urijah Faber and is on a 29 fight unbeaten streak. Challenging him is young Michael McDonald who at just 22 years of age has already notched 4 UFC victories and a fifth will net him the title.
You have to love a fight like this. As it stands right now with Dominick Cruz still out of commission from his knee injury Barao is the number one guy without question. He cemented that position with five rounds of one-sided control against Urijah Faber. Michael McDonald has only lost one fight(avenged a short time later) and is hungry to make history. A win against Barao would make him the youngest fighter to ever hold a UFC championship. With McDonald extra-motivated and Barao needing a successful defense to prove his championship worth you have the makings of a great fight. We'll begin our look with the challenger.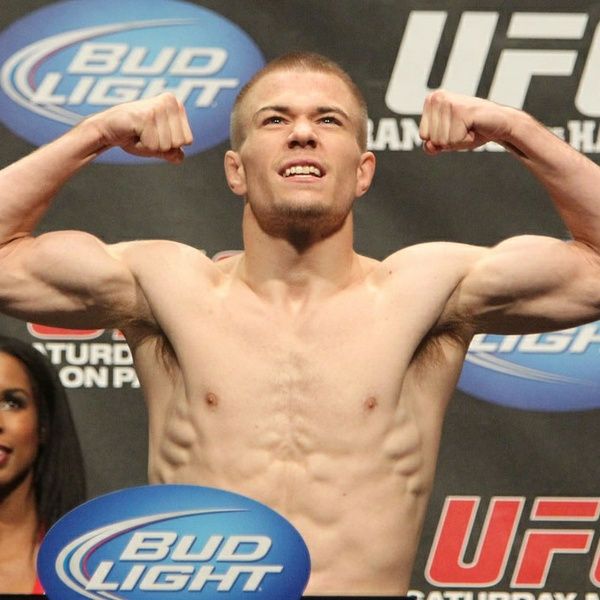 Michael "Mayday/Ya Mo Be There" McDonald
Height – 5'8
Reach – 70 inches
Record – 15 Wins(9 KO, 4 Submission, 2 Decision) 1 Loss(KO)
Strengths – Right hand power, Punch Accuracy, Counterstriking
Weaknesses – Grappling Defense, Loads Up on Punches, Gets Right Hand Happy
Michael McDonald's Keys to Victory
1) Right Hands to the Body – I'm absolutely a huge advocate of striking to the body of an opponent. You're much more likely to land a clean body strike than a strike to the head. The long term effects of body striking include debilitating pain and sapping the stamina of the hit fighter. Killing off stamina also makes the striking of the opponent much slower and lacking in power. I will always be dumbfounded as to why the majority of MMA fighters ignore body striking .
Michael McDonald's best punch is a right hand power shot, be it his cross or his uppercut. He mixes them up well but he should throw and plant those punches into the body of Barao. Renan has a notoriously good chin and has been five tough rounds before. McDonald is going to have to land big strikes and he can by setting them up with right hand punches to Barao's body. He'll put money in the bank with those strikes and he also stands a better shot at really damaging Barao by hitting him in the midsection as opposed to his seemingly iron chin.
2) Upper Body Bait – Renan Barao is very active with his boxing. He also will try to catch you off guard by throwing in a flying knee here and there to keep you on your toes. McDonald conversely likes to counter his opponent's offense. He usually doesn't have to work all that hard to set up his counters as he's fought opponents who tend to come straight at him. Unfortunately for McDonald the interim champion has shown a better intelligence than the men Michael has faced thus far.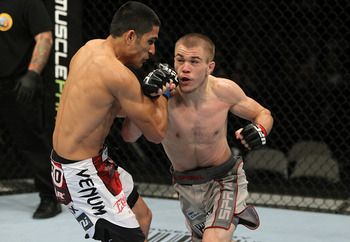 If you want to be able to counter Barao, you're going to have to bait him in. The best way for McDonald to do this is to use upper body movement to draw Renan in. If McDonald leans forward heavy and anticipates the 1-2 Barao loves to throw he can work in "pull counters" like those used by Floyd Mayweather. The pull counter technique involves leaning in with your upper body to draw an opponent's offense at you. When they come at you the move you make is simply to pull your upper body backward(at an angle mind you) and then fire over the top of their attack with your power hand. McDonald would love nothing more than to unleash his big right hand punch.
3) Finish Exchanges – In his short time in the UFC, Renan Barao has shown very few outright bad tendencies. Its normally very easy to pick out bad habits on fighters in the UFC because they can be very evident. Barao however while not really a guy you can call the best at any particular thing is far from the worst at anything to boot. Like anything else in this world though all that glitters is not gold and Renan does have one thing that he gets caught with more than anything else.
When Barao initiates a punching exchange he does very well. He moves his head after he punches so that you have to mix up your attack. He keeps his hands up more than most fighters. The one thing he does do though is allow his opponents to finish the exchanges because he's not always the best judge of range. Fighting tall can sometimes make you believe you're out of harm's way but it's not always the case. This results in fighters much shorter and with a shorter reach than McDonald being able to land the occasional power shot like Brad Pickett. If McDonald can land he can potentially end this fight.
Michael McDonald's Perfect Strategy – Michael McDonald has improved his grappling skills significantly since his loss to Cole Escovedo. However he's still not a high level guy on the ground and Barao is, so he needs to avoid the fight ending up there regardless of whether he's on top. McDonald needs to force Barao into exchanges rather than picking and choosing when he has to fight and score with right hands to the body to get Barao to drop his guard so he can land a bomb upstairs and turn it into a street fight.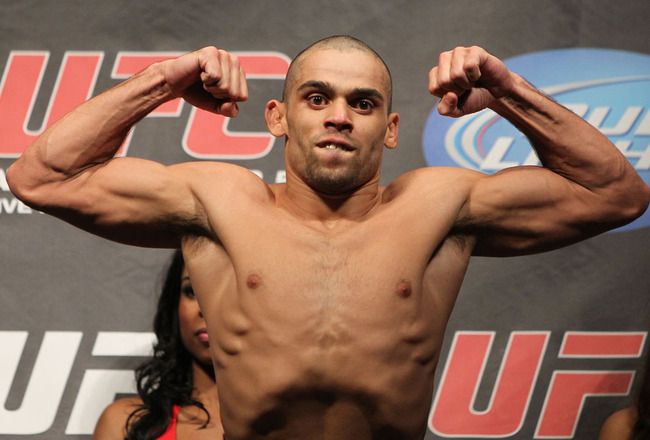 Renan Barao
Height – 5'7
Reach – 70 inches
Record – 29 Wins(6 KO, 13 Submission, 10 Decision) 1 Loss(Decision)
Strengths – Cage Control, Boxing Fundamentals, BJJ
Weaknesses – Misjudges distance, Drawn into Brawls, Stands Still Often
Renan Barao's Keys to Victory
1) Circle Away from the Right – Michael McDonald's undisputed most dangerous threat is the fist that's attached to his right arm. In his last two bouts, opponents Miguel Torres and Alex Soto can vouch for just how quickly that weapon can end a fight. There aren't many bantamweights who are great finishers with their hands but "Mayday" not only happens to be one of them, but he may indeed be the best. That may intimidate most fighters but something tells me that a guy with 30 fights as a professional won't be that shaken by it.
Why you ask? Well when you have to avoid a right hand as a professional fighter there are some key things that will make your life easy. The biggest of course is to circle away from that right hand by moving to your own right. Doing this will extend the distance McDonald's right hand needs to travel in order to reach its target and make him susceptible to counterstrikes and tire him more quickly from missing punches by punching from well out of acceptable range. The best thing you can do as a well rounded fighter is to take away your opponent's best weapon, because even if you aren't using yours you have enough tools to more than make up for it.
2) Sweep the Leg – I won't get into the entire mechanics of punching, but upper body strength has much less to do with an effective punch that the legs and waist do. You have to turn your waist into the blow with the legs pivoting and distributing weight. If that's the case then I think some sage advice would come from Sensei John Kreese of the Cobra Kai dojo, "Sweep the Leg". Okay well maybe not to the letter of what he said but attacking McDonald's right leg with kicks is a great idea to again limit what McDonald is able to do offensively.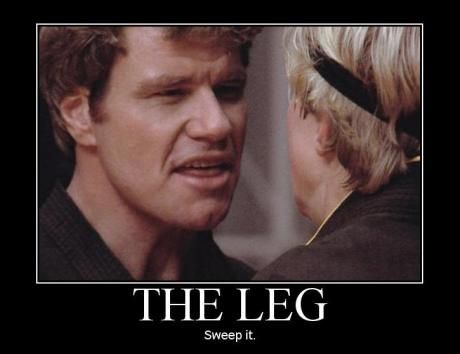 Barao trains at Nova Uniao under Andre Pederneiras and alongside fellow UFC champion Jose Aldo. Aldo is of course the man with what are considered by many to be the best leg kicks in all of MMA. Barao can use these kicks to beat up the right leg of McDonald to prevent him from setting any weight on that leg. If he cannot put any weight on that leg he won't be able to punch effectively with the right hand. When kicking at the right leg Barao will also be leaning away from that right hand so long as he remembers to keep his head off of the center line and staying out of harm's way.
3) Takedowns – Once McDonald's leg is beaten up and his mobility is damaged, he becomes a sitting duck. Now while Barao could choose to stay standing and cruise to a decision, I believe it would be in his best interests to take McDonald down. Barao is a wonderful grappler, a skill he hasn't shown enough of in the UFC aside from his effortless submission of Brad Pickett. He's a legitimate Brazilian black belt and a superior athlete to boot.
In McDonald's lone loss he was beaten largely by Cole Escovedo being able to totally outgrapple and control him to set up the TKO. Barao is a much better fighter in seemingly every regard in comparison to Cole Escovedo. While I'll absolutely concede that McDonald has gotten better since that fight, he still hasn't faced anyone close to the level of Barao on the feet or on the ground. If Barao takes him down I have a hard time believing he can get back up.
Renan Barao's Perfect Strategy – For Barao he has to really adhere to what he usually does well. Control the distance behind a long jab and use it to score points. Then start mixing in the leg kicks for the multiple purposes we stated he can use them, and then for the coup de grace take the fight to the ground and lock in a fight ending submission.
Final Prediction – You have two extremely young guys in a championship fight. In fact I would be curious to see if this is in fact the youngest combined age for a UFC title fight. However their learning curves and experiences are vastly different. Much the way maturity in your everyday life does not automatically come with age, maturity in the fight game does not come with age, it comes with experience. Barao is not only more experienced in the number of fights he's had, but he's fought a much higher class of opponent in that time.
Michael McDonald has a bright future ahead of him. He's only 22 and doing a lot of on the job learning at this point. However the saying "the future is now" is really applicable to Renan Barao. He's the champion and has beaten a number of top bantamweight fighters at the tender age of 25. He's just at this point so far ahead of Michael McDonald in terms of skills and experience in the cage that I can't see McDonald winning this fight. His one chance is his big right hand but as long as Barao stays cognizant of that he should have no problem, which says just how good he is.
And the Winner is… – And STILL, UFC interim Bantamweight Champion Renan Barao, Submission, Round 4
That'll do it for this week everyone. Don't forget to tune in to Fuel TV on Saturday afternoon to catch this and several other good fights and follow it up with Sunday night's edition of the 411 Ground and Pound Radio Show. Don't forget we now air at 9pm EST on Blogtalk Radio and your calls are encouraged at (323) 657-0901. Until then don't forget to join us next week, same Pat-Time, same Pat-Channel.

NULL
comments powered by Disqus