The Blueprint 2.22.12: The Real Main Event
February 22, 2013 | Posted by
Welcome everyone to another edition of your favorite fight analysis column, The Blueprint. This week is a particularly interesting edition as we get a fight that at one time was considered to determine a number one contender to the UFC light heavyweight title. However since rankings don't actually matter and determining challengers is about as scientific and methodical as picking winning lottery numbers instead it's just a great fight that doesn't have any immediate consequences. While Dan Henderson and Lyoto Machida get the shaft, we may not when you consider that because of the circumstances and carrot dangling involved in this fight each man is probably going to be at their best in the cage that night.
Dan Henderson is a veritable legend in MMA in a sport where that word is used all too flippantly. He's held two PRIDE championships simultaneously, knocked out the greatest heavyweight in MMA history, and has tournament victories in both the UFC and RINGS organizations. Oh and in case you forgot he was also an Olympian. Dan Henderson is legitimately one of the greatest competitors the sport of MMA has ever seen, and it's arguable that his technical skills have never been better than they are now when he's over 40 years of age.
Opposing him is the karate wizard Lyoto Machida. Machida of course is the former holder of the UFC light heavyweight championship which he won from Rashad Evans. However a right hand from Shogun Rua took it away from him and after a controversial loss to Rampage Jackson his career seemed to be at a crossroads. He responded with the greatest KO of all time when he hit Randy Couture with the Miyagi Crane Kick and earned a shot at current champion Jon Jones. Machida gave a spirited effort only to come up short as has everyone who challenged Jones in a title fight. After a dominant victory over Ryan Bader it's arguable that Machida's style is at its very best right now.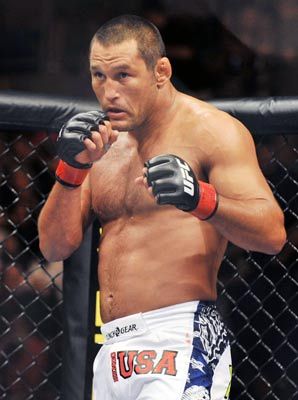 Dan "Hendo" Henderson
Height: 5'11
Reach: 71 inches
Record: 29 Wins(13 KO, 2 Submission, 14 Decision) Losses 8(3 Submission, 5 Decision)
Strengths: KO Power, Clinch Control, Granite Chin, Aggression
Weaknesses: Stamina, Speed, Takedown Defense, Submission Defense
Dan Henderson's Keys to Victory
1) Quality not Quantity – Over the past few years since his victory over Wanderlei Silva at PRIDE 33, Dan Henderson has earned a reputation as a brutal one shot KO artist. It's warranted. At the time Silva was the most dominant middleweight PRIDE had ever seen and scored over 20 victories in that organization before falling to one massive left hook. His knockouts since then are over the likes of Babalu, Fedor, Feijao, and the most brutal of them all was his KO of Michael Bisping at UFC 100.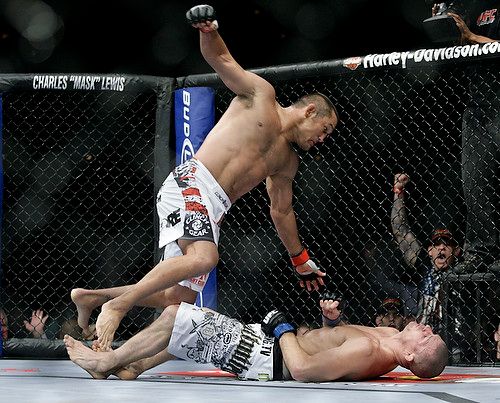 One common trend in those fights is that Hendo's opponents(with the exception of a heavyweight in Fedor) were all busier fighters. Hendo however is smart enough to realize that with his advancing age and disadvantages in speed and stamina he doesn't have to match these guys blow for blow. Dan is very good at setting up his big shots, and making the shots he does throw count. We've seen Machida taken out in the past by one clean strike, that's often all Dan Henderson needs to pick up the win.
2) Punch vs. Kicks – One of the first things you learn when you work out at a kickboxing gym is that every kick has a punch counter against it. Machida will no doubt be throwing kicks during this fight. Hendo has to use these opportunities to score with punches. Many of you are going to point out how Machida is capable of throwing the Crane Kick at Dan and landing it for the win like he did against Randy Couture. However this isn't exactly the same situation.
While Couture was caught and knocked out, he doesn't have close to the chin that Dan Henderson does. Secondly Machida has a bad habit of constantly throwing weak kicks with his lead right leg in order to set up punch rushes. The right leg low kick from Machida is ALWAYS a throwaway strike so long as he is standing southpaw. It precedes his usual 2-1-2 punch combination and if you anticipate it you can throw a punch off of his kick to beat him at his own game.
3) Counter the Counter – Part of what Dan Henderson has gotten better at with age is setting up opportunities for his right hand. While capable of scoring the knockout with his left hand as well, everyone will concede that the big danger when facing him is the right hand nicknamed the "H Bomb". His distribution of weight from side to side has gotten to be amongst the best in the sport. That gives additional power to his punches, but he's also gotten better at drawing desired reactions from opponents with his use of feints.
Machida loves counterstriking. So while you have this knowledge why not take advantage of it? Henderson can utilize feints and throwaway strikes to draw Machida in. He should do this early to figure out the likely strike coming his way and determine what can effectively counter it. He can also get a better idea of the timing of Machida and thus have a better opportunity to score with the counter he deems to be the most effective.
Dan Henderson's Perfect Strategy – Everything in this fight revolves around Hendo being able to find a home for his right hand. So early on expect Dan to initially try to wing it, but he's better served to work his feints and conserve his energy and load up. Smart fighters are able to draw out reactions to produce desired opportunities and to beat Machida you have to use your head. As good as he is, he can be predictable and that's what Dan needs to recognize, specifically using those right kicks Machida throws against him by scoring with left or right hands depending on where Machida's head placement is. If he stuns him he can probably grab a hold of him in the clinch and use head control to beat Machida into unconsciousness.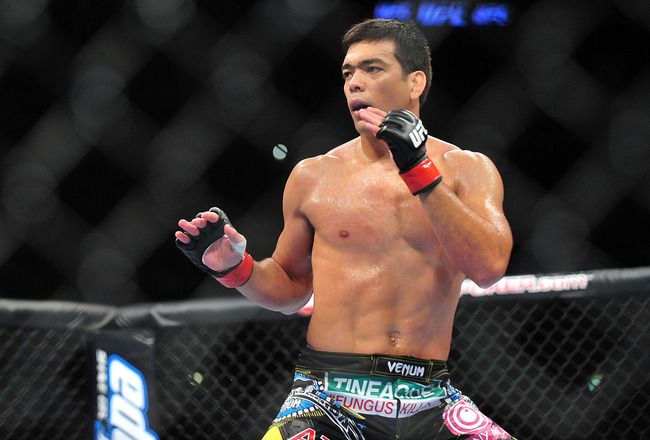 Lyoto "The Dragon" Machida
Height: 6'1
Reach: 74 inches
Record: 18 Wins(7 KO, 2 Submission, 9 Decision) 3 Losses(1 KO, 1 Submission, 1 Decision)
Strengths: Movement, Timing, Balance, KO Power, BJJ
Weaknesses: Questionable Chin, Predictable Offense, Chin Up When Moving
Lyoto Machida's Perfect Strategy
1) Movement – In the race the tortoise may have beaten the hare, but that's because the hare got lazy. Otherwise the hare was just too quick for the tortoise and that's what we see in this fight. Machida can negate close speed match ups with his timing but in this fight he's going to be at a discernible speed advantage against Henderson in terms of his strikes and his movement. Moving is better than standing still and standing still has gotten Machida caught in the past.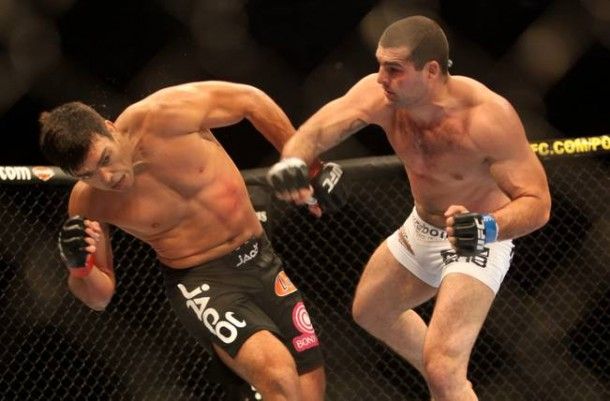 Machida stopped directly in front of Shogun Rua during their rematch and tried to leap in with a knee while his hands were down. Now clearly attacking with your defenses lowered is not smart, but it's really the angle at which Machida attacked that got him knocked out. He stopped dead in front of his target and whenever you do that your lines of attack and defense become one, meaning that in order to attack you're giving up your defenses. Machida cannot afford to give offensive leeway to Hendo because he can be knocked out with just one shot.
2) Left Leg Body Kicks – I think if there's one single offensive weapon that Machida can use with great effect it would be kicks to Dan Henderson's body with his rear left leg. We mentioned that Machida's lead right leg kicks are non-threatening but his left leg kicks have a pretty good sting to them. Also due to the stances(orthodox Henderson vs. southpaw Machida) the rear leg kick for each man has a wide target area to score against on the opposing body. I can't recall the last time I saw Hendo throw a good kick so this is a stylistic point that would favor Machida. Any time you have the ability to land a strike often it's a fool's game not to take the opportunity.
With the kick being thrown this would also move Machida's head off of the center line and further away from Henderson's right hand counterpunch. Perhaps the biggest dividend this would pay for Machida is that working Hendo's body would take away from his already questionable stamina. When forced to work Dan Henderson does show great heart and determination, but his stamina just isn't at a very high level and it will always cost you when you fight someone you can't finish early on. Getting kicked repeatedly to the body will tire you out even if you do have good cardio conditioning so the effects of that particular strike landing regularly stand a good chance at beating the fight right out of Dan's lungs.
3) Late Takedowns – I think more people assume that the chances of Dan Henderson finishing Lyoto Machida are greater than Machida finishing Henderson. I'm not positive that I buy into that, but I do buy into the belief that in order to win Hendo does need to finish Machida. So in order to avoid the knockout punch why not shoot on Henderson late in the rounds and try to put him on his back? He can't knock you out from that position and you can steal the round if its close at that point.
Before you jump all over me and talk about how Henderson is a former Olympic wrestler let's not forget that he's been put on his back by several men with lesser wrestling pedigrees including his most recent opponent Shogun Rua. Speaking of that fight, did you know it took place over a year ago? Henderson was all set for a title fight and suffered a debilitating knee injury that knocked him out of commission. A knee injury and a long layoff for a guy with mediocre takedown defense and bad cardio usually spells failure when trying to defend takedowns, especially the longer the fight goes. Machida should have ample success with takedown attempts due to the combination of Henderson's deficiencies and Machida putting him on his heels to defend his strikes.
Lyoto Machida's Perfect Strategy – For Machida he has more advantages on paper than Henderson and he needs a gameplan to make use of them. This means he has to press his speed advantage with his constant movement and time Henderson's strikes to land counters while not taking damage in return. He should mix in body kicks to press his stamina advantage while building up a points lead and then while Henderson is preoccupied with defending strikes mix in takedowns and wear out the former 2 division champion.
Final Prediction – This fight all comes down to Dan Henderson having a puncher's chance and that's really all he has. If I really believed that Machida would be beaten by a guy who is only a more powerful puncher then I think he'd have lost already to people like Rashad Evans, Rampage(legitimately), and Sokoudjou amongst others. Dan Henderson can be beaten by better conditioned athletes with more tools at their disposal. I just don't think he's going to be able to land that bomb on Machida early in the fight and the longer it goes the better the fight gets for Machida. I think the takedown attempts will eventually lead to an early takedown in round three and a gassed Henderson will get put away with a choke much the way he lost to Anderson Silva.
And the Winner Is… – Lyoto Machida, Submission, Round Three
That'll do it for this week folks. Don't forget to check if we were right and discuss it with us on the 411 Ground and Pound Radio Show at 9pm EST Sunday night. Call in at (323) 657-0901 and join myself, Mark Radulich, and Jeff Harris for your MMA radio fix. Don't forget that's same Pat-Channel, NEW Pat-time of 9pm EST.

NULL
comments powered by Disqus