The Blueprint 2.8.12: Cub Swanson vs. Dustin Poirier
February 8, 2013 | Posted by
Greetings everyone! Welcome to another edition of The Blueprint. We last week felt that Frankie Edgar would score a close unanimous decision over Jose Aldo, and while Dana White may have thought that's how it should have been scored our three ringside judges disagreed. Nevertheless we must forge ahead and look at another featherweight bout. This one has some title shot implications as Cub Swanson out of Jackson's Submission Fighting takes on Louisiana native Dustin Poirier from American Top Team.
Cub Swanson at one time was a highly regarded prospect. Things came to a halt for him when an ancient and used up Jens Pulver submitted him in seconds. After that Swanson was very uneven in his performances. He looked good in beating Hiroyuki Takaya but was disappointing in both a loss in 8 seconds to current champion Jose Aldo and a one-sided loss to former title challenger Chad Mendes. A loss to Ricardo Lamas really seemed to spell a potential end for his Zuffa career, but with his back against the wall Swanson has responded with three straight KO victories over George Roop, Ross Pearson, and most recently Charles Oliveira.
Dustin Poirier put every UFC featherweight on notice when he dropped to the 145 pound division. After a successful run as a lightweight was ended by a loss to Danny Castillo, Poirier took one more fight in that division before making a successful drop to 145. Poirier made his featherweight debut with a dominant win over Josh Grispi who was considered the top contender in the division at the time. Poirier won his next three straight bouts before running into a rampaging and flesh hungry Korean Zombie. Poirier's momentum was snapped with a submission loss, but he came back strong to submit TUF winner Jonathan Brookins who subsequently turned to the less violent world of yoga. We'll begin our profile with his opponent.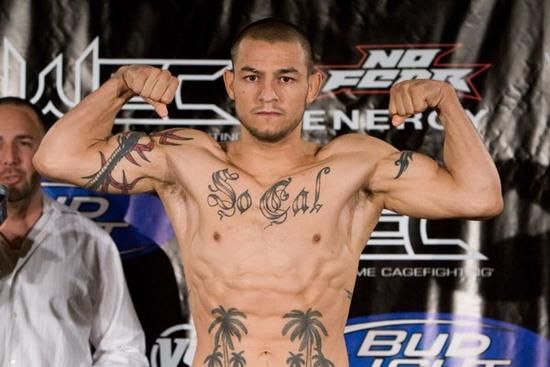 Cub Swanson
Height: 5'7
Reach: 70 inches
Record: 18 Wins(7 KO, 7 Submission, 4 Decision) 5 Losses(1 KO, 3 Submission, 1 Decision)
Strengths: Boxing, Improved Takedown Defense, Striking Defense
Weaknesses: Submission Defense, Inconsistency, Slow Starts
Cub Swanson's Keys to Victory
1) Maintain Balance – I'm constantly angered and appalled by the amount of fighters who possess poor balance. Balance is absolutely crucial to every aspect of a fighter's game. Balance is essential from chaining strikes together to being able to defend takedowns or to maintain position when in a dominant position on the ground. I will never understand how professional fighters can go into fights with the dexterity of a bull in a china shop. It makes no sense to be that poor in an area that important and I constantly see fighters lose solely because they can't stay where they need to.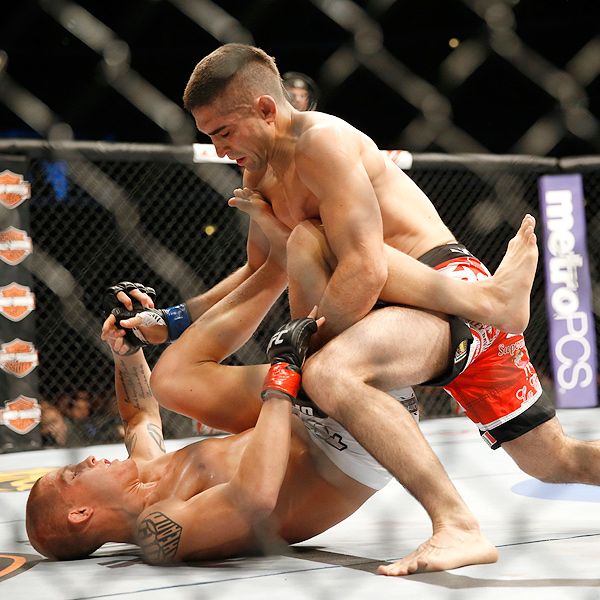 Cub Swanson has become one of the premier pure strikers in the UFC. At featherweight there's an extreme lack of good strikers able to compete with him in this regard. However one of the problems Cub has is keeping his balance. Without balance a fighter can't throw more than two strikes at a time without putting themselves in position to be hit and knocked down or taken down. Cub is in a fight where its very much a striker vs. grappler situation and so keeping his balance will be crucial to avoid the takedowns of Poirier and to stay in position to work his boxing, particularly his body punches in combination.
2) No Capoeira – Fighters are kind of like peacocks. They like to show off a little bit when they can do something very eye catching. For Cub Swanson his capoeira kicks are his main show off tendency. It can be a good tactic to try and impress the judges with fancy and eye catching techniques, even when they aren't overly effective. However certain techniques are what are called 'high risk/high reward'. If you pull it off great, it worked. If you fail however it puts you into a completely unenviable position.
We spoke about how important it is for Swanson to maintain his balance to put his offense together. However its also important for him to stay balanced to maintain his defense. Throwing a capoeira kick is a really impressive feat in the cage. However it also leaves you in prime position to be taken down because of the rapid distribution of weight to the various post points. If Swanson throws caution to the wind to land one of these it could be very easy for Poirier to put him on his back and take advantage with some ground and pound or a submission attempt.
3) Use Angles – Dustin Poirier is an excellent grappler, but his stand up game leaves A LOT to be desired. Against the plodding Korean Zombie showed that he has trouble hitting even the most willing of targets. But he also showed that he doesn't have a concept of angles, he constantly moved back and forth in straight lines which led to his down fall. Poirer moved straight back allowing the Zombie to rush him and crack him with a flying knee that put him down allowing KZ to work his grappling game and tap Poirier. Poirier can hit decently enough with his left hand but that's really all he offers on the feet.
Poirier also reaches in well beyond where he should to try and land that punch while plodding straight ahead. So the plan for Swanson becomes very simple. Constantly evade Poirier's attacks with sidesteps at angles to leave yourself prime position to attack without worry of a counter attack. This will leave Poirier's ribs particularly exposed and as we saw in Swanson's last fight, he's developed a good body attack. If you don't believe us just ask Charles Oliviera.
Cub Swanson's Perfect Strategy – For Cub this fight breaks down very simple. He has to use his far superior stand up fundamentals in boxing to lure the simplistic Poirier into traps. Make Poirier commit to reaching in with left hands and step outside of his lead foot to beat his body with left hooks. Keep the balance to make Poirier lunge and fall off balance so you can have counter strike opportunities to score knockdowns to impress the judges, and make him so desperate that he runs into your power shots for another KO victory and score a potential third KO of the Night bonus in a row.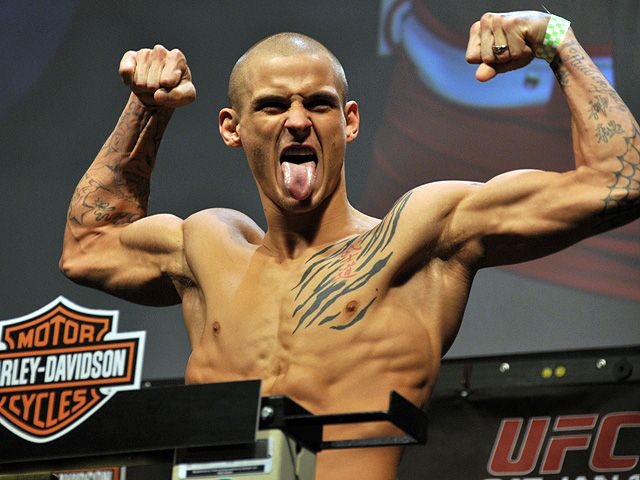 Dustin "The Diamond" Poirier
Height: 5'9
Reach: 73 inches
Record: 13 Wins(5 KO, 6 Submission, 2 Decision) 2 Losses(1 Submission, 1 Decision)
Strengths: Submission Offense, Takedowns, Top Control
Weaknesses: Striking Offense, Striking Defense, Footwork
Dustin Poirier's Keys to Victory
1) Keep the Fight on the Edge – There are two schools of thought when it comes to takedowns. One is that the fighter trying to score the takedown benefits from open space in the center of the cage to execute. The other is that the fighter trying to score a takedown benefits from pushing the opponent as close to the fence as possible and leaving no room for sprawling. I prescribe to the second scenario more in this case as Swanson has decent hips and because he's a dangerous striker you don't want to allow him much room anyway.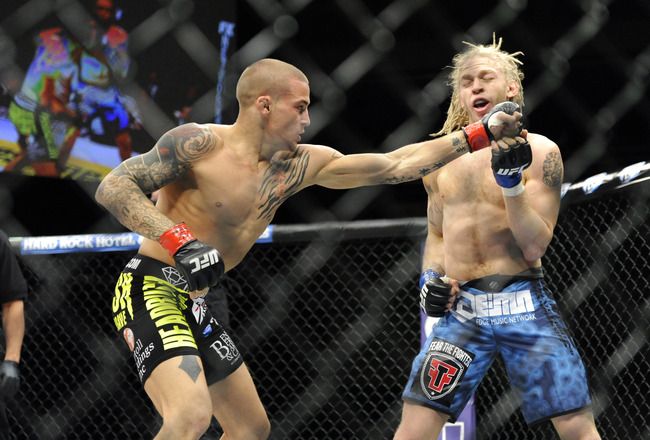 You see there's a good chance a guy who can wrestle as well as Poirier will be able to take his opponent down if he can keep them against the fence or close to it. Even if he fails though, all is not lost. By keeping Swanson out of the center of the cage and not allowing him space Swanson will not be able to strike effectively. If Swanson can't strike at Poirier and gets controlled in the clinch he's going to lose this fight on the scorecards.
2) Leg Kicks – No matter what Poirier wants this fight to go to the ground. Sometimes you can't always score the takedown though and you're left with the option of pulling guard. However some guys who desperately want to avoid the ground are smart enough to see that coming. It can make life for a grappler very difficult when a striker can see all their takedown attempts coming and avoid them.
The key to avoid this is to set traps. One of the traps Poirier can set it using leg kicks. Poirier is the longer fighter with a superior reach in this bout which often extends to the leg length as well(unless you're built like me and you're all torso). If he has to stand up he has to fight and leg kicks are one way for him to score points, but Swanson may opt to use them to put Dustin on his back. If he does, Poirier is a good enough grappler to attack with submissions from the bottom or even sweep him.
3) Punch/Knee Tap – We just talked about Poirier potentially having to set traps in order to bring this fight to the ground. One of the more effective routes for him to attempt takedowns though in my opinion is to use the combination of a cross punch and a kneetap. This fight sees the orthodox stance using Swanson against the southpaw Poirier. So the best power punch each man can throw is a cross, a straight punch with the rear hand with the hips rotating to put power into the strike.
If Poirier is close enough to land this punch, he can also work in a knee tap. The knee tap is a takedown technique that sees the fighter use his rear hand on the upper body(usually a collar tie or push on the chest) and hook the knee of the opponent with his lead hand and use a pulling motion to "tap" it forward and score a takedown. Because of Poirier's length and the stances that will put Swanson's near leg very close to Poirier's lead hand I feel this combination is Poirier's best bet to get the fight to the ground and into a dominant position.
Dustin Poirier's Perfect Strategy – Poirier can't allow Swanson to find his comfort zone. His passive attitude allowed the Korean Zombie to get off first and take the fight to and away from him. Swanson's dynamic and powerful striking will become a big issue if Poirier doesn't get on the offense. He has to force Swanson to back up by using his longer reach and attempting takedowns even if they don't work. Wear on Swanson and force him to constantly be on the defense so that eventually he can score the takedown and once he has top position there's a very good chance he can submit Swanson.
Final Prediction – This fight breaks down to me as one that Swanson can either cost himself or Poirier will cost himself. Stylistically each guy gets what they want here as they have an opponent who isn't close to being as good where each man is at their best. If Swanson stays disciplined with his striking and keeps this fight on the feet he'll have no problem. If Poirier can get this fight to the mat he should be able to use his wrestling and BJJ prowess to end Swanson's night early.
Ultimately we've seen Swanson fight very well as of late and avoid the mistakes he's made in the past that have cost him fights. Dustin Poirier is a one trick pony with no cogent striking skills and because of this his takedown attempts lack being set up well and become predictable. Those tend not to work against your quicker and dynamic athletes. Unless Swanson makes a big mistake I don't see Poirier as good enough to force the fight to ground and he can't afford to stand up with Swanson, where this fight will take place to start with.
And Your Winner Is… – Cub Swanson, KO, Round 2
That's it for this week. Don't forget that this week The 411 Ground and Pound Radio Show debuts at its new time of 9pm EST on Sunday night. Our call in number is still the same at (323) 657-0901, so don't forget to join us NEW Pat-time, SAME Pat-channel.

NULL
comments powered by Disqus