The Greatest MMA News Column 01.01.13: New Year Edition
January 1, 2013 | Posted by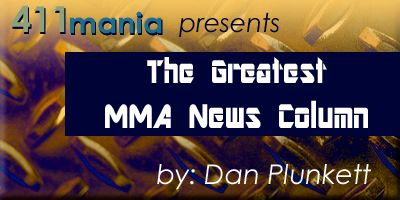 UFC 155 Thoughts
Much like UFC's last PPV show, UFC 155 was a bust until the final two fights entered the cage. First, Jim Miller and Joe Lauzon prevented the show from being a UFC 149-level disaster with a late fight of the year candidate. Then, Cain Velasquez took it to Junior dos Santos for five rounds to take back the heavyweight title. Overall, it was a good show, largely due to the top two fights. The show did a reported $3.286 million gate, which would be the fourth highest announced gate of the year slightly ahead of UFC 144 (the final gate will change somewhat). On PPV, the show looks to have been a disappointment. One year ago, UFC claimed to have budgeted the first Cain Velasquez vs. Junior dos Santos title fight at 700,000 buys before moving it to FOX. Of course, that number was quite high and at that time the fight wouldn't have done that well. After UFC 146 (Dos Santos vs. Mir) did strong business, it seemed as though 700,000 buys wasn't out of reach for the rematch. For whatever reason, the week leading into the show it simply didn't feel like a big fight. Perhaps the rematch was done too quickly, maybe the commercial wasn't strong enough (it certainly wasn't good), or it's possible the lack of a Countdown show on a meaningful network is to blame. Based on search trends, the show looks to have done roughly in line with UFC 152 (450,000 buys) and UFC 153 (410,000 buys). There seems to be a stronger chance for deviation just given the history of shows at a similar time of year. UFC 141 (Lesnar vs. Overeem) was thought to have done really well and expectations were fairly high coming in, but the show ended up at 535,000 buys. On the other hand, UFC 92 (Griffin vs. Evans) took place on the same date four years prior and reached on million buys despite modest expectations, but there were some indicators right after that show that it did well, which doesn't seem to be the case here. The search trends aren't figures to heavily rely on (though they're generally good indicators of how well a show did), but they sound about right to me in this instance.
I guess Cain Velasquez really was injured the first time. For twenty-five minutes Velasquez beat down Junior dos Santos and took back the heavyweight title he lost thirteen months ago. Though the fight went the distance, the winner was never in doubt after the opening five minutes. Velasquez pressured dos Santos early on attempting takedown after takedown. He was initially able to take Junior down a couple of times, but the Brazlian popped right back up to his feet. When Velasquez began shooting for takedowns and not coming close, it made one think the fight wouldn't end up in his favor. But Velasquez kept the pressure on and two minutes into the fight landed a right hand to the face of a retreating dos Santos. That punch floored the champion as well as any hope he had of retaining his title on Saturday night. Contrary to his reputation as a cardio machine, Velasquez proved to be merely a human with great endurance when he noticeably tired late, but dos Santos was exhausted far sooner.

With how dominant Velasquez was in winning the fight, dos Santos will likely have to put together a couple of wins before getting another shot at the title, especially if Velasquez still holds the belt. A Velasquez win also means Daniel Cormier, the top heavyweight in Strikeforce, will likely move down to light heavyweight in order to avoid fighting his friend and teammate Velasquez. That opens the door wide open for Fabricio Werdum, who would have been in the running along with Cormier for a title shot. Now, if Werdum beats Antonio Rodrigo Nogueira next, he'll likely get a title shot. Next in line for Velasquez is probably Alistair Overeem. Overeem is slated to fight Antonio "Bigfoot" Silva in February and most assume a vicious knockout will take place. It will be interesting if an upset takes place because there would be no top heavyweight contender ready. Werdum is fighting Nogueira in the summer after their season of TUF: Brazil airs. Silva would be an option if he hadn't already lost a one-sided first round TKO to Velasquez in May. Next in line in that case would appear to be Stefan Struve, 24, who is almost certainly not ready to answer the problems Velasquez poses for him.

In a match-up with Overeem, Velasquez seems to stand a very good chance. Historically, Overeem is a guy that folds when the fight isn't going his way (though he hasn't faced such a scenario in years), he has a questionable chin, he has stamina issues, and he isn't comfortable when pressured. Even as recently as the Fabricio Werdum fight, when Werdum – a far less talented striker than Overeem – aggressively pressed forward with strikes he found some success. Velasquez is a guy that at his best won't stop pressuring Overeem, which will tire him out and make him backpedal which puts him out of his element. My feeling is the champion will be able to take Overeem to the ground, but we haven't seen anybody take this version of Overeem down so it's somewhat of an unknown. Certainly, Velasquez leaves openings which Overeem can take advantage of and if he becomes too far-reaching with his takedown attempts Overeem possess brutal knee strikes. Velasquez should be favored in the bout, but Overeem always has the power and skill to end it.
In the co-main event, Jim Miller and Joe Lauzon put on an excellent fight. Miller came out and tore Lauzon apart with elbows and punches in the clinch that left Lauzon a bloody mess (he needed forty stitches in his head after the fight). Despite being badly hurt in the first round, Lauzon continued to press forward and land punches. The second round was a grappling match as Miller took Lauzon down early. Miller moved to mount but Lauzon reversed much to the delight of the crowd. Lauzon went for a leg lock at the end of the round but there was nothing there. The third round was mostly a close striking match with Miller getting a slight edge. Knowing he needed a finish, Lauzon went for a flying scissor heel hook, shades of Ryo Chonan against Anderson Silva, and nearly had it. Miller escaped and Lauzon attempted a guillotine at the bell. Without this fight, even with the good main event, many fans would have walked away unhappy from this show. Miller looked very good in the bout, especially early on, though I'm not convinced he can be the guys at the very top of the division.
The first three main card fights weren't very good. In the opener, Derek Brunson beat Chris Leben in an awful fight. Perhaps Leben was off due to the long layoff. Yushin Okami controlled Alan Belcher on the ground to win a decision in a mostly dull fight. Belcher did score a knockdown in the third but Okami sprang right back up. The loss takes Belcher out of title contention for the time being. This fight was marred by an awful stand-up in the second round when Okami was in side control. I'm against stand-ups in general because the rule shows a striking bias and they certainly shouldn't be done when one fighter is in such an advantageous position. Costa Philippou derailed the Tim Boetsch express with a third round TKO win. It wasn't a good fight until the finish. Philippou, 33, has now won five fights in a row.

---
---
NEWS!
UFC plans 20th anniversary show for November in MSG. UFC President Dana White unveiled the company's tentative plans for their 20th anniversary show in November. White noted the UFC has reserved a date that month at Madison Square Garden in New York City and they have at least one fight in mind. As far as the idea of an anniversary show, it's a good one because it's something special that feels different from other PPV shows, like UFC 100 did. The idea of holding it in New York is bold considering the sport is still illegal there, but legalization efforts have gained steam in recent years. Should the sport become legalized there, the first UFC show in Madison Square Garden is going to really well at the gate, and the selling point of an anniversary show will allow them to bump up ticket prices even higher. Another benefit of running in the world's most famous arena is the enhanced coverage from New York media, which would in theory help PPV business for the show. As far as the fight, it sounds like they're looking at either Georges St-Pierre vs. Anderson Silva or Anderson Silva vs. Jon Jones. Of course, a bajillion-and-one things could go wrong before November for any one of these aspects of the plan, so I wouldn't get my hopes up just yet. One interesting point is that if the fight they're targeting is one of the superfights (and I'd bet it is), it's a change in direction from saving it for a big stadium show. My feeling is they're moving towards the anniversary show at Madison Square Garden idea in order to put everything in their favor to make the next UFC 100. That means a perfect storm of a great lineup, great timing, and great media coverage. If all goes well over the next 11 months, that event would have no excuse to not be one of the top two money making events in MMA history.
Michael Bisping to receive title shot with win over Vitor Belfort. Michael Bisping has been in the mix as a middleweight title contender since dropping down to the division in 2008. In that time he's been one win away from a title shot on two occasions. The first was when he took on Dan Henderson at UFC 100, which didn't go well for "The Count." Then at UFC on FOX 2 he was put into a fight against top contender Chael Sonnen after Sonnen's original opponent Mark Munoz fell to injury. That fight went much better for Bisping, but he found himself on the wrong end of a close decision. Since, he took home a clear decision win against Brian Stann and he's in a position once again where he's one win away from a title shot. Belfort is a really tough fight for Bisping, albeit certainly a winnable one. An Anderson Silva vs. Bisping match is one that would do well on PPV and perhaps even pull great numbers considering Bisping's ability to sell fights. Back to the Belfort fight, that's easily the biggest headlining fight of any show UFC has run on FX to this point, so it will be interesting to see where the rating lands. Such shows have never surpassed 1.4 million viewers, but one would think this is the fight to do it. Taking place on a Wednesday as opposed to a Friday should help as the former is a better night for television viewership in general. If the show doesn't become the highest rated of the UFC on FX series to date, it's a disappointment.
Dana White not keen on one-armed Nick Newell fighting in UFC. Nick Newell was one of the feel good stories of 2012. The 26-year-old fought three times over the course of the year and won all three, including two stoppages. Overall, Newell has attained a 9-0 MMA record with just one fight going the distance. In a media scrum earlier this week, White said of Newell's shot at making it to the UFC, "it's hard to fight with two arms, you know what I mean?" To me, this whole story is pretty stupid. One arm, no arms, or eighteen arms, if a fighter has demonstrated the ability to compete at a high level then there's no reason not to accept them into the UFC or any other major MMA organization. At this point, Newell has yet to fight a high level opponent, so there's a fair amount of difficulty in assessing his skill level. His last win over Bellator veteran Eric Reynolds was impressive considering Reynolds' experience, but I'd like to see him take on an opponent of a bit higher caliber.
Dream 18 results. I still haven't seen the show, but here are the results from the zombie Dream show. Shinya Aoki beat Antonio McKee via verbal submission. That's Aoki's second win since losing to Eddie Alvarez in April. Tatsuya Kawajiri beat Michihiro Omigawa by decision. Kawajiri still hasn't lost at featherweight since dropping down last year. Bibiano Fernandes submitted Yoshiro Maeda. Melvin Manhoef beat Denis Kang with a knee to the body. Hayato Sakurai beat Phil Baroni, who has now lost six of his last eight fights. I wouldn't be disappointed if both retired with that fight. The last Dream featherweight champion Hiroyuki Takaya lost a split decision to Georgi Karakhanyan. In an upset, Will Brooks (8-0) took home a TKO win over Satoru Kitaoka. In the sole women's fight of the show, Marloes Coenen easily beat an overmatched Fiona Muxlow by submission. Hopefully Coenen makes her way to the UFC's new women's division.
On the kickboxing side of things, Semmy Schilt won a 16-man tournament, defeating Daniel Ghita in the final round. Schilt previously won the K-1 World Grand Prix four times. There were a number of notable names involved in the tournament. Sergei Kharitonov lost in the first round. Gokhan Saki made it to the semifinals before losing to the much larger Schilt. Anderson "Braddock" Silva, not the Anderson Silva, fell to Saki in the quarterfinals. Despite a 3-4 record, Braddock didn't have a bad 2012. Two of those losses were controversial decisions to top stars Badr Hari and Remy Bonjasky which I think should have went the other way. Bonjasky was in the tournament as well, but made it to only the quarterfinals. Perhaps the biggest name on the card, Peter Aerts, lost in the first round due to injury. Aerts, 42, is one of the only stars remaining from K-1's heyday when he was among their biggest names. He had a deep run in the K-1 World Grand Prix in 2010, including a thrilling win over Schilt, but was destroyed by Alistair Overeem in the finals.

---
Thanks for reading; I hope you enjoyed it. Happy New Year to all. Feel free to leave any feedback in the comment box or at the e-mail address below. Follow @Dan_Plunkett

NULL
comments powered by Disqus