The Greatest MMA News Column 01.08.13: Strikeforce Dies, Severn Retires, Alvarez-Bellator Issues
January 8, 2013 | Posted by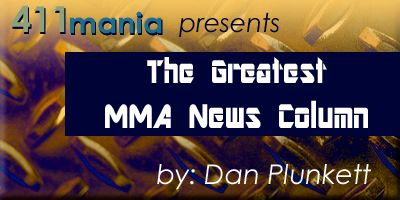 Goodbye, Strikeforce
After seven years in the MMA business, Strikeforce will close its doors on Saturday night. Looking at the card, it's not of the quality of Strikeforce's best shows and it doesn't feature the names of fighters most associated with Strikeforce, but there is at least one name fighter in almost every fight on the card. The final show goes down on Saturday night in Oklahoma City at the Chesapeake Energy Arena, home to the NBA's Thunder. I doubt they'll fill even half of the roughly 18,000 seat arena, but it's not as though they're seriously looking to make a profit on the show. The show will be the company's first since last August due to the cancelation of two shows. On Showtime, I'd expect the show to do fairly well, perhaps as well as any show they put on last year. Of course, with this company's luck the show will be lucky to be the highest rated Strikeforce event this year.
In the main event, Nate Marquardt, 33, will defend his welterweight title against Tarec Saffiedine. Saffiedine has been with Strikeforce since 2010 and won three fights in a row since losing to Tyron Woodley. Saffiedine is a well-rounded fighter, but he has questionable finishing ability and I don't think there's any area in which he's got a significant advantage over Marquardt. Though there were moments where he was hurt, Marquardt looked good against Tyron Woodley in his last bout. Even more impressive was the fact that Marquardt hadn't fought in more than a year prior to that bout. It was also his first fight at welterweight after being one of the best middleweights in the world for years. I fully expect Marquardt to win this bout, although it's far from the most lopsided match-up on the show. Despite a past controversy that led to his release from the UFC, Marquardt will very likely be headed back there following this fight and should be a top welterweight contender with a win on Saturday. Unless he performs really badly, I expect Saffiedine to join him as well.
With the exception of Ronda Rousey, no fighter made a bigger name for themselves than Daniel Cormier in the Zuffa-era of Strikeforce. Cormier stepped in as an alternate in the heavyweight tournament and first scored a quick knockout over Antonio Silva. Then, he dominated Josh Barnett in a five round bout to win the tournament. On Saturday, he'll be featured in the co-main event against newcomer Dion Staring. Staring, 34, stands little chance in the bout, but a win would be absolutely huge for his career and ruin big plans for Cormier in the UFC.
Josh Barnett will take on Nandor Guelmino, who is best known for looking scary in his Fight Finder picture on Sherdog. Guelmino, 37, has an 11-3 record and despite looking scary, Barnett should prove to be on another level. The biggest question is whether or not Barnett will be transported into the UFC after the fight should he win. Barnett is a very good fighter with good promo ability, but he comes with a high price tag, isn't going to become the champion, and has three failed steroid tests going against him. For the right price, I think Barnett would be a good addition to the UFC roster, but they may be fine with letting him go over to Bellator, where he'd very likely win their heavyweight title.
If Strikeforce was journeying on after January 12, the Gegard Mousasi vs. Mike Kyle fight would probably be for the light heavyweight title. Instead, it may be a battle to get in the UFC. Due to past issues (continuing to fight after the bell, DQ'd for continued illegal strikes), I doubt Kyle is making it into the UFC without a win on Saturday. Mousasi may be a different story, but that remains to be seen. In the past, Mousasi was a fighter Dana White really wanted on his roster, but hype for him has since cooled down significantly largely due to a decision loss to King Mo. Still, I think Mousasi would be a great addition to the light heavyweight division. As for the fight, I favor Mousasi, but Kyle has power in his hands to end the fight.
Rounding out the main card is a Strikeforce vs. UFC battle as former champion Ronaldo "Jacare" Souza fights Ed Herman. Herman will almost certainly go back to the UFC regardless of the result, and Souza should join him. Herman is the better wrestler on paper, but Souza is more athletic, much better on the ground, and has shown power in his hands. Jacare should be favored, but Herman can certainly find a way to win. Maybe he'll even Jacare in the second round.
On the preliminary card, Pat Healy takes on Kurt Holobaugh in what should be Healy's fight to lose. Roger Gracie will fight Anthony Smith in an interesting middleweight fight. Both are accustomed to fighting shorter fighters, especially at middleweight, but they're of similar stature. Obviously, Gracie will have an enormous advantage on the ground, but his striking is still rudimentary. I think the UFC would like to have a Gracie on the roster, especially one as accomplished as Roger, but if he can't at least perform well against Anthony Smith he may not belong there. Former title challenger Tim Kennedy will take on Trevor Smith, which Kennedy is strongly favored in. Ryan Couture will look to make it to the UFC with a win against KJ Noons, but Noons can be a tough out. Still, Noons certainly hasn't performed to expectations in his latest run.

---
NEWS!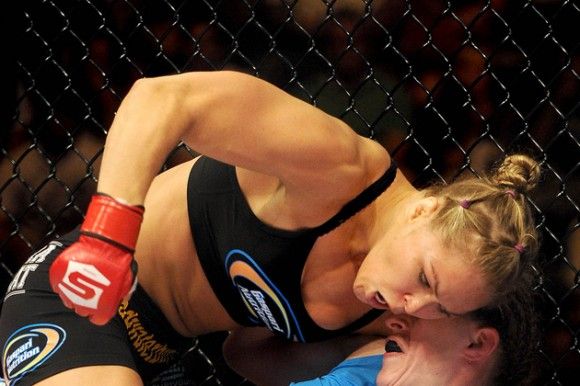 Rousey and Carmouche head to UFC Primetime. The eleventh multi-episode edition of UFC Primetime has been tabbed to feature the build to Ronda Rousey's UFC debut against Liz Carmouche. On the surface, this is a good move. Primetime hasn't been used since the November build to the Georges St-Pierre-Carlos Condit match and when it's done every once in a while for interesting match-ups is should be effective. However, the show won't do that well this time around. With The Ultimate Fighter now airing in a more high-profile Tuesday slot, Primetime can't simply be put on directly after that show because there is more lucrative programming already in place. As a result, the show will first air on Fuel TV for three weeks beginning on Friday, February 8 at midnight in the east and 9 PM in the west. That's an awful time slot for the show, but the time slot is essentially a moot point since its airing on Fuel TV anyway so very few people will see it no matter where it's placed. FX will air the show the next morning at 11 AM and once again at 2 AM Sunday. Those are also poor time slots. The purpose of the Primetime shows is to build interest for a fight and that goal is hard to achieve when the show isn't put in a good position to be seen. One major benefit of UFC on Spike TV, which presumably Bellator will now enjoy, was they could debut a show like Primetime in the best time slot possible. At least the Rousey-Carmouche fight should attract a ton of media attention, perhaps on the level of the biggest of UFC fights.
Bellator matches UFC's offer to Eddie Alvarez; chaos ensues. One thing is clear here and it's that Eddie Alvarez wants to go to the UFC. Unfortunately for him, UFC didn't make him nearly the offer that they made ex-Bellator champion Hector Lombard and as a result Bellator was able to match the offer. However, Alvarez's camp feels Bellator did not match the offer and that's where the trouble began. Within 30 minutes of a phone conversation between the two camps, both sides had filed lawsuits against each other according to Bellator head Bjorn Rebney in an interview with MMAFighting.com. Rebney claims Bellator's offer to Alvarez was the exact same as UFC's, only with "UFC" changed to "Bellator." I don't doubt Rebney's claim. By the sound of things, it seems as though Alvarez contends despite Bellator matching UFC's offer on paper, he'd have far more earning potential in the UFC. In the UFC, there's the potential for "Fight Night" bonuses, locker room bonuses, likely more sponsor money, and a far stronger likelihood of PPV money. If UFC offered Alvarez PPV points, Bellator would have had to match that as well despite never having run a PPV event. Rebney contends those points aren't a guarantee, as Alvarez would have to be put in a certain position on a PPV card in order to receive that money. As such, Bellator wouldn't have to run PPV events after putting PPV points in Alvarez's contract. As someone who considers themself almost completely ignorant of the legal system and has limited facts on the case, Bellator seems to be in the better position here.
Bellator debuts on Spike. Bellator programming debuted on Spike TV following the January 3 edition of Impact Wrestling. The first show, featuring the excellent Alvarez vs. Michael Chandler title bout from November 2011, drew 461,000 viewers, losing nearly 1.2 million viewers from the lead in program. Interestingly, the next showing of Bellator 360 out-drew the first one with 513,000 viewers. Both numbers are all-time viewership highs for live or taped Bellator programming. I wouldn't put much stock in any numbers until the first live event on 1/17, but the numbers are still somewhat notable.
San Jose's HP Pavilion to host UFC on FOX 7. UFC will return to the HP Pavilion for the third time since purchasing Strikeforce in March of 2011 for their seventh live FOX special. After years of being a hotbed for MMA, the San Jose area has significantly cooled on MMA since the Strikeforce purchase. Case in point, after drawing more than 7,000 fans to their first bout and nearly 15,000 to their second, the third Gilbert Melendez-Josh Thomson match (along with Daniel Cormier vs. Josh Barnett) drew just 5,413 fans with a very low paid attendance. The last UFC show in San Jose, a middle-of-the-week Fuel TV show with no hype and few name fighters, drew even worse. Ticket prices for UFC on FOX shows are lower than normal shows which should help attendance and there will be far more attention on the show than any MMA shows in the area in more than two years. At the very least, there will be a crowd there that's presentable for television. Rumored main events for the show include Frank Mir vs. Daniel Cormier and Ben Henderson vs. Gilbert Melendez. Mir is a name fighter, but Cormier is unknown to the masses. Henderson vs. Melendez would have an interesting dynamic being a champion vs. champion match, but Melendez isn't well-known. Plus, I'm not sure the UFC would put Henderson on free TV twice in a row.
Technical glitches hinder Invicta FC's iPPV debut. From a quality standpoint, Invicta FC's fourth show was said to have been another success, but issues stemming beyond the fights were what really stole the show. Some potential buyers weren't able to buy the $8 show, others who bought the show stared at a blank screen. Invicta officials' attempts to communicate with UStream failed and as a result they made the call to take down the pay wall so the event was free to all. I tried to view the show towards the end and the feed was lost a number of times. Invicta's response to the issue has rightfully been applauded and some have even refused refunds for the event. UStream took responsibility for the issues, citing an unforeseen amount of interest in the show. Remarkably, UStream CEO Brad Hunstable claimed Invicta was the biggest PPV event they'd ever hosted. Invicta FC President Shannon Knapp claimed 3,000 pre-sale orders were made and when the show was made free 70,000 viewers initially tuned in. The 3,000 buys would have been a great final figure, let alone pre-sale figure. It should be noted that Invicta's viewership numbers have never been substantiated and even that 70,000 number is bigger than the average UFC prelims in Facebook draw. Viewership claims from Invicta's first show were roughly in line with the biggest prelim match in UFC history, Ben Henderson vs. Clay Guida from the first FOX show.
Invicta's goal for the near future is to find a television partner, ideally in time for their next event slated for April. The two networks most mentioned would be Showtime and NBC Sports Network. Showtime will be staying in the MMA business after Strikeforce ends on Saturday and the choice would seem to be between Invicta and World Series of Fighting. The issue with Invicta on Showtime is that Showtime has never been gung-ho about women's fighting. They fought against Gina Carano fighting on an EliteXC main card years ago, and still there has never been more than one women's fight per main card. To their benefit, Invicta receives much more media coverage than promotions of similar size generally do (though it is limited to MMA media outlets), all of their shows have been good, fans seem to want them to succeed, and the issues with the iPPV only increased their goodwill. Their disadvantage is in their lack of recognizable fighters, especially when compared to WSOF. The sweepstakes for Showtime will be a story to watch in the coming months, as the promotion that wins will be thrust into the position of third-biggest North American promotion.
Dan Severn retires. A veteran of well over 100 fights, former UFC champion Dan Severn announced his retirement from MMA on January 1. Severn leaves with an official record of 101-19-7, but that likely includes some pro-wrestling matches and surely is missing a number of fights. A decorated amateur wrestler, Severn made his MMA debut in the UFC 4 tournament. He easily beat his first two opponents before meeting Royce Gracie in the finals. Gracie had yet to truly lose to that point, but Severn proved a formidable challenge. "The Beast" took Gracie down and held him there for nearly sixteen minutes – easily the longest bout in UFC history to that point. The bout was so long that the PPV went over its time limit and many cable providers cut the feed before they could see the result. While Severn was certainly imposing his will on the smaller Gracie, he didn't have much finishing ability. That gave Gracie all the time in the world before submitting Severn with a triangle choke in 15:49. After that, Severn became a hot commodity in both fighting and pro-wrestling, splitting time between the two professions. Severn returned at UFC 5 and this time won the Gracie-less tournament. At UFC 6, he found himself in a super-fight with Ken Shamrock but was quickly submitted. At the end of 1995, he competed in the most star-studded tournament to date: "The Ultimate Ultimate." He won that tournament as well, defeating Oleg Taktarov in the finals. Six months later at UFC 9, Severn had one of the all-time worst bouts in UFC history, going the thirty minute distance with Ken Shamrock in a fight that saw very little action. Still, Severn won a split decision and won the UFC SuperFight Championship. It was his status as superfight champion that would lead to him fighting Mark Coleman in the inaugural UFC heavyweight title bout in 1997, which he lost quickly.
After that point, Severn mainly traveled around fighting on smaller shows. He did have one more fight in the UFC, losing to Pedro Rizzo in 2000. His lone fight in Pride was a dreadful match with Kimo that went to a draw on the promotion's debut show. Additionally, Severn fought for such promotions as IVC, King of the Cage, SuperBrawl, Extreme Challenge, WEC, WEF, Rings, MFC, and Gladiator Challenge. He fought a ton of notable fighters, including Gracie, Taktarov, Shamrock, Tank Abbott, Coleman, Jeremy Horn, Paul Buentello, Kimo, Pat Miletich, Josh Barnett (which was Barnett's breakthrough win), Rizzo, Travis Fulton, Forrest Griffin, Justin Eilers, and Seth Petruzelli. Remarkably, Severn was rarely stopped with strikes, losing only three recorded times by (T)KO. Severn, now 54, was enshrined in the UFC Hall of Fame in 2003 on the company's tenth anniversary show.

---
Thanks for reading; I hope you enjoyed it. Feel free to leave any feedback in the comment box or at the e-mail address below. Follow @Dan_Plunkett

NULL
comments powered by Disqus