The Greatest MMA News Column 01.29.13: UFC on FOX, Rampage, Bellator, More
January 29, 2013 | Posted by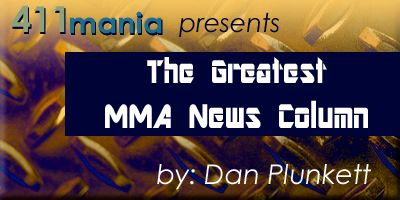 UFC on FOX: Johnson vs. Dodson Thoughts
Even without knowing exactly how well the show did on television, the UFC's sixth event on FOX was a big success. There were questions of whether UFC fans would accept the flyweight (125-pound) division after Toronto fans booed the division's inaugural title match in September despite it being a solid contest. On Saturday it was clear most fans weren't drawn into the arena by the main event match between Demetrious Johnson and John Dodson, but they didn't leave prior to the main event and booing was very limited. Overall, the reaction both live and on television to the main event was largely positive, which is a big win considering Johnson and Dodson are far from well-known. On the undercard, three title contenders emerged with good performances, including arguably career-best fights from Anthony Pettis and Ricardo Lamas.

Though the final television numbers won't be out until Tuesday and I've always approached overnight numbers with caution, the show seems to have done quite well. In the 8-10PM time slot, FOX drew 3.77 million viewers and a 1.8 rating in adults 18-49. Both numbers are increased over the preliminary numbers for UFC on FOX 5, which also did well. The numbers don't include west coast viewership as the show was aired live there nor the final two rounds of the main event, which is in theory where viewership would have peaked. There is the possibility that the show could have peaked with the co-main event, but these numbers make me think that wasn't the case. Saturday's show won't see a final viewership increase as much as FOX 5 did, which ended up at 4.39 million viewers, as that show's main event wasn't included at all in the preliminary numbers. Still, it should end up around the fifth FOX show, which has to be considered a success as that card had stronger name value.
In the main event, Demetrious Johnson won a close but clear-cut fight over John Dodson via decision. This was a really good and compelling fight; for whatever it's worth it was easily the most competitive main event featured on FOX to date. Dodson started strong, scoring three knockdowns in the opening two rounds. I saw a good number of people give Johnson the first round, including 411's go-to play-by-play man Mark Radulich, but I thought the knockdown gave Dodson the edge in an otherwise close round. It was strange that Dodson didn't follow up more on the knockdowns; it was as though they made him too confident in his power. As it turned out, he didn't have much luck finding Johnson's chin again, making the lack of finishing aggression a critical error. From the third round on, Johnson took over. The difference was Johnson's ability to keep up a fast pace for twenty-five minutes which couldn't be matched by Dodson, who noticeably tired in the championship rounds. By the fifth round Johnson had completely taken over, battering Dodson's nose in the Muay Thai clinch and landing sweet elbows to the top of Dodson's head in the clinch.

It's really impossible to say if the fight made Johnson a star or not at this point. He put on a really good performance in front of a big audience, but it's not clear whether that will translate into future big ratings or PPV buys. Thus far, the jury is still out on whether being featured on FOX is a star-maker. Cain Velasquez and Junior dos Santos had little clear history of being drawing cards, but both did draw in their roles in their following fights, and their December rematch seems to have drawn the fourth-biggest number of 2012 (according to Dave Meltzer). But, a large part of that was Velasquez's appeal to the Latino demographic, which isn't a trait shared by Johnson. Rashad Evans decisively won the second FOX main event, but he was already a star fighter and I can't say definitively the exposure helped sell his title match with Jon Jones. Nate Diaz looked impressive in the third FOX main event and his next fight drew well, but that was also on FOX on a heavily hyped card and not PPV. Ditto for Shogun Rua. We won't see what affect Ben Henderson's win at UFC on FOX 5 had on his drawing power until at least the April 20 FOX show.

One problem facing Johnson and the flyweight division as a whole is a lack of championship contenders. It seems as though the winner of Saturday's match between Joseph Benavidez and Ian McCall will determine the next title challenger, but both were beaten by Johnson just last year. The Benavidez bout in particular didn't get over with the fans, though perhaps that was unique to that particular Toronto crowd. McCall at least had a draw with Johnson last March before dropping the rematch, and I thought "Uncle Creepy" should have gotten the nod in the first bout. However, the rematch was so decisive for Johnson I don't have much interest in a rematch so soon. There is John Moraga, a winner of seven straight whose sole loss was against Dodson, but he's significantly less known than Benavidez or McCall. It's a longshot, but I like the idea of a flyweight Ultimate Fighter season with the winner getting an immediate title shot. UFC's division is quite small so there are a good amount of talented flyweights out there for the show, though I haven't heard or seen one that would give Johnson a run for his money. Still, it'd be the first time in a long time winning TUF would really mean something, which is an aspect of the show people have complained about. It'd also give a 13-week build to a title match, which could only help the flyweight division.
In perhaps his final fight with the UFC, Quinton "Rampage" Jackson dropped a unanimous decision to Glover Teixeira. Rampage, 34, looked old in the bout. His punches were slower than a prime Rampage, his takedown defense was very poor at times, and his takedown attempts were slow and far-reaching. To his credit, Rampage fought really hard in the bout despite tiring early and he was battling a very good fighter in Glover Teixeira. Teixeira, 33, scored his first win over a longtime top fighter with the judges' nod and his eighteenth consecutive win. It was far from the beatings he put on Kyle Kingsbury and Fabio Maldonado, but that wasn't unexpected as Jackson was a step up in competition. Teixeira's performance wasn't one that had fans calling for a bout with champion Jon Jones, but he looked solid in the fight.

The loss was Rampage's third straight loss and, as previously mentioned, possibly his final UFC fight. Jackson's complaints about poor treatment and unsatisfactory compensation have hit a high point over the past year. In fact, Jackson's issues with the UFC resulted in him starring in a "comedy" how-to rape video in an admitted attempt to get himself released from the promotion.

If it was Jackson's final UFC fight, his UFC career ended on a much different note than it started. When UFC purchased the World Fighting Alliance in late-2006, the deal was made in large part to get Jackson, as he represented the only loss then-champion Chuck Liddell hadn't avenged. Despite a relatively disappointing debut performance in which he knocked out Marvin Eastman, Rampage was given a title match with Chuck Liddell, who was at that point coming off the peak match of his career with Tito Ortiz. Publicly, the UFC expected the show to match the one million buys reached by Liddell's second encounter with Ortiz, but despite a strong build the bout failed to reach that number by a large margin. Still, it was a big show and Rampage became a big star (not to mention the champion) by knocking out Liddell early in the first round. That set up a title unification match with the final Pride champion Dan Henderson on Spike TV. The fight, which did then-record television ratings for the UFC, saw Jackson win a decision. Then in 2008 Rampage lost his title to Forrest Griffin via a controversial decision. Jackson was a big favorite in the bout and didn't seem to take it as seriously as he could have. There was talk of an immediate rematch, but those talks soon quelled as Jackson was arrested days after the fight in a hit-and-run incident (he later pled guilty to evading a peace officer and driving against traffic).

Rampage first fight post-title was against career rival Wanderlei Silva on the stacked UFC 92 show. Jackson seemed to earn a title shot with a brutal first round knockout, but was asked to fill an open main event slot three months later against Keith Jardine. Jackson won the fight, but the date of his promised title shot was too soon and he stepped aside for Lyoto Machida. Machida won the title from Rashad Evans, and instead of Jackson fighting Machida, UFC opted to slot him as a coach on The Ultimate Fighter with Evans, who he didn't get along with. The dynamic between Jackson and Evans was better than perhaps that of any two rivals in MMA history. The back-and-forth talk between the two made it the most anticipated non-title fight in UFC history. Initially, the bout was postponed as Jackson took a starring role in the 2009 film adaption of the A-Team, but the fight lost no momentum from the delay. Three years to the weekend after debuting in the UFC and failing to reach one million buys, Jackson did just that with Evans in a highly anticipated clash. Had either fighter held the title at the time of the fight, it may very well have ended up as the second-biggest PPV in MMA history. The fight didn't live up to expectations as Evans largely controlled the fight from the onset save for a brief portion of the third round.

Jackson then finally battled Lyoto Machida later in the year, winning a very controversial decision after narrowly winning the first two rounds but getting blown out in the third. Then in May of 2011, he defeated Matt Hamill in the main event of UFC 130 to earn a light heavyweight title shot. That title match was the biggest of champion Jon Jones' career to that point. Jackson promised he was in the best shape of his life for the fight, but it wasn't enough to dethrone the champion as he lost via submission in the fourth round. The following February, Jackson came into his bout with Ryan Bader five pounds over the light heavyweight limit. UFC brass was critical of Jackson coming in overweight, which Rampage didn't appreciate as he blamed the weight issue on an injury and argued he was in fact doing them a favor by not pulling out (in reality, that's probably true). That, and the loss to Bader that followed, led to the Jackson-UFC relationship being where it is today. Despite clearly not being the Rampage of old, Jackson could still play some sort of role in the UFC and his name does have value. But perhaps at this point Jackson would create more headaches than he's worth.
Of all the performances on the card, none were more impressive than Anthony Pettis'. "Showtime" was tremendous, landing an off-the-wall knee (the "Showtime Knee") and finishing Donald Cerrone with a liver kick just two-and-a-half minutes into the fight. It was the first time Cerrone, a veteran of twenty-four MMA fights heading into the bout, was finished with strikes. Prior to the kick and flashy knee, Pettis was landing effective counter punches and early on attempted a cartwheel kick. Pettis, 26 (his birthday was Sunday), took home his third straight win and a promised title shot at the winner of the April 20 Ben Henderson vs. Gilbert Melendez bout. At the post-fight press conference Pettis revealed he'd sit out and wait if a title shot was guaranteed, but with nearly three full months to go before Henderson vs. Melendez, anything could happen with that match that could either put Pettis in a title position earlier or later. The lightweight division hasn't drawn on PPV since BJ Penn split for the welterweight division after losing his 2010 title rematch, but Pettis could help change that, if only temporarily. Pettis is charismatic and exciting and flashy in the cage. A rematch with Ben Henderson, the man he beat in the final fight in WEC history (in one of the great fights in company history) could draw, especially considering Henderson would be coming off two consecutive fights with big exposure. Putting business aside, that rematch is among the most intriguing fights than can be made. Both have clearly improved since their five round battle in December of 2010 and both have continued to put on great fights since.
In the main card opener, Ricardo Lamas derailed Erik Koch's title hopes with a second round finish. The fight got off to a slow start with the first round featuring a lot of clinching. In round two, Lamas got Koch to the ground and landed an elbow that sliced Koch wide open. He followed up with punches before the referee stepped in to call off the fight. The win makes Lamas, 30, a potential title challenger to the winner of Saturday's Jose Aldo vs. Frankie Edgar fight.
In the top fight of the preliminary card, TJ Grant finished Matt Wiman in the first round with strikes, which is no easy feat as Wiman is a tough guy. Grant, 28, hasn't lost in his four fights since dropping to lightweight. Clay Guida won a controversial decision over Hatsu Hioki. A lot of people thought Hioki won the fight off his back and Guida was overcompensated for being on top for much of the fight. As of this writing, Hioki's Wikipedia page reads "Decision (split)-Judicial Incompetency," next to the result of the Guida fight. For Guida, a win is a win and despite the controversial nature will move him closer to a title shot in the featherweight division. Pascal Krauss rebounded from his first career loss with a decision win over Mike Stumpf.

In the erasing history category, Ryan Bader scored the fastest submission in UFC light heavyweight history with a fifty second guillotine choke of Vladimir Matyushenko (which could be the end of his career). In 1997, Frank Shamrock beat Kevin Jackson with an armbar in sixteen seconds to win the then-UFC middleweight title. In 2001, that title was renamed the light heavyweight title and the upper weight limit was moved from 199-pounds to 205-pounds. So that pre-realignment division apparently doesn't fit in light heavyweight division history and it certainly also doesn't fit in the middleweight division history as the upper limit was well above the current middleweight limit of 185-pounds. So basically, either Frank Shamrock has the fastest submission in UFC light heavyweight history or Tito Ortiz only made three title defenses in the light heavyweight division.

Running through the rest of the prelims, Shawn Jordan beat Mike Russow in his first fight back since his dreadful fight with Cheick Kongo last summer. Rafael Natal easily beat Sean Spencer and then cut an awesome promo about having a beautiful girlfriend and great body. In the opener, David Mitchell won a decision over Simeon Thoresen.

---
Bellator 86 Thoughts
Bellator's viewership fell 13.5% for their second live event on Spike TV, which is neither a surprise nor a bad number. As I've noted here over the past couple of weeks, the real test will be week three when they feature a far weaker card in terms of name value. Week one had all of the promotion for the debut and two title fights. Week two had King Mo Lawal, who has been pushed heavily by both the promotion and Spike TV, and a title fight with Ben Askren. This Thursday features all four quarterfinal bouts in the lightweight tournament and the biggest name on the card is Patricky "Pitbull" Freire, a name well below the King Mo's, Ben Askren's, Pat Curran's, Babalu Sobral's, and Michael Chandler's of the world. Now, a bad number on Thursday doesn't necessarily mean anything and a fairly significant decrease should be expected. If they come back in week four and the number rebounds, it essentially cancels out a bad week three number. As long as viewership levels don't show a pattern of decline over an extended period of weeks Bellator will be in fine shape. Now, if viewership falls over the course of the season with limited exceptions (which would probably be Mo's fights), then there's cause for some concern and Bellator needs to look at how they book their shows. But still, being a subsidiary of Viacom, which also owns Spike TV, Bellator has a long, long way to fall before being in any real danger.
In the main event last Thursday, Ben Aksren dismantled Karl Amoussou in a career-best performance. Askren, a world class wrestler, has faced repeated criticism for his so-called "lay and pray" style of fighting after taking his opponent to the ground. Any chance of such criticism for this fight was put to rest when Askren battered Amoussou in the second round, nearly finishing the fight. Round three was more of the same with Askren dominating his opponent. Fortunately, the doctor had the sense to stop the beating after the third round, giving Askren his third successful title defense.
King Mo Lawal, 32, easily defeated the overmatched Przemyslaw Mysiala in his Bellator debut. It was Lawal's first action in more than a year – an absence stemming from a drug suspension as well as a career- and life-threatening injury to his knee which became infected after surgery. When a fighter is coming off an injury as serious as Mo's I have no problem with the fighter being given a lower level opponent to shake off the ring rust and get back into the swing of things. That's actually the main reason I think UFC should strip current bantamweight champion Dominick Cruz of the title. Mo made Mysiala look like an amateur here, with the Polish fighter's only offense being wild punches that missed in nearly every instance. Lawal looked good, but he was against an opponent he should have looked good against. With the win, Mo advanced to the semi-finals of the light heavyweight tournament, where he'll fight Emanuel Newton.
In a welterweight tournament quarterfinal, Douglas Lima made easy work of Michail Tsarev. Lima battered the Russian's leg until he could no longer stand. The fight was probably stopped to late, as it was abundantly clear earlier in the fight Tsarev wasn't able to stand on two legs, and thus was unable to properly defend himself. The main card opener was also a welterweight quarterfinal, with Ben Saunders beating Koffi Adzitso in a fight marred by a bad referee that kept standing the fighters up.

---
NEWS!
UFC 156 is Saturday. The Jose Aldo vs. Frankie Edgar super-fight for the featherweight title headlines the traditional Super Bowl Weekend show from Las Vegas this Saturday. Though neither is a big name, this has to be considered a legit super-fight as most seem to believe Edgar should have won his August bout with Benson Henderson, meaning most believe him to be the rightful lightweight champion. This isn't one of those one-fight UFC shows we've grown somewhat accustomed to though, as it features a strong undercard. Alistiar Overeem returns for the first time since beating Brock Lesnar when he fights Antonio "Bigfoot" Silva, which should be a relatively easy fight for Overeem on his way to a title shot. Rashad Evans is also on the card, taking on Antonio Rogerio Nogueira. In perhaps the toughest to predict bout, Jon Fitch fights Demian Maia in a very interesting welterweight match. In the main card opener, Joseph Benavidez fights Ian McCall in what is likely a title eliminator. Aldo and Edgar have weak drawing history, Overeem only has the only Lesnar fight on PPV, and Evans only draws big when matched with the right opponent, but I think this show is going to do fairly well. I predict it will beat last year's UFC 144 on PPV, which did an estimate 325,000 buys and was Edgar's best drawing show against an opponent not named BJ Penn (though Rampage Jackson had something to do with the number as well). I'm less confident it will match last year's Super Bowl Weekend show, but 375,000 buys isn't out of the question.
Josh Barnett likely to return to UFC. UFC President Dana White revealed in one of his famous media scrums that Josh Barnett, 35, is likely to sign a contract to return to the promotion. Barnett became the youngest champion in company history (a record since beaten by Jon Jones) by beating Randy Couture for the heavyweight title in 2002 at 24-years-old. A positive steroid test and contract dispute resulted in him leaving the UFC for pro-wrestling and MMA in Japan. Recently, Barnett has been competing in Strikeforce, where he made it to the finals of their heavyweight tournament before losing to Daniel Cormier.
Alvarez motion fails at hearing. Eddie Alvarez still isn't UFC bound, as a judge ruled against his attempt to sign with the UFC in time to get on April's UFC 159 card in New Jersey. This doesn't mean Alvarez's chances of going to the UFC are dead and the legal battle will continue with Bellator. Legally, Bellator may very well have matched Alvarez's offer, but in reality they do differ. At this point, a Bellator PPV wouldn't do 200,000 buys, meaning Alvarez's PPV points wouldn't even kick in. Had he won the court case this past Friday, he would have stood to make around $1 million from fighting on the UFC 159 card, which should do well. If he won that fight and got a title match on PPV, his bonus would likely kick in again, though for significantly less if the headliner would be his title match. Then there's the FOX vs. Spike TV issue. Bellator's lawyer argued both are on equal footing, which is a complete joke. There's no conceivable way in which a UFC on FOX show does less than one million viewers, and Bellator is at the very best going to be topping out at one million viewers (which is probably a generous estimate at this point). That difference in exposure may not just affect sponsorship money (which would be considerably more for a FOX fight versus a Spike fight), but also perhaps future PPV drawing ability. Unfortunately, the PPV argument likely won't fly in court as it's based too much on predictions. But, the FOX vs. Spike argument could be something to look out for.
TUF debut pulls 1.51 million viewers. After two seasons on Friday nights where some episodes were rated so low there's question as to whether they actually existed, the seventeenth overall season of The Ultimate Fighter got off to a solid start last Tuesday with 1.51 million viewers. No rating has been reported as of this writing. Now, they'll just need to sustain that audience. This was the first TUF show I've watched since the first season on FX and I'll probably continue watching throughout the season. There won't be any major confrontations between Jon Jones and Chael Sonnen this season, which will surely turn some fans off. On the bright side, the show was presented in a different way (more like the UFC Primetime series) which gave it a fresher feel. Next week we'll take a look at the premiere ratings for each domestic TUF season (assuming I can find the rating for the fifth season somewhere) and how they fared over the course of the entire season. But by then, the rating for the second episode may give us a good indicator on where the show is heading.

---
Thanks for reading; I hope you enjoyed it. Feel free to leave any feedback in the comment box or at the e-mail address below. Follow @Dan_Plunkett

NULL
comments powered by Disqus