The Greatest MMA News Column 02.06.13: Aldo-Pettis, UFC 156, Bellator Reality Show, More
February 6, 2013 | Posted by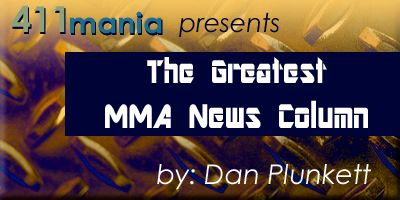 Aldo vs. Pettis Slated for August 3
Following Jose Aldo's decision victory over Frankie Edgar on Saturday, UFC President Dana White noted that Anthony Pettis had texted him asking to fight Aldo for the featherweight crown. Pettis' desire to fight Aldo came out of left field considering he was the top contender after Gilbert Melendez in the lightweight division. Then on Tuesday, it was revealed that UFC has planned the Aldo vs. Edgar fight for August 3 at a location to be determined.
There will be a lot of people disappointed about what this means for the chances of seeing a Pettis rematch with Ben Henderson, but the Aldo fight is still undeniably interesting. Certainly, people will note, and rightfully so, that there were two contenders more deserving of the shot against Aldo than Pettis. The first is The Korean Zombie, who has been absent for the past nine months due to injury. The other is Ricardo Lamas, who put on a stellar performance on the last FOX special against Erik Koch. In my view, Pettis presents a bigger challenge to Aldo than Zombie or Lamas, and he's certainly the fighter that will draw the most interest.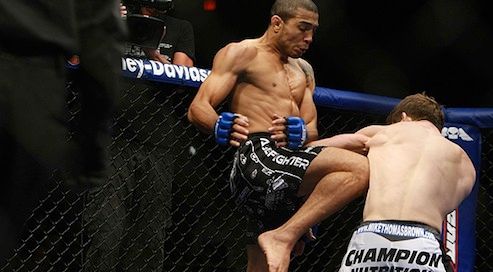 Pettis is the latest example of UFC handing title shots to fighters that aren't necessarily the most deserving, but they'll draw more interest than other, usually more deserving options. Others on that list include Chael Sonnen, who moves up to light heavyweight o fight Jon Jones on 4/27; Frankie Edgar, who was at least deserving in that most believed he beat Ben Henderson in his prior fight and was the rightful lightweight champion; and Nick Diaz, who challenges Georges St-Pierre on 3/16 after dropping a decision in his last bout and failing his post-fight drug test. In this case, Aldo vs. Pettis probably won't do as well as Aldo vs. Edgar on PPV unless the card is similarly stacked, but it's certainly a stronger fight than Aldo vs. Lamas and very likely Aldo vs. Zombie.
According to the original USA Today report, Texas, Chicago, Las Vegas, and Rio de Janeiro are all in the running as potential locations. The two that stand out on that list are Chicago and Rio. Chicago was just recently the site of UFC on FOX 6 and pulled in a great crowd, but I think the return would be too soon for a market that isn't on fire. Running in Rio on August 3 would mean either the planned June event (with Antonio Rodrigo Nogueria vs. Fabricio Werdum) will take place elsewhere in Brazil or they'll go there twice in a span of about two months. The former seems like the more logical conclusion.
As far as the fight itself, it's a great match-up. Pettis has shaky takedown defense and Aldo, at least by reputation, has the better ground game, but this one will take place on the feet, where both are more than proficient. Aldo will likely be the quicker of the two and possesses great leg kicks, but he does slow down a bit in later rounds (as nearly everyone does, mind you). Pettis is a very creative striker, throwing whatever pops into his head and he throws them from all sorts of different angles and stances.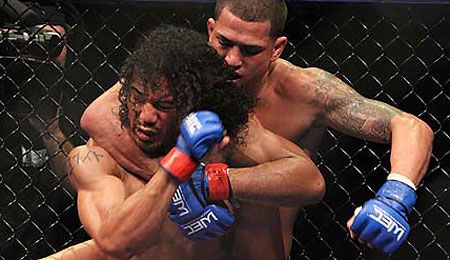 The fight will also have a bit of historical significance. Aldo, 26, will look to be added to the exclusive list of fighters that have made five successful UFC title defenses. At the moment, that list is just four names long and includes three of the top six or seven fighters of all-time. Those fighters are Tito Ortiz, who defended the light heavyweight title (known as the middleweight title until 2001) five times between 2000 and 2002; Matt Hughes, who defended the welterweight title five times between 2002 and 2003; Anderson Silva, who has defended the middleweight title 10 times from 2007 to 2012 and still holds the title; and Georges St-Pierre, who has defended the welterweight title seven times between 2008 and 2012 and still reigns atop the division. Between now and August one more name may be added to that list as Jon Jones will attempt to become the youngest fighter in UFC history to make five successful defenses on April 27 against Chael Sonnen. If you include Aldo's two title defenses in the WEC, he would be the youngest to five title defenses in major MMA history no matter what Jones does on April.
---
NEWS!
UFC 156 Thoughts. Instead of going through the card fight-by-fight as usual, I'll just give some thoughts here. I scored the main event for Aldo, but I have a feeling that wasn't the only time we'll see that match. Rashad Evans looked completely uninspired against Antonio Rogerio Nogueira. His loss cost the UFC millions of dollars for a potential Anderson Silva bout, which will now go to Chris Weidman and not do nearly as well. On the plus side, Silva vs. Weidman is a really interesting fight. Alistair Overeem showed once again why promotions should just make the money match when they have the money match. The money match was Cain Velasquez vs. Overeem, but Overeem's loss takes that fight out the window for now. In fairness, the situation was a bit different with Overeem and I probably would have booked him one more fight as well. Overeem has now been knocked out six times in MMA and twice in kickboxing, which is cause for concern. Fabricio Werdum should get the next title shot, but he won't be switched out of his scheduled bout with Minotauro Nogueira. I don't see how you can sell a Velasquez-Bigfoot rematch after the first massacre. I'd prefer not to see Velasquez-Dos Santos III right away either. Daniel Cormier probably won't fight his teammate Velasquez. Hopefully Mark Hunt gets the shot if he wins next month. Demian Maia proved to be a real threat at welterweight with a dominant win over Jon Fitch. As far as the flyweights go, I'd prefer to see John Dodson get a title rematch rather than Johnson vs. Benavidez II.
On the prelims, Tyron Woodley stole the show with a vicious knockout of Jay Hieron. Hopefully he gets a top level welterweight next. Bobby Green and Jacob Volkmann had an awesome fight that the crowd was really into. After Volkmann controlled the first round on the ground, Green found himself on top of the second. He was working in half guard on top when referee Kim Winslow made the awful decision to stand the fighters up, which potentially could have changed the result of the fight. Thankfully it didn't, and Green scored a surprising submission in the third round. Isaac Vallie-Flagg and Evan Dunham each won split decisions. Dustin Kimura submitted Chico Camus with a rear naked choke in the third round and looked pretty good. In the opener, Francisco Rivera beat Edwin Figueroa in a fun brawl.
UFC 156 prelims draw record ratings on FX. The four-fight preliminary portion of Saturday's UFC 156 event drew 1,897,000 viewers to FX. That number is good for the second-highest viewership for preliminary matches in UFC history and the highest since UFC moved the shows to FX in January 2012. It should be noted that this is the third strong television showing UFC has had in 2013. On January 19, the Vitor Belfort-Michael Bisping bout on FX drew the highest rating in series history. One week later, UFC on FOX 6 returned a rating stronger than it had any right to be considering the name value of the main event. The only major UFC television show that didn't pull strong numbers was "The Ultimate Fighter," which did okay numbers.
Interestingly, three of the top five viewership numbers for preliminary cards have come on Super Bowl weekend. UFC 109 drew 1,700,000 viewers, then a record, in 2009, while UFC 126 from 2011 holds the top spot with 2,000,000 viewers. Unfortunately for UFC, high ratings for preliminary specials don't necessarily mean the show did well on PPV. Sticking with the Super Bowl weekend example, UFC 109 was estimated at 275,000 buys, while UFC 126 performed significantly better at 725,000 buys. To further example the disconnect, the biggest UFC PPV in the era of airing prelims on TV, UFC 116, had prelims viewership equal to UFC 134, which failed to reach 350,000 buys. Search trend figures are generally a good indicator of how well a show did, and those numbers were surprisingly low. With the stacked card and good promotion, UFC 156 should have reached at least 300,000 buys on PPV, but we'll get a better idea of how it actually did when Dave Meltzer publishes an estimate, which should be within a week or two.
Details of Bellator reality show announced. On Tuesday, Bellator and Spike TV officials announced details "Fight Master: Bellator MMA," which is slated to debut in the summer. The show won't be an exact copy of the long-running "The Ultimate Fighter," but the concept is essentially the same: 16 welterweight fighters (that make it out of the round of 32) will live in a house, fight, and the winner will receive $100,000 and a Bellator tournament slot. Where it differs is there will be four coaches: Randy Couture, Greg Jackson, Frank Shamrock, and Joe Warren. Instead of being drafted, fighters will be allowed to choose which team they want to train with. The training facility will also be at the site of the house, which means someone will surely go insane if they're not allowed to leave at all. Another difference is the fighters will be able to pick who they want to fight, and the order in which they pick will be determined by a ranking system. The show seems different enough from "The Ultimate Fighter" to distinguish itself, but who knows what the final product will look like.
World Series of Fighting signs deal with NBC Sports Network. Three months after doing a test run on the network on a time buy, World Series of Fighting inked a deal with NBC Sports Network. The three-year deal calls for at least six events each year, which is a tough schedule for a promotion with limited name fighters to keep up. Their debut show in November drew 198,000 viewers, which is significantly less than WEC was drawing on Versus before it was repackaged into NBC SN. WSOF was able to get the deal because NBC SN has struggled in the ratings and is starved for content. Regardless, the deal is a major one because there are now three MMA promotions on at least relatively notable channels with a fourth likely to come. The Showtime MMA slot is still open after Strikeforce's closing. Invicta FC, the all-women promotion based in Kansas, is the next highest-profile North American company and could take the slot, but Showtime's past reluctance to air more than one women's bout per main card makes me think they're not a shoo-in for the deal. But, it is well known that they're looking for a television partner, and outside of AXS.tv I'm not sure who'd be willing to partner with them if Showtime isn't interested.
World Series of Fighting's second show will take place on March 23, a Saturday where there won't be any major MMA competition. The main event will be Andrei Arlovski vs. Anthony Johnson in a heavyweight match-up, which is one of the best marquee main events they could make. Also slated for the show is Tyson Nam, who recently knocked out Bellator bantamweight champion Eduardo Dantas, against Marlon Moraes, who beat Miguel Torres on the debut show. Other notables on the WSOF roster include Rolles Gracie, Tyron Spong, Gilbert Yvel, Thales Leites, Paulo Filho, Gerald Harris, Josh Burkman, JZ Cavalcante, and Dennis Hallman. Bobby Lashley has also been linked to WSOF, but nothing has come out about their relationship since the first show was being put together.
UFC now offers UFC fighter rankings. This is a weird deal. UFC has teamed with FightMetric to compile UFC fighter rankings voted on by up to 90 media members. To me, this seems like something FOX brought up, as UFC has always been against using a rankings system but FOX has featured fighter rankings on their broadcasts a number of times. The feeling is that giving out rankings will help casual and new fans pick up on the sport quicker. But really, the rankings are meaningless because the UFC isn't going to use them for booking purposes. They are just a way for new and casual fans to easily recognize who is good and who should be favored in a fight (though much of the time the latter won't be true). Still, they're causing some controversy.
For starters, FightMetric isn't doing a great job out of the gate. Aside from issues voters are having with submitting their ballots correctly, FightMetric doesn't give clear criteria as to what they're voting on. Are they ranking the best fighters? Are they ranking the guys that most deserve a title shot? Turns out, that's completely up to the voter, which at times leads to great inconsistency in the rankings from voter to voter. Secondly, there needs to be something done about fighters one suspension or out for an extended period of time due to injury. For example, Dominick Cruz won't fight again until at least the end of 2013. When he fights again, it'll be his first time in more than two years coming off a major injury. Yet, Cruz will probably be ranked in the top 10 pound-for-pound list throughout the year simply because he was on that list after he last fought, he hasn't lost since, and there's nothing stopping people from ranking him there. Last, for some reason fighters changing weight classes are ranked at their new weight class instead of their old class. That's opposite nearly every major rankings system in MMA and boxing because it simply doesn't make sense to rank a fighter at a weight you've never seen him compete at. The obvious answer is to keep him off the rankings until he fights at the new weight, but then the rankings don't serve their purpose of educating fans of who is good.
The rankings could also create a problem when it comes to match-making and contract negotiations. On Tuesday, one of Jose Aldo's trainers expressed his displeasure with the Anthony Pettis bout, citing the UFC rankings system as a reason. When a fighter's deal is up, their ranking could affect their perception of their worth. For example, Costa Philippou is currently #6 in the middleweight rankings. For his win at UFC 155, Philippou received a disclosed payout of $36,000. Hypothetically, if it came time to renew his contract, wouldn't he want to be paid like the #6 fighter in the world? He could point out that the #8 guy, Hector Lombard, makes more than ten times what he does. Or he could say that fellow #6's at light heavyweight and heavyweight, Rashad Evans and Alistair Overeem, also make significantly more than him. That's not to say his argument has much merit, but that some fighters and agents may think that way and it would only cause headaches for the UFC.
Bellator dips again in third week. I've remarked over the past few weeks that Bellator's real test will begin on the third week of the season, and that week has come and gone. The show did 774,000 viewers including DVR views three days after the show, which is down for the third consecutive week. Live viewership was 705,000. This is a key number because in theory this is roughly as low as Bellator should go. They had a weak card with no marquee names and still did okay. If the number declines next week, it's a bad sign as it's a stronger card. If that decline is consistent with a viewership drop from its lead-in program TNA Impact Wrestling, then it's not quite as bad but shows that they are fairly reliant on their lead-in. So when looking back later, this third week number may tell us quite a bit.

---
Thanks for reading; I hope you enjoyed it. Feel free to leave any feedback in the comment box or at the e-mail address below. Follow @Dan_Plunkett

comments powered by Disqus