The Greatest MMA News Column 02.12.13: Cyborg, UFC Drug Testing, Belfort's TUE, and More!
February 12, 2013 | Posted by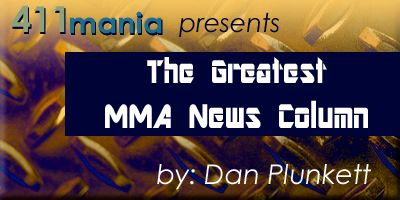 NEWS!
Cyborg Santos asks for UFC release. Tito Ortiz revealed on AXS TV's "Inside MMA" that his client Cristiane "Cyborg" Santos has requested her release from the UFC. The request comes after months of talks with the UFC trying to get Santos down to the bantamweight class (135-pounds) for what would be far and away the biggest bout in women's combat sports history against current champion Ronda Rousey. Cyborg, who according to the Wrestling Observer Newsletter is weighing slightly over 170-pounds these days, claims it would be unhealthy for her to cut the weight to 135-pounds. There's no doubt that's true, especially considering her past issues with making it down to 140-pounds. In fact, the current 145-pound women's class was created for Cyborg and Gina Carano, both of whom had issues making the previously in place 140-pound division. Cyborg could very likely make the bantamweight limit after cutting some muscle and changing her diet. Perhaps such a transformation would take time and she'd need to take a fight at 145-pounds first, which I don't see a problem with.
As a general rule, when you have a money match like Rousey vs. Cyborg, you make it as soon as possible and don't try to build the match more than is necessary. The more you try to build the fight by having both fighters go in and beat other people, the more likely it is one of them will lose and derail the match; just look at what happened to Alistair Overeem a week ago. In this case, if the two options are give Cyborg one more fight before going down to bantamweight or grant her release request and kill the match entirely, the first option is obviously more enticing as it still leaves the money match on the table.
Cyborg, 27, probably isn't eager to cut the muscle and changing her diet because it would likely affect her success in the cage to a degree. Over the past four years, Santos has dominated her opponents not just by being technically better, but by being significantly bigger and stronger. Going into fights lighter and weaker could be a game-changer, especially in a bout with Rousey. Right now Cyborg's options are to at least attempt to work with the UFC on getting down for the Rousey bout or depart and find a promotion that would use her. Bellator, the number two promotion in the world, has held women's matches at 145-pounds, but very infrequently. Plus, the division isn't strong enough to feature eight credible contenders in a championship tournament (though that is something that's stopped Bellator in the past). All women's promotion Invicta FC has a featherweight division and would certainly welcome Santos with open arms, but unless they reach a television deal with Showtime or another network willing to pay relatively big money, Santos wouldn't be able to make even her Strikeforce salary ($33,000 show/$33,000 win) with Invicta. With UFC, and the Rousey fight on the table, Cyborg would be in the position to make bigger money than ever before from both the promotion and sponsorships. If she were to defeat Rousey, that money would only get bigger. Even a loss to Rousey would be far from the worst thing in the world as a rematch would likely be an option.
Vitor Belfort granted TUE for 1/19 fight with Michael Bisping. Vitor Belfort, 35, has joined the list of fighters granted a therapeutic use exemption for testosterone. Belfort was placed on testosterone replacement therapy after being diagnosed with hypogonadism. While other notable UFC fighters have received a TUE for testosterone in the past, Belfort is the first to be granted an exemption after a well-documented steroid failure (with the possible exception of Chael Sonnen). Following his bout with Dan Henderson (also a TRT patient) in 2006, Belfort failed a test in Nevada for testosterone and was suspended nine months. His excuse was taking a tainted supplement, but the suspension was upheld nonetheless. Due to the possibility of abuse of the treatment (look at the Nate Marquardt situation from 2011) and the chance low testosterone was caused by past steroid use, fighters that have failed drug tests in the past shouldn't be granted an exemption for TRT.
It would be one thing if Vitor Belfort was a professional bicycle racer where the most harm you could do to your opponent is to his or her wallet, but he's far from it. Combat sports should have the strictest drug policies not because taking steroids will get you a record (like in the hit-the-ball-with-the-stick game) or even because they have negative health affects for the user, but because it poses a serious danger to the health of an opponent. As much as MMA fans and pundits enjoy touting the safety record of MMA, the reality is it's a sport where one of the fighters in the ring or cage can die from things that happen in the ring or cage. There's also a very real chance of brain damage, like we see with a former fighter like Gary Goodridge, which can drastically change a person's quality of life. Certainly, a stronger PED policy isn't going to change those realities, but it would hinder their prevalence (not that MMA deaths are necessarily prevalent).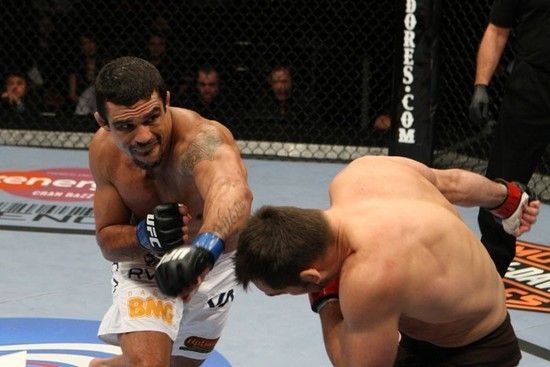 UFC President Dana White go-to line when it comes to questions of drug testing is that they are regulated by the government (you know, because the government is infallible). It's true the state athletic commissions handle drug testing in areas where they are established, but that doesn't mean they do a good job of it. Simply, athletic commissions don't have the finances or resources to institute a truly meaningful drug program. UFC on the other hand could certainly finance a meaningful drug program.
By "meaningful drug program" I mean year-round random testing of all athletes. There is the issue of fighters living all over the world, but it's not as big as some make it out to be. It's not as though there are fighters living in undisclosed locations in the jungle. White recently reasoned that if random testing was instituted a large number of fighters would test positive for marijuana, which wouldn't be the aim of the program. That reasoning is ludicrous as UFC wouldn't even have to test for marijuana; the World Anti-Doping Agency doesn't consider marijuana a banned substance out-of-competition. Perhaps a relatively large number of athletes would be nabbed by the testing, but that should be looked at as a positive. As bad as publicity would be for numerous failures and as many fights it would cause to fall through, it's worth it to make the sport safer.
Flyweight title bout added to TUF Finale. John Moraga, 28, seemed to be a longshot behind Joseph Benavidez and John Dodson for the next flyweight title shot, but he got the call and will fight Demetrious Johnson in the main event of the Ultimate Fighter Finale on April 13. Moraga, whose sole loss came via decision against Dodson in 2010, is a name that will be found unfamiliar by the vast majority of UFC fans. He debuted on the Fuel TV portion of the Shogun Rua vs. Brandon Vera-headlined UFC on FOX event in August, knocking out Ulysses Gomez in the first round. In December, he fought on the Facebook portion of the UFC 155 (Dos Santos vs. Velasquez II) card, beating Chris Cariaso by submission in the third round. Training out of the MMA Lab in Arizona with UFC lightweight champ Ben Henderson, Moraga comes from a wrestling background at Arizona State University. Johnson, 26, is coming off an excellent performance in more ways than one on FOX in January. After being dropped thrice in the opening two rounds, Johnson's pace and pressure overwhelmed Dodson in the final three rounds. Then, the FOX numbers for the show came in fairly strong with 5.2 million viewers tuning in for the title fight main event. Though Johnson still isn't a huge name and flyweight isn't one of the marquee titles, but it should ensure a good number on FX, which will continue the UFC's television success thus far in 2013.
MMA week preview. Two bantamweight title matches highlight the two major MMA shows this week. First, Eduardo Dantas defends the Bellator bantamweight strap against Marcos Galvao. Dantas, 24, hasn't fought since a knockout loss to Tyson Nam in August. The card also features all of the middleweight quarterfinal bouts. Over at the UFC, Renan Barao defends the interim belt against Michael McDonald, who looks to become the youngest champion in UFC history. At featherweight, Cub Swanson fights Dustin Poirier where the winner will be a top title contender. Jimi Manuwa fights Cyrille Diabate in what will be a violent light heavyweight bout. In one of the most interesting matches of the night, top prospect Gunnar Nelson faces Jorge Santiago. Another great match on the card is Paul Sass vs. Danny Castillo, which will be on the Facebook prelims.
Quick news. In a Certification in the Eddie Alvarez-Bellator lawsuit, Dave Meltzer estimated UFC 155 at 590,000 buys…UFC's April 6 show from Sweden sold out quickly, their second consecutive show in the country to do so…Miesha Tate vs. Cat Zingano was added to the TUF Finale…Thiago Tavares, 28, failed his 1/19 drug test for drostanalone, an anabolic steroid…the first Primetime special for the Rousey-Carmouche fight (above) was excellent and strongly recommended viewing…Manny Gamburyan pulled out of UFC 157. Chad Mendes, his scheduled opponent, has been pulled from the card…As of this writing, negotiations between Josh Barnett and the UFC have reached an impasse…Alexander Shlemenko won the Bellator middleweight title and cut an awesome promo.

---
Thanks for reading; I hope you enjoyed it. Feel free to leave any feedback in the comment box or at the e-mail address below. Follow @Dan_Plunkett

NULL
comments powered by Disqus