The Greatest MMA News Column 02.19.13: White Hates TRT, Rousey vs. Carmouche Preview, More
February 19, 2013 | Posted by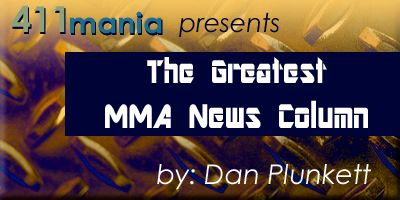 NEWS!
White does 180 on TRT. Dana White expressed a drastic change in attitude regarding testosterone replacement therapy while in England last week for UFC on Fuel TV: Barao vs. McDonald. "TRT has become a way for people to cheat," White stated at a Q&A session as reported by MMAOpinion.com. Previously, White was fine with the controversial treatment as long as fighters went through the proper avenues to receiving it and a therapeutic use exemption. He continued, "If your testosterone levels are too low then you're probably too old to be fighting, stop fighting." On drug testing, he noted, "We can test everybody. I'm telling you right now, if you are using [TRT], get ready motherfucker because we're going to test the shit out of you." Regarding his change of opinion, White said, "Some things recently have led me to believe that people are fucking cheaters, people are taking good things and turning it into a bad thing and if you want to play those games then guess what, we'll play."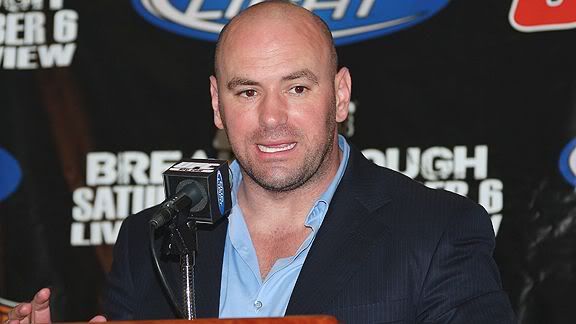 White's turn is a welcomed change to a sport desperately in need of stronger drug testing. Strict, random testing for those with TRT exemptions is a start, but there needs to be year-round random testing for all athletes. The fighters affected by these stronger tests White alluded to are small in number but big in name. Fighters with documented exemptions for TRT include Dan Henderson, Chael Sonnen, Frank Mir, Forrest Griffin, and most recently Vitor Belfort. Belfort's case is notable, as he failed a drug test in 2006, and came into his past two bouts (undergoing TRT for both) with a noticeably more ripped physique.
UFC 157: Rousey vs. Carmouche is Saturday. As the clock ticks closer to Saturday night I can't help but be excited for the Ronda Rousey vs. Liz Carmouche bout. My initial reaction to the match-up was flat; it's a complete mismatch. Just a couple of months later, I still think it's going to be a very quick, very one-sided fight. Regardless, the build on "UFC Primetime" has been fantastic through the first two episodes as they really succeeded in humanizing the fighters. Unlike most Primetime shows, there isn't a feud between the two and they have never even attempted to portray it as such. Of course, the Primetime specials won't have much impact on the business of the fight because it's airing in poor time slots. What will have an impact is the incredible media attention Rousey is receiving for the bout, which will be at the level of the biggest UFC bouts of all-time. That doesn't mean the PPV will be among the biggest of all-time or anywhere close to it.
The fact is women are an unproven commodity on PPV. Up to this point, no women's headlining bout on PPV has ever beaten 125,000 buys, which was for a freak show bout between Laila Ali and Jackie Frazier-Lyde in 2001. There's no doubt that Saturday's bout will smash that mark, but it's really difficult to pinpoint a solid estimate. If the bout draws at or above 300,000 buys, that's well above the baseline and should be considered a success. Right now, UFC has four fighters (Georges St-Pierre, Jon Jones, Anderson Silva, and Cain Velasquez) that can be counted on every time out to reach at least 400,000 buys. If Rousey becomes number five in that club, which we won't truly know for another fight or two, then she's a big success. Due to the major media coverage and women being unproven on PPV, this will almost certainly be a case where interest in the fight out-weighs its performance on PPV, leaving usually telling metrics like search trends and website hits obsolete. If I had to guess I'd say the show will hit 300,000 buys, but I can't be certain or guess how far beyond that it may reach.
In the co-main event, Dan Henderson and Lyoto Machida face off for a potential title shot. A win for Henderson should make him the next contender, as he was in that slot before getting injured in August. Plus at 42, Henderson's window is closing and if he's passed over again, he may not be the same fighter when his shot comes around. Then again, he may not be the same fighter this time around given that he hasn't fought in more than a year. The fight being three rounds is better for Henderson as he has a history of gassing out in the later rounds, but I see Machida as a good sized favorite in this fight. He's a lot quicker than Henderson, a better striker, and has knockout power. Henderson has a huge right hand and is as tough as really tough nails, but I wouldn't say the odds are strong that he'll land that big knockout punch. It will be interesting to see what Henderson's strategy is on Saturday night. In his past few fights he's been a headhunter, but it may serve him better to seek a clinch with Machida. Quinton Jackson was able to secure a controversial (or in other words, incorrect) decision win over Machida largely with relatively ineffective clinch work in the opening rounds. Machida isn't an easy guy to get clinched against the fence with nor is he bad in that position, but if Henderson can do enough there he can potentially escape with a win.
New York Times article full of interesting notes. Amy Chozick wrote a piece on MMA for The New York Times Saturday which had a number of interesting tidbits despite some awful introduction paragraphs (seriously, when is there going to be a mainstream MMA article that doesn't explain exactly what the sport is and bring up John McCain?). The article revealed that in addition to a 50% increase in rights fees, UFC wanted a 50% stake in Spike TV when their television deal came due in 2011. Later, the article notes that UFC "wanted too much control over which fights…broadcast on pay-per-view," and notes UFC still puts its biggest bouts on PPV. That seems like a strange sticking point as even when their relationship was good, UFC seldom put big fights on Spike. In fact, the only two I can recall off the top of my head were Tito Ortiz vs. Ken Shamrock III and Rampage Jackson vs. Dan Henderson. Obviously, the deal didn't happen and UFC went to FOX instead.
After UFC inked the deal with FOX, Spike parent company Viacom purchased a controlling interest in Bellator MMA. According to the article, that cost them in the vicinity of $50 million, which doesn't sound right. At the time, Bellator was a roster void of more than a couple name stars, averaging slightly more than 200,000 viewers, and by all accounts barely turning a profit if turning one at all. To compare, $50 million would be more than what Zuffa paid for Strikeforce (that purchase price was never announced, but all reports had it under the $50 million mark). To be fair, while Strikeforce was a company with a much better TV deal than Bellator and biggest stars, they certainly weren't making money. Perhaps the Times' reported purchase price is correct, but it seems suspect to me.
Cyborg Santos signs with Invicta FC. Less than a week after requesting and receiving her release from the UFC, Cristiane "Cyborg" Santos – the top women's 145-pound fighter in the world – signed with all-female promotion Invicta FC. The strangest part of this deal is that UFC previously offered to keep her under contract and send her to fight in Invicta, covering all of the costs association, until they figured out what to do with the former Strikeforce champ. Apparently this is a way for Cyborg and Ortiz to leverage a new deal with UFC down the line, but it's not a given her value will increase. She could always lose or legitimately suitable opponents may emerge for Rousey. Cyborg will make her Invicta debut on April 5 against Ediane Gomes. That fight will be on some form of pay-per-view, though it isn't clear if it'll be on the internet or cable. The plan is for the winner to take on Marloes Coenen for the inaugural title bout in the 145-pound weight class. Santos and Coenen previously fought in 2010, with Santos winning a one-sided bout.
Rory MacDonald out of UFC 158. MMAFighting.com broke the news Monday that Rory MacDonald withdrew from his scheduled rematch with Carlos Condit at UFC 158 due to injury. The match was scheduled to be the co-main event of the show under Georges St-Pierre vs. Nick Diaz, but wasn't a particularly important match in the sense that its absence won't significantly impact the show's business. According to MMAJunkie.com, Johny Hendricks has accepted the bout with Condit. Hendricks, who really is the rightful top contender at welterweight, was previously slated to fight Jake Ellenberger on the card. There's no word on who will take Hendricks' initial spot, but to me the name that would make the most sense is Tyron Woodley. Woodley knocked out Jay Hieron quickly at UFC 156, and told UFC President Dana White after the show he'd be ready to fight on UFC 158 if one of the welterweights got injured.
UFC 160 set with Cain vs. Bigfoot II; JDS vs. Overeem. Despite the first fight being a one-sided massacre just one year ago, UFC has tapped Antonio "Bigfoot" Silva as Cain Velasquez's first title challenger on May 25. Last May, Velasquez took down Silva right away, cut him badly with an elbow, and beat him up until the referee mercifully stopped the fight in less than four minutes. I don't think the rematch will go exactly the same way, and the cut probably affected Bigfoot a lot the first time around, but on paper it should be another beat-down with Velasquez doing the beating. Then again, if fights played out on paper, Alistair Overeem would be headlining on May 25. Instead, Overeem will have a grudge match against former champion Junior dos Santos. Since their originally scheduled title match last May fell apart due to Overeem failing a drug test, the fighters have exchanged words and built up a bit of a rivalry. That fight should be an interesting striking battle. With the Memorial Day Weekend main event booked, it looks like Anderson Silva's return will be pushed back to the early summer unless UFC is planning an earlier PPV in May.
Quick news. The TUF 17 Finale will be held at the Mandalay Bay Events Center, the largest venue to host an American TUF Finale…Before negotiations broke down, UFC was planning to put Josh Barnett against Junior dos Santos…Bellator drew 719,000 live and same day viewers for Eduardo Dantas vs. Marcos Galvao on 2/14. As long as Impact Wrestling stays in the same range, Bellator should be bottoming out around that number, which is good…UFC wants Cruz vs. Barao match this summer. Hopefully Cruz will be the same fighter when he comes back…Jacare Souza is penciled in to fight Costa Philippou on May 18 in Brazil for UFC on FX…Details are scarce, but Comcast signed a new deal with FOX that will apparently bring Fuel over to all of its customers. That will significantly increase the number of homes that get Fuel, which will be turning into Fox Sports 2 around August…Chad Mendes vs. Clay Guida has been added to UFC on FOX 7, likely for the preliminary card.

---
Thanks for reading; I hope you enjoyed it. Feel free to leave any feedback in the comment box or at the e-mail address below. Follow @Dan_Plunkett

NULL
comments powered by Disqus