The Greatest MMA News Column 02.26.13: The Ronda Center
February 26, 2013 | Posted by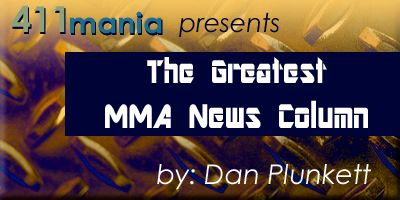 UFC 157: Rousey vs. Carmouche Thoughts
Perhaps the most historically significant MMA bout of the year went down on Saturday. Ronda Rousey defeated Liz Carmouche in an exciting, one-round bout that was everything it needed to be and more. The star fighter of the division, Rousey, won the bout with her signature move and continued her career-long streak of ending fights in the opening round. Carmouche, thought by most insiders as merely a body for Rousey to defeat, nearly dethroned the champion with a submission after taking the back. In the end, both came out of the fight as stars and gave people good reason to seek out their future fights. As a bonus, the fight went in such a way that a rematch could be in the cards should Carmouche string together a couple of wins.

Obviously there are no solid numbers, but as expected the show seems to have done well. After a slow start, ticket sales picked up greatly over the past couple of weeks and sold out with reportedly fewer comps than UFC is known to give out. The late boost in ticket sales is almost unheard of for a UFC event, as a good chunk of tickets generally get sold the first weekend they're put on sale. Media coverage for the event was, as expected, quite large and on the same level of the biggest UFC shows ever. The gate for the event was low, but that was expected as tickets were priced low. Hits for stories on Rousey across multiple top media outlets were said to be really strong. Search trend figures were up there with all of the biggest UFC PPVs of the past year. Interestingly, the top related term that trended was "Ronda Rousey," while "UFC" is almost always the term that trends for big events. Unquestionably, Rousey was the draw of the show and the biggest star in the building on Saturday night. The question of how the PPV fared is tough to answer. If the media and interest in this show was transferred to an Anderson Silva or Georges St-Pierre fight, one million buys would be possible if not expected. For Rousey vs. Carmouche, where a lot of interest came from people that aren't typical PPV buyers and those who were merely curious from the media coverage, the number could fall anywhere between 300,000 and maybe 750,000. There were those that predicted fewer than 300,000 buys, but I'd be very surprised to see it come in that low. The high number of also 750,000 strikes me as very unlikely.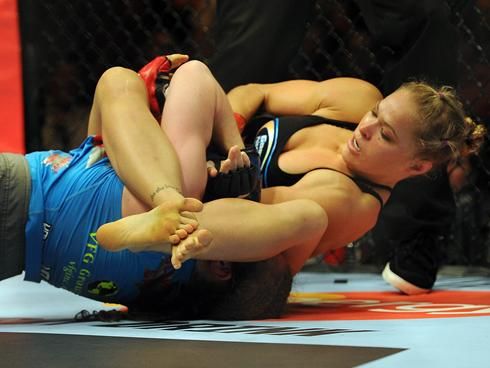 Regardless of where the show falls, as long as it's at or above 300,000 buys it's a success. Right now, the list of fighters that can draw at least 300,000 buys every time out is limited to the champions at welterweight and above. Should Rousey pull that number, it immediately puts her in a class above all other champions below the 170-pound division. On the off-chance the show did below 300,000 buys, it's a disappointment although not a complete failure. And if that were the case, Rousey would still be valuable as a television draw for FOX.
Ronda Rousey made it 10-for-10 (including amateur bouts) with another armbar finish inside the first round. Her battle with Liz Carmouche mirrored some aspects of Rousey's bout last March with Miesha Tate. In both cases, Rousey had her back taken, the fight stretched out far longer than her other eight bouts, and obviously the fights ended with the same technique. On Saturday, Carmouche came considerably closer to finishing Rousey than Tate did, opting to squeeze Rousey's head until it was contorted and purple when she couldn't lock in a rear naked choke. Then, Rousey shook the challenger off and Carmouche's offense ended there. Rousey landed on top and in side control with a scarf hold. She held that position for a couple of minutes, sometimes punching Carmouche in the face. Once Rousey secured mount she immediately transitioned for the armbar, and Carmouche spent the next 20 seconds or so fighting until Rousey finally pried the arm free for the submission.

Next up for Rousey will likely be the winner of April 13's Miesha Tate vs. Cat Zingano. Both were interviewed on the post-fight show on Fuel TV and were quick to note that the fight reassured their belief that Rousey was beatable. Tate would be the best opponent for business, as she already has a strong feud with Rousey stemming from their first match last year. The only other real option for an opponent for Rousey would be Cyborg Santos, but that's probably not happening.
In the co-main event, Lyoto Machida won a close decision over Dan Henderson in a dull fight. Machida moved in and out of range quickly and didn't throw many strikes. For the most part, Henderson simply couldn't catch Machida. He ran after him at times looking to land a big punch but always came up empty. I think most would say Henderson was the aggressor in the bout as he was constantly moving forward, but it's not as though it was effective aggression as he didn't do any real damage. Meanwhile, Machida moved in when he wanted to hit Henderson, hit him, and then backed away so he couldn't get hit. While the fight has to be considered a disappointment, Machida did come across as the more skilled fighter. The win moves him into the position of top contender after Chael Sonnen, though I'd rather see Alexander Gustafsson or Daniel Cormier in that spot should either win their next fight.



Urijah Faber, 33, proved he was still one of the top guys in the bantamweight division with a first-round submission win over Ivan Menjivar. To put that in a better perspective, it was the first time Menjivar (25-10) had been stopped in a fight since 2002 – when he was just 19-years-old. Faber's received a lot of criticism for repeatedly receiving title shots since dropping the WEC featherweight belt in 2008, but he really is one of the best in the world. The finish of the fight was awesome, with Faber clung to Menjivar's back in a standing crucifix before transitioning to the back with Menjivar's arm trapped. There, Faber locked in a standing rear naked choke to win the bout. With a decisive loss to interim champ Renan Barao in July, Faber can't be considered a title contender at this point, but he's certainly a guy "in the mix." The best thing for Faber would be for Dominick Cruz to come back and defeat Barao, which would open the door for a third bout between Cruz and Faber. Faber beat Cruz at featherweight in 2007, and Cruz defeated Faber in a fairly close fight in the summer of 2011 for the bantamweight title.
Court McGee beat Josh Neer by decision in a fight that was brought up to the main card after Manny Gamburyan pulled out of his fight with Chad Mendes a few weeks back. The first round was all McGee, who dropped Neer with a body shot late in the round. In the second round, McGee didn't continue to attack the body and thus let Neer back into the fight a bit. But then the third round was clearly for McGee, giving him his fight win at welterweight.
The main card opener with Josh Koscheck and Robbie Lawler was subject to a bit of controversy. Lawler sprawled after a Koscheck takedown attempt and they kept that position. Then Lawler exploded to land a hard left hand which caused Koscheck to roll over on his side against the fence. Lawler followed up with five or six more punches, none of which were defended by Koscheck. Referee Herb Dean stopped the fight and Koscheck immediately sat up to protest. Could Koscheck have gone on past that point? Probably. He was kicking off Lawler at the same time the fight was being stopped, but whether he could have actually forced a change of position is unclear. Had he been able to, there's a fair chance he would have come back and won the fight. Had he not been able to, he just would have continued to take unnecessary damage. On the replay, Koscheck looked to have a dazed look in his eyes after the third-to-last punch, immediately after which Dean stopped the bout, so it did seem like a fair stoppage. Still, I'll take a debatably early stoppage over a debatably late stoppage any day of the week.
The preliminary card was highlighted by an excellent fight between Dennis Bermudez and Matt Grice. This is one you have to go out of your way to see. I had Grice edging out the first two rounds with Bermudez taking the third as a 10-8, making the fight a 28-28 draw. For whatever reason, despite Grice being hurt nearly the entire round, no judge felt a 10-8 third round was necessary, though it didn't really matter as Bermudez would have taken the decision either way. The fight really could have, and maybe should have been stopped about halfway through the third round. At that point and some after it, Grice was out of it on the feet, stumbling around with his back against the fence. This was one of those fights where it was clear that "having a lot of heart" is almost always coupled with brain damage, which is a sad reality of the sport.

---
---
NEWS!
UFC releases 16 fighters including Jon Fitch. It's no secret that with Strikeforce talent coming over UFC has an overloaded roster. On Wednesday, MMAFighting.com broke the news of 16 releases (some fighters weren't even aware of their release before seeing it on the internet) including longtime welterweight contender Jon Fitch. Fitch, 35, was in the Rich Franklin position of being able to beat everybody in the division with the exception of champion Georges St-Pierre. That run came to an end in December of 2011 with a 17 second knockout at the hands of Johny Hendricks. This past October, Fitch got back on the winning side with a thrilling decision win over Erick Silva. Earlier this month, he was dominated by top-notch grappler Demian Maia. Still, Fitch is legitimately one of the best fighters in the world, ranked #9 in the UFC's own rankings at the time of his release. UFC President Dana White's argument was that Fitch was expensive and on the downside of his career. The thing is, UFC has a number of fighters on the downside of their career that make more money than Fitch. Wanderlei Silva has been on the downside of his career since 2006. Minotauro Nogueira has clearly been on a downside since 2008. Forrest Griffin, Rich Franklin, and Frank Mir are all also on the downside while making more money than Fitch.
There are differences between those fighters and Fitch, namely past championship reigns and at least some history of drawing. Ragging on Fitch for not having won a title is somewhat absurd, as it's in a way blaming him for competing in a division with one of the two most dominant fighters in MMA history. In Jon Jones was around in 2008 or Anderson Silva came to the UFC a year or two earlier, I'd venture to guess Griffin and Franklin wouldn't be "former champions." As far as drawing, Fitch headlined a big show, but he didn't draw the audience. Still, Fitch was quite good at his job, racking up a 13-3-1 record over seven-plus years with the promotion. Until the Hendricks loss, Fitch had the second best record in UFC history behind Anderson Silva. If you examine his accomplishments, Fitch is the clear #3 welterweight in UFC history behind St-Pierre and Matt Hughes. So, in summary, Fitch was released because his salary, which he earned from being good at his job, was considered too high.
Bellator head Bjorn Rebney stated the company wouldn't be bringing Fitch in, which is a shame. My feeling is that Bellator doesn't want to gain a reputation as the company that picks up UFC's scraps, which isn't a bad thing, but I think they should have made an exception here. Rebney's explanation that the welterweight division is so stacked they have no room for Fitch is silly considering they have nobody that's been able to challenge Ben Askren (unless they bring back Jay Hieron). I can't say for certain that Fitch would beat Askren, but he'd certainly provide a strong challenge. As it stands, it looks like Fitch is headed to World Series of Fighting.
The other fifteen fighters released were Wagner Prado, Mike Russow, Jacob Volkmann, Vladimir Matyushenko, Che Mills, Jay Hieron, Terry Etim, Paul Sass, Jorge Santiago, Mike Stumpf, Simeon Thoresen, CJ Keith, Motonobu Tezuka, Josh Grispi, and Ulysses Gomez. Volkmann is a solid fighter, but a history of boring fights and awful post-fight promos did him no favors. Matyushenko, 42, lost quickly to Ryan Bader in January and should be closing in on retirement. Along with Fitch, he was the only fighter cut to have previously challenged for a UFC title, his coming against Tito Ortiz in 2001. Paul Sass is an exciting fighter I would've liked to see stick around, but his last fight made it clear he can't compete at the top level just yet and UFC is especially overloaded with lightweights. Jorge Santiago is interesting, as he took the fight against Gunnar Nelson on short notice, and usually UFC gives guys that take short notice fights another chance for doing them a favor. Grispi had an incredible fall from grace. He went from being next in line to Jose Aldo to losing in the prelims of UFC 125 after Aldo got hurt. He then proceeded to lose his next three outings. Gomez, by most accounts, should have gotten the nod in his last fight, but the decision went the other way.
Bellator 90 results. Bellator brought a night of great finishes to Spike TV on Thursday night. Most notably, King Mo Lawal, largely expected to walk through the light heavyweight tournament, lost his semi-final bout to Emanuel Newton due to a devastating spinning back fist. Just like his first Bellator bout, Mo was content to keep his hands down for much of the fight and it cost him here. It will be interesting to see if the loss affects Mo's relationship with TNA Wrestling in any way. I'm sure he'll come back strong in MMA. In the main event, Shahbulat Shamhalaev, training out of Jon Jones' old camp in Ithaca, New York, knocked out Rad Martinez to earn a shot at featherweight champion Pat Curran. Shamhalaev's trainer is touting him as the best athlete he's ever trained, which includes Jones. Elsewhere, Douglas Lima and Ben Saunders advanced to the welterweight finals with a pair of knockouts, and Mikhail Zayats earned a slot in the light heavyweight finals, where he'll meet Emanuel Newton.
Olympic wrestling gold medalist Henry Cejudo makes MMA debut in March. Henry Cejudo has been linked to MMA ever since winning a gold medal in the 2008 Olympics at just 21-years-old. There was talk of him fighting Kid Yamamoto in DREAM, but that never materialized. There was also talk of him going over to the WEC when they were going to implement a flyweight division (which never materialized until the division was instituted in the UFC last year). At this time, Cejudo is slated to make his debut on March 2 and he already has another matched scheduled for March 24. After that, I'd be far from shocked to see UFC pick him up. There is reason for excitement for Cejudo's journey to MMA, as in addition to being a high level wrestler he's a good personality. On the cautionary side, word is he can be a bit of a head case, so it will be an interesting ride.
Quick news. Anderson Silva was knocked out by Michael Phelps in the first round of SportsCenter's "Greatest Athlete Ever" tournament…UFC on Fuel TV 7 averaged 195,000 viewers…King of the Cage has booked Tank Abbott vs. Ruben "Warpath" Villareal for April 13, which gets that promotion some ink I suppose, but not the kind they should be aiming to attain…Jose Aldo was refusing to fight Anthony Pettis, but the deal was made Monday for the fight to happen…Dana White stated Nick Diaz is close to being removed from the 3/16 title match with GSP due to missing obligations. I doubt that'll happen since were so close to the fight already.

---
Thanks for reading; I hope you enjoyed it. Feel free to leave any feedback in the comment box or at the e-mail address below. Follow @Dan_Plunkett

NULL
comments powered by Disqus