The Greatest MMA News Column 08.14.12: Oversaturation
August 14, 2012 | Posted by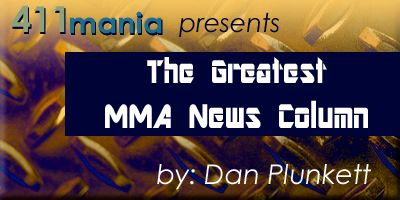 UFC 150 Thoughts
Months ago there were talks about making UFC 150 a stacked show on the level of UFC 100, but those plans fell by the wayside when the UFC cancelled their scheduled March PPV in Montreal due to lack of a main event, so UFC 150 fell on August 11 in Denver instead of July 7 in Las Vegas (which ended up featuring the big Anderson Silva vs. Chael Sonnen rematch). Instead of a UFC 100 caliber show, UFC 150 may end up as one of the UFC's least successful pay-per-view events in several years. After the show, UFC President Dana White reported a gate of just $650,000 – easily the lowest gate total for a UFC PPV show since the company started to gain steam in 2005. To make matters worse, the PPV was hindered by a blackout on DirecTV making it impossible for their nearly 20 million customers – roughly one-fifth of all PPV enabled homes domestically – to buy the show. Even without the hit from DirecTV, the event was going to be one of the lowest bought UFC shows of the year. Google search trend numbers painted a less-than-thrilling picture for business with UFC 150 coming in below UFC 149, which did about 235,000 buys (per The Wrestling Observer Newsletter). Considering the exclusion of DirecTV customers, UFC 150 may very well fall in the range of UFC 147, which did the lowest UFC PPV numbers in seven years.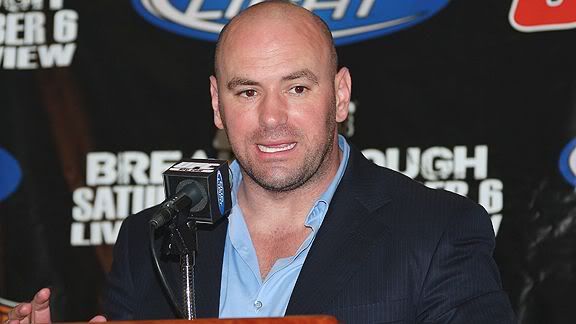 White blamed the poor gate on the recent tragedies in Colorado, but the bottom line is if the UFC came with a product fans wanted to see people would have paid for tickets. Surely, the movie theater shooting in Aurora and recent wildfire would have prevented some people from paying to see the event live one way or the other, but that number pales in comparison to the number that didn't buy tickets for other reasons. Two bigger culprits for the poor ticket sales were the UFC ran Denver for the second time in 11 months and they didn't bring a big card. When the UFC traveled to Denver last September, they brought a product that hadn't been to the market in 16 years and four bona fide stars in main eventers Jon Jones and Quinton Jackson as well as co-headliners Matt Hughes and Josh Koscheck. That show had more than 16,000 fans in attendance for a gate of slightly above $2 million. Those aren't bad numbers, but for a market where this version of the UFC, especially at this level (UFC did hold a couple of lower level free TV cards in neighboring Broomfield, Colorado), is somewhat of a new live product, those numbers aren't indicative of a very strong market. UFC has returned to markets like Rio de Janeiro (Brazil), Montreal (Canada), and Toronto (Canada) quickly in recent years and done well each time out, but all of those places had super strong first showings.
This past Saturday the UFC brought the Ben Henderson vs. Frankie Edgar title rematch to town, along with a Donald Cerrone vs. Melvin Guillard co-feature. Edgar has become a star, but he's neither a draw nor a star on the level of UFC 135 headliners Jon Jones and Rampage Jackson. Henderson isn't a draw and isn't exactly a proven star either, though holding the title gives him a certain level of star power by association. Cerrone was born in Colorado, which in theory is something that should have helped ticket sales, but it didn't. Really, the Cerrone-Guillard match-up just didn't feel like a worthy co-main event on a PPV show. Just a month ago Guillard won an uninspiring decision on the UFC 148 preliminary card while Cerrone was coming off of an uncharacteristically lackluster performance against Jeremy Stephens on a Fuel TV undercard bout.
Coming off UFC 148's big numbers the UFC was ahead of their 2011 pace, but even using high estimates for UFC's 147, 148, and 150 that is no longer the case. Through nine events the UFC isn't far behind their pace from this point in 2011 (also 9 shows in) and 2012 should pull at least even with UFC 151 on September 1 (Jon Jones vs. Dan Henderson), but then they have two shows that won't do big numbers in UFC 152 on September 22 (Joseph Benavidez vs. Demetrious Johnson and Michael Bisping vs. Brian Stann) and UFC 153 on October 13 (Jose Aldo vs. Erik Koch and Rampage Jackson vs. Glover Teixeira). That's not meant to show that the sky is falling and the UFC's on dooms door, but rather the basement has gotten deeper this year and will be hit considerably more times than in 2011. There are still three big shows remaining for the year in the aforementioned UFC 151, UFC 154 (Georges St-Pierre vs. Carlos Condit), and the year-end December 29 show (Junior dos Santos vs. Cain Velasquez and likely another big fight), assuming none of them get hindered by injury. With the sheer amount of events the UFC is running, it's becoming easier for fans to skip shows. Undercards are generally weaker in terms of star power than they have been in the past, the bottom three weight divisions aren't established with the fan-base, and the lightweight division has lost a lot of steam since BJ Penn dropped the belt. And this is a company talking about adopting even lower weight classes in the not-so-distant future (which, by the way, is a bad idea. If they add a division, it should be women's bantamweight since it already has stars).
In the main event, Ben Henderson won a controversial split decision from Frankie Edgar to retain the lightweight title. Most people seem to think Edgar should have gotten the nod, which I agree with, but the fight wasn't a robbery. The fight was close, albeit not as close as their first bout in February (won by Henderson). If Edgar's performance in February earned him an immediate rematch, his showing on Saturday should have earned him another, but the UFC is adamant about heading in a new direction with Nate Diaz challenging Ben Henderson for the title. Dana White hinted UFC already had plans in mind for that bout though refused to elaborate, but logic would indicate it taking place either on Fox on December 8 or under the Dos Santos-Velasquez heavyweight title tilt on PPV December 29. At the very least, Edgar should be in line for a title shot with one more win, but even that may not happen. Despite being a truly remarkable fighter (there's an argument for him being the best lightweight ever), Edgar just wasn't able to draw in his title run. The UFC President was even apprehensive when asked if Edgar would get an immediate title shot should he make a long talked about move to featherweight, which would probably be the biggest fight for featherweight champ Jose Aldo at the moment. I'm not going to be one of those people that says Edgar should drop to featherweight because he's a small lightweight (he could probably make bantamweight as well); he's proven to be elite at that weight class fight in and fight out. Whatever weight he wants to fight at next, he should absolutely be solidly in the title picture.



Donald Cerrone and Melvin Guillard had a hell of a one minute fight in the co-main event. Guillard rocked Cerrone early and was on the attack, but let the "Cowboy" off the hook a bit after a failed attempt at a finish. Then Cerrone landed a grazing head kick that hurt Guillard and followed up with a punch that put him out cold. The logical next bout for Cerrone is a match against Anthony Pettis, who he had been calling out all week, though a fight against Edgar would be just as acceptable. Guillard was close to earning a title shot last year after a 5 fight win streak but then ran into Joe Lauzon. He followed that up with a first round loss to Jim Miller. Melvin is 29-years-old and should be coming to the end of his physical prime. This run in the last year of 3 first round losses doesn't bode well for his chances of earning a title shot in the future.
Ed Herman won the Cheick Kongo award for strategy of the night in his loss to Jake Shields. For whatever reason, Herman tried to beat Shields at what Shields does best, which would have been cool if he was able to pull out a win, but he wasn't. This fight wasn't good; Shields ended up with a decision win.
Yushin Okami beat an out-matched Buddy Roberts (who did not come out to "Badstreet USA" for some unfathomable reason) with a second round TKO. Nobody was expecting Roberts to come out on top barring some Boetschian heroics. Okami controlled the fight and beat Roberts as he should have given his place within the middleweight division. In the PPV opener, Max Holloway, 20, beat Justin Lawrence in a good fight.

---
NEWS!
Jon Jones signs landmark worldwide sponsorship agreement with Nike. Jon Jones became the first MMA fighter to score a worldwide sponsorship deal with Nike. The deal had been rumored for a long time but some thought it would be derailed by Jones' May DUI arrest. Jones will get his own line of products with the deal, including shoes. Make no mistake about it, this is a huge deal. Not only does it open the doors for other fighters (word is another fighter is close to a similar deal), this is something that will help Jones get over as a superstar and take him to the next level. Other fighters, most notably Anderson Silva and Yoshihiro Akiyama, have regional Nike deals, but Jones is the first MMA fighter with a worldwide deal.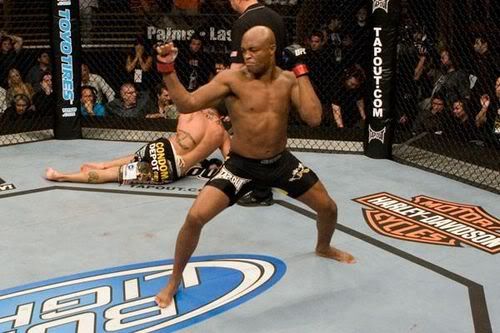 Talks of Anderson Silva vs. Georges St-Pierre super-fight heating up. The dream match pitting the two greatest fighters in mixed martial arts history against each other may finally become a reality. Anderson Silva's manager recently expressed interest in the bout a couple of weeks ago and Georges St-Pierre told his trainer Firas Zahabi he would like that fight as well. The UFC also seems to have interest in making the battle of champions. Of course, this isn't the first time the bout has been talked about in this way, and in fact at one time it was even closer to happening than it is at the moment. Prior to his April 2010 bout with Demian Maia, UFC commentator Joe Rogan announced that should Silva win the bout, he would drop down to welterweight and face St-Pierre, who was ringside for the fight. The fight turned out to be the worst of the year, with Silva extensively taunting Maia early and later refused to engage. Silva won, but his way of victory caused the UFC to reshuffle the deck and give Chael Sonnen the next crack at Silva. As recently as last year, it was strongly hinted at by the UFC that the only thing in the way of a Silva-GSP fight was a St-Pierre win against Jake Shields. Georges prevailed, but plans once again changed. This time around, Silva, 37, is still talking about cutting to 170 lbs. for the bout despite being among the biggest middleweights in the world. A catch-weight bout is probably a more realistic possibility, but before a weight can be discussed St-Pierre first has to get past Carlos Condit on November 17.
A healthy St-Pierre would be a big favorite over Condit, but the champion is coming off an ACL tear, which is nothing to scoff at. If all goes to plan, St-Pierre will be returning 11 months after tearing his ACL, but it usually takes athletes even longer to fully recover from such an injury – if they are so lucky to fully recover at all. If St-Pierre gets past Condit, a Silva vs. St-Pierre match, pitting two of MMA's top draws against each other, would do huge business. Pay-per-view buys would very likely exceed the 1.1 million buys UFC 116 did to become the second-biggest PPV in UFC history. Depending on the venue, gate receipts could set records as well. The two most likely venues for such a fight would be Cowboys Stadium in Dallas, Texas, and Rogers Centre in Toronto, Canada. The UFC has been waiting for the right fight to hold at the former, which could hold more than 100,000 fans but would be configured for a much smaller crowd. UFC has already sold out Rogers Centre with the 55,000 strong that attended UFC 129 (St-Pierre vs. Jake Shields) for a $12 million gate. Rogers Centre would be a safe bet for a sellout because the market is so strong up there and the fight would be huge. While Cowboys Stadium is much larger than Rogers Centre which brings the possibility of a much larger crowd than Toronto, the market isn't as strong as Toronto so it's a bit riskier. Las Vegas would also be an option, especially if the proposed 40,000 seat arena gets built in time (very unlikely from what I understand), but common sense would indicate Toronto and Dallas as the leaders.
BJ Penn vs. Rory MacDonald likely for UFC on Fox 5 co-main event slot. The welterweight bout initially slated for UFC 152 appears to have a new date after Rory MacDonald was forced to withdraw due to a cut. Reports have surfaced that the plan is for the fight to take place at the December 8 UFC on Fox show and for it to serve as the evening's co-main event. The biggest thing to take away from that news is that the UFC has big plans for UFC on Fox 5 after their last two shows on the network didn't do good ratings. As a headliner, Penn vs. MacDonald would have been stronger than the last two Fox main events and considering promotion that will come during NFL games in addition to a lack of competition on that date (assuming Floyd Mayweather doesn't decide to fight on the date) it would do a better rating than both as well. Another fight on top of that is icing on the cake and hopefully takes them at least back to the levels of the second Fox show, but that really depends on what is chosen as the main event. If they go with Jon Jones (should he beat Dan Henderson) vs. Lyoto Machida, it would beat rating of the January show. If they go with the lightweight title fight, that would be less certain. As far as Penn vs. MacDonald on Fox, the fight seemed like a more natural fit for the November 17 Montreal show to me. The story of the fight is basically the guy that supposed to be the next Georges St-Pierre taking on GSP's biggest career rival, so putting it under St-Pierre's next fight would make a lot of sense as it would expose MacDonald to St-Pierre's vast Canadian fan base. Regardless, it's still a great co-main event fight on Fox.
Junior dos Santos vs. Cain Velasquez II set for December. There was talk last week that Alistair Overeem could potentially budge ahead of Cain Velasquez in the line for a heavyweight title shot, but that talk was put to rest following UFC 150. UFC President Dana White revealed at the post-fight press conference that Junior dos Santos will fight Cain Velasquez on December 29 in what will be one of the four biggest shows of the year. Even if it was possible to go with Overeem, it wouldn't have been a good idea for the UFC to risk negative publicity by putting a guy that just failed a drug test in a title fight eight months later. A poll in this column last week showed that while more people wanted to see Overeem fight for the title over Velasquez, the difference between the two was negligible. A Dos Santos-Overeem title bout would likely do better on PPV, but the difference over a Dos Santos-Velasquez title match really isn't much.
Renato "Babalu" Sobral signs with Bellator. Former UFC title contender and ex-Strikeforce champ Babalu Sobral signed a deal with Bellator on Friday to fight in their light heavyweight tournament next year. Bellator's light heavyweight division is probably its weakest group (the heavyweight division at least has a strong champion) so Sobral is a welcomed addition. The signing shows that Bellator is going after names that fans will recognize ahead of their 2013 debut on Spike TV, when they will instantly become the clear #2 promotion in the world.
UFC on Fox 4 viewership show slight improvement from UFC on Fox 3. UFC on Fox: Shogun vs. Vera averaged 2.44 million viewers, up very slightly from May's UFC on Fox: Diaz vs. Miller that did 2.42 million viewers. The rating was actually below the level of UFC on Fox 3 (1.5) with a 1.4 household rating. The show peaked with 3 .3 million viewers and the key 18-34 males demo did a 1.9 rating (up from 1.6 in May). The numbers aren't good, but they are at the levels expected from the show. In a way, it's discouraging that the show only did 20,000 viewers more than the May show because this show had bigger stars in the main event. Granted, there was strong competition from the Olympics and it can be tougher to draw in the summer, but the last Fox show had strong competition in the form of a Floyd Mayweather fight and the huge Avengers opening.

---
Thanks for reading; I hope you enjoyed it. Feel free to leave any feedback in the comment box or at the e-mail address below. Follow @Dan_Plunkett

NULL
comments powered by Disqus