The Greatest MMA News Column 10.9.12: UFC 153 Preview
October 9, 2012 | Posted by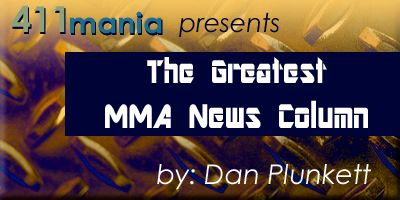 UFC 153 Preview
We're less than a week away from Anderson Silva's return to the light heavyweight division in the main event of UFC 153 from Rio de Janeiro, Brazil. Silva will face Stephan Bonnar in a three round main event. Bonnar's best shot is to take Silva to the ground, where he may be able to control the middleweight champion and avoid being submitted. Of course, Bonnar doesn't have the best takedowns and Silva has improved in that area somewhat. The thing about this fight is even if most are discounting Bonnar – which they have good reason to – it's a really hard fight to skip. Silva is, at this point in time, unquestionably the greatest MMA fighter ever. He still seems to be in the prime of his career, but at 37-years-old that's not going to last. One day, he'll be just a bit slower and it could make all the difference. Could that day be Saturday? Perhaps. Fans disinterested in the fight because of Bonnar's long odds will likely be missing one of Silva's final fights as a fighter that stands head and shoulders above all but two or three others. They may miss out on a performance as mind blowing as Silva's against Forrest Griffin, which may have been the single most dominant performance in MMA history. Or, they could miss out on an upset of nearly unprecedented proportions. Imagine the greatest fighter ever at his peak, fighting in his home country, losing to a career middle of the road light heavyweight. It's a highly unlikely scenario, but all the pieces are in place for it to happen Saturday.
In the co-main event, Antonio Rodrigo "Minotauro" Nogueira returns against Dave Herman. Minotauro hasn't fought since Frank Mir broke his arm last December, he's 36-years-old, and on the downside of his career. It's really difficult to predict how he's going to look this weekend. In August of 2011 he fought for the first time in more than a year and knocked his opponent out in the first round. Then in the Mir fight he looked good, nearly scoring a knockout before getting caught in a kimura. Against Herman, he's not going to get caught in any submissions, but he could lose standing. The Nogueira that fought Mir should beat Dave Herman, but who's to say if he'll show up as that guy? Nogueira is still the favorite, because he has a massive advantage on the ground as well as power in his hands, but he's still a question mark.
Glover Teixeira is a guy that more than one elite level light heavyweights have turned down as an opponent, and for good reason. In his UFC debut against Kyle Kingsbury he looked like a monster, but he's still a guy very few people are familiar with. When his original opponent Rampage Jackson stepped down due to injury, Fabio Maldonado volunteered as a replacement and eventually got the slot. If anything, this should be a really fun fight for as long as it lasts. Teixeira's a fighter that goes after it, and Maldonado is a good striker that likes going to the body. Their styles should complement each other for an exciting fight. Some have called Teixeira overrated because Kingsbury wasn't a top guy, and they may prove to have a point. Maldonado isn't a top fighter either, but a strong win over him will just add steam to the Glover Teixeira hype train. Teixeira has finishing power and he's better on the ground, so he's the favorite going in.
In a welterweight feature, Erick Silva looks to continue his string of impressive performances against Jon Fitch. Silva started his UFC run with a quick knockout of Luis Ramos, and then another quick stoppage against Carlo Prater which was ruled a disqualification due to strikes to the back of the head, but the loss is no more legitimate than Jon Jones' against Matt Hamill. In June he fought a wrestler in Charlie Brenneman and submitted him in the first round. Jon Fitch, 34, is a huge step up in competition for Silva. Fitch, coming off a quick knockout loss to Johny Hendricks, has been one of the best in his division for years. Despite not having won in over two years and coming off an extended absence from the cage, Fitch has to be the favorite here. But, if Silva can pull off the upset, he'll become a major player in the welterweight division.
After their August fight ended in a no contest due to an eye poke, Phil Davis will meet Wagner Prado in a return match on Saturday. The first bout was too short (1:28) to reveal anything about how it will go this time around. Davis is an excellent wrestler that still has a lot of potential despite a one-sided loss to Rashad Evans. Prado is probably the better striker of the two, but Davis should have the advantage on the ground.
In the main card opener, Demian Maia faces Rick Story in his sophomore effort at welterweight. This fight may turn into an uninspiring kickboxing match, as Story won't want to take Maia to the ground and it could prove difficult for Maia to take Story to the ground. Maia was able to drag Chael Sonnen to the ground, but he didn't have success in doing so against Mark Munoz. Then again, Story's wrestling isn't at Munoz's level. I think this will turn out to be a well-contested fight, but Maia deserves to be the favorite.
As far as business is concerned, UFC 153 should do well for an international show, but it's difficult to say anything beyond that. The live business should be good with Anderson Silva in the main event and that should draw well on television in Brazil as well. Pay-per-view business is tough to say because an Anderson Silva fight in 2012 should draw really well, but the event won't be covered strongly by North American media because it's taking place in Brazil. Plus, the Countdown special is virtually meaningless because they're reaching such a small and hardcore fan-base on Fuel TV. Coverage on ESPN has been especially valuable to the UFC this year, especially in the cases of the Silva vs. Chael Sonnen and Jon Jones vs. Rashad Evans fights, but there's been little to no coverage of the show on that front (at least televised) at this point. Then again, that push isn't done until the last few days, so perhaps Stephan Bonnar or Dana White will make an appearance or two on SportsCenter to promote the show.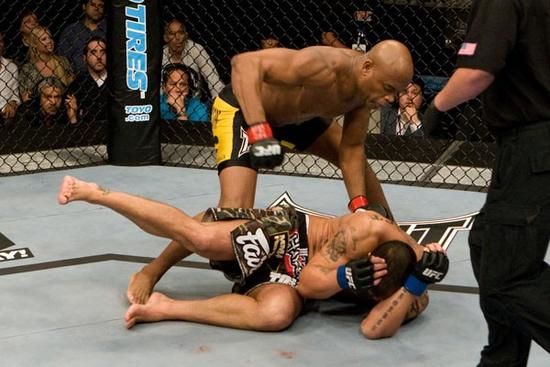 The commercials for the show have been good, particularly the bit with Bonnar talking to Forrest Griffin about how to handle his upcoming challenge, with Griffin basically telling Bonnar he has no shot. It was easily the funniest commercial UFC has ever produced, but I wonder how casual fans viewed it as the spot essentially told them to pay to watch a squash match. But, it goes along with how the UFC has promoted the fight all along. Unlike in the past where they have attempted to put over even the biggest of underdogs as legitimate challengers, they're acknowledging Stephan Bonnar's long odds by promoting Silva's greatness. Of the three commercials UFC put out, the one I found the most effective was the "He's Amazing" spot, as it made it feel like Anderson Silva was a fighter you just had to see. In fact, that commercial didn't even mention his opponent until the graphic at the end with the name of the show. In a time with dominant fighters like Silva, Jon Jones, Georges St-Pierre, and Jose Aldo where their opponents are constantly counted out but UFC attempts to sell them as legitimate threats anyway, success for UFC 153 could mean a change in the way fights with dominant champions are promoted. Instead of "watch this guy try to beat Anderson Silva," it's "come watch Anderson Silva perform." It changes the dynamic from a fight where both guys have a chance to win to a showcase of a superstar fighter's masterful skills.
I would consider anything over 400,000 pay-per-view buys in North America for UFC 153 a success. Only one PPV show from overseas has ever reached that number (UFC 112 with 500,000 buys) and that show was considerably more stacked than this one. It was just a little over a year ago when Silva on top in Brazil drew 335,000 buys, and that had a much stronger co-main event. Granted, since that point Silva's star power has grown due to the Chael Sonnen fight which in theory should translate to more drawing ability, but Silva vs. Bonnar is a fight that came out of nowhere due to extenuating circumstances and isn't a very intriguing fight. Even five days out from the show it's tough to tell how well the show will do because whatever media coverage there will be hasn't kicked in yet, but this is a show that should at least match the Silva vs. Yushin Okami pay-per-view event.

---
---
NEWS!
Strikeforce dead? There are very few details available on this because the news is just breaking as of this writing. On Monday night noted insider source "Front Row" Brian McMahon posted to Twitter that he'd heard Strikeforce was finished, not long after word of Luke Rockhold's withdrawal from the 11/3 event was made public. More rumors of Strikeforce's demise swirled and later the television program Inside MMA revealed something was going on, but there was little clarification. Apparently, the relationship between Strikeforce and television partner Showtime is strained. There may be an event on November 3, or there may not be. Either way, it doesn't look good for the future of Strikeforce. I can't delve as far into this news as I'd like to because there are so few details on what's going on and deadline requirements, but there seems to be something to all the rumors. If Strikeforce is dead, it likely means women will finally find their way into the UFC, spearheaded by a Ronda Rousey vs. Cyborg Santos match at either a catch-weight or 145 lbs. That's a fight that could viably headline a PPV or Fox show. Due to issues of roster size and UFC president Dana White still not being sold on the depth of women's divisions, I would be surprised if they kept more than one women's division long term. That may depend on the outcome of the Rousey vs. Cyborg match. When the WEC merged with the UFC, all of their fighters came over to the larger promotion, so I wouldn't be surprised to see all of Strikeforce's contracted talent to get at least a shot in the UFC.
Should Strikeforce fold, the other side of the deal is that it would open up Showtime for another MMA promotion. That's good news for World Series of Fighting, as they don't have a long term deal with NBC Sports Network and could use Showtime as leverage, a back-up plan, or maybe a first choice. Other possibilities would include M-1, who has had a relationship with Showtime, the all-women promotion Invicta FC, and ProElite. Invicta seems like a long shot, if only because Showtime has been very cautious about women's MMA in the past. Initially, Gary Shaw had to beg the network to let Gina Carano on the air, and even after women had success as draws on the network, Showtime limited events to one women's fight per main card. ProElite rose from the ashes last year largely in attempt to get a TV deal with Showtime as it looked as though Strikeforce wouldn't exist much longer at the time. But, they put on just three events and haven't been heard from since January. There would be tons more fallout should Strikeforce fold, but until there's an official word and/or more details there's no reason to go further.
Jeremy Stephens arrested before UFC on FX 5. Lightweight Jeremy Stephens, 26, was arrested on an out of state warrant for assault on Friday morning, just hours before he was scheduled to face Yves Edwards. The fourteen fight UFC veteran was allegedly involved in some sort of altercation in Iowa, where the warrant originates from. The timing of the arrest doesn't seem coincidental, as Stephens' management team pointed out he doesn't seem to be a hard guy to find. Just prior to the show going live on FX, UFC president Dana White addressed the situation on Fuel TV, stating that he was working on getting Stephens out of jail in order to fight. It wasn't until the very end of the show when they gave up hope and alerted Edwards that the fight was scrapped. Even if White believes Stephens' side of the story, and he said he does, it's hard to justify getting a guy arrested that morning on a warrant for a violent crime out of jail to go fight in a cage and get right back to jail. I can see White's point of view, that Stephens was just hours away from earning a potential six figure payday – money he's going to need for his defense as well as to feed his family – but it still doesn't sit well.
Shane Roller retires. UFC fighter Shane Roller announced his retirement via Twitter on Monday. "Looks like I'm hanging up the gloves for good," Roller wrote. "It was fun, but time to move on." Roller finishes his career with an 11-7 record. He was a member of Team Takedown, a group that represents collegiate wrestling stars, pays them, sends them to train somewhere, and ultimately gets them into MMA. Roller, along with Johny Hendricks and Jake Rosholt, was one of the top stars of the group, with Hendricks finding the most success. In 2008, Roller entered the WEC and won his first two fights by submission before losing to future champion Ben Henderson. He then won his next three fights before losing a #1 contender fight to Anthony Pettis. On the final show in WEC history, Roller submitted former champion Jamie Varner in the first round. After initial success in the form of a knockout win over Thiago Tavares in the UFC, Roller lost his next three fights. Most recently, he lost in one-sided fashion to Jacob Volkmann.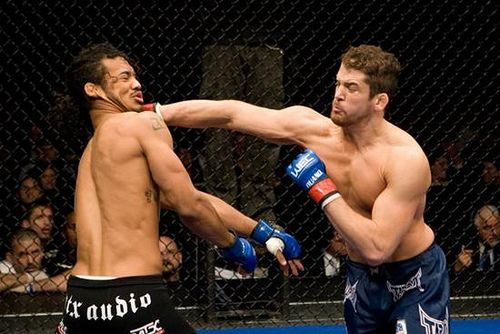 Roller, 33, made headlines when TRT – testosterone replacement therapy – became a hot topic in the MMA world. In 2011, prior to a fight against Melvin Guillard he ultimately lost by knockout, Roller obtained a therapeutic use exemption for testosterone from the Nevada Athletic Commission. After controversy surrounding TRT erupted, Roller opted to cease the treatment prior to his scheduled match on July's UFC 148, against doctor's orders. "I see what happens with the guys who have done it and abused it, and I don't want to be in that category at all," he told MMAJunkie.com at the time. "If I didn't think there was a chance to be put in that group, I would definitely be on TRT. But I don't want to be viewed as a cheater – ever – so I backed off, and I'm trying to find other ways to keep my levels up." Roller won the fight at UFC 148, beating John Alessio by unanimous decision. Barring a comeback, it will go down as the final win of his career.
Luke Rockhold out of 11/3 title defense against Lorenz Larkin. In what could prove to be the kill shot for Strikeforce, Luke Rockhold withdrew from his November title defense with a wrist injury. The loss of Rockhold is the second high profile blow to the card, with the other being the injury to original headliner Frank Mir. If the card goes through, it will be Daniel Cormier in the main event against an unnamed opponent. The name Pat Barry has been floated by Cormier, which would be somewhat disappointing as Cormier should be fighting a top level guy, but at least it's a fight, and you can't ask for much more than that on such short notice.
Full World Series of Fighting card for 11/3 revealed. MMA's newest promotion finalized its debut card for November 3 on NBC Sports Network. The show will be headlined by former UFC champion Andrei Arlovski against Devin Cole. Arlovski, 33, hasn't lost in three fights since being knocked out in the opening round of the Strikeforce Heavyweight Grand Prix last year. Cole's name came up as a replacement opponent to fight Travis Browne at UFC on Fox 4 after Ben Rothwell got injured, but a prior arrest and guilty plea to sexual harassment and assault caused a brief controversy. In the co-main event, UFC vet Anthony Johnson fights DJ Linderman in a light heavyweight bout. At bantamweight, former WEC champ Miguel Torres will fight Marlon Moraes, with the winner fighter Tyson Nam at WSOF's planned second event in January. Rounding out the main card is Gregor Gracie vs. Tyson Steele. Notables on the prelims include kickboxing Tyron Spong making his MMA debut against Travis Bartlett, three UFC veteran battles with Ronys Torres vs. Brian Cobb, Gerald Harris vs. Josh Burkman, and Dave Branch vs. Dustin Jacoby. There's also JZ Cavalcante vs. TJ O'Brien, and Waylon Lowe fights Fabio Mello. Ratings on NBC Sports Network as a whole aren't good, so we'll see how this goes. I'm sure WSOF would be more than happy if Strikeforce folded, or at least cancelled their show for the same night. They should also be rooting for the NHL lockout to wipe out the season, as that would leave a programming gap for NBC Sports Network, which could result in them getting behind WSOF and giving them a better deal.

---
Thanks for reading; I hope you enjoyed it. Feel free to leave any feedback in the comment box or at the e-mail address below. Follow @Dan_Plunkett

NULL
comments powered by Disqus