The Greatest MMA News Column 11.13.12: GSP-Condit, Rousey to UFC, UFC on FOX 6, More
November 13, 2012 | Posted by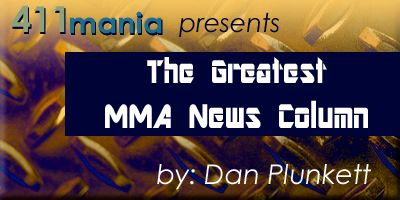 St-Pierre vs. Condit Preview
UFC welterweight champion and all-time great Georges St-Pierre will return to the Octagon on Saturday for the first time in nearly nineteen months. St-Pierre, 31, has been sidelined due to an ACL tear last December while training for a scheduled February bout against Nick Diaz. When St-Pierre hit the bench, Carlos Condit stepped in to battle Diaz. The underdog going in, Condit escaped with a close decision victory. The controversial finish may very well have led to an immediate rematch had Diaz not been suspended one year for a failed drug test following the fight.
Since crossing over from the WEC (where he was their welterweight champion) in 2009, Condit has transformed himself from a fighter that seemed like he would be a career top-10-to-15 fighter but never quite one of the truly elite of the division, to one that poses a legitimate threat to the best welterweight to ever live. Condit began his UFC stint on a decision loss to Martin Kampmann in one of the top fights of the year. He followed that up with another excellent fight against a then-unknown Jake Ellenberger, winning a tight decision. Next, he faced a very young upstart in Rory MacDonald. MacDonald clearly won each of the first rounds before Condit came back and finished the fight with just 7 seconds on the clock. Had the fight not been stopped, and it was a somewhat controversial stoppage, it's possible if not likely Condit would have dropped the decision (the best he could've hoped for would have been a draw). All three were very good fights to say the least, but Condit's performances didn't make people take notice of him and consider him a viable title threat.
Over his next two fights, Carlos Condit the title contender emerged. First he scored a first round knockout of Dan Hardy, at the time fresh off a title shot. Then he handed Dong Hyun Kim the first loss of his career with a spectacular flying knee knockout in round one. Eventually, those wins led to the bout with Diaz, where he won the interim welterweight title in St-Pierre's absence.
A large part of the intrigue in St-Pierre vs. Condit comes from the fact that St-Pierre is coming off such a devastating injury. In most cases, athletes aren't back to their full power just eleven months removed from an ACL tear, and some are never able to return to their previous level. Couple that with ring rust being a very real factor in mixed martial arts and it could become a disastrous recipe for St-Pierre. It's one thing to return from an extended absence due to injury in the middle of the card, but it's another thing entirely to compete against a world class fighter immediately upon returning from a career changing injury.
A healthy St-Pierre would be much easier to pick against Condit because it's well known what he's capable of. GSP at his best is an excellent wrestler, a top level guard passer, a very competent striker, a smart fighter, and very well-conditioned. However, the GSP that will fight Carlos Condit on Saturday may not be that guy. It's very possible the knee injury has affected his wrestling for the worse. Perhaps he's still not comfortable on his knee, which is sometimes an issue for athletes coming off an ACL tear. Surely he will come in great physical condition, but it's not uncommon for fighters returning from long absences to suffer conditioning issues their first time back. Maybe the time away from a real fight situation will hinder his timing in the striking game, which could have devastating effects.
In all likelihood, that Georges St-Pierre that enters the cage on Saturday night won't be as good as the Georges St-Pierre that entered the cage against Jake Shields in April 2011 or as good as the Georges St-Pierre that will enter the cage his next time out. That makes an impressive performance on Saturday even more impressive, and lends an excuse for a poor performance. Even so, St-Pierre is still heavily favored heading into the bout because of the impression his performances have left over the past five years. Ever since his last loss in April 2007, St-Pierre has been untouchable, winning nine consecutive fights in dominant fashion. The fight against Shields saw an end to an unprecedented streak of 29 consecutive full rounds won on all judges' cards in championship bouts (and he's won every round of every fight on at least one judge's scorecard in his past nine bouts). That string of performances is why he's a 2.5-1 favorite against a world class fighter despite likely not being at his best.
Condit's best chance is to catch St-Pierre standing. He has a very diverse attack and has scored knockouts in a variety of ways, which makes him a threat everywhere. His defensive wrestling probably won't be good enough to stay off his back, but that's no guarantee until we see where Georges is at with his wrestling. Condit is very active on the ground with strikes and submissions, but he's not as skilled as St-Pierre there and overzealousness could result in him giving up position. If St-Pierre does tire late in the fight, Condit is the type of fighter that will attempt to capitalize no matter how exhausted he is. Condit's had a number of fights where he seems completely gassed but he's as active as most fighters only can be in the first round.
Ultimately, St-Pierre's wrestling and grappling advantages have to make him the favorite, but Condit has a better chance of winning than any of GSP's opponents in at least the past three years. Whether or not the relative unpredictability of the fight will be reflected in the amount of pay-per-view purchases the show accumulates is another story. I fully expect UFC 154 to mark the least-purchased PPV headlined by St-Pierre in four years. St-Pierre was in a better position to draw in each of his last five title defenses due to strong builds (Dan Hardy, Josh Koscheck), stacked cards (Thiago Alves), and a big name opponent (BJ Penn). The build for the fight on UFC Primetime has been good, but not great. The main story being conveyed is St-Pierre's return, and whatever this show does can be attributed to that. The "star returning from a lengthy absence" story was a huge success with Brock Lesnar at UFC 116 (UFC's second biggest PPV ever), but that show got more media coverage, Lesnar was a bigger PPV star, and UFC was a much hotter commodity. Condit isn't a big star (though his bout with Diaz did relatively well), he doesn't have any heated rivalry with St-Pierre except in the context of sport, and overall the card is fairly weak.
Anything under 600,000 buys, or even anything approaching that number, would be a disappointment. I definitely don't see it doing under 600,000 buys, but I don't have confidence it will reach the 700,000 buys the Jon Jones vs. Rashad Evans event did. Even though there's less than a week to go before the event, it's tough to make the most educated of guesses until the day of or before the fight. And this is a special case where a big part of the promotion of the fight, UFC Primetime, won't air its final episode until the night before the show. The audience for that show won't be huge, but a strong episode could make a fairly significant difference. There's no shame in doing below 770,000 buys (currently the lowest St-Pierre total in the past four years), and if the number breaks 700,000 (making it the second or third biggest show of the year) it's a success.

---
---
NEWS!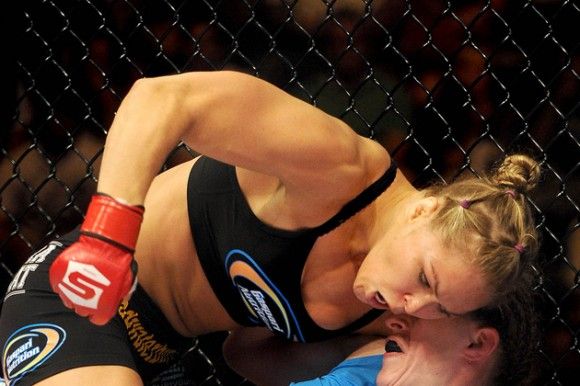 Strikeforce folding; Rousey to UFC. TMZ broke the news that Strikeforce will fold after its January 12 event and Ronda Rousey will make her way to the UFC. This move was really inevitable; it was just a matter of when. The relationship between Zuffa and Showtime took a big hit when the latter decided not to air events in September and November, forcing Strikeforce to cancel the events. Rousey's bantamweight title will transfer over to the UFC, giving the company nine champions. That's really too many champions and divisions for the UFC, but unlike the lightweight, featherweight, bantamweight, and flyweight divisions, at least the women's bantamweight champion will be a star and legitimate draw. Details are few and far between, and it's not known if UFC will only promote women for Rousey fights or if they'll create a small division. I'd opt for the latter, because it would help build future challengers for Rousey.
At this point, Rousey has proven to be a ratings draw with a strong number for the Kaufman fight despite an unknown opponent, but drawing and television and drawing on PPV are different things. My feeling is that a bout with Cyborg would do well and bring in a number above the UFC's median (which is 375,000 buys to this point in 2012). Whether or not it's the Cyborg fight, the first Rousey fight in the UFC is going to get far more media coverage than the typical event because of its historical value and novelty. Some have suggested giving both Rousey and Cyborg a fight to build up the match for later next year, but I wouldn't risk the bout falling apart due to a loss. As a general rule, when you have a money fight and can make it, you make it. The interesting thing about that fight is if Cyborg wins, it's not clear where the UFC would go from there. Even after a loss Rousey would still be a star, but it would hurt her momentum, and Cyborg not being able to make the 135-pound limit hurts their ability to build a division there if that's their intention.
Should Rousey win the Cyborg bout, how well she'll draw is less clear. She'll certainly draw on free TV, but she'll have to prove women fighting on PPV aren't a one-time novelty, which is an unfortunate thing to have to prove. One would hope it doesn't prove to be a luxury reserved for only the biggest women's fights, because PPV success will give more women opportunities to make real money in MMA. But even in a worst case scenario where Rousey doesn't draw even reasonably well on PPV, which I find quite unlikely, she's still a valuable asset as a television draw.
UFC on FOX 6 card fills up. UFC announced the flyweight title bout between Demetrious Johnson and John Dodson will headline their sixth FOX special from Chicago, but it certainly won't be the fight that draws viewership. Johnson and Dodson aren't name fighters with the public, and their placement in the main event on FOX is attempting to fix that. Rampage Jackson, who has verbally agreed to face Glover Teixeira, is the main draw of the show. Despite losing two straight, Jackson is still a name and him fighting on free TV will draw to a degree. Third from the top is a lightweight bout between Donald Cerrone and Anthony Pettis, which should be great. Also scheduled are Erik Koch vs. Ricardo Lamas and Clay Guida vs. Hatsu Hioki, one of which will get a main card slot. I expect this show to fall behind the first, second, and fifth UFC on FOX shows in the ratings, but it looks to be a great action card. Cerrone vs. Pettis is a fight that you look at as one with the potential to be among the year's best. Rampage vs. Teixeira should provide fireworks. Koch and Lamas generally put on good fights. The main event may be similar to the last flyweight title fight, which didn't get over with the live crowd, but both Johnson and Dodson have had great fights before that there's strong potential.
Strikeforce's final event is loaded. Unless things change, the final event in Strikeforce history will go down on January 12, 2013, nearly seven years after the promotion's first MMA event. The card is stacked with three title fights, virtually ensuring the card will go on even if it's plagued by injuries like the last two events that were later cancelled. The main event will be Gilbert Melendez vs. Pat Healy for the lightweight title, which is a fitting end as Melendez has been an enduring star of the company since its inception. Underneath that is a middleweight title fight with Luke Rockhold defending against Lorenz Larkin, which was originally scheduled for the November show until Rockhold got hurt. Jacare Souza really should be getting the title shot, but it's a moot point since the company is folding. A welterweight title fight is also in the cards, with Nate Marquardt defending against Tarec Saffiedine. Also, Daniel Cormier will be featured against Dion Staring, who hopefully has a good insurance policy. Hopefully this goes better than the last time Strikeforce tried to put three title fights on one card.
World Series of Fighting gate and ratings information is in. World Series of Fighting noted publicly that they were expecting a sellout for their November 3 debut show, which was pretty much out of the question. Las Vegas is a tough market for the UFC to sell tickets in for everything but the biggest events. Realistically, WSOF presented a card with fights the quality of a UFC Fight Night type event, with the biggest star being an Andrei Arlovski that hasn't had real success in years, under the banner of a brand that was in no way established. The show pulled in an $82,608.22 gate with 1,499 tickets sold and 4,076 comps. That total gate is about four times less than the total disclosed fighter payroll of the show. Considering the show was a time buy on NBC Sports Network, it makes the show a big money loser. The show averaged 198,000 viewers in its live airing, which from what I can tell is above what NBCSN usually draws in prime time, but it's far below what WEC and UFC did on the same channel. Realistically, the first show wasn't meant to be a success, but to show they can put on a good show and to expose themselves to television networks interested in MMA programming. If they can parlay the first show into a TV deal, than it was a success in that it accomplished what it set out to do no matter the money hit they took. Now with Strikeforce finishing up with Showtime, things seem to be looking up for the Las Vegas-based WSOF.
Minotauro Nogueira and Fabricio Werdum named TUF Brazil coaches. This actually happened during my week off but I forgot to write about it last week. Nogueira, one of the most popular fighters in Brazil, and Werdum will coach on the show and fight in June. Their fight will be a rematch from 2006, when Nogueira won a decision. I don't expect things to go as well for Nogueira this time, as Werdum is better on the ground and the faster fighter on the feet.
Dan Henderson vs. Lyoto Machida likely for UFC 156. UFC's annual Super Bowl Weekend card is stacking up nicely, with two big light heavyweight bouts featured under a legitimate super-fight for the featherweight title. The show, which goes down February 3 in Las Vegas, is headlined by Jose Aldo vs. Frankie Edgar. Also on the card is Rashad Evans, returning for the first time since losing to Jon Jones in April, against Antonio Rogerio Nogueira, himself returning from a lengthy absence. Dan Henderson has confirmed the likelihood of his participation in the event where he's slated to fight Lyoto Machida. I don't think it will do strong business, perhaps it'll do better than expected like with UFC 144 this year, but on paper it's a very interesting show.

---
Thanks for reading; I hope you enjoyed it. Feel free to leave any feedback in the comment box or at the e-mail address below. Follow @Dan_Plunkett

comments powered by Disqus