The Greatest MMA News Column 11.20.12: Silva vs. GSP, UFC 154, Overeem Returns, More
November 20, 2012 | Posted by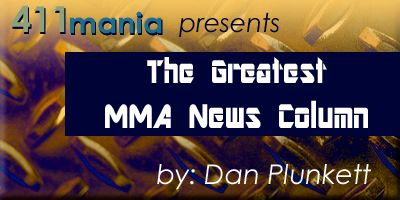 St-Pierre beats Condit, Silva Super-Fight Looms
After nearly four years of build, the Anderson Silva vs. Georges St-Pierre super-fight only had one more hurdle to clear heading into Saturday night before becoming a reality. That hurdle was a fairly significant one considering St-Pierre's time off, the severity of the injury that caused his time off, and the talent of his opponent. However, it was a hurdle St-Pierre cleared surprisingly easily, save for one kick to the face.
Throughout St-Pierre's welterweight title defense against Carlos Condit Saturday night, Silva was shown on camera in the corner of the screen waiting to see if his hoped-for next challenger would emerge victorious. When St-Pierre won the bout and was questioned about a fight with Silva, he was as noncommittal as ever, but both Silva and the UFC have displayed a lot of interest in the fight.
The build for Silva vs. St-Pierre just as St-Pierre finished up a super-fight against another champion, then-lightweight champ BJ Penn on January 31, 2009. St-Pierre easily controlled the smaller man with his wrestling and strong top game, resulting in a one-sided beating. The dominant performance instantly put Georges in strong contention with middleweight champion Anderson Silva over the top pound-for-pound fighter in the world crown. However, the two weren't destined to meet just yet. Silva had a disappointing fight with Thales Leites followed by a breathtaking performance against Forrest Griffin to round out his schedule in 2009. St-Pierre fought top contender Thiago Alves and dominated him, and then in March 2010 routed Dan Hardy in their title match.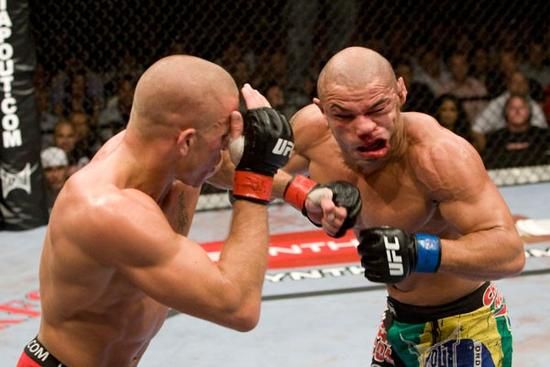 Prior to Silva's April 2010 bout with Demian Maia, talk surfaced of a bout with St-Pierre. At that point in time, Silva was confident he could make the 170-pound limit for a fight against St-Pierre, and so it was noted on the broadcast of the Silva vs. Maia PPV that if Silva won he'd fight St-Pierre for the welterweight title. That announcement turned out to be preemptive though, as Silva proceeded to toy with Maia early, before deciding to do as little as possible. The fight angered and embarrassed Dana White and resulted in the company scrapping the planned St-Pierre bout. Instead, Silva would be matched up with Chael Sonnen, while St-Pierre would be challenged by Josh Koscheck.
The Sonnen fight showed exactly why many people thought St-Pierre could beat Silva. For nearly the entirety of the fight, Sonnen took Silva down and beat him up on the ground. That is, until the final three minutes of the fight, when Silva scored a Hail Mary submission to keep his title. St-Pierre fought Koscheck at the end of the year, silencing critics that he had evolved into nothing more than a wrestler with a dominant striking performance in a decision victory.
Silva then fought Vitor Belfort, knocking him out with a front kick to the face, which was a fancy way of telling people the Sonnen bout with not a sign of age catching up with him, as some theorized. Talk again sprung up of a Silva-GSP bout, pending the result of St-Pierre's upcoming bout with Jake Shields. UFC president Dana White wouldn't promise the bout, but he was clearly interested. In April of 2011, St-Pierre fought Shields and turned in a disappointing, yet still one-sided performance. For whatever reason, perhaps due to St-Pierre's performance or Nick Diaz's UFC arrival, super-fight talk died with after UFC 129. Silva returned in August, easily dispatching longtime contender Yushin Okami.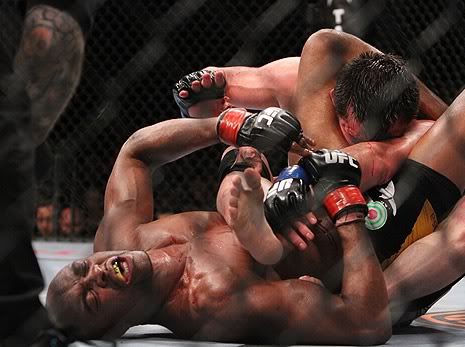 While St-Pierre was out of commission with a torn ACL, Silva had his long-awaited rematch with Chael Sonnen. No matter how the fight ended, it certainly wasn't a one-sided affair. Sonnen dominated the first round on the ground, debatably warranting a 10-8 score. Then Sonnen failed to take Silva down in the second round, which quickly led to his demise. In October of this year, Silva filled in when the UFC needed a last minute main event to fight light heavyweight Stephan Bonnar. Silva was predictably dominant against the career middle-of-the-road light heavyweight, but he was impressive nonetheless.
Even after St-Pierre impressed against Condit, reaction to the prospect of a super-fight of such magnitude has been somewhat tepid. Silva is too big for St-Pierre, they say. There's no reason to make a super-fight when Silva has so many challengers, they say. St-Pierre has too many challengers too, they say. A Silva-Jon Jones fight would be far more desirable, they say. It's difficult to say someone is wrong for their opinion, but in this case "they" are wrong.
For more than four years, the two constants atop the UFC have been Silva and St-Pierre. They are, in my mind without question, the top two mixed martial arts fighters there have ever been. Given the short history of the sport and evolution of fighting over just the past twenty years, it's probably not a stroke of luck that the top two fighters ever are currently fighting and by all indications in their prime, but it's lucky they're so close in weight. Eventually, and whether this is already happening or is twenty years away, there will be a time when the crop of fighters competing at the time aren't going to be so obviously better than the generation that preceded them. At that point, matching up the best two guys ever will be virtually impossible. Right now, the opportunity is there for that to happen and there isn't an unreasonable difference in weight.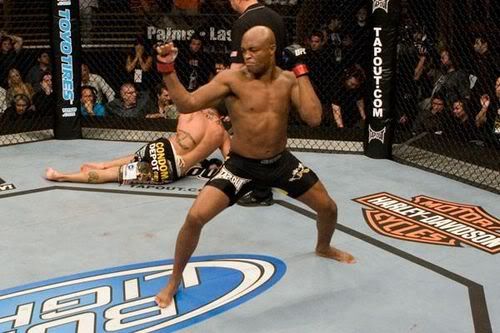 There is certainly a disparity in weight and build between Silva and St-Pierre, but that's no reason to say it shouldn't happen or it will be one-sided. With a fighter as talented as St-Pierre that's thoroughly dominated fighter after fighter after fighter in his weight class, it's an insult to write off his chances. What St-Pierre has in his arsenal that gives him a chance is his ability to close the distance and take his opponents down consistently. Sure, due to his size disadvantage he'd likely have a tougher time once on the ground than say Chael Sonnen did, but he's also far better at recognizing and evading submission attempts than Sonnen. Perhaps he wouldn't be able to take down Silva consistently, in which case his odds drop substantially, but that's not reason enough to rob him of a chance. He's also a very smart fighter with a team of master game planners behind him.
It is true there are a number of top challengers in both the middleweight and welterweight divisions, and making Silva vs. St-Pierre would put both on hold until at least the fall of 2013. I don't really understand this reason. Who has earned the right to fight whoever they want more than Silva and St-Pierre? Certainly not Chris Weidman, Tim Boetsch, Michael Bisping, Vitor Belfort, Johny Hendricks, or Nick Diaz. Sure, it's understandable that people want to see Weidman or Bisping fight Silva and Hendricks or Diaz fight St-Pierre, but it's not as though the fight is making them go away forever. By the time they return to defend their titles, all of the top contenders could have fought to create one clear top title challenger. And if St-Pierre ends up defeating Silva, that's far more historic and memorable than say, Bisping beating Silva. It might be a different argument if the layoff due to the super-fight hurt the value of the titles, but historically that hasn't been the case. After Penn fought and lost to St-Pierre, he was a bigger star than ever before. Sure, the fighter that beat him didn't become a draw, but that's on the fighter and not the belt. Say if St-Pierre lost to Silva and then lost to Nick Diaz, Diaz wouldn't draw less because St-Pierre had lost to Silva.
Wanting to see Anderson Silva fight Jon Jones is not a reason for not wanting to see Silva fight St-Pierre. This isn't the case of getting to see one or the other; in fact it's quite the contrary. As reported in the Wrestling Observer Newsletter, the UFC would like to do Silva vs. Jones at the end of next year should both keep winning. If St-Pierre were to beat Silva, then it just shows there was never any real reason to see Jones vs. Silva in the first place.
The fact of the matter is Silva vs. St-Pierre has a very reasonable chance to end up as the biggest single fight UFC has ever put on. UFC's hope to fill Cowboys Stadium is quite unlikely, but with the biggest two draws in the company it would be a disappointment if it didn't end up with their second-biggest PPV number ever. It's a fight that shines a bigger spotlight on the product and sport at a time when it's popularity in North America isn't as big as it was two years ago. There's little doubt that the right move for business and sport is Anderson Silva vs. Georges St-Pierre.

---
---
UFC 154 Thoughts
Despite the first ten fights of the night being generally underwhelming, UFC 154 turned out to be a good show and did a great job of building towards future fights. Before the top two fights hit the cage, seven fights had gone the distance, which isn't necessarily a bad thing, but it can make the show seem to drag a bit. Then Johny Hendricks scored a thunderous knockout over Martin Kampmann, setting him up for either a title match or yet another battle with a top contender. The atmosphere for the main event was astounding and truly added to the emotion and story of the fight. On the strength of the top two fights alone, the show was a thumbs up.

At the gate, the show did a reported 17,249 fans for a $3,143,000 gate. Both figures are the lowest of the five events UFC held in Monteal's Bell Centre. That fact has to be somewhat disappointing, given that it was the return of Georges St-Pierre after such a long absence. But, all of the other shows in the area took place between April 2008 and December 2010, when the company as a whole was way hotter. The show was St-Pierre's third UFC headliner in his hometown, drawing significantly below his first two efforts ($5.1 million and $4.5 million gates, respectively). For the first fight in Montreal at UFC 83, GSP wasn't as big of a star as he is now, but it was the UFC's first trip there, and the first UFC in a market generally performs best at the gate. His second fight, at UFC 124, had a bigger name opponent in Josh Koscheck (a fighter that played a strong antagonist to the crowd in a fight in the market earlier in the year) and a stronger build with a season of "The Ultimate Fighter."

As far as PPV, obviously no numbers have been released or reported, but all signs are very positive. Historically, search trends have shown to be fairly accurate of at least finding a range of how the show ended up doing on PPV. The far from exact science involves taking the number of Google search trends and doubling it. Obviously, it's a method that has been misleading at times; perhaps most notably in the case of the first Anderson Silva vs. Chael Sonnen fight. That means Google trends are a good indicator of interest in a fight or event, but interest doesn't necessarily equal buys. Furthermore, it's flawed in that it's only a measure of Unites States searches, and the UFC does a good chunk of its PPV business in Canada. However, there's a reason it's something that's talked about, which is because it's proved itself to have some merit. Trend figures for the past three UFC PPV events were all in the range the almighty Google trends list indicated.
The reason I write that long precursor is because trends for UFC 154 indicate one million buys, a total UFC hasn't hit in two years. Furthermore, logic would indicate interest in this event in Canada would be stronger than usual because Georges always does big numbers there, so in theory the search trend indicator would be on the low side. Now, I don't think the show did one million buys or came anywhere close to it. The fight didn't seem to have near the level of attention or buzz as the July Silva vs. Sonnen rematch, which failed to reach one million buys. Overall, "UFC" and related terms were the most searched items of the weekend, so million buys or not, there was at least some level of interest in the product. That interest bodes well for a St-Pierre vs. Silva match, which would receive far more media coverage and promotion than the Condit bout.
The main event was an excellent fight between the returning welterweight champion Georges St-Pierre and Carlos Condit. St-Pierre, returning from a nearly 19-month absence due to an ACL tear, looked just about as good as he could have coming back from such an injury and layoff. Georges certainly wasn't afraid to stand with Condit and landed good punches throughout the fight, but he once again relied heavily on his bread and butter in the wrestling game. Any questions that may have lingered in the aftermath of the Matt Serra fight of Georges being a front-runner were quelled when he was floored by a Condit head kick early in the third round. St-Pierre defended himself and gathered his bearings relatively quickly, soon after turning the tide on Condit with a takedown. St-Pierre did seem to tire slightly in the final round, and while that's uncharacteristic of him, it wasn't unexpected given the layoff.

No matter the loss, Condit looked very good in the bout and it may be looked upon as a star-making fight for him down the road. He did well standing but was timid early on due to St-Pierre's wrestling threat. Condit's well-noted weak takedown defense played a key role in the bout, with Georges taking him down at will. As expected, Condit gave St-Pierre not a second to rest on the ground, and every time Georges passed his guard Condit would either retain guard or find his way to his feet. The loss wasn't so one-sided like the GSP-Fitch fight were a rematch wouldn't be interesting at some point down the line, but Condit will have to win two or three more fights before getting to that point.
Johny Hendricks made a big statement with a quick knockout win over Martin Kampmann. The 29-year-old has won his last five fights, with the past three wins coming against elite fighters in the welterweight division. First came a fast knockout of Jon Fitch, then a close split decision victory over Josh Kosheck, and finally Saturday's win against Kampmann. Hendricks has strong wrestling and a lot of power, which makes him a threat to St-Pierre, but not a huge threat. Essentially, Hendricks has a better chance than the usual puncher's chance because his punch is really hard, but St-Pierre is still a far more refined striker that doesn't have quite the defensive deficiencies of Martin Kampmann. Hendricks won't be easy for St-Pierre to take down, but the champion is still the better wrestler of the two. Regardless of his chances, it's a fight he's more than earned, but if he's going to wait for St-Pierre, I'd like to see him take another fight in the interim, though it may be better for him to play it safe.
Tom Lawlor fought Francis Carmont in a dull bout that resulted in a bad decision for Carmont. The decision should have went to Lawlor, but there wasn't too much of an uproar because they didn't make anyone care about the fight with their respective performances. Lawlor continually pushed Carmont against the fence and looked for takedowns, while Carmont just defended. Bad fight, bad decision, not Lawlor's best entrance (he chose to reenact the music video to The Offspring's "Pretty Fly for a White Guy"), but all of those were made up for by the top two fights being so good.
Rafael dos Anjos vs. Mark Bocek got switched to the main card after Nick Ring fell ill and his fight with Costa Philippou had to be cancelled. Dos Anjos looked as good as ever and thoroughly controlled Bocek throughout the fight. It wasn't a bad fight or a particularly good fight; it was just kind of there. Still, Dos Anjos' performance should land him a top opponent next time out.
In the main card opener, Pablo Garza clearly beat Mark Hominick, the Canadian's fourth consecutive loss stemming back to his title fight with Jose Aldo last year. I have to admit I've underrated Garza since his quick submission loss to Tiquan Zhang in the WEC; he looked good here. The first round was excellent with both fighters having periods of advantage. In terms of pure fight quality, it was the best round of the night. Garza then took Hominick down in rounds two and three and "The Machine" could do nothing of substance off his back. Hominick, 30, is in danger of being released following the loss. If he gets another chance, it will be due to his tendency to have good fights. This was a fighter that just eighteen months ago was coming off a title match Fight of the Year candidate and was just two more wins away from a title shot. Between Aldo and Garza, Hominick was knocked out by Chan Sung Jung in record time and lost a decision to Eddie Yagin.
The preliminary card was a mixed bag. In the final fight of the FX telecast, Patrick Cote won by DQ over Alessio Sakara. The fight was an excellent 86 second bout, with Cote hurting Sakara, then Sakara hurting Cote with standing elbows leading to the finish of the fight. On the verge of victory, Sakara landed punch after punch to the back of Cote's head. Referee Dan Miragliotta failed to do his job and protect the fighter receiving the illegal blows. Eventually, Sakara's rabbit punches knocked Cote out and Miragliotta stepped in. While the seven-to-nine punches hit the back of Cote's head, Miragliotta claims he gave Sakara two verbal warnings, but after his first warning wasn't complied with he should have stepped in. When a fighter is hit in the groin, the bout is instantly halted. But when a fighter is hit in the back of the head – a far more dangerous blow – fighters are simply given multiple warnings and the bout continues? How does that make sense? For as controversial (and wrong) as Steve Mazzagatti's call during the first Brock Lesnar-Frank Mir bout was after just one or two blows to the back of the head, I'd much prefer that to what Miragliotta did on Saturday. It was a truly awful performance.

At light heavyweight, Cyrille Diabate beat down Chad Griggs and submitted him in the first round. It wasn't a pretty fight, but it was exciting. John Makdessi beat Sam Stout by decision in a lightweight bout. Virtually the entire fight was contested on the feet and I thought it was a fun fight, though unspectacular. Antonio Carvalho and Rodrigo Damm had a terrible fight that saw Carvalho win a decision. On the Facebook prelims, Matt Riddle beat John Maguire, Ivan Menjivar had an awesome armbar win over Azamat Gashimov, and Darren Elkins dominated Steven Siler.






---
---
NEWS!
Alistair Overeem vs. Antonio Silva booked for Super Bowl Weekend UFC PPV. UFC's annual Super Bowl Weekend show added another big fight, but it also has one taken away as the Dan Henderson vs. Lyoto Machida match has been moved to 2/23. Overeem will return for the first time since beating Brock Lesnar last December when he faces Antonio Silva. He was initially supposed to wait for the winner of December's Junior dos Santos vs. Cain Velasquez match, but apparently he wanted to stay active. Bigfoot Silva is an opponent Overeem should beat, but it is risking a money match. Overeem doesn't have the best chin and has tired in the past, so Silva certainly has a chance. Before the fight will go down, Overeem will have to obtain a license from the NAC, but I don't see that being an issue considering how easily he got off in his last hearing.
UFC will ask Renan Barao to defend interim title. Interim champs these days tend to sit around and wait for the real champion to come back, but the UFC will apparently ask Barao, who won the title against Urijah Faber in July, to defend the belt. That defense will most likely come against Michael McDonald, which should be an awesome fight. Barao isn't going to draw anything, but unless there's a belt of a higher weight class on the card he'll get the main event slot.
Shane Carwin, Gray Maynard bitten by the injury bug. Both Shane Carwin and Gray Maynard pulled out of fights this week due to injury. Carwin injured his knee and has been replaced by Matt Mitrione against Roy Nelson. I'd still expect Carwin to face Nelson once he returns, so the TUF season wasn't a complete waste. Maynard was slated to fight Joe Lauzon on the New Year's Eve Weekend card, and has been replaced by Jim Miller. Miller vs. Lauzon should be an excellent fight.
Jon Fitch meets Demian Maia February 2. Another fight added to the UFC's Super Bowl Weekend show was this welterweight match. This is going to be either really great or really bad and I'm excited for it either way. The story of the fight will be Maia is a master submission specialist while Fitch is nearly impossible to submit. That would be a stronger story if there wasn't a fifteen minute time limit and fights didn't go to it more often than not. Regardless, it's an intriguing fight.

---
Thanks for reading; I hope you enjoyed it. Feel free to leave any feedback in the comment box or at the e-mail address below. Follow @Dan_Plunkett

NULL
comments powered by Disqus