The Greatest MMA News Column 12.18.12: Weekend Review, Ratings, UFC 158, More
December 18, 2012 | Posted by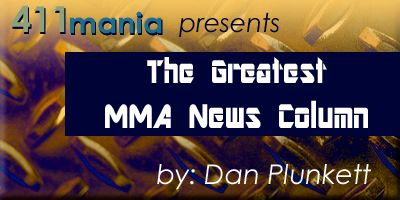 MMA Weekend Review
UFC ran events on consecutive days over the weekend and both were good shows. On Friday, UFC ran a show from Queensland, Australia which served as the culmination of the UK vs. Australia version of The Ultimate Fighter. Live, the show did a reported $900,000 gate with slightly more than 5,000 in attendance. Both numbers are far smaller than UFC's last trip to Australia, also for an FX event, but this show was held in a far smaller arena and a different city. Just under one million viewers tuned in for the broadcast on FX (970,000), which is the lowest number of the six "UFC on FX" events. Considering the lack of star power, promotion, and the fact it came just one day before a more hyped TV card, that number isn't terrible. In the main event, Ross Pearson finished George Sotiropoulos with punches in the third round. Before that, Pearson had knocked Sotiropoulos down in each round. Sotiropoulos' best offense came at the end of the first round when he took Pearson's back, but he wasn't able to do much else. He's a guy with limited striking ability, a highly questionable chin, and relatively poor takedowns to go along with excellent grappling ability. It wasn't long ago that he was considered a top title contender at lightweight, but three consecutive losses later (two by stoppage) and at 35-years-old, Sotiropoulos' chances of becoming a title contender don't look strong.
In an interesting story, Ross Pearson claims his feud with Sotiropoulos began when George got into an argument with his boxing coach that ultimately came to blows. According to Pearson the exchange ended with his coach knocking Sotiropoulos out.
Elsewhere on that show, Norman Parke and Robert Whittaker were named "The Ultimate Fighter" at lightweight and welterweight, respectively. Parke defeated Colin Fletcher, while Whittaker beat Bradley Scott in a good fight. In the main card opener, Hector Lombard hunted down Rousimar Palhares and finished him with strikes three-and-a-half minutes into the first round. It was the type of performance that UFC wished they saw from Lombard in his debut. After the fight, he called out Michael Bisping, who's currently slated to face Vitor Belfort in January. That was a good move, as Bisping would be a big name opponent and give Lombard a real chance to breakout as a star. Unfortunately for him, unless Bisping loses in January or the Belfort fight is changed due to injury, he may not get that fight anytime soon.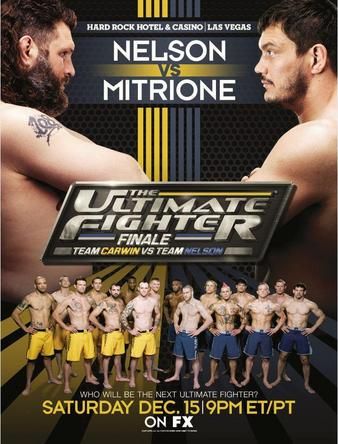 The next night in Las Vegas UFC put on another good show. The only disappointment of the night was the Melvin Guillard vs. Jamie Varner getting scrapped due to Varner falling ill. That fight may be rescheduled for the 12/29 PPV show, but that isn't definite. The show did a $318,000 gate from an estimated attendance of 2,500. That's a higher attendance than usual for TUF Finale events, perhaps helped by a change of venue (UFC switched from the Palms to the Hard Rock), but the gate is the lowest for a TUF Finale I could find records for. In the main event, Roy Nelson scored a TKO win over Matt Mitrione in the first round. Mitrione looked good until getting caught by a Nelson uppercut that caused a knockdown and ultimately led to the finish. Before that, Nelson took a number of hard kicks to the body and arm. Nelson stated after the fight he was done with Shane Carwin, but I think that fight still makes sense for whenever Carwin can make it back.
Colton Smith out-grappled Mike Ricci to win The Ultimate Fighter 16 tournament in the welterweight class. Ricci was the favorite going in and Smith's performance was fairly impressive. Pat Barry beat Shane del Rosario with a huge knockout early in the second round. Barry fired off a combination that sent Del Rosario into retreat, and "HD" followed after and threw bombs until the former Strikeforce prospect went down. It's really unfortunate that Barry, 33, isn't a more skilled fighter because with his personality he'd be a real superstar. In the main card opener, Dustin Poirier submitted Jonathan Brookins in a very good opener. Brookins hurt Poirier early, then Poirier hurt Brookins and submitted him.
At Bellator 84 on Friday they crowned a new heavyweight champion in light of former champion Cole Konrad's abrupt retirement. Alexander Volkov, 24, won a decision over Richard Hale in a dull affair to win the belt. It was the second tournament final in which Hale failed to capture Bellator gold, the first being his TKO loss to Christian M'Pumbu last year at light heavyweight. The finals of the lightweight tournament were supposed to take place on the show, but competitor Marcin Held was not allowed to compete due to being under 21-years-old, which is the required age to fight on casino grounds according to the Indiana Gaming Commission. That's a prime Strikeforce level blunder. Held's match against Dave Jensen has now been postponed until season eight, by which time Bellator will be on Spike TV.

---
UFC on FOX 5 ratings details. Last week I noted the preliminary numbers showed 3.41 million viewers for UFC on FOX 5, which would be categorized as okay, but the final numbers were rounded up significantly. Once west coast viewership was factored in (the part of the country UFC is most popular) along with the 30+ minute overrun that featured the entirety of the main event championship match, the show had an average of 4.39 million viewers for a 2.5 rating. That a huge increase from the previous two UFC shows on FOX, though down a bit from the 4.7 million viewers and 2.7 rating the second show did (the first show outdrew both by a considerable margin). In the key demos the show excelled. The 3.5 rating in males 18-34 was the third highest in that demo on network TV for the entire week. In males 35-49, the show did a 4.5 rating, an unusually high number for a UFC event. The event gained viewers throughout, starting out at 3.6 million viewers for Matt Brown vs. Mike Swick. The Rory MacDonald-BJ Penn bout gained 700,000 viewers, which is a good number for a fight in that position. Shogun Rua vs. Alexander Gustafsson added 200,000 viewers for 4.5 million viewers. The main event, aided by starting at the top of the hour and going the distance, gained 1.2 million viewers, which is an excellent number. All numbers will increase when ratings for MundoFOX become available.
The main event gain is lower than only Kimbo Slice's first CBS fight, Gina Carano's two CBS fights, Ken Shamrock vs. Tito Ortiz, and Fedor Emelianenko vs. Brett Rogers. That shows that, despite neither Henderson nor Diaz being top level names, people were interested in seeing the title fight. That shows they can headline with two lesser-known guys in title fights, but they'll probably still need at least one big name fighter on the undercard as well as a good promotional push. To me, the promotion for the show was noticeably better than the last show, perhaps solely due to the ads running during NFL games, and far and away better than advertising for the third show.
For the sixth UFC on FOX show on January 26, they have a title fight main event but with fighters that are significantly less known than even Henderson and Diaz. The key is Rampage Jackson in the co-main event. Certainly, Rampage is a much bigger name than Shogun Rua, the co-main event on the fifth show, but at best he's only debatably a bigger star than Penn. If Jackson was fighting a name fighter the fight would surely draw well, but he's fighting a relative unknown in Glover Teixeira. Still, the show will be benefitted greatly by promotion during the NFL playoffs (especially during the NCF Championship Game on week before). For that reason, I think it would be a big disappointment if it were to rank anything lower than fourth of the six UFC on FOX shows, but this far out it's difficult to say where it will fall within the two million viewer gap between the fourth and fifth shows.
Welterweights galore at UFC 158. UFC has made the Georges St-Pierre vs. Nick Diaz title match official for March 16 in Toronto. Even with their biggest star in a high profile grudge match, that's an awfully quick return to a market. I'm sure the UFC realized that, but figure the feud between GSP and Diaz was big enough to allow them a quick return without seeing big decreases in ticket sales. The undercard can best be described as a Nick Diaz contingency plan. Rightful top contender Johny Hendricks is slated to fight Jake Ellenberger on the card, and would be the replacement in the main event if something caused Diaz to get dropped from the fight. The co-main event will be a rematch between Rory MacDonald and Carlos Condit, which is a fight MacDonald asked for. In the event of Diaz antics or injury, MacDonald certainly wouldn't be willing to fight training partner St-Pierre, and Condit is coming off a loss to St-Pierre in November. However, if St-Pierre is forced off the card for some reason, MacDonald, Condit, and Hendricks being on the card provides UFC with a ton of options. As seen last year when they did a respectable PPV number, Condit vs. Diaz is a legitimate headlining fight. However, both MacDonald vs. Diaz and Hendricks vs. Diaz would have interesting stories. Basically, the UFC has stacked the card to ensure no realistic amount of injuries can result in a cancelled card.
UFC on Fuel TV 8 card fills up. Judging by this card, UFC is really trying to get fans to call cable providers and demand Fuel TV. UFC announced Wanderlei Silva vs. Brian Stann as the main event for their eighth event on the cable network with limited clearance. The show will emanate from the Saitama Super Arena in Japan. The main event will be at light heavyweight as Silva was not a fan of cutting down to the 185-pound middleweight limit. Stann will return to middleweight after the fight. A heavyweight clash of Mark Hunt vs. Stefan Struve was announced as the co-main event. Assuming nothing changes, that will be Hunt's first bout in more than a year, with his last fight taking place in February when he knocked out Cheick Kongo. Also, Diego Sanchez makes his return to the lightweight division against Takanori Gomi. Siyar Bahadurzada, coming off a quick knockout of Paulo Thiago in April, will fight Dong Hyun Kim on the card.
Mark Hominick announces retirement.UFC featherweight Mark Hominick, 30, said he decided in the cage at UFC 154 that his bout with Pablo Garza would be his last. That bout didn't go well for Hominick, who did well in the first round but was dominated in the final two rounds. The loss marked the fourth in a row for Hominick, leaving him with a 20-12 MMA record and 3-4 in the UFC. After competing under the Zuffa banner on and off since 2006 when he scored an upset win over Yves Edwards, Hominick found a permanents home in the Octagon after Affliction folded in 2009 and much of their talent went to the UFC. Hominick won his next three fights, all in the WEC, including a TKO win in a great fight with Yves Jabouin. When the WEC talent went to the UFC beginning in late-2010, Hominick went along as one of the top contenders at featherweight. A quick knockout win over teammate George Roop earned him a title shot against Jose Aldo – the first sub-155-pound title fight in UFC history.
In a fight of the year candidate, Hominick lost a fairly close fight to the previously dominant Aldo, who was battling illness leading into the bout. Aldo controlled the bout early but faded late, allowing Hominick to pressure the champion in front of 55,000 hometown fans in Toronto, Canada, at UFC 129, the UFC's biggest live show to date. That fight is perhaps most famous for the hematoma on Hominick's head that resembled a golf ball – if golf balls were three times the size and grew out of people's heads. Following the bout, Hominick was told it could take as little as two wins for him to find himself in a championship rematch. Months after the bout, tragedy struck as Hominick's close friend and trainer Shawn Tompkins passed away. Instead of taking time off to gather himself, Hominick wanted to fight as soon as possible.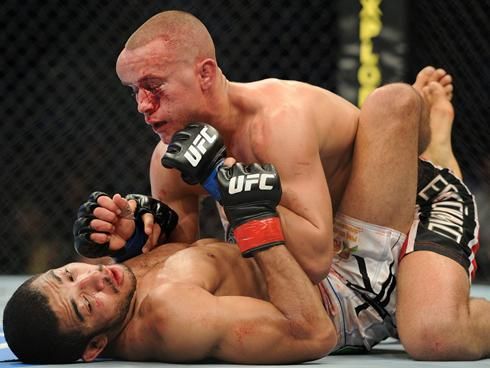 Four months after Tompkins' death, Hominick fought Chan Sung Jung, "The Korean Zombie," at UFC 140. Hominick, figured to be the most skillful striker of the two, was a heavy betting favorite leading into the fight. However, The Korean Zombie scored the upset, decking Hominick right away and finishing him in near-record time (7 seconds). Many attributed the loss to overzealousness on Hominick's part, thinking he would get back on track his next time out. Once again, Hominick was a big favorite heading into his UFC 145 bout with Eddie Yagin. Yagin knocked Hominick down in each of the first two rounds, putting him ahead on most judges' scorecards. Hominick performed well in the third round, but it was too late; he lost a split decision.

---
Thanks for reading; I hope you enjoyed it. Feel free to leave any feedback in the comment box or at the e-mail address below. Follow @Dan_Plunkett

NULL
comments powered by Disqus