The Greatest MMA News Column 12.25.12: 2012 Awards & 2013 Predictions
December 25, 2012 | Posted by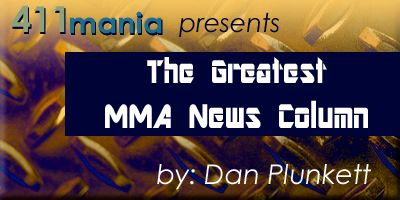 Year End Awards
It's that time of year again. Even though there's still one more major event to go with the heavyweight title fight on Saturday, I'm doing an end of year column just to give you, the loyal reader, some easy reading on Christmas, or just the last Tuesday in December to many of you. We'll have a number of year end awards columns running on 411 with the full MMA staff, so I'll stay away from categories that we'll cover there. At the end of all of my picks, there will be a poll for the reader's choice for each award, because if there's anything this column is only somewhat about, it's the reader's voices. Let's get to it.
The Anderson Silva Award for Dominant Performance of the Year. There are a number of fights each year that turn into one-sided beat-downs, but I give much more weight towards dominant performances in fights with two high level fighters. For that reason, Anderson Silva isn't winning the award named after him this year for his fight with mid-level light heavyweight Stephan Bonnar. Last year, the runaway winner was Jon Jones against Shogun Rua, but this year the decision is less clear. There were a number of dominant performances, but none more brutal than Glover Teixeira's against Fabio Maldonado. I know, I said I put more weight towards fights with two high level fighters, and Maldonado is mid-level at best, but the pure savagery of this fight gives it the nod. Despite Maldonado landing a shot that stunned Teixeira late in the first round, but was a fight that was hard to watch after the first couple of minutes. And yet, the fight lasted two full rounds, nearly all of it featuring Teixeira mauling a helpless Maldonado. This was a fight that never saw a textbook finishing sequence to make a stoppage an easy decision at any one point, but it should have been called much sooner than it was.
The Cecil Peoples Award for Worst Judges' Decision: This always manages to be a competitive category. Last year, I gave the nod to Nick Ring's win over Riki Fukuda, but it really should have gone to Dan Henderson beating Shogun Rua in a fight that should have been a draw. This year, I'm giving the title Ben Henderson, just like the judges did, against Frankie Edgar the second time around. The decision in the first fight was fairly controversial as well, but I thought Edgar won the fight more clearly in the rematch at UFC 150.
Breakout Star of the Year: This is an easy choice. One year ago, this person was virtually unknown having had just two fights on smaller Strikeforce events. Then, she talked herself into a title match. Then, she won the title. Then, she became one of the biggest stars in the sport. She is, of course, Ronda Rousey. Now, Rousey is preparing for her first fight in the UFC, where she'll be in the main event defending her title. Her next big test will be whether she can draw on pay-per-view. Even if she doesn't draw there, neither do any of the other champions in the UFC's lighter weight classes. Rousey would also very likely be a good television draw, so she does have value outside of PPV.
The Scott Smith Award for Best Come-From-Behind Win of the Year: Martin Kampmann was clearly king of the comeback in 2012, with two come-from-behind victories. First, he submitted Thiago Alves late in a fight he was losing. In his next fight, he came back from being knocked down by Jake Ellenberger to finish the welterweight contender with strikes early in round 2. However, Kampmann still has some competition in this category. Donald Cerrone came back from being hurt immediately following the start of his fight with Melvin Guillard to win less than a minute later. There was a similar situation when Ben Rothwell recovered and beat Brendan Schaub in April. Even with all of those great options, none match Tim Boetsch's rally against Yushin Okami at UFC 144. Boetsch was well behind on the scorecards having clearly lost the first two rounds to Okami. Sensing he needed a stoppage to win, Boetsch turned on the switch on round two and threw a bevy of uppercuts at Okami, dropping the longtime middleweight contender. Shortly thereafter, the fight was stopped and Tim Boetsch became Dana White's favorite comeback story for the next few months.
The Matt Serra Award for Upset of the Year: The number of big upsets in MMA seems to have steadily declined since it became something of a fad in 2007. This year, Tim Boetsch scored two big upsets, one over Okami and another over Bellator import Hector Lombard. In addition to Boetsch over Okami, UFC 144 featured another pair of fairly substantial upsets in Ryan Bader beating Rampage Jackson and Mark Hunt knocking out Cheick Kongo. Betting-wise, Eddie Yagin scored among the biggest upsets of the year with a decision victory over Mark Hominick. But in my mind, the biggest upset of the year took place at a relatively small charity show in Brazil. Bellator champion Eduardo Dantas looked excellent in his quest to the company's bantamweight title and looked even better in capturing the title from Zach Makovsky. Then, he took on a fighter that was supposed to pose him little threat in Tyson Nam at the aforementioned benefit show in Brazil. Nam ended up knocking Dantas out. Immediately, the 12-4 fighter made a name for himself soon landed a job with World Series of Fighting.
Best One Round Fight of the Year: This is to honor great fights that didn't make it out of the first round, which generally don't get as much credit as longer great fights in year-end awards. No matter who wins, John Albert was clearly the king of great one round fights in 2012. Unfortunately, he also didn't win a fight all year. First, he had a great bout with Ivan Menjivar that ended with Menjivar locking in a rear naked choke. Then, he had a controversial first round loss to Erik Perez, where Albert never tapped but referee Kim Winslow ruled a verbal submission. Earlier this month, Albert had a great grappling battle with Scott Jorgensen, which Jorgensen ended up winning with just one second on the clock in the first round. However, the most notable great one round fight of 2012 goes to Ronda Rousey vs. Miesha Tate. Rousey and Tate grappled for most of the fight, with Tate surviving a nasty armbar before succumbing to an even nastier armbar.
Event of the Year: A number of events come to mind for this award. Among them are UC 142 (all main card fights featured finishes), UFC 144 (good prelims, most of 6-fight main card delivered), UFC 146 (the all-heavyweight main card had five finishes), UFC on FOX 4 (two great fights, two good knockouts), UFC 151 UFC 153 (Anderson Silva, 3 main card submissions, another great fight), UFC on FOX 5 (two very good top fights, good knockout, good prelims), and Strikeforce: Rousey vs. Kaufman (very good main card, FOTY contender on prelims). All things considered, I'm going with UFC 146. The main event, though one-sided, featured a strong performance from Junior dos Santos. Cain Velasquez butchered Antonio Silva, Roy Nelson scored a quick knockout, Stipe Miocic and Shane del Rosario had a good battle, and Stefan Struve locked a nice armbar on Lavar Johnson. On the prelims, Darren Elkins and Diego Brandao had a good fight, Jamie Varner scored a big upset over Edson Barboza, CB Dollaway and Mayhem Miller had an interesting fight (okay, it was bad), Dan Hardy knocked out Duane Ludwig, Paul Sass had an awesome submission over Jacob Volkmann, Glover Teixeira destroyed Kyle Kingsbury, and Mike Brown got a good win over Daniel Pineda.
---
---
Prediction Time
Like every year, last year I didn't do so well. I got 10 out of 25 predictions correct, compared to 6 out of 15 in 2011. Below are all of my predictions for 2012, with the ones that didn't come to fruition crossed out.
Anderson Silva will lose.
Silva's rematch with Chael Sonnen will not take place at a stadium show in Brazil as rumored, due to concerns about Sonnen's safety.
UFC PPV buyrates will rebound from 2011, but won't be as good as they were in 2010.
Georges St-Pierre vs. Nick Diaz will do at least one million PPV buys.
A Brock Lesnar fight will account for the UFC's biggest buyrate of the year.
Anderson Silva, Frankie Edgar, and Dominick Cruz will lose their titles.
Frankie Edgar will drop down to featherweight and fight Jose Aldo for the featherweight title.
Including his upcoming fight with Brock Lesnar, Alistair Overeem will go 1-2 over the next year.
Only one title fight will be featured on FOX in 2012.
Vitor Belfort will get a title shot.
Wanderlei Silva will retire.
The UFC will re-sign Miguel Torres.
The UFC will sign Shinya Aoki.
Daniel Cormier will fight for the UFC heavyweight championship.
Dan Henderson will not fight for a UFC championship.
The flyweight title will be the only UFC title not to main event a PPV.
Anticipation will be high for a 2013 match-up between 'Cyborg' Santos and Ronda Rousey.
UFC fighters will be brought over to Strikeforce to challenge Gilbert Melendez.
A Bellator reality show will debut on Spike TV.
Bellator ratings will see a slight increase.
Cole Konrad, Hector Lombard, and Ben Askren will remain Bellator champions.
Fedor Emelianenko will fight for the final time.
Anthony Pettis will land another "Showtime Kick".
Joseph Benavidez, Brian Bowles, Mark Hominick, Gray Maynard, Jake Shields, Yushin Okami, Lyoto Machida, and Shane Carwin will not lose.
New York will not sanction MMA.
Some notes: I gave myself a point for Silva-Sonnen not happening in a soccer stadium due to concerns for Sonnen's safety, which was one of the official reasons, though not being able to secure a location was a bigger reason. Frankie Edgar hasn't fought Aldo yet, but it's on the schedule for 2013 and was slated for 2012, so I gave myself a point. Obviously I didn't foresee Brock Lesnar's retirement. A UFC fighter was supposed to move to Strikeforce to fight Gilbert Melendez until Dana White got on bad terms with Showtime. I have no idea why I predicted a Bellator reality show on Spike TV when it legally couldn't happen until 2013.
With that out of the way, here are a bunch of predictions for 2013:
UFC will strip Dominick Cruz of the bantamweight title.
Georges St-Pierre vs. Nick Diaz will be the biggest PPV of the year.
There will only be one UFC heavyweight title fight.
Renan Barao, Jose Aldo, Georges St-Pierre, Anderson Silva, and Jon Jones will all keep their titles.
Ronda Rousey will fight Cyborg Santos.
Rousey will defend her title three times.
The UFC women's division will be considered a success.
Michael Bisping will get a title shot.
Daniel Cormier will end the year as the #1 contender at heavyweight.
Bellator will begin talk of running a PPV event, but won't actually do it.
Eddie Alvarez will re-sign with Bellator.
Alvarez will rematch Michael Chandler for the lightweight title.
Ben Askren and Pat Curran will be the only champions to keep their titles.
World Series of Fighting will debut on Showtime.

---
NEWS!
Invicta FC 4 slated for iPPV. The all-female promotion Invicta FC will be making the jump to iPPV after three reportedly successful events. According the promotion, viewership for their shows was multiple times greater than the viewership of the typical UFC prelims on Facebook. The jump to iPPV, even with a price under $10, means significantly fewer people will watch the promotion, which is something that could really hurt it in such a growth stage. On the surface, the move to iPPV seems to be a cash grab, even though there isn't much cash to grab. To their credit, Invicta's first three shows have all received high marks, so buyers are unlikely to be disappointed if they shell out money on January 5 barring technical issues. With the Showtime MMA slot about to be vacant, Invicta will be a promotion to watch next year.
TUF 16 Finale draws 1.3 million viewers. Despite the overall season average being down, the TUF 16 Finale on FX out-drew the TUF 15 Finale by 300,000 viewers. The 1.3 million viewer number is close to the top of the list of live UFC events on FX, not including preliminary cards for PPV shows. The night before, the UFC on FX: Sotiropoulos vs. Pearson event drew slightly under one million viewers. All things considered, that number isn't bad. On top of being the lesser promoted of two free shows, on a day less associated with UFC than Saturday, and featuring two non-stars in the main event, the show aired live, out of prime time, on the west coast. The TUF Finale aired on tape delay on the west coast, which is better for ratings, especially considering UFC is strongest on the west coast of the U.S.

---
Thanks for reading; I hope you enjoyed it. Happy holidays to everyone that likes holidays. Feel free to leave any feedback in the comment box or at the e-mail address below. Follow @Dan_Plunkett

NULL
comments powered by Disqus