The Greatest MMA News Column 9.25.12: Cancelled
September 25, 2012 | Posted by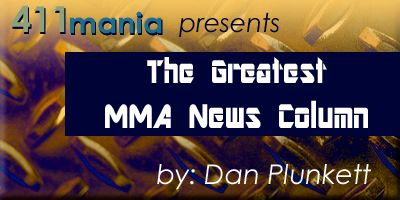 Strikeforce: Melendez vs. Healy Cancelled
Since the time they purchased the UFC in January 2001 to August of this year, Zuffa had never cancelled an announced event. Then, in slightly more than one month's time, they've cancelled two. UFC 151 was cancelled on August 23 after main event fighter Dan Henderson withdrew to an injury and light heavyweight champion Jon Jones refused a fight with a replacement opponent. On Monday, September 24, Strikeforce, which was purchased by Zuffa in March of last year, announced the cancellation of their event slated for Saturday, September 29.
Strikeforce's event fell apart when headliner and lightweight champion Gilbert Melendez withdrew due to injury, leaving challenger Pat Healy without an opponent. The situation differed from that of UFC 151 in that Healy isn't a well-known fighter, so it wasn't a matter as simple as finding a replacement opponent and slotting them in the main event. Josh Thomson, who fought a close fight with Melendez in May and was scheduled to fight on the undercard on Saturday, offered to step in against Healy in a three or five round bout, but was apparently turned down.
Thomson and Healy first fought in June of 2010 in a close fight that ended with Thomson submitted Healy. Healy hasn't lost since that fight, going 5-0. Realistically, a Thomson-Healy fight for an interim title wouldn't have been a bad option at all in that it wouldn't have done too much worse than Melendez vs. Healy would have. Plus, it's a fight that would have made sense since Thomson really could have taken the decision from Melendez in May and he's the last guy to beat Healy. But for whatever reason, it's not happening.
The event was cancelled when Showtime, which is allowed to pick which fights air, decided against airing the card without the title bout. "When Showtime informed us that it would not be airing the event, we made the difficult decision to cancel Saturday's card in Sacramento," stated Strikeforce's Scott Coker. "Without a television partner, we simply could not move forward with this event…[we] will work diligently and quickly to reschedule the fighters affected by this news on the upcoming cards."
Once Showtime declined to air the show there was no other decision to make but cancel the show. It would have been a harder decision to make had tickets been selling well at the Power Balance Pavilion (formerly the ARCO Arena), but all indications are to the contrary. Strikeforce ticket sales have slowed tremendously since Zuffa purchased the company in 2011 as most of Strikeforce's star fighters have departed from the promotion since then. The biggest gate Strikeforce brought in this year, with the possible exception of the March Meisha Tate-Ronda Rousey bout for which numbers weren't released, was $226,005 for the May Josh Barnett vs. Daniel Cormier fight (a total well below that of the disclosed $768,500 in fighter payouts). On Monday morning, Ticketmaster, who had yet to take the tickets off the market, was showing the availability of eight seats together on the floor. That is a bit of a misleading representation of poor ticket sales as the lower priced tickets generally sell best for MMA events, but you were able to find eight tickets available together in every seating level (and near the center, too). They weren't even selling tickets for the upper levels of the arena.
Strikeforce will take a hit from cancelling the show, but the fighters may be taking the bigger hit. Coker noted that they would work hard to move the fighter to upcoming cards, but Strikeforce has never been known for being great at keeping fighters active and they don't have another event until early November. When UFC 151 was cancelled, some fights were moved just a few weeks away, while others were moved as far back as January. Surely some fights will be moved to the November 3 show in Oklahoma City, but not all of the bouts can fit there. For the fighters, the cancellation means they may have to restart their training camp (depending when they're fight is rescheduled for) right after they peaked for another date which can prove to be very physically taxing. And unless Zuffa takes care of the fighters, which they may do, money isn't coming in when it's expected to.

---
---
UFC 152: Jones vs. Belfort Review
UFC 152, the promotion's third trip to Toronto, further proved that returning to a market too often inevitably results in diminishing returns. The show, fairly stacked with two titles fights and a marquee middleweight fight, drew an estimated gate of $1.9 million and reported attendance of 16,800 (likely a bit more than 10,000 paid). In April 2011 the UFC set records for their Toronto debut. They legitimately sold out 55,000 tickets for a $12.075 million gate. Had the stadium been bigger, they could have fit in far more fans. Eight months later, they returned and brought in 18,303 fans for $3.9 million. UFC 152 was easily the lowest gate UFC has done in Canada. On the bright side, a $1.9 million gate isn't really that bad, it just shows a decline. Going forward, UFC only plans on hitting Toronto once a year, with a return tentatively slated for September 2013. I would only change that scheduled for the possible Anderson Silva vs. Georges St-Pierre bout, because that's a fight with potential to fill a stadium there and I doubt it would draw as well in, say, Cowboys Stadium in Dallas. There are other things to consider of course, especially if Cowboys Stadium makes UFC a good offer. Judging by Google search trends, UFC 152 probably fell in the expected range of 400,000-500,000 buys. But, that's a fairly big range and the number is little more than a guess at this point as Google search trends aren't the best indicator.
In the main event, Jon Jones beat Vitor Belfort and defended his light heavyweight title for the fourth time. Belfort, who was a huge underdog, nearly pulled the upset early when he snatched Jones' arm in an armbar. For a bit, time seemed to move slowly as the realization that Belfort had it tight crept in. To his credit, Jones seemed like he would try anything to shake Vitor off before he would tap, and eventually he broke free, but he did suffer possible nerve damage to his bicep. After that one big moment, Belfort didn't do too much. He made a flurry attempt at one point but didn't seem to fully commit. Entering the fight with an injured hand will do that to you. Jones spent most of the fight in the top position, where he opened up a cut on Belfort's forehead. Gassed, Belfort pulled guard multiple times in the fight. The last time he pulled guard led to his undoing as Jones passed to the Salaverry position immediately and secured an Americana to end the fight.

Going forward, this fight could be used as an example of Jones not being unbeatable, showing he can get caught in submissions. Yet, there isn't a fighter that is a top contender that I'd consider a serious threat to submit Jones on the ground. Dan Henderson certainly isn't going to be pulling guard looking for an armbar. Lyoto Machida and Shogun Rua had no success off their back in earlier fights against Jones. Alexander Gustafsson is no submission wizard. After the fight, some were calling it Jones' best performance, but I have to think both his trashing of Shogun Rua and submission of Lyoto Machida was easily more impressive. Still, it was far from a bad performance.



In the co-main event, Demetrious Johnson won the UFC flyweight title against Joe Benavidez in what was either a boring fight or a good fight. I enjoyed the fight, especially the fourth round, though I did have higher expectations for it. The fans in attendance didn't like the fight, probably because they don't see Johnson and Benavidez as stars so they didn't care about the fight. That's not surprising because it was always going to take time to establish the flyweights. The only problem is fans are still getting acclimated with the featherweight and bantamweight divisions, so the fans are trying to learn a lot of new faces all at once (though some don't seem to even bother to learn). Benavidez and Johnson did come in as bantamweights so they've been with the UFC for a long time, but neither was pushed hard on big shows. Johnson had a bantamweight title fight on free TV, but it was put on a Versus card that only drew 789,000 viewers. Plus, neither exudes the type of charisma that will make people take notice of them, or at least they haven't displayed it to the masses. Should the UFC try to add a 115-pound weight class (hopefully they hold off on it for a while), which has been openly talked about, the problem would only get worse.

As for the fight, Johnson looked excellent. Everyone knew going in he would be the faster of the two, but I don't think everyone (or at least I) realized how readily apparent the speed difference would be. For the most part, Johnson was just a step ahead of Benavidez in every department. In the fourth round Benavidez hurt Johnson, mounted him, and went for a guillotine choke. What really helped this from a fan's perspective was how commentator Joe Rogan noted a few times throughout the fight that Benavidez has a great guillotine choke, making it even more dramatic for the viewer at home when he seemed to secure the choke. But Johnson fought out of it and eventually put Benavidez on his back. Johnson ended up winning a split decision, and while it was close, it would have been a shame for him to lose the fight.
Michael Bisping looked very good in his decision win over Brian Stann. In an action-packed first round, Bisping showed to be the better technical striker, but Stann rocked Bisping at the end of the round. In round two Bisping wasn't showing any obvious signs of being hurt and fought well. For the remainder of the fight he out-struck Stann and took him down a few times as well. Oddly, Bisping's next move may be determined by one of two fights outside his division. If Georges St-Pierre successfully defends his title against Carlos Condit, the Silva vs. St-Pierre super-fight could be made. Should that be the case, Bisping would likely fight the winner of December's Chris Weidman vs. Tim Boetsch for the top contender spot in the middleweight division. But if St-Pierre loses to Condit, Silva would be free to make the next defense of his middleweight title. In October Silva will fight Stephan Bonnar at light heavyweight. If he loses that bout, he would likely defend his middleweight title next no matter the outcome of the St-Pierre bout. Either way, if Anderson Silva's first fight of 2013 is a middleweight title defense, there's a good chance it will be against Bisping. Weidman is more deserving than Bisping, but Bisping is a much bigger name and would be a good draw against Anderson.
Matt Hamill fought Roger Hollett. It was a bad fight.
In featherweight action, Cub Swanson scored an awesome knockout over Charles Oliveira. Swanson it a body shot followed by an overhand right and Oliveira fell over in a delayed reaction a couple seconds later. Swanson's now won three in a row and a legitimate title contender. If he does fight Jose Aldo again, hopefully it goes a bit better for Swanson than the last time.

---
NEWS!
Frank Mir out of 11/3 bout with Daniel Cormier. One of the most anticipated Strikeforce fights of the year has fallen through as Frank Mir withdrew from his November 3 bout against Daniel Cormier with an injury. The loss of Mir is a big blow to the card, as he was the biggest name on the card and a very good opponent for Cormier. During UFC 152, Cormier was shown and it was stated he would be fighting on the card, so it appears as though the bout against Mir won't be immediately rescheduled. If the replacement opponent comes from the UFC, the clear best option is Fabricio Werdum. Werdum, who was eliminated in the first round of the Strikeforce heavyweight tournament won by Cormier, has won his past two fights and is one of the top title contenders in the division. What makes Werdum an interesting opponent for Cormier is that he's a very solid striker and on the ground he's probably the best in the division. His name isn't quite as big as Frank Mir's, but Werdum is probably a stronger opponent for Cormier. The loss that eliminated Werdum from the tournament wasn't one where he was proven to be worse than his opponent Alistair Overeem, though his game plan certainly wasn't fan-friendly.
UFC returns to England Saturday. The UFC returns to England for the first time in ten months on Saturday with a card headlined Stefan Struve vs. Stipe Miocic and slated to air on Fuel TV. As of about a month ago there were 4,000 tickets sold for the 10,000 seat Capital FM Arena according to Dave Meltzer. The biggest star on the show will be Dan Hardy, who takes on Amir Sadollah in what will probably be the real main event to fans in attendance. Even though Hardy won his last fight, this is still an important fight because a loss would mean he'd likely be fighting for his job the next time out. Struve and Miocic are both on win streaks, the former winning three in a row and the latter being undefeated. Miocic is a good wrestler, but Struve is very dangerous off his back. John Hathaway and John Maguire will meet in a battle of people from England named John. At bantamweight Brad Pickett, one of the most exciting fighters in that weight class, fights Yves Jabouin. In a match-up to watch, Paul Sass looks to continue his streak of submissions against Matt Wiman. Sass is coming off a career best performance where he submitted Jacob Volkman inside of two minutes. He's 13-0 in his career with 12 submissions and has only been out of the first round twice. Wiman is a solid grappler, so it will be an interesting bout. Rounding out the main card is Che Mills vs. Duane Ludwig in what should be a fun striking bout.
The preliminary card, airing via Facebook stream, is highlighted by three UFC debuts. In the main event of the prelims, as Mark Radulich would say, Jimi Manuwa makes his UFC debut against Kyle Kingsbury. Manuwa, 32, turned down UFC offers a couple of times before, but has finally found himself in the organization. He's 11-0, all being finishes, so it will be interesting to see how he stacks up against Kingsbury. At middleweight, Tom Watson will enter the UFC against Brad Tavares. Watson, 30, made his name in England when he fought and beat celebrity fighter Alex Reid in 2010. With the exception of Mamed Khalidov, Watson was probably the best middleweight outside of the major promotions at the time of his signing. Rounding out the high profile debuts is 24-year-old Gunnar Nelson (9-0-1). He is a high level black belt in Brazilian Jiu-Jitsu competing in the welterweight division, but he'll be fighting at a 175-pound catch-weight on Saturday. On Saturday he fights DaMarques Johnson, who really shouldn't be fighting. Johnson was knocked out on the August 4 Fox show and should not have been booked for such a quick turnaround, even if he was a late replacement.

---
Thanks for reading; I hope you enjoyed it. Feel free to leave any feedback in the comment box or at the e-mail address below. Follow @Dan_Plunkett

NULL
comments powered by Disqus