The Juggernaut MMA News Report 01.03.13: What if Ronda Rousey Loses?
January 3, 2013 | Posted by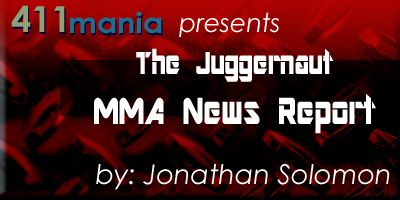 What Happens if Liz Carmouche Upsets Ronda Rousey?
Talking with MMAFighting.com, Carmouche admitted she understands the UFC's interest in having Ronda Rousey retain the bantamweight championship in their UFC 157 main event on February 23. However, there has been random hypotheses ever since the fight was booked that should Rousey suffer her first loss, women's MMA in the UFC would be forever marred.
Unfortunately, that's not totally ridiculous. The UFC is not being altruistic in their adoption of WMMA after all these years. Just as the case when they negotiated with Gina Carano after Elite-XC died, they want the biggest stars in the sport. Gina declined and with the change in landscape of the sport these years later, Ronda is giddy to join the big brother in the Zuffa family.
Ever since EXC promoted the first major show on television to feature women (Carano/Julie Kedzie and even that decision took a TON of convincing to get Showtime on board), UFC president Dana White has been asked when his company would adopt a division for female fighters. At first, the thought was 'no way' because it was too different and unproven. After Carano chose not to sign with the UFC, the talking point was about how there aren't enough fighters to warrant having a division. You can argue about the authenticity of that argument today, but ponder what would have happened if Sarah Kaufman defeated Rousey in August. Would the UFC hand her the keys to the kingdom? Doubtful.
If Carmouche were to win, the UFC is not going to abolish the weight class outright. There's always money in the rematch and the media would love the storyline of Ronda facing adversity in her MMA career and whether she can overcome another obstacle in her life. Plus, most want to see Ronda fight Cris Cyborg and the UFC is dying for profitable fights. The point is the fighters being brought over to fill this division will be given every opportunity to succeed. It does the UFC no good to look like they made a big mistake.
Ideally for business, Ronda continues her string of armbar victories and ends up fighting Cyborg later this year in the biggest female fight since Carano/Cyborg headlined Strikeforce on Showtime years ago.
Elsewhere in the division, Miesha Tate sounds like she will not fight until the spring. Sarah Kaufman, who lost to Rousey in August, suffered an injury and pulled out of a Invicta show in September. The UFC may book Tate and Kaufman against each other in a rematch of their 2009 fight when Tate lost by decision. The other top 135-pound fighter in the mix is the undefeated Sara McMann who was last seen engaging in a he said/she said debate with Dana White over her allegedly turning down a fight with Rousey.
To name other fighters who should join the mix this year, one is Alexis Davis (who fights Shayna Baszler at Invicta 4 Saturday in a rematch of their 2010 fight). She was engaged in a terrific war with Kaufman earlier this year on the Strikeforce: Tate vs. Rousey undercard and she rebounded by submitting Hitomi Akano at Invicta 2. A second is Cat Zingano with a 7-0 record who was last seen choking out Raquel Pennington at Invicta 3. Then, there's Julie Kedzie, one of the most experienced female fighters. Although she is 0-2 in her last two fights, her August loss to Tate in Strikeforce was a fight of the year candidate.
Yes, it certainly seems like Invicta FC (invictafc.com, their next show Saturday will stream live for $7.95) may be a "developmental" league for the UFC's new division.
---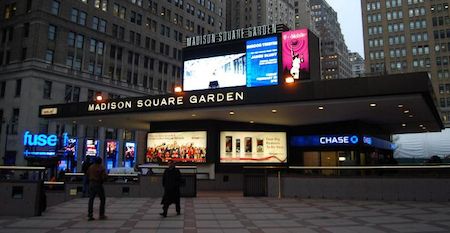 UFC is Planning Their Anniversary for World's Most Famous Arena
After UFC 155 this past weekend, company president Dana White said they are moving forward with plans to hold their 20th anniversary show in November at Madison Square Garden. Normally, words like that, this far in advance, would not garner a whole lot of talk. After all, things change every hour it seems in MMA these days. However, MMA remains illegal in New York and whether 2013 promises to be the year that finally changes, absolutely nobody knows. The stumbling block has been the State Assembly in Albany who have consistently refused to even bring the issue to the floor for debate, let alone a vote. Speaker Sheldon Silver has not commented on the issue since last summer when he (single handedly) shot the subject down for 2012.
In any event, Dana has to plan and talk big because he's a promoter. He would not talk further specifics beyond saying they have a date booked with MSG officials (who have desperately wanted a UFC show for years) and a big fight in mind. Of course, there are only two legitimate "BIG FIGHTS" the UFC could promote in 2013: Anderson Silva vs. Georges St. Pierre and Anderson Silva vs. Jon Jones.
The idea of Silva/GSP happening in the fall is still unlikely (based solely on Georges St. Pierre). Plus, it makes more sense to put Jon Jones in the limelight in this hypothetical situation (he's from Upstate New York) in an effort to turn him into the biggest star in the company (instead of third biggest). Also, theoretically, if Silva/GSP were to ever happen, the UFC could easily put over 50,000 people in a building whether it's Canada, Brazil or somewhere in between. Madison Square Garden would host under 21,000 for an MMA event. The UFC live gate record in the United States stands at $7 million when they drew 15,016 at UFC 148 (Silva vs. Sonnen 2) at the MGM Grand Garden Arena in Las Vegas. With astronomical ticket prices and a sold out building, the UFC would crush their domestic live gate number if they can run MSG with such a big fight as we're pushing here.
Of course, all of this is moot for 2013 if the law on the books is not overturned when spring ends (the legislative session ends in mid-late June).
---
QUICK DREAM 18 REVIEW
DREAM 18 aired Tuesday night on the CBS Sports channel in America, about two days after it was live in Saitama, Japan. The edited broadcast was succinct without much fluff (no interviews, some entrances were cut while the commentating team [Ranallo, Quadros and Shamrock] were never shown on camera), which isn't necessarily a bad thing.
There's no reason to believe CBS Sports will become a regular carrier of MMA because it appears this DREAM show is a one-off deal with their new ownership group, GLORY. About GLORY, their significant business is with kickboxing (that part of the show aired New Year's Eve on the network). The network's parent company also owns Showtime, hence why their commentating team worked the show.
– Mauro Ranallo, Pat Miletich and Frank Shamrock will call the final Strikeforce show in 9 days. Hopefully, it will not be the last time we hear from the three working beside each other.
– Props to Ranallo, who has become THE MAN for Showtime Sports in 2012. He's been calling big boxing shows for several months and between all of his play-by-play work, he'll have worked boxing, kickboxing and two separate MMA promotions in the matter of weeks. With Strikeforce ending, hopefully, this does not mean Mauro will have to wait too long before he gets the opportunity to call another MMA show.
– Lenne Hardt, the screaming banshee lady made her annual appearance, which is ALWAYS pleasant to hear. It still sucks she was not part of the UFC's Japan show last year.
– Will Brooks, the up-and-coming American, fought Satoru Kitaoka and had the second most impressive performance on the show. Kitaoka did all he could shooting for leg locks, heel hooks and the like, but Brooks avoided them all while punishing him with strikes and he even threw in a belly-to-back suplex. Brooks finished him on the ground with a barrage of strikes and looks like a nice prospect at 155-pounds. He's only 26-years-old and an Illinois native, so expect to hear more about him in 2013.
– Phil Baroni looked in great shape (when does he not?) and you knew what the deal was when Frank Shamrock started talking about his grueling weight cut. Phil tried to turn it into a wrestling match and gassed early so Mach Sakurai got the better of him over the course of the three-rounds. Baroni is now 15-16 overall.
– Bless Melvin Manhoef. Denis Kang tried to brawl with him and received a knee to the body for his trouble, which finished the fight about a minute into it. Ranallo and Quadros had some fun talking about the Korean version of Dancing With The Stars, which featured Kang some time ago.
– Bibiano Fernandes is an absolute beast. He fought Yoshiro Maeda here, who went after it, but Bibiano was too much on the ground. Maeda went limp in the triangle choke before the ref stopped the fight and it was all over. You hate to go back to it, but it sucks he won't be fighting any top 10 bantamweights, unless he gets a fight with Tatsuya Kawajiri. But, he loves fighting in Asia and the money was close enough that he turned down the UFC's offer. Hopefully, he fights more than twice in 2013.
– Shinya Aoki and Antonio McKee. It went about how you would suspect although it had a surprise ending as Aoki landed a punch right in McKee's eye in the second round. He tapped out/verbally submitted in much pain as Aoki danced around the ring like he was a dangerous boxer (I laughed). Say what you want about Shinya's personality, his style or his record, but the guy is routinely fun to watch (with the exception of the Gilbert Melendez fight, but that whole card sucked, so let's forget about it).
– Georgi Karakhanyan proved to strong for Hiroyuki Takaya and even though it was ruled a split-decision win, it was not that close. Karakhanyan picked him apart in the first two rounds, then controlled him on the ground in the third. It's funny now because Georgi is the final Tachi Palace Fights featherweight champion (the promotion closed its doors last year) and with this win, he defeated the reigning DREAM champion (the title was not on the line). For the record, there's not much optimism DREAM shows will become a regular thing in the future.
– In the main event of the MMA card, Tatsuya Kawajiri took a decision against Michihiro Omigawa. I expected more from Crusher who, for the most part, used his size and strength to keep Omigawa on his back for three rounds. This was Kawajiri's first win by decision since he fought Josh Thomson two years ago on New Year's Eve in Japan (not so ironically, with a similar strategy).
– One last thing, this about the rules used on the show in Japan. Kicks to the head of a downed opponent were allowed and I know it will never transfer to American MMA for a plethora of reasons, but it's nice to watch something "different" for a change. The one thing (aside from YELLOW cards, which everyone has wanted for years) I wished would be adapted into American MMA is how to score fights. We're used to fights being scored on a round by round basis thanks to the 10-point must system which was modified from boxing. Japan has scored fights from Pride's heyday to DREAM and everything in between based on the fight as a whole (who won the fight? this guy or that guy, not adding up point totals) and I love it.
---
– At 54-years-old and with a record of 101-19-7, Dan "The Beast" Severn announced his retirement from active MMA competition earlier this week. He said he had hoped to have final fights with Mark Coleman, Ken Shamrock and Royce Gracie but neither will come to fruition. For trivia purposes, his first professional fight came at UFC 4 in Oklahoma in December 1994 with a submission win against Anthony Macias (he fought two more times that night, losing in the tournament final to Gracie by choke). Almost 18 years later, his final fight will go down as a win against Alex Rozman by decision on a Blue Blod MMA card in Iowa.
Severn also said his pro wrestling career will conclude in 2013. He remains the only MMA fighter/pro wrestler to hold championships in both forms simultaneously (he won the UFC superfight championship in 1996 at a time when he was the reigning NWA world heavyweight champion). He still plans to remain active in the MMA community, outside of taking fights.
– As mentioned in this space last week, Bellator welterweight Paul Daley has been scrapped from the season eight tournament because he is unable to secure a visa to enter the United States from Britain (due to a pending legal matter). He expects to find out one way or the other about his visa in April, while the tournament begins this month. So, Daley has since said he received a letter from Bellator refusing him permission to take fights while in the United Kingdom.
– Despite the beating he took at UFC 155, Junior dos Santos' medical suspension only has him out until February 13. He cannot have any contact until the end of this month. Thinking aloud, if he remains without a serious injury and has a 2-3 month training camp without taking significant time off, he should be back in action by June, maybe July at the latest.
– As for when Cain Velasquez's next title fight happens, the UFC must wait to see the outcome of Alistair Overeem vs. Antonio Silva in one month at UFC 156. It's assumed the title shot is Overeem's to lose. Craziness will ensue if Bigfoot upsets The Reem or if Overeem should run into trouble with the Nevada State Athletic Commission, again. If for whatever reason, Alistair is not an option, the UFC may be forced into another rematch between Cain and JDS. Remember, Daniel Cormier is not a candidate (he won't fight Cain), Silva was mutilated by Cain last year, and Fabricio Werdum is out of action until June when he fights Antonio Rodrigo Nogueira (after coaching a season of TUF: Brazil). The only other top heavyweights include Frank Mir (who just lost to JDS last spring) and Josh Barnett (no way that's happening) before you get to the likes of Stefan Struve, Mark Hunt and Roy Nelson.
– Dana White recently said Strikeforce lightweight champion may receive an immediate shot at UFC champion Benson Henderson later this year. Of course, such a plan may change if Anthony Pettis wins in impressive fashion when he fights "Cowboy" Donald Cerrone later this month on the next Fox card. Unless that happens, I'd expect Henderson vs. Melendez in a unification match on PPV to be confirmed pretty quickly in February.
– As mentioned above, Invicta FC 4 is this Saturday and will stream at InvictaFC.com for $7.95. The main event is for the first ever straw weight championship between Carla Esparza and Bec Hyatt. Also on the card, Alexis Davis vs. Shayna Baszler, Amanda Nunes vs. Sarah D'Alelio, Hiroko Yamanaka vs. Ediane Gomes, Leslie Smith vs. Raquel Pennington and Joanne Calderwood vs. Livia von Plettenberg.
– Pat Healy has received his fourth different opponent for next week's Strikeforce finale. The top contender in Strikeforce will now fight undefeated Kurt Holobaugh (7-0) out of Louisiana. The Gracie Barra fighter was 3-0 last year with three consecutive wins with a chokehold. Prior to this change, Healy was going to fight champion Gilbert Melendez and then Jorge Masvidal and then Conor Heun before all pulled out with injuries.
– In preparation of their switch to Thursday nights on Spike TV beginning January 17, the network will air four hours worth of recap specials split between two nights, this evening and next Thursday. The specials will air in the promotion's new normal timeslot at 10 pm eastern.
– Inside MMA on AXS TV is switching to Friday nights beginning one week from tomorrow at 9 pm eastern.
– UFC on Fox 7 is being planned for April 20 at the HP Pavilion in San Jose.
– Former Strikeforce welterweight Tyron Woodley will make his UFC debut at UFC 156 on February 2, as an injury replacement for Erick Silva, and take on Jay Hieron.
---
JUGGERNAUT VIDEO OF THE WEEK
Japanese game shows are infamous on this side of the world. A arm wrestling tournament was held recently featuring Kazushi Sakuraba, Alistair Overeem, Mark Hunt and Bob Sapp, among others. Insert your own joke here and watch the action below.
TWITTER
http://www.twitter.com/411mania
http://www.twitter.com/411wrestling
http://www.twitter.com/411moviestv
http://www.twitter.com/411music
http://www.twitter.com/411games
http://www.twitter.com/411mma

comments powered by Disqus