The Juggernaut MMA News Report 01.10.13: The Final Strikeforce
January 10, 2013 | Posted by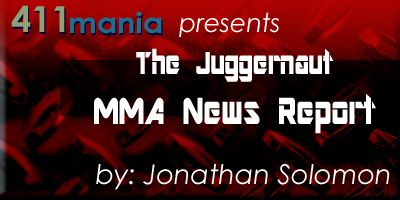 Strikeforce: Marquardt vs. Saffiedine Preview
It's been nice knowing you Strikeforce, it really has.
There has not been a FINAL show for a major promotion since World Extreme Cagefighting promoted show #53 just over two years ago. If you watched it live, you'll never forget because of the classic lightweights Ben Henderson and Anthony Pettis put on in their five-round championship war. Pettis' "Showtime kick" was the cherry on top in the final round which left no doubt and he was named the final WEC champion.
Now, it's Strikforce that is preparing to close its doors because of a variety of issues that plagued the company and its television partner Showtime over the past year. From a depleted roster to an array of fighter injuries and canceled shows, by the end of 2012, both Zuffa (the parent company of SF and the UFC) and Showtime agreed to go their separate ways.
What does this mean for all the fighters on this card? What lies in their future? Perhaps, that's the most interesting aspect of the show this Saturday night. Most certainly the likes of headliner Nate Marquardt, the heavyweight grand prix champion Daniel Cormier and former champions Gegard Mousasi, Jacare Souza and top contender Pat Healy are all but guaranteed spots in the UFC.
Everyone else?
I won't go so far to say that each fight's losing combatant this weekend will not be welcomed into the octagon, but you can bet that any lackluster or outright poor performances will give the UFC pause when recruiting. Plus, for the total unknowns below, this is their best opportunity to quickly make a name for themselves and become a relatively hot commodity in the MMA landscape.
Strikeforce Welterweight Championship
Nate Marquardt © vs. Tarec Saffiedine
Before they shut the lights, take down the cage and answer the last question at the post-fight press conference, it will be Nate Marquardt and Tarec Saffiedine in the Strikeforce finale.
Many are anticipating this as a platform for Marquardt to demolish another challenger before returning to the UFC as an immediate contender for Georges St. Pierre's gold. If you saw his last fight, when he battered Tyron Woodley to become champion, you would not be surprised by any of this.
However, Saffiedine is not a fighter to automatically be written off. Yes, he lost a unanimous decision to Tyron Woodley in 2011, but it was not the latter's prettiest moment. Tarec was essentially held down for three rounds and that's about the best description of that fight. Since then, he's defeated Scott Smith, Tyler Stinson and Roger Bowling to earn this spot.
The problem for Tarec is in short, size. Marquardt looked like a heavyweight when he was standing beside Woodley in their fight last year. I have no reason to believe Saffiedine will be able to contend with that in an effective manner. The only person to finish Nate by KO/TKO was Anderson Silva over five years ago and although he's been submitted in the past, it's been over nine years since then.
Saffiedine is a technically sound striker, but his power leaves plenty to be desired. In 16 professional fights, he has knocked out just one opponent, Nate Moore in 2010.
So, how is he suppose to beat the Grudge Training Center fighter?
Daniel Cormier vs. Dion Staring
A 20-1 favorite, that's Daniel Cormier. Wow.
Dion Staring is a 34-year-old Golden Glory fighter who moved to Florida to train with the Blackzilians specifically for this match-up. The Dutch heavyweight is 28-7 overall, has never fought in the United States but is on a six-fight win streak. He's been finished in all but one of his losses and has never fought a fighter quite like Daniel Cormier.
The Strikeforce heavyweight grand prix champion is 33-years-old and 10-0 as a professional MMA fighter coming off his days as collegiate All-American and internationally successful wrestler.
What's special about the guy is the fact that despite being only 5'11 and over 230 pounds, you will never accuse him of being slow, plodding or immobile. The guy has an endless gas tank and his hands have only continued improving with each fight. Whether it was picking apart Jeff Monson in 2011 or knocking out Antonio Silva later that year or when he dominated Josh Barnett for five rounds last May, he's been unstoppable.
The man affectionately referred to as "Black Fedor" has his eyes set on a fight with Frank Mir in the UFC later this year and it would take an earth shattering turn of events for anything to mess those plans up from coming to fruition this weekend.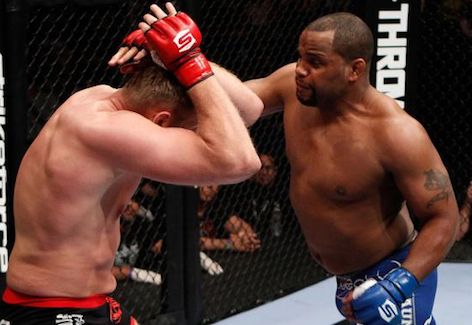 Josh Barnett vs. Nandor Guelmino
Josh Barnett is back for his first fight since losing to Cormier last year and he draws an Austrian heavyweight named Nandor Guelmino. What could go wrong?
While there's more interest in debating whether or not Barnett is a legitimate option to join the UFC ranks in the coming weeks or whether his past conflicts with UFC management will rear their ugly head, this is being treated like a showcase fight.
Nandor is a 37-year-old who stands 6'3 and over 230 pounds. He's 11-3-1 overall with a seven-fight win streak heading into this weekend. You won't recognize any of his opponents with the lone exception of Semmy Schilt, who defeat him by TKO in 2008. In fact, all of Guelmino's losses have come by TKO (one due to a cut). He has had success in Europe by keeping distance from his opponent but that appears next to impossible to do against someone as aggressive as Josh Barnett.
If this fight lasts longer than the first round, that may even be something of an upset (is this an unfair statement?).
Gegard Mousasi vs. Mike Kyle
Mousasi first made his name on the international MMA stage at 21-years-old in Japan and although it seems like he's been around forever, now at just 27-years-old, he's on the precipice of perhaps the biggest opportunity of his career.
But first, he must handle the power in Mike Kyle's hands this weekend.
Kyle is the definition of a mid-tier fighter who is potentially dangerous to any opponent he fights, but who struggles when in the the cage against bigger competition (both literally and figuratively). The man is undefeated at light heavyweight and has suffered each of his eight career losses at heavyweight. Back in 2009 when he dropped to 205-pounds, he knocked out Rafael Cavalcante and when they rematched last May, Feijao submitted him. Then, Cavalcante failed a drug test and the fight was overturned to a no contest.
Make no mistake, Mousasi is more well rounded and capable on the ground although he's best on his feet. He comes from a kickboxing background and since 2007, his only loss came against a top flight wrestler in King Mo Lawal who kept him on his back. The variable in all this will be whether Gegard is slow out of the gate considering he has not fought since December 2011 when he beat Ovince St. Preux in a three-round decision.
Mike always has a chance at the upset because his power is incredible. Just remember his fight at heavyweight against Bigfoot Silva when he had the giant rocked and was this close to finishing the fight. The same can easily happen this weekend and it's up to Mousasi to not give him a still target.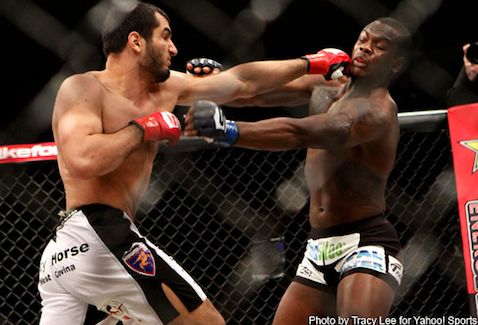 Ed Herman vs. Jacare Souza
These middleweights will be fighting at a catchweight of 194-pounds because Herman signed to take the fight with about three weeks notice (Lorenz Larkin pulled out in December…weeks after he chastised champion Luke Rockhold for doing the same).
Herman had been looking to get back in a cage thanks to the dirty taste of his fight with Jake Shields in August. Herman lost a unanimous decision but then it became known that Shields failed a drug test and the result of the fight was switched to a no contest. So, "Short Fuse" is technically undefeated in his past four fights. He has finished Tim Credeur, Kyle Noke and Clifford Starks between 2011 and last year.
Souza was last seen knocking out Derek Brunson last summer in 41-seconds, literally the Brazilian's first win by KO (or TKO for that matter). Unfortunately for the former Strikeforce champion, his competition in 2012 left a lot to be desired considering Brunson and Bristol Marunde each took significant steps up in their respective careers to fight Jacare.
Both fighters here are Brazilian Jiu-Jitsu black belts although Jacare has also earned a Judo black belt.
Herman has said this week that despite his opponent's big right hand, he's not too technically sound with it. He's sure he won't be hurt by the man's power and if you look at his record, he has reason to be. Ed has never been finished by TKO or KO (with the lone exception of when he suffered a knee injury against Aaron Simpson in 2009) and he's no stranger to brawls. However, the Team Quest fighter has been submitted five times in his career.
Jacare will be the smaller fighter in the cage which may play against him if the fight goes into the second or third rounds and he's forced to carry Herman's weight at all. At the same time, you have to consider him the more explosive fighter with more ways to finish the fight.
Although this will be Ed's first fight outside the UFC's octagon since he participated on season three of The Ultimate Fighter, he'll be right back win or lose. On paper, this is his biggest competition since he lost consecutive fights to Demian Maia and Alan Belcher in 2008. He has a lot to prove but Souza may just be the better fighter.

PRELIMS
The preliminary portion of the fight card will air live on Showtime Extreme and with the exception of the final fight listed, all appear to be set-up so that established figures head out the door with a solid performance. Now, that doesn't necessarily mean that a guy like Trevor Smith is not capable of winning, but it would honestly be at least a minor upset.
Pat Healy vs. Kurt Holobaugh
"Bam Bam" Healy went from challenging champion Gilbert Melendez to headlining the prelims, so his attitude must be in a place where he wants to make an example of Kurt Holobaugh in case anyone forgot why he was about to go after the belt.
Since Healy's last loss, he has won five consecutive fights and knocked off prospects like Lyle Beerbohm, Maximo Blanco and Caros Fodor. His last time out, he won a unanimous decision against Mizuto Hirota which was much closer than that may lead you to believe. He's a grinding type of fighter who wears down his opponents and it's not usually an overly entertaining style but that doesn't mean he won't engage in a scrap.
His opponent is a Louisiana native and undefeated with a 9-0 professional record. Holobaugh has been fighting predominantly in the south so this trip to Oklahoma is nothing major (compared to guys who are visiting America for the first time, for example). He has finished all but one of his fights and the most noteworthy name he's beaten was J.C. Pennington. But, that's not exactly a telltale sign of much considering Pennington is now 22-17 and was 21-15 entering that fight.
Healy should dominate the physical aspect of this fight unless Kurt has been an untapped gem waiting for an opportunity like this. Now is as good a time as any to prove everyone wrong, but this is a massive step up in competition for the 26-year-old.
By the way, to make things demonstratively bigger, Holobaugh and his fiancee earlier in the day Saturday before heading over to the arena and going to work.
Roger Gracie vs. Anthony Smith
The last we saw of Anthony Smith, he was beating Lumumba Sayers in August on Showtime with a triangle choke, improving his record to 17-8. Now, he's about to fight one of the best submission grapplers in the world in the form of Roger Gracie (5-1).
The member of the famous family, for the first time, went the distance in his last fight in July when he beat Keith Jardine by unanimous decision. It was a positive showing considering he was coming off a brutal knockout loss in 2011 at the hands of King Mo Lawal.
Smith is known for getting a bit wild with his striking, going for broke without much regard for keeping his guard up. He may be enticed to do just that against Roger, knowing his power is lackluster. However, that could simply open him up to takedowns and unless you can scramble and get back to your feet immediately, you do not want to be on the ground with Gracie.
Tim Kennedy vs. Trevor Smith
The U.S. Army Staff Sergeant is 5-2 in Strikeforce with the two defeats happening by decisions in title fights. Kennedy has actually only been finished once in his entire 18-fight career but it came under three-minutes into his pro debut when he was cut by Scott Smith. He has proved extremely durable and the only reason he hasn't fought more over the past two years is due to the problems between the promotion and Showtime.
Trevor Smith has fought as heavy as a heavyweight but made his 185-pound debut in June and choked out Alexandre Moreno on a local show in Massachusetts. His last fight in the Strikeforce cage ended with a TKO loss at the hands of Gian Villante.
Both men are strong grapplers and between them, neither has won a fight by TKO/KO since 2007 when Kennedy won against Elias Rivera on an IFL show. Smith is about four-inches taller and has about a two-inch reach advantage.
K.J. Noons vs. Ryan Couture
Noons is an entertaining fighter to watch, make no mistake about that, his last fight with Josh Thomson regardless. However, the results are not in his favor at the moment as he's 1-3 in his past four fights since 2010. Should he beat Ryan Couture? I would lean yes but it's not that easy, which says a lot about the improvements Couture has made in recent years.
Ryan is 5-1 in his career and riding a three-fight win streak. His recent wins against Conor Heun and Joe Duarte displayed a wide range of skills from wrestling (of course), Jiu-Jitsu and his boxing. Is he better than K.J. at any of these?
Noons is famous for his boxing considering he has 23 combined wins between pro boxing and pro kickboxing (34 if you include MMA in the mix). An underrated aspect of his game all these years has been his wrestling, because most would attempt to take the striker down and take him out of his element. However, Noons has been tremendous at defending takedown attempts and keeping fights up where he's most comfortable. That hasn't helped him in recent fights where he's been outboxed by Nick Diaz and Jorge Masvidal, however.
For Couture to win, he's going to have to turn this into a complete struggle. Noons cannot be moving freely around the cage, able to pick the Xtreme Couture fighter apart. He'll have to get Noons to the ground and grind out rounds. Even if he attempts to fight for an extended period of time in the clinch, I'm not sold that he can avoid K.J.'s combinations.
For the past two years, since Ryan Couture made his professional debut and Noons debuted in Strikeforce, their careers have seemed to be on vastly different trajectories. If that continues, K.J. finds himself upset in 48 hours and he'll be looking for a new promotion to fight for.
---
– A week from Tuesday is the two-hour season premiere of The Ultimate Fighter featuring coaches Jon Jones and Chael Sonnen. The 28-fighters competing on the show for a UFC contract are doing so in the middleweight division. The premiere will feature 14 fights with the winners advancing into the house. The most experienced fighter on the list is New Zealand's Dylan Andrews (16-4-1) followed by New Mexico's Bubba McDaniel (20-6).
Among the few fighters you may have heard of is Zach Cummings (15-3) of Missouri who has fought in Bellator and Strikeforce (he was choked out by Tim Kennedy in 2009). Also, Kevin Casey (5-2) of California is a Brazilian Jiu-Jitsu black belt under Rickson and Kron Gracie. He made his pro debut in 2007 with a loss to Minowaman in Japan and his only other loss came at the hands of Matt Lindland in the main event of a Strikeforce Challengers card in 2010. Then, there's Nik Fekete (5-1), a former collegiate Division I All-American wrestler who has been a renowned coach for many years working with Olympians and MMA fighters. He's out of Xtreme Couture and his MMA career is most famous for being choked out with an inverted triangle choke by Rich Hale in Bellator two years ago.
The oldest competitor is 34-year-old Hito Andrews (9-2) out of Sacramento while the youngest is 20-year-old Kelvin Gastelium (5-0) out of Arizona.
One prospect to keep an eye out for is 28-year-old Uriah Hall (7-2) from New York City. He fights out of Tiger Schulman's (the same camp where former Bellator welterweight champion Lyman Good makes his home) and is known best for his impressive Karate background. His only professional losses came at the hands of teammates Chris Weidman and Constantinos Philippou.
– The situation involving free agent lightweight Eddie Alvarez took a dirty turn over the past two weeks. Bellator says they matched the UFC's offer, including the clause involving points on PPV. Alvarez does not believe it's legitimate because the company has never promoted on PPV and nor are there current plans to do so. At the moment, Bellator and Alvarez are going to court to settle their contractual dispute.
– Alistair Overeem quickly received his license to compete in the state of Nevada earlier this week. The Nevada State Athletic Commission said Overeem passed two sets of blood and urine tests late last year and had no questions for the heavyweight. He will fight Antonio Silva at UFC 156 on February 2.
– Signed for UFC on Fuel 8: Silva vs. Stann in March is a middleweight bout between Hector Lombard and Yushin Okami. It will mark Lombard's first fight in Japan since 2007 when he knocked out Eiji Ishikawa at DEEP 28. Okami was the loser by TKO in his fight at UFC 144 last year against Tim Boetsch in his home country.
– Jason High has officially signed to return to the UFC. The 31-year-old welterweight is 16-3 overall and one of those losses came against Charlie Brenneman at UFC Fight Night: Florian vs. Gomi in 2010. At the moment, he has won seven fights in a row.
---
JUGGERNAUT VIDEO OF THE WEEK
The time has come and it's been 22 months in the making, Strikeforce is just a memory after Saturday night. Below is the infamous video Ariel Helwani shot with UFC President Dana White in March 2011, breaking the news of Zuffa purchasing Strikeforce.
Business as usual, indeed.
TWITTER
http://www.twitter.com/411mania
http://www.twitter.com/411wrestling
http://www.twitter.com/411moviestv
http://www.twitter.com/411music
http://www.twitter.com/411games
http://www.twitter.com/411mma

NULL
comments powered by Disqus