The Juggernaut MMA News Report 01.24.13: Rampage's Last Stand
January 24, 2013 | Posted by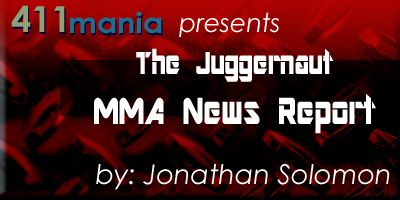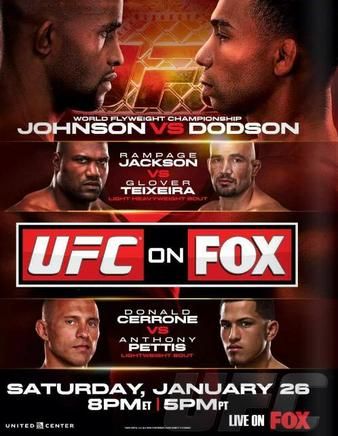 UFC on FOX 6: Flyweight Championship, Rampage's Last Call
The promotion returns to Fox this weekend with a series of intriguing fights from plenty of angles including stylistic match-ups to storylines. A championship, a popular former champion's potential swan song and the busy lightweight division seeing two challengers square off, among more, make up an exciting show at Chicago's United Center.
UFC Flyweight Championship
Demetrious Johnson © vs. John Dodson
The first flyweight title defense in company history gets the main event slot on network television and with a couple of speedsters at center, there promises to be a lot of action.
Demetrious "Mighty Mouse" Johnson has not been stopped since dropping down in weight, going 2-0-1 (the infamous draw with Ian McCall due to a judging error, the fight was suppose to go to a fourth round). He defeated Joseph Benavidez by split decision in September to win the vacant gold, relying on his speed and technically sound boxing to put him over the top.
At 5'3, he's known as one of the smallest and fastest fighters in the UFC. Perhaps the only other man in the debate happens to be his opponent in some 48 hours.
John Dodson fights out of Greg Jackson's camp and has been considered a top 10 flyweight for several years. He took a brief break to get into the UFC as a bantamweight (before the flyweight division was instituted) on season 14 of The Ultimate Fighter in 2011, which he won by knocking out Team Alpha Male fighter, T.J. Dillashaw. He emerged as one of the best two or three 125-pounders about three months ago when he knocked out Jussier "Formiga" da Silva. Going into the fight, Formiga was arguably the best in the world, but he had no answer for Dodson's speed.
"The Magician" is also 5'3 and possesses a background in wrestling stemming from his days as a two-time state champion in New Meixco in high school (Johnson was also a high school wrestler in Washington but fell just short of winning his state's championship his final two years). He does not utilize that background in an offensive capacity in MMA, mores to keep fights standing (the old Chuck Liddell philosophy) so he can throw more strikes.
What's not debatable is the fact that Dodson has more power in his hands than the champion. Johnson actually has not finished a fight since he choked out Damacio Page in WEC just over two years ago. It's not hyperbole to say the challenger has one-punch knockout power, almost always from his left hook.
Odds are this fight will not be spent on the ground long enough to impact who wins based on both men's ability to scramble and quickly get back to their feet. Standing, Johnson is more apt to land combinations, but he can also be hurt (he was wobbled by Benavidez in their five-round fight). Dodson's left hand will be hanging over this fight like a cloud because it's the one factor between both men that can bring a finish to this fight.
I don't like Demetrious' chances to continuously stay out of Dodson's power range and win at least three out of the five rounds so I'm expecting an immediate title switch in the division.

Rampage Jackson vs. Glover Teixeira
Is this the end of Rampage Jackson? Unlikely, but it appears his days fighting in an octagon will cease this weekend. His contract will conclude after Saturday's fight and based on his public words, the former PRIDE star and UFC champion has little interest in negotiating a new deal. Whether that attitude changes over the next month or two will have an impact on Bellator Fighting Championship who is believed to have interest in acquiring the popular fighter.
In any event, Quinton "Rampage" Jackson will turn 35-years-old this summer and he has not knocked anyone out since Wanderlei Silva more than four years ago. Since then, he's beaten Keith Jardine, Lyoto Machida and Matt Hamill with decisions. He has also lost to Rashad Evans, Jon Jones and most recently, Ryan Bader 11 months ago in Japan. It's been nearly five years since he was champion and it's apparent that he will struggle with most of the elite light heavyweights making their strides in 2013.
One of those modern easts is Glover Teixeira, a slightly bigger fighter with a Brazilian Jiu-Jitsu black belt and dangerous hands to match. He is 17-0 in his last 17 fights, 19-2 overall and his name carries plenty of concerns to other fighters that he struggled to find an opponent last year until Fabio Maldonado stepped up on short notice (to fill in for Jackson who was injured, postponing their October fight). Nobody with a big name wanted to fight him because he's not well known to the masses while he's one of the more dangerous fighters in the division. Maldonado was battered for two rounds before a doctor stopped the fight (it should have been stopped sooner).
Now, the UFC is putting him in a prime position to break out and become a star off of Rampage's name.
Jackson has been criticized for not fighting intelligently over the years, choosing to insist on being a boxer and not mix in his wrestling skills. Plus, if he continues as a counter striker this weekend, he'll open himself up to some significant punches from Teixeira. To beat Glover, he would probably be best served to mix up a more aggressive striking game plan with takedowns to mix up his attack.
Otherwise, with potentially muddled footwork, does he offer much hope aside from a well timed counter hook to going out with his arm raised in victory?

Anthony Pettis vs. Cowboy Cerrone
Ever since this fight was hinted at by both men last year, anticipating has been building. Is it possible they can live up to the hype and produce a classic on Fox in front of millions of sets of eyeballs? I say yes!
It seems like ages ago when Anthony Pettis became the hot topic in MMA after beating Benson Henderson in the final WEC fight before being absorbed by the UFC in December 2010. The "Showtime Kick" remains one of the most amazing strikes ever landed in the sport and it was suppose to land him an immediate shot at the UFC's lightweight champion at the time, Frankie Edgar. Of course, Edgar and Gray Maynard went on to have an explosive five-round draw weeks later and that immediate title shot went out the window. Pettis lost to Clay Guida months later in his UFC debut because he could not defend Guida's takedowns and although he tried to hook submissions on, Guida stayed on top for the victory. He bounced back to beat Jeremy Stephens and in his only fight last year, he knocked out Joe Lauzon in under 90 seconds with a head kick in Japan.
Pettis missed the rest of 2012 after February because of a series of health problems. He underwent shoulder surgery to repair a pair of tears in his labrum and then suffered from a staph infection towards the end of the year. However, he's been healthy and has been able to have his first full training camp in a year.
He'll turn 26-years-old on Monday and he's still a ways away from a potential title rematch with Henderson (who will fight Gilbert Melendez in April), but a big win here and he has to be 'THE' guy who can probably wait until the end of summer for that fight.
"Cowboy" Donald Cerrone also fought on the final WEC card, choking out Chris Horodecki and unlike Pettis, he had to start in the UFC towards the bottom of the ladder (he fought and lost twice to Henderson in WEC). However, he reeled off four consecutive wins in the octagon while earning three fight bonuses. At UFC 141 at the end of 2011, he fought angrily against Nate Diaz who was successfully playing mind games with the Greg Jackson fighter. Cerrone threw any game plan out the window and engaged the Stockton native in a brawl, and lost. However, 2012 saw him win a pair of fights including one in which he knocked out friend Melvin Guillard (and earning two more bonuses, bringing his UFC bonus total to 6 or 11 if you include WEC).
What makes this fight so exciting on paper is knowing that both men are always apt to be aggressive in their styles. Neither man implements much of an offensive wrestling game to keep the fight on the ground. Cerrone has been a great submission fighter but loves to utilize leg kicks and weakening his opponents' base. Meanwhile, Pettis possesses potentially dangerous leg kicks of his own, and a complete arsenal of assorted kicks from various angles.
Both men have proven extremely durable, never having been knocked out in their careers. As a matter of fact, the only time either man has been finished was when Cerrone was choked out by Benson Henderson in their 2010 rematch with a guillotine choke.
The variable will be whether "Showtime" Pettis displays much rust coming back from 11 months off and plenty of time in the care of physicians. If Cerrone is going to stay in control in this fight, look for him to get started right away with trying to take any explosiveness from the former WEC champion via the leg strikes. Whatever transpires from there on should be an show stealing competition.
---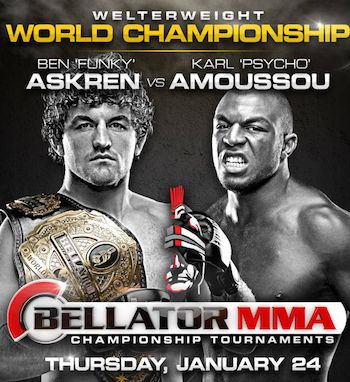 Bellator 86 on Spike Preview
Last week on the season eight premiere, the debut on Spike, from a production standpoint, things could not go any better. Improved lighting, widely available high definition, fresh graphics, if their previous six years broadcasting MMA was not evidence enough, Spike TV knows what they're doing. The three main fights (not counting the Noe vs. Petruzelli bout which technically ended the card) each offered something different. Curran/Pitbull was a five-round war, Babalu was knocked out by Zayats early and Michael Chandler dominated Rick Hawn, leading to a second round finish.
This week, the top fighters keep on rolling thanks to welterweight champion Ben Askren making his third title defense against a psychotic Frenchman. Plus, the long-awaited return to MMA of King Mo after more than a year off will transpire along with the start of the new welterweight tournament. Remember, Paul Daley had visa issues so he's not participating, which only opens up an opportunity for another fighter (in this case, Jose Gomes, who will fight Raul Amaya on the Spike.com prelims).
Bellator Welterweight Championship
Ben Askren © vs. Karl Amoussou
It sure looks like the University of Missouri has been an MMA factory at the moment, doesn't it? Lightweight champion Michael Chandler refined his wrestling craft as a member of the Tigers and so did reigning welterweight champion Ben Askren. His collegiate career ended with two Division-I national championships, two-time Danny Hodge Trophy recipient and four years as an All-American. He went on the international circuit to find success in several competitions, preparing for the 2008 Summer Olympics. He made the U.S. freestyle team but was unable to medal.
Although Askren continued wrestling in amateur tournaments into 2010, he turned to mixed martial arts in 2009 where he debuted with three wins on small cards. He burst into Bellator's season two tournament with a lot of hype and did not disappoint, winning three fights in three months en route to the $100,000 payday plus a guaranteed title fight. The gold came that October when he dominated Lyman Good for five rounds with his superior wrestling. Although in his first title defense, he came so close to losing to Jay Hieron on the scorecards, he came away with the split decision win. It was the first time his wrestling was not dominant against an opponent and he was forced to fight more of a stand-up style against Hieron. He bounced back last spring to defend the gold again, when he was back to making sure opponents stood no chance. He took Douglas Lima down time after time for 25-minutes.
Then, there's the "Psycho" Karl Amoussou out of France. The Judo black belt suffered an upset loss to Sam Alvey by split decision in his bellator debut almost two years ago. Since then, we've become acquainted with the fighter that made a name for himself throughout Europe years earlier. After turning 26-years-old in 2011, he has been 4-0 in the Bellator cage including last year's tournament win. He choked out Chris Lozano in the opener, beat David Rickels by decision and then stopped Bryan Baker in the finals with a quick inverted heel hook.
Now, Amoussou must find a way to not be smothered by the wrestling of one of the best wrestlers to transition to MMA. Or, if he's smart, forego that he'll end up on his back and be aggressive in that scenario. The champion is also a Brazilian Jiu-Jitsu brown belt, so he is not a complete one-trick pony as some decry him as. His strength on top is outstanding, not to mention his ability to keep his opponents flustered and take their will.
Psycho has a tough road ahead of him and we'll see how well his ground offense is, and if it fails him, expect another five-round success for the welterweight champion.
Light Heavyweight Tournament Quarterfinal
"King Mo" Mohammed Lawal vs. Przemyslaw Mysiala
King Mo just turned 32-years-old about two weeks ago and is now prepared for his Bellator debut and first MMA fight since he was 31. That was when Mo finished Lorenz Larkin with strikes at Strikeforce: Rockhold vs. Jardine in Las Vegas one year ago. After the fight, it was discovered he tested positive for drostanolone, an anabolic steroid. He was suspended, fined and the result of the fight overturned to a no contest. He was fired by Strikeforce over questionable comments he made on Twitter about an official with the Nevada State Athletic Commission (he later apologized).
With several months off (he underwent knee surgery to repair his ACL for a third time and then dealt with a major staph infection) and a new contract with Bellator, he signed in the spring, thanks to the Spike TV connection, Mo also signed a deal with TNA Wrestling. He spent some time at Ohio Valley Wrestling to learn and he participated on a TV episode and a PPV show for TNA in October.
Then there's the Polish fighter, Przemyslaw Mysiala with a 16-7 record. His last fight in March ended when a doctor stopped the fight, resulting in a win for Jason Jones at BAMMA 9. The only win you may recognize would be a 2005 knockout of Ross Pointon (of TUF season 3 fame). In his 23 career fights, he has gone to a decision just one time, too.
Clearly, the Pole has been brought in as an afterthought considering King Mo has been promoted as one of the company's biggest stars in commercials. Although Lawal never won a Division-I national championship in college, he did win a Division-II championship and was named a two-time All-American at that level (he was also an All-American at Oklahoma State University). Despite the fact he never made it to the Olympics, at one point, Lawal was considered by some to be the United States' best amateur wrestlers. It was after he missed the 2008 Summer Olympics that he turned to MMA, making his debut in Japan for Sengoku. He fought twice at heavyweight including knocking out Travis Wiuff. When he returned to America, he did so at heavyweight and knocked out both Mark Kerr and Mike Whitehead. Then, he took a Strikeforce light heavyweight title fight against champion Gegard Mousasi. The champion had no answer for Lawal's takedowns and the title changed hands that night in Tennessee.
In his first title defense, King Mo blew out his knee, sapping him of his explosive takedowns. Feijao Cavalcante finished him with strikes to become the new champion and Lawal was out of action for 13 months, when he returned to knock out Roger Gracie.
Now, Lawal is looking to establish himself as a top light heavyweight again and Bellator has given him the platform to do it.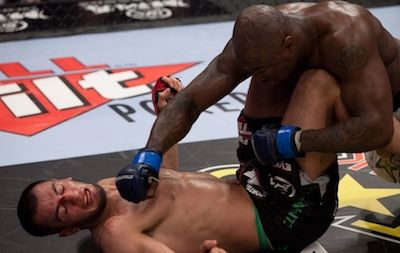 Welterweight Tournament Quarterfinal
Douglas Lima vs. Michail Tsarev
There are two prominent quarterfinals guaranteed for Spike and former tournament champion Douglas Lima is involved in one. His opponent is Russia's Michail Tsarev, who fell short last season by losing to former champion Lyman Good in the semifinals.
Prior to the loss, "The Lonely Wolf" won over 10 consecutive fights until he ran into Good's strong wrestling and a second round combination that led the ref to stop the fight. His strength is as a grappler with 19 wins by submission.
Lima was also on an extensive victory streak, except his fall did not come until he fought Ben Askren last spring. He could not mount much of any offense after being put on his back early in the first round. He won the season five tournament by beating Steve Carl before knocking out both Chris Lozano and Ben Saunders.
Both men have 27 pro fights under the belt although Tsarev has the edge with 24 wins to Lima's 22. Douglas is more of a well-rounded fighter and should be able to stay out of trouble on the ground, leading to a decision win or finish due to strikes.
Welterweight Tournament Quarterfinal
Ben Saunders vs. Koffi Adzitso
Saunders returns for his third shot at a Bellator tournament championship. He lost to Lima in the finals of season five and was on the losing end of a decision in season six in the semi's against Bryan Baker. To date, in the promotion, he's 5-2 and that includes a win against Raul Amaya, who he may fight in the semifinals this go around. At 6'3 with about a 78″ reach and a slick submission game, he's able to mix strengths both as a striker and grappler to success.
His loss to Lima came in the second round when Saunders was cut with a counter and soon after, finished. The first round saw Ben control the round thanks to a sweep leading to full mount.
Koffi Adzitso is only 23-years-old but the Utah-based fighter is already 18-9 as a professional. All I know about "The Lion King" is with half of his wins by knockout or referee stoppage, he's not adverse to participating in a scrap.
---
– A big light heavyweight fight has been pegged for UFC on Fuel 9 this April in Sweden. Hometown fighter Alexander Gustafsson will welcome Gegard Mousasi to the octagon in what the former Strikeforce champion believes is a number one contender's fight for a shot at Jon Jones.
– Luke Rockhold told MMAJunkie.com he'd like to fight Vitor Belfort in his octagon debut, perhaps Hector Lombard or if the UFC rather do a champion vs. (Strikeforce) champion fight, then Anderson Silva. He mentioned his preference to fight on the April Fox card in San Jose, but there's been no rumblings from the UFC as to when we can expect him in the cage.
– UFC featherweight Robbie Peralta (16-3) is undefeated in his past 10 fights and will be fighting Akira Corassani at UFC on Fuel 9.
– It's believed any hesitance from Bellator to sign free-agent heavyweight Josh Barnett may be linked to the fact he could potentially hold them up for more money down the road. Of course, this is the same scenario that led to him leaving the UFC over a decade ago after beating Randy Couture for the heavyweight championship (plus, he a failed a drug test for anabolic steroids). However, if Barnett wants to continue pro wrestling, Bellator could be his best option considering the Spike TV connection with Impact Wrestling.
– Despite what UFC president Dana White said a few weeks back, middleweight champion Anderson Silva has not officially singed a new 10-fight deal with the company. The offer is on the table and waiting to be signed anytime in the near future.
– After finishing Thiago Tavares with a barrage of strikes last weekend in Brazil, Khabib Nurmagomedov increased his undefeated record to 19-0. Next up, he wants to fight Nate Diaz who is coming off a loss to champion Benson Henderson over a month ago.
– Bellator lightweight Rick Hawn was unsuccessful in his bid to become the new champion one week ago when he was choked out by Michael Chandler in the second round of their main event. In the days following, he says one of his sponsors canceled a check because of the loss. He has yet to name the scummy business because of pending legal action.
Hours later, the sponsor was revealed to be HTFU (a clothing brand run by Mark Gingrich) who originally backed out of its verbal contract with Hawn to pay him $1,500 to wear their logo. According to a report with MMAFighting.com, Gingrich insisted that he reneged on the deal because Hawn's cornermen were not wearing the gear he supplied.
However, Tuesday, Gingrich announced that he had already sent Hawn a check for the full agreed upon payment. Apparently, his brand was berated by MMA fans taking umbrage with the story.
– In news that has been in the works for quite some time, the Sports Business Journal reported this week that perhaps as early as this summer, Fox will rearrange and rebrand some of their cable entities. Among them, the Speed Channel will become 'Fox Sports 1′ while Fuel TV transitions to 'Fox Sports 2.' Their soccer network will become a standard entertainment brand while FX will halt airing sports. What this means for the UFC's The Ultimate Fighter series is unclear, but all of their FX and Fuel cards will now move to one or the other of the new sports-dedicated networks.
Short term, this is a pain in the butt for the UFC. Anytime you play with viewing habits of viewers, you end up hurting your broadcasts and risking them losing interest (this is more for casual fans). In the long run, this is a move by News Corporation (Fox's parent company) to get all their sports ducks in a row, especially in wake of the launch last year of the NBC Sports Network (formerly known as Versus). The effected cable sports entities include college football, NASCAR, soccer and MMA at the least. If the new Fox Sports networks gain in popularity, the UFC would be part of it. However, it's something of a risk for the fight promotion to be just another brand of many on the broadcaster's belt. In the past, while a minor network, the UFC has pretty much taken over the Fuel TV channel, routinely setting ratings records and being the "GO TO" spot for fight fans interested in live events, studio shows, hype specials, highlights, etc.
The move will not play with the handful of shows per year on the Fox broadcast network.
– After a UFC 158 press conference yesterday, Dana White said Dan Henderson is in line to get the next title fight with Jon Jones before Daniel Cormier. Hendo is in action next month against Lyoto Machida while Cormier is fighting Frank Mir at heavyweight in April.

---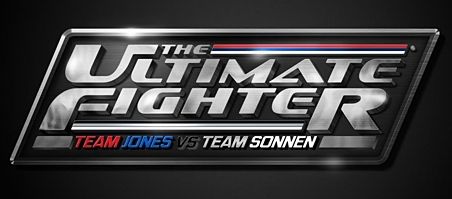 THE ULTIMATE FIGHTER (SEASON 17) QUICK EPISODE REVIEW
Thanks to the UFC and officials at FX, the new season of The Ultimate Fighter now airs on Tuesday nights (as opposed to the ridiculously bad choice of Fridays) and it premiered earlier this week. On the surface, the new season looks much cleaner and fresh as far as production goes. Interviews with the principle characters (Dana White, Jon Jones, Chael Sonnen) as well as how the stories are told takes on more of a documentary feel than ever before. Slow motion during fights adds to the impact of strikes or sequences, too.
Plus, for the first time, producers allowed all 32 fighters to bring family or friends with them to Las Vegas for the initial fight to get into the house. It was unique to see on a UFC broadcast with so few people around, family cheering for their particular fighter and his dream/goal/last opportunity only feet away from the family of the opponent.
As for which fighters stood out, it was down to two men: Clinton Hester out of Georgia and Uriah Hall from New York.
Aside from MMA (7-3), Hester is also a pro boxer (3-3-1) and it was apparent in his win to earn a spot in the house. The #1 overall pick for Jon Jones, showed a penchant for awesome body shots plus explosive takedowns. He didn't need to show much defense of any kind but based on his offense, he can be dangerous.
However, the star of all the fighters ended up being Chael Sonnen's second choice, Hall. A Tiger Schulman fighter (the same team with Bellator fighters Lyman Good and Jimmie Rivera) known best for his striking, put on an absolute show with his assorted kicks from all different kinds of angles. Before TUF, in his career, his wrestling has been criticized (most notably, his only losses came against Chris Weidman and Costa Philippou), but it looks like he's been working on that aspect of his game.
The first tournament fight is next Tuesday with Team Jones' fourth pick, Gilbert Smith (short, muscular wrestler) will fight Team Sonnen's top overall choice in Britain's Luke Barnatt (6'6 and he knows how to use it).
The official rating has not been released yet but the earliest numbers had the premiere doing 1.5 million viewers, making it the highest viewed episode of TUF on FX ever. The previous high was 1.3 million for the live premiere of the Cruz/Faber season last March.
TWITTER
http://www.twitter.com/411mania
http://www.twitter.com/411wrestling
http://www.twitter.com/411moviestv
http://www.twitter.com/411music
http://www.twitter.com/411games
http://www.twitter.com/411mma

comments powered by Disqus