The Juggernaut MMA News Report 01.31.13: Will Lightning Strike Twice For Frankie Edgar?
January 31, 2013 | Posted by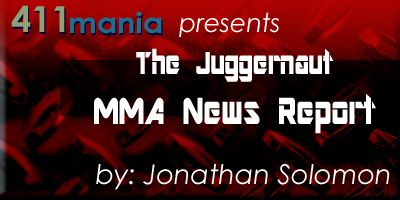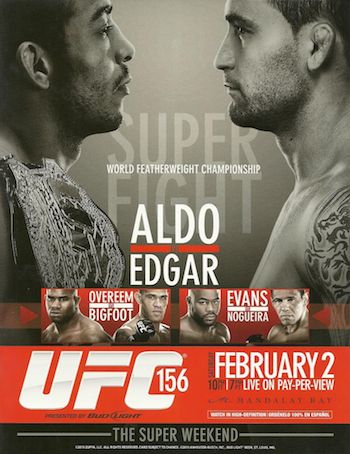 UFC 156: Aldo vs. Edgar Preview
This weekend is the biggest non-official holiday in the United States for the entire year thanks to the NFL's Super Bowl on Sunday. Thus, the UFC is having their annual show in what's the biggest weekend of the year in Las Vegas. Not to be totally outdone, they're promoting a fight that's been talked about for years, Jose Aldo, the best featherweight fighter in the world going up against one of the best lightweights in Frankie Edgar. Of course, Edgar is no longer a lightweight, and he's going down to the champion's weight class to try and do what many have failed trying – beat Aldo.
UFC Featherweight Championship
Jose Aldo © vs. Frankie Edgar
Two delays due to injuries last year and here we are, Jose Aldo after 13 months is prepared for his next defense of the UFC featherweight crown and will do so in his first fight in Las Vegas since he became champion by stopping Mike Brown over three years ago in WEC.
In Aldo's way is the always tough willed Frankie Edgar, about to make his debut as a featherweight after years of success not cutting weight at 155-pounds. This scenario, fighting a dominant champion, is not new to the New Jersey native. Just short of three years ago, it was Edgar who earned a fight against the then-dominant lightweight champion, B.J. Penn in Abu Dhabu. 25-minutes later, Edgar was crowned champion in one of the biggest upsets of 2010 and he did the same four months later in a rematch.
Jose has never lost as a featherweight and since coming to America in 2008, he's been nothing short of beastly in his performances. No opponent has come remotely close to hurting or stopping him and despite being a Brazilian Jiu-Jitsu black belt, he hasn't even submitted anyone with a hold since 2005.
The last man to get a crack at the champion was Chad Mendes one year ago and he put forth a valiant effort. A wrestler at heart, he attempted to get Aldo down by any means necessary and STILL could not do so. Finally, at the end of the first round, after fending off another attempt, Aldo landed a textbook knee and finished him with just one second remaining in the round. So, if a strong guy like Mendes couldn't even secure a single takedown, what is Edgar going to do in 48 hours?
Frankie's style is built on speed and movement, it's how he overcame Penn on two occasions and how he managed to retain the lightweight title after two fights with his nemesis, Gray Maynard. Edgar does not have one-punch knockout power and only two of his 13 UFC fights have not gone into the third round or later. He looks for openings in his opponents style and attacks with quick combinations before circling out of a potential counter thrown his way.
The problem with Edgar's historical game plan?
Jose Aldo is one of the nastiest strikers in the sport and he boasts the kind of speed that can catch even the most adept fighters off guard. Plus, his arsenal is not just based on punches or just kicks, even. His knees pack knockout power and the map to stopping him is not extensive. Can Edgar turn this into a grueling, grimy fight? Can he force Aldo into carrying his weight in the clinch or dare I say, on the ground? Edgar does not have explosive takedowns and in his two fights with Benson Henderson last year, his wrestling was mostly rendered moot.
Frankly, I don't see how Edgar can score the upset this weekend. Aldo has a tremendous chin, Edgar doesn't have a ton of knockout power. Jose's takedown defense is superb and his striking is outstanding.
This is a bit of a dream fight, having been talked about for years and even though Frankie lost his past two fights, it's still special. It's not often we get a dream fight among the lighter weights, let alone between one dominant champion and a former champion who feels he was not literally beaten to lose his title. Edgar has avoided dropping weight for years because he did not want to cut weight and felt he had an advantage against guys who did. Now, he's one of the crowd and in his first test, he draws a champion apparently with no weakness.
Perhaps Frankie's best shot is if Aldo is actually rusty coming off a foot injury and some kind of motorcycle accident in Brazil (I'm still not certain of all the details on that one) last year. Otherwise, this looks to be another notch in Jose's belt.

Rashad Evans vs. Antonio Rogerio Nogueira
"Lil' Nog" is back for his first fight in over a year, since he finished Tito Ortiz at UFC 140 in December 2011. He was suppose to return last spring but was hurt with a knee injury. He returns to the octagon with an extremely difficult match-up in the form of former champion Rashad Evans.
Evans has not fought since his April loss to Jon Jones and prior to that, he was on a four-fight win streak.
The problem for Nogueira here, like his losses against Ryan Bader and Phil Davis, is against a strong wrestler. Plus, Rashad is a better well-rounded fighter than either Bader or Davis with his skilled striking game. So, how does Rogerio win?
For him to beat Evans, he'll have to keep the fight standing, cut Rashad's movement and land punches in bunches. What are the odds of this happening? I'll say not very likely.
Rashad should get the better of Nogueira standing and may pull out a couple takedowns for good measure to pick up a decision win.
In Rashad Evans' future, is there another Brazilian? Don't sleep on the UFC going to him to challenge Anderson Silva for his middleweight championship later this year if he can win and walk away without an injury.

Alistair Overeem vs. Antonio Silva
THE REEM RETURNS!
Alistair is passing all of his drug tests these days and so he's back in the mix and with a win Saturday, he is almost certainly getting the next title fight against Cain Velasquez. Of course, he'll have to stop "Bigfoot" first.
Overeem has not fought since he ended Brock Lesnar's MMA career in 2011. He was scheduled to fight Junior dos Santos last May but failed a drug test and was suspended. Now looking a bit more svelte than two years ago, he gets to fight a fellow, former Strikeforce competitor.
Antonio Silva ended his first losing streak in October by beating Travis Browne, who injured his hamstring during the first round. Regardless, Silva won and gets this big fight.
This is not a match-up where Silva will have an incredible size advantage. Overeem is taller and the size difference is minimal at best. Silva must avoid getting into a brawl in the first round because that's when Alistair is at his strongest and most dangerous. If he can even get the fight to the ground, that's a huge plus. If not, go five minutes without getting knocked out and this could become a closer fight.
It's no secret that the Reem loses some of his power when he has to go deeper into a fight, not saying he's a joke if he ends up in the second or third rounds, but that's what all opponents have to try to do.
Of course, Bigfoot has a bit of a problem with taking punches. Infamously, he was this close to being knocked out by Mike Kyle in 2010 and you can remember him being demolished by American Kickboxing Academy heavyweights Daniel Cormier and Cain Velasquez. So, you don't like his chances of going toe-to-toe with Overeem's assorted deadly punches, knees and kicks.

Jon Fitch vs. Demian Maia
When was the last time you were excited for a Jon Fitch fight? Me? Definitely the Johny Hendricks fight, and we all know how long that lasted (seconds). This weekend brings us a completely different feel between two of the best grapplers in the division.
Demian Maia, one of the very best submission artists in the sport, is 2-0 since dropping to welterweight. He beat Stun Gun Kim by TKO due to injury when Kim's ribs were hurt after being taken down. Next, Rick Story was submitted with a neck crank in october and Maia is looking like a beast. Not having to fight guys who are regularly close to 200-pounds, he is bigger and stronger fighting this crop of competition.
Fitch is recognized as one of the handful of top wrestlers in the welterweight division (this includes Georges St. Pierre, Ben Askren and Johny Hendricks) and his top game is so debilitating to most opponents, he takes their will and eats it for dinner. He's healthy again after a shoulder injury that cost him almost all of 2011 and 2012. In fact, he took the fight with Hendricks so he could make some money and ended up knocked out in 12 seconds. He returned in October against Erick Silva, perhaps with his job on the line, and fought like a mad man, winning the 'fight of the night' bonus in addition to the unanimous decision.
Trying to judge how this fight may turn out on the ground seems like an insane prospect. The old MMA cliche says that when you have two elite grapplers, the fight will end up being decided based on their kickboxing.
What's intriguing in this fight is what Fitch will do. Everyone knows his plan in every fight is to attack, get it to the ground and pummel. Will he deviate from that on Saturday? After all, why would you want to risk being in Maia's guard for an extended period of time?
Secondly, if Maia reverts back to being more motivated by his boxing, Fitch is not a guy who's been beaten in that realm often. You can literally count on one hand who has picked him apart over the past decade and it's relegated to St. Pierre and if you consider a quick knockout in that realm, then Hendricks, too. However, if Maia is true to his past two performances at 170-pounds, he'll be aggressive and look to make Fitch make a mistake.
All of these possibilities are why this fight is so intriguing on paper and legitimately the fight I'm most looking forward to this week.

Ian McCall vs. Joseph Benavidez
With Demetrious Johnson beating John Dodson last week in Chicago, he'll almost definitely have a rematch in his next title defense. Who the opponent will be, is not the easiest question to answer. It's possible Dodson could get an immediate return fight or if the winner of this bout looks impressive, either McCall or Benavidez could get another crack at Mighty Mouse.
Both men lost to him during last year's flyweight title tournament. McCall and Johnson fought to a draw in their first fight (it should've gone into an overtime round but the judges at ringside made an error) and in the return fight, Johnson won. With the inaugural flyweight title on the line, Benavidez lost a five-round decision.
They have similar body sizes, although "Uncle Creepy" McCall may be an inch or two taller. The differences in their fighting styles are not large, either. Both are strong wrestlers although you may have to give the edge to Ian considering his success in stopping Demetrious' takedowns in their first fight. Standing, they both have power and tend to use their striking to set up their wrestling and enforce their will on the ground.
Benavidez cannot be wild in this fight because McCall has the ability to put him on his back and throw some powerful strikes. If he avoids the infatuation with being a power boxer, he can mix up his offense and keep McCall off guard.
A problem McCall must avoid is tiring, as he did in the second fight with Johnson, in the third round. He has said he won't come into this fight nearly as heavy as he was in his last fight, so he has at least acknowledged he's working to correct that issue.
As you can tell, on paper, these two are intensely similar and between their entertaining styles, this makes for one hell of a PPV opener Saturday night. The winner may get a title shot and the loser? Well, in this new division, they're already out of title contention for the rest of 2013.
---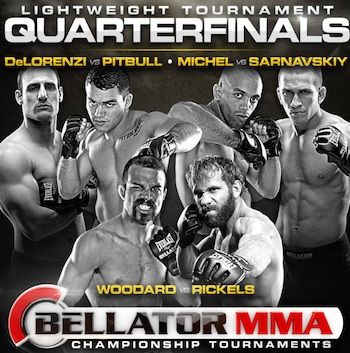 Bellator 87 on Spike Preview
Week three of the Spike era brings us our first show of season eight without a title fight. Instead, the entire quarterfinal round of the lightweight tournament will air live. One sudden change was announced yesterday as Patricky Pitbull injured his knee and has been replaced in his fight with Guillaume DeLorenzi. He misses out on the potential $100,000 payday and a guaranteed shot against the lightweight champion (whether it's current kingpin Michael Chandler or the Dave Jansen/Marcin Held season seven final winner).
Lightweight Tournament Quarterfinal
Saad Awad vs. Guillaume DeLorenzi
Awad was slated to compete on the prelims tonight but received word yesterday, he was bounced up to a quarterfinal fight. He's fighting out of California with a 12-4 record. His only fight in the Bellator cage previously came in 2009 with a submission loss to Diego Garijo. He fought in Strikeforce on the Diaz vs. Daley undercard and was submitted by Joe Duarte. Since then, he's won four consecutive fights to make it back. He tried out of The Ultimate Fighter last season (Nelson/Carwin) but lost a decision to Joey Rivera to get in the house and he's had one fight since that experience.
Guillaume DeLorenzi is a Canadian with a 10-1 record including his company debut in November in which he submitted Jonny Carson. His only loss came in 2009 when War Machine choked him out. He took more than two years off after a June 2010 win, but signed with Bellator and is looking to improve from his prospect status of recent years.
Lightweight Tournament Quarterfinal
Lloyd Woodard vs. David Rickels
Both men lost in the season six semifinals, Rickels as a welterweight to Karl Amoussou and Woodard as a lightweight to Rick Hawn. So, Rickels is dropping in weight to try and make it to the finals of a Bellator tournament this time.
Woodard is best known for his aggressive style and his durability. In fact, his knockout loss to Hawn was the first time he was finished in his 14-fight career. At 12-2, he's proven to be a tough opponent as he was when he fought Michael Chandler to a decision in the season four semifinals in 2011. His most impressive win to date came last March when he beat Patricky Pitbull with a Kimura.
Rickels is 11-1 overall and was undefeated after 10 wins before the Amoussou loss by split decision. He returned in November at a 160-pound catchweight to beat Jason Fischer by decision, setting him up for his weight cut.
What you can expect here is some semblance of a brawl, whether right out of the gate or once both fighters get their legs underneath them. Woodard has his best success when his opponents throw caution to the wind, allowing him to pick them apart. Even if Rickels plays it calm and avoids gunslinging, I'm not sure he has enough defense standing to prevent Woodard from landing his shots.
Lightweight Tournament Quarterfinal
Ricardo Tirloni vs. Will Brooks
Personally, this is the fight I'm most anticipating tonight as undefeated Illinois-native Will Brooks debuts against the extremely tough Brazilian grappler, Ricardo Tirloni.
Brooks literally was an unknown mid-western fighter until he signed to fight veteran fighter Satoru Kitaoka on New Year's Eve in Japan. He was 7-0 against local talent, taking his first major fight and he impressed everyone who saw, including Bellator officials. Brooks threw Kitaoka around the ring and finished him with strikes in the second round, making it look too easy. About three weeks later, he officially signed with this promotion and earned a spot in the tournament.
Tirloni is 15-3 overall (2-2 in Bellator) who has the skills to do serious damage in this tournament. His season six first round fight with Rick Hawn ended with the Brazilian knocked out over two minutes into the opening round. He came back seven months later to choke out BJJ black belt Rene Nazare via D'arce choke. However, he fell victim to questionable judging in the semifinal when he lost a split decision to Dave Jansen.
Will has been training out of American Top Team recently and if his Japan fight is a sign of what to expect, look for him to be very physical and aggressive with Tirloni. We know Ricardo's chin can be an achilles heel and unless he can take advantage of his younger opponent's excitement in his next big fight, he may be overwhelmed with ground and pound just like Kitaoka was last month.
Of course, if Brooks fails to get the fight to the ground, will he persevere and find a way to win or can Tirloni lock on a submission and return to the semifinals?
Lightweight Tournament Quarterfinal
Alex Sarnavskiy vs. Thiago Michel
Another first round match-up which should be filled with action as Brazilian kickboxer Thiago Michel (10-3) fights Russia's Alexander Sarnavskiy (21-1).
Michel lost in the season six semifinal by split decision to Brent Weedman. He earned a split decision win against Rene Nazare in the first round, utilizing good takedown defense and his long-limbed strikes. At six-feet-tall, he's the tallest fighter among this field and he knows how to use his length standing or defensively in his guard. Among his 10 career wins, nine have come by TKO or KO, something he has yet to accomplish since coming to the United States.
On the other hand is Sarnavskiy, known as "Tiger", he was a much hyped 20-0 prospect when he made his Bellator debut in the fall. He fought Rich Clementi in the first round of the season seven tournament and lost a split decision. His problem was not having much energy late in the fight while Clementi appeared willing and able to go another two rounds. After the upset loss, Alex came back a month later to pick apart Tony Hervey for his 21st victory. Of those 21 wins, more than half have come by submission.
Standing, despite Michel's length, you give the edge to Sarnavskiy for his power. The Russian also has a good takedown game, which may pose problems for the Brazilian. Look for Thiago to try to keep his European opponent off guard with a barrage of combinations and leg kicks. If he can stay off his back for an extended period, while landing combinations, Michel can win this fight. Otherwise, Tiger will win his first Bellator tournament fight.
---
– SI.com broke the news Tuesday morning about Randy Couture signing a multi-year deal with Spike TV in which he will be one coach on the upcoming Bellator reality series. His future roles with the network and perhaps Viacom (the network's conglomerate owner) are not yet known but a press conference with Spike officials is set for Tuesday afternoon in Los Angeles. The Loretta Hunt report said UFC president Dana White wasn't thrilled when he learned Randy's decision.
– In further news about the next UFC on Fox show in April is the addition of a second lightweight bout, Nate Diaz vs. Josh Thomson is official. They join Benson Henderson vs. Gilbert Melendez, Daniel Cormier vs. Frank Mir and Matt Brown vs. Dan Hardy as bouts scheduled for April 20 in San Jose.
Thomson had a three-fight stint in the UFC short of a decade ago with wins against Gerald Strebendt (UFC 44, Sept. 2003), Hermes Franca (UFC 46, Jan. 2004) and a loss to Yves Edwards (UFC 49, Aug. 2004). After the loss, he fought once in Pride before returning to America with the new MMA promotion, Strikeforce, which turned out to be his home for all but two of his next 14 fights.
– Confirmed as the co-main event for UFC 159 in April is a middleweight bout between Michael Bisping and Alan Belcher. This is under the Jones/Sonnen light heavyweight championship fight. Other fights confirmed for the card include: Pat Healy vs. Jim Miller, Roy Nelson vs. Cheick Kongo and finally, Vinny Magalhaes vs. Phil Davis.
– ONE FC announced lightweight champion Kotetsu Boku will defend against Shinya Aoki at Kings and Champions on April 5 in Singapore.
---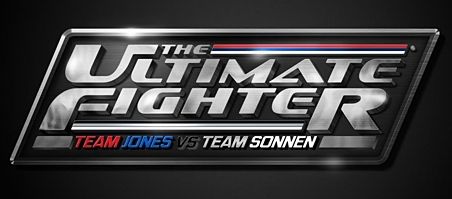 THE ULTIMATE FIGHTER (SEASON 17) QUICK EPISODE REVIEW
The first official fight of the TUF tournament aired this week with Chael Sonnen's top pick, Luke Barnatt against Team Jones' Gilbert Smith, who was one the champion's middle picks.
Smith is a stocky man with a well built torso and questions about how long he can last in the cage. He's known for rushing guys to the ground with his wrestling and working for submissions or ground and pound. Barnatt is a 6'6 middleweight who understands how to use his reach. He's out of England so the generalization involving his wrestling not being great happens to hold true. There was plenty of skepticism from UFC president Dana White and members of Jones' team as to why he chose short Smith to fight the tall Brit.
The fight went about how you would expect. Barnatt was successful in staying off his back for any stretch of time and routinely was able to trip Smith to the ground. His top game left a lot to be desired because Gilbert kept getting up and was able to reverse holds, too. Barnatt's work from the clinch was especially effective with plenty of knees. The fight ended in the second round when Smith charged for a takedown but was met with a flying knee which knocked him out.
Luke Barnatt is on to the quarterfinals where he awaits the next seven participants (one of whom will be decided among two eliminated participants in a 'wild card' fight).
Next week, Sonnen chose the season favorite, Uriah Hall to fight Adam Cella from Jon Jones' squad. Dana said next week features the nastiest knockout in the history of TUF and the visual of an ambulance taking a fighter away brought that point home. Clearly, you assume it's Cella taking a ride to the hospital and it would be a major upset if it's the other way around.
TWITTER
http://www.twitter.com/411mania
http://www.twitter.com/411wrestling
http://www.twitter.com/411moviestv
http://www.twitter.com/411music
http://www.twitter.com/411games
http://www.twitter.com/411mma

comments powered by Disqus