The Juggernaut MMA News Report 02.07.13: The Few Options for Cain Velasquez
February 7, 2013 | Posted by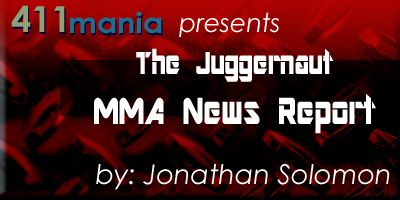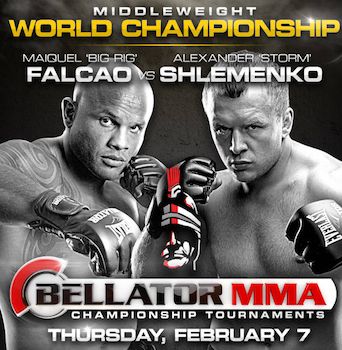 Bellator 88 on Spike Preview
Live MMA returns to Spike TV tonight with yet another championship fight (the fourth of season eight) and unlike the past, we are GUARANTEED new champion tonight. In addition to that main event, the new featherweight tournament kicks featuring a mix of accomplished veterans, Bellator mainstays and new top prospects to keep an eye on. The winner will earn $100,000 and a title fight against either champion Pat Curran or the existing top contender, Daniel Straus. Ironically, their fight has just been made official for April 4, Bellator 95 in Atlantic City. Here is a breakdown of tonight's action:
Vacant Middleweight Championship Bout
Alexander Shlemenko vs. Maiquel Falcao
The original and only middleweight champion in Bellator history remains Hector Lombard, who vacated the strap when he signed with the UFC last spring. Fighting for the vacant belt are tournament winners from seasons five and six, Alexander Shlemenko and Maiquel Falcao, respectively.
Shlemenko badly wanted a rematch with Lombard following their 2010 title match in which Hector defended the gold by unanimous decision. Since then, the Russian has been unbeatable. He ran through the season five tournament by choking out Zelg Galesic and knocking out Brian Rogers before overcoming Vitor Vianna in the finals. He hasn't fought in the Bellator cage since that fight (November 2011), instead taking fights in Russia and India. Thus, he returns to the promotion tonight in Georgia, vying for his first American championship.
Falcao remains a bit of a weird mystery in that only one of his 32 fights in Brazil went to a decision and yet, all four of his U.S. fights have gone the distance. He's infamous for his lackluster UFC 123 win over Gerald Harris and even more so because he was cut by the promotion after being arrested for an issue stemming from a case in 2002 in which he was sentenced to house arrest for allegedly assaulting a woman. Some months after being let go, Bellator picked him up and he went on to win the season six tournament by beating Norman Paraisy, Vyacheslav Vasilevsky and Andreas Spang.
To be blunt, Shlemenko gives you more reasons to believe he'll win tonight. His striking technique is more sound, he offers a better array of strikes and his gas tank is not questionable at all. Meanwhile, Falcao has been unable to utilize his grappling game so far in Bellator and relies on his simplistic striking to pound out his opponents. It's worked for him so far, but against Alexander, he'll need to mix things up. I'm not sold on Maiquel's ability to do that and this is why I believe we'll see the first Russian champion in Bellator history (and perhaps not the last considering Shlemenko is trainer to a large assortment of talented countrymen in Bellator).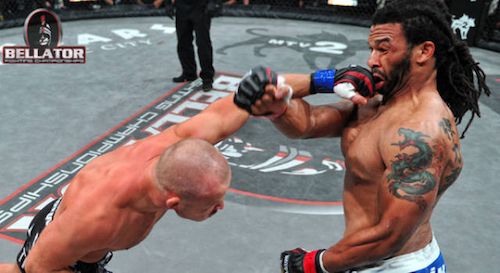 Shlemenko's power on display against Brian Rogers.
Featherweight Quarterfinals
Marlon Sandro vs. Akop Stepanyan
It's been a bit of a rough ride for Marlon Sandro in Bellator, coming into the promotion he was considered one of the best featherweights in the world. Almost two years later, a pair of losses in finals and now he's a borderline top 15 featherweight. Losses to Pat Curran (knockout) and Daniel Straus (decision) fog the picture with Sandro because other than those fights, he's looked good. Sure, he's fought to a couple split decisions over the past two years, but he's still the same aggressive fighter who emerged as a star in Sengoku about four years ago.
He last fought in November when he choked out Dustin Neace, who is four more losses away from being a .500 fighter with over 40 professional fights.
Now, who's Akop Stepanyan?
The Russian-Armenian featherweight is a striking specialist in Taekwondo, boxing and kickboxing. Since he started his career 0-3, he's gone 12-1. Ironically, in his Bellator debut in October, he was submitted by Wagnney Fabiano in the season seven quarterfinals. In that striker/grappler match-up, the BJJ black belt came out on top. To his credit, Stepanyan has never been knocked out, so you have to imagine he'll be plenty confident in brawling with Sandro.
Something about Akop has me believing he can pull off the upset. Perhaps, it's the fact Sandro will turn 36-years-old next month and we've seen him knocked out once before. Or, I should say this is another mid-level fighter at best going up against a dangerous BJJ black belt with power in his hands to boot. Logic says Sandro will win by finishing the fight where he'll move on in his third attempt at a Bellator tournament win.
Featherweight Quarterfinals
Alexandre Bezerra vs. Genair da Silva
In this featherweight tournament bout, we have two men who were previously eliminated by Sandro in past tournaments.
Genair da Silva lost a split decision in the 2011 summer series first round bout has been successful ever since. He's 3-0 in that span including two finishes in Bellator catchweight fights (148 and 150). He last fought in September down in Brazil winning via arm-triangle choke.
Popo Bezerra also lost a split decision to Sandro in the season six tournament last spring, though it was a semifinal fight. He returned in September to win via rear naked choke at Bellator 74.
Bezerra is one of the prospects who built his name primarily in Bellator, going 4-0 in the company before he earned a spot in a tournament. At Bellator 60, he choked out Kenny Foster at which point he met Marlon Sandro. He's a submission fighter and a BJJ brown belt out of Philadelphia. Aside from his loss last year, his only previous defeat came at the hands of Charles Oliveira in 2009 in Sao Paulo via anaconda choke.
These two were originally scheduled to fight in the quarterfinals last year, but da Silva struggled with his weight and was replaced by Foster. That was when Genair fought at 148-pounds and beat Bobby Reardanz via third round referee stoppage. He's a former lightweight so there's an off chance his weight may play a role in how this fight develops. However, if he can maintain his energy and stay standing, he could pose problems for Alexandre, a grappler.
Bezerra is the favorite because of the success we've seen him have in the Bellator cage on a fairly consistent basis, but do not count out da Silva.
Featherweight Quarterfinals
Mike Richman vs. Mitch Jackson
In the only quarterfinal fight between Americans (plus, both are from Minnesota), Mitch Jackson (19-2) makes his Bellator debut against Mike Richman (13-2).
Richman suffered his first Bellator loss in November in the season seven semifinal when he was knocked out by Shahbulat Shamhalaev in just under two minutes. Prior to that, he was the one known for knocking out opponents thanks to a pair of first round KO's against Chris Horodecki and Jeremy Spoon. How he returns from his first knock out loss will be an intriguing story to follow.
Jackson has been a submission artist in his 21-fight career, finishing 13 opponents with that aspect of his game. He has won his past eight fights, ALL by submission. His first career loss came against current UFC featherweight Pablo Garza in 2009 (Garza choked him out with a triangle choke in 53-seconds). His only loss since then was a split decision in 2010 against Brandon Bergeron.
Ironically, three of Mitch Jackson's wins are against a local Minnesota fighter named Bruce Johnson who's record today stands at 8-43. Yeah…
On paper, the striker Richman welcomes the grappler Jackson to the Bellator tournament and we'll see which man can push their ticket into the semifinals.
Featherweight Quarterfinals
Magomedrasul vs. Khasbulaev vs. Fabricio Guerreiro
This quarterfinal match-up is an exciting one between notable prospects from Brazil and Russia.
Fabricio Guerreiro was the #1 lightweight prospect in the world entering 2012 according to BloodyElbow.com and he's getting his first chance to realize that potential in the United States tonight. From Northern Brazil, the 22-year-old is 17-1 with one no contest and even the loss was said to be due to a premature referee stoppage. In an immediate rematch with Rafael Bastos, Guerreiro defeated him with a submission. In total, 15 of his wins have come by submission or knockout (12 by sub).
From Russia, the 26-year-old Magomedrasul Khasbulaev is 18-5 overall with time spent between welterweight and featherweight in his career. He made his Bellator debut in Canada last year and he won a season seven reserve fight by knocking out Nayeb Hezam in 24-seconds. He didn't get in the tourney, but he returned to choke out Josh Pulsifer, also in the first round, at Bellator 79. Like his opponent tonight, he also has 12 career submission wins, but his weakness has also been that part of the fight game. Four of his losses came by submission, three of those by rear naked choke.
The winner here may be the favorite to go all the way, regardless of Marlon Sandro (perhaps that's a bit much).
---
– On UFC Tonight this week, heavyweight champion Cain Velasquez said he would like to fight this summer and he has no intention of fighting his friend Daniel Cormier (who is in action against Daniel Cormier in April and has been persistent in calling out Jon Jones).
With Fabricio Werdum out of action until June when he fights Minotauro Nogueira, the options are limited for Cain. Legitimate candidates include a rematch with Bigfoot Silva, a rematch with Junior dos Santos or the winner between Mark Hunt and Stefan Struve (they fight next month). Among the three, my guess is they'll give the fight to Silva. Meanwhile, dos Santos will have to win at least one fight before he's back in the mix for a title shot. If Werdum beats Big Nog, expect him to get his first title shot ever early in 2014.
– Spike and Bellator held a joint press conference Tuesday afternoon to unveil their reality TV plans. First is "Fightmaster: Bellator MMA," their series based on fighters will feature 32 welterweights vying for a single spot in a Bellator tournament and a $100,000 prize. The participants will be able to pick their coaches between Randy Couture, Frank Shamrock, Joe Warren and Greg Jackson. Coaches and Bellator founder Bjorn Rebney will make-up the seeding and the top seeds will have the ability to choose their fights.
Perhaps the biggest surprise in all this was the involvement of Greg Jackson (of Jackson-Winkeljohn fame). Apparently, he was able to keep this a secret until the announcement, so nobody knows what the UFC's reaction will be. We already know Dana White has banned Couture from cornering any fighters in the UFC (including his son, who chose to remain in the UFC), and we do not know if he there will be push back for Jackson. I would not expect there to be since his New Mexico camp includes so many fighters (including Jon Jones).
The only details as to when the series will air is this summer.
The second show announced is a Randy Couture vehicle which will feature him going to fighting gyms around the country that are having a difficult time staying afloat. He will help them improve their business and become a success. The name of this show will be "MMA Rescue" with three one-hour-long episodes having already been ordered with its future pending how well the initial airing does. There was no timeframe for when to expect to see the series on Spike.
– Jose Aldo will defend his UFC featherweight title next against top lightweight contender, Anthony Pettis on pay-per-view in August. The story here is that Pettis decided he did not want to wait around to see if he was able to secure a title fight against either Benson Henderson or Gilbert Melendez (they fight in April). So, he contacted Dana White this weekend to say he wanted to fight Aldo. It will be the first time he'll cut to featherweight (he essentially cuts no weight at 155-pounds). Ironically, the fight is set for August, so Pettis is technically waiting, regardless. Also, he allegedly plans to return to lightweight following the fight, win or lose (should he upset Aldo, those plans will almost certainly change).
– So, with Aldo's next fight booked, his previous top two featherweight contenders are not happy. Both Ricardo Lamas and "The Korean Zombie" Chan Sung Jung, were expecting they'd get the title fight. Instead, it sounds like they will fight each other with the plan likely to have the winner fighting the Aldo/Pettis winner. Their fight has not been officially signed yet, but all signs point to it getting done quickly.
– The World Series of Fighting announced earlier this week a three-year deal with the NBC Sports Network. WSOF premiered last November with a show on the channel and they are planning to return for show number two on March 23 in Atlantic City. Fights associated with the card include Andrei Arlovski vs. Anthony Johnson (at heavyweight), Marlon Moraes vs. Tyson Nam, Paulo Filho vs. Dave Branch and JZ Cavalcante vs. Justin Gaethje.
– Tatame.com reported Wednesday morning (and it was later confirmed) that Thiago Tavares failed his drug test at UFC on FX: Belfort vs. Bisping, which took place in Sao Paulo, Brazil. Based on their report, he will be suspended for nine months for the drug drostanolone. He was knocked out by Khabib Nurmagomedov on the card and it would mark his first positive drug test since coming to the UFC almost six years ago.
– MMAJunkie reports Josh Barnett's management led y Leland LaBarre has rejected the UFC's offer because of certain unacceptable clauses that he would not specify. LaBarre also said Barnett is talking with other promotions.
About a month ago, Bellator founder Bjorn Rebney expressed some hesitancy in offering Barnett a deal, so don't be so sure that they jump into the picture. So, unless he turns into a full-time pro wrestler in Japan, it seems like the worthwhile promotions may include ONE FC out of Asia or the World Series of Fighting in America. It would certainly make sense (who knows about whether it makes fiscal sense) for WSOF to be interested considering he is a name and they'll need as many of those as they can get in the coming year.
– USA Today reported that Vitor Belfort was granted an exemption for testosterone replacement therapy before his fight with Michael Bisping last month by the new athletic commission in Brazil.
Remember, he failed a drug test in Las Vegas for elevated testosterone levels in 2006 and no matter what your opinions are of TRT (Bisping is no fan), it's a regular part of the sport today.

---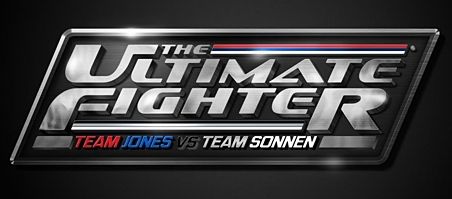 THE ULTIMATE FIGHTER (SEASON 17) QUICK EPISODE REVIEW
Episode 3
This week's episode was tremendous and already you can tell this season is head and shoulders better than any recent season. Focused on the fight between Uriah Hall (Team Sonnen) and Adam Cella (Team Jones), we got to know more about both men and by the time they fought, you had some kind of emotional investment. Plus, you had Dana White all week promoting the fight ending knockout which he said was one of the most violent in series history. So, something for everyone, naturally.
Hall came to the United States as a young teenager with his family from Jamaica for a better life. He was teased and bullied for speaking differently and eventually, he discovered a kind of safe haven in the form of martial arts. Today, he's one of the most physically gifted fighters featured on the show and with his Karate and Muay Thai background, perhaps the most dangerous. However, despite all that, he is still plagued by self doubt and a drive to always be the best at everything, whether it's practice or a legitimate fight. This culminated in Hall confiding in his coach, Chael Sonnen, about his hang-ups. Sonnen relayed an encouraging story about despite being a man in pro sports, not to avoid doubts and self-criticism, but to embrace it and overcome it. Good stuff.
Then, there was Adam Cella, the underdog in this week's match-up. He's from a well-off family in Missouri and the reason he fights is to prove all of his doubters wrong. He rationalized his passion for competition through the fact that he doesn't have to fight to make a living, because his family-owned company is there for him. He fights because he enjoys it. However, once he said that, essentially, if he doesn't win, than it's okay, that sent up a red flag.
To Cella's credit, he took the fight to Hall, not sitting back and waiting to be knocked out. However, he could not answer Hall's reach or clinch work (big knees to the body did some damage) and the fight ended with an incredible spinning back kick to the head.
According to Dana on Twitter, Cella was out cold on the mat for four minutes before sitting on a stool and then taken to the hospital for a CAT scan (he was up and talking, only showing signs of no short term memory).
Just like that, Uriah Hall cemented his spot atop this group of middleweights.
Next week, Team Sonnen picked BJJ specialist Kevin Casey to fight Team Jones' Collin Hart. Based on the preview, the two will brawl next week someone will be cut open.
TWITTER
http://www.twitter.com/411mania
http://www.twitter.com/411wrestling
http://www.twitter.com/411moviestv
http://www.twitter.com/411music
http://www.twitter.com/411games
http://www.twitter.com/411mma

NULL
comments powered by Disqus