The Juggernaut MMA News Report 02.21.13: The Arrival of Ronda Rousey
February 21, 2013 | Posted by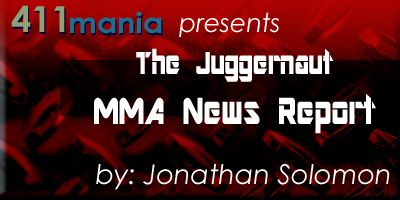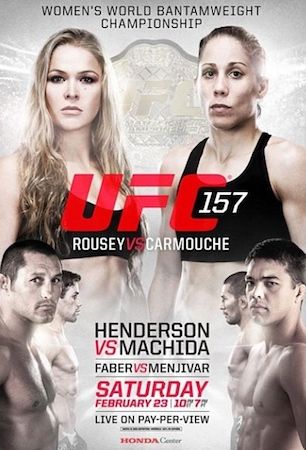 Ronda Rousey Prepares to Make History
Women's Bantamweight Championship Bout
Ronda Rousey © vs. Liz Carmouche
It has been a long road for women's MMA which has existed long before it was popularized with Gina Carano, Julie Kedzie and Cyborg Santos. The UFC has toyed with the idea of welcoming females into the octagon over the years, going so far as negotiating with Carano before she went to Strikeforce. The thought of women's MMA in the UFC was considered dead and buried until Ronda Rousey emerged and became legitimately one of the biggest stars in the sport, male or female.
This weekend will mark the first time women are headlining a major pay-per-view fight card and there will be lots of analyzing numbers between the live gate, attendance and eventually, the PPV buyrate. Of course, none of it may matter if Rousey falls short and loses her first MMA fight, right?
So, can Liz Carmouche play spoiler like she has talked about over the past few months? Perhaps, though I would not bet on it. The 29-year-old former U.S. Marine is 8-2 in her professional fight career and found herself in this spot because other women either declined the opportunity or were not offered it to begin with (as Miesha Tate maintains). Either way, she will take her rough and gruff style and try to hurt Rousey like no one has before.
Carmouche emerged in MMA three years ago when she won her first six fights. This led her to a Strikeforce title fight with champion Marloes Coenen and although she was controlling the fight, she succumbed to a triangle choke in the fourth round. She returned months later to lose to Sarah Kaufman by decision when she was unable to take her down. Since then, she has earned a pair of wins in Invicta, finishing Ashleigh Curry and Kaitlin Young.
You know by now how this fight will likely turn out, because after all, we've seen it for ourselves more than a handful of times. Nobody has taken Ronda out of the first round and only Miesha Tate managed to last more than a minute. Tate fell to the armbar at the 4:27 mark, losing her Strikeforce championship in the process. Why is it nobody has success against Rousey? She's strong with a grappling game more kin to that of a venomous snake than a comparable fighter. As soon as she gets close to an opponent, she's in complete control and before too long, they're on the ground and the opponent is tapping out, unless they don't mind serious damage to the arm.
Rousey has finished a strong wrestler in Tate and a technically sound boxer in Sarah Kaufman. Of course, Rousey has not needed to display much of her own boxing in her fights, but it's impossible to assume her striking has not improved over the past two years. Sure, she uses it exclusively to set up takedowns, but why change a thing?

Carmouche's last fight, from July 2012, versus Kaitlin Young at Invicta FC 2
This is a bad match-up because Carmouche's strength is getting fights to the ground and grinding out wins with ground and pound. Nobody in their right mind wants to go to the ground with Rousey, which means Liz's path to victory revolves around takedown defense and a superior boxing game. Have we seen enough of that from her in the past? Not quite.
In April, Tate will fight Cat Zingano, Alexis Davis is also in the picture and it's possible Olympic wrestler Sara McMann will be named the next top contender. In any event, it's a safe theory to say they will all continue chasing "Rowdy" Ronda Rousey after Saturday night.
Dan Henderson vs. Lyoto Machida
It's funny that this fight is one of the remaining remnants of the fiasco at the end of last summer when Henderson suffered a knee injury, and did not tell the UFC until late enough that they found trouble finding a suitable replacement to fight Jon Jones. The former Pride and Strikeforce champion was not happy that Chael Sonnen was named number one contender in 2013 and he'll have to topple Lyoto Machida, who was one of the men who turned down the Jones fight in 2012, to get the shot he had last year.
The man with the H-Bomb (his right hand) is on a four-fight win streak, featuring knockouts of Babalu Sobral, Feijao Cavalcante, Fedor Emelianenko and a classic decision win against Shogun Rua. The fight with Shogun was instantly and continues to be one of the best fights in MMA history, although Dan was gassed in rounds four and five. He has not fought since November 2011, although he was participating in a training camp last summer and again most recently for this fight, so I don't expect him to be rusty at all.
Taking on the 42-year-old former Olympic wrestler is 34-year-old Brazilian and former UFC champion Lyoto "The Dragon" Machida. He is only 2-3 in his past five fights and has not beaten a top five fighter since he controversially defeated Shogun Rua by decision in 2009. He suffered consecutive losses to Shogun and Rampage Jackson in 2010 before retiring Randy Couture after landing a beautiful front kick that knocked out the legend. In his last shot at the championship in December 2011, he was choked unconscious by Jon Jones.
Machida fought last summer and knocked out Ryan Bader in impressive fashion, and after the shenanigans surrounding the UFC 151 cancellation, he was eventually named to this fight with Hendo.
Right off the bat, the fact this is three rounds definitely helps Henderson as he will not have to worry about losing his wind in the final rounds. After that, it's any man's game. Henderson has never been knocked out in his career and shows uncanny ability to recover from when he's rocked (as he did when he won the Strikeforce title from Cavalcante). Also, he will not spend any time on his back against Machida who's takedowns are not a particularly explosive part of his style.
What Lyoto will look to do first, is avoid Henderson's famous right overhand punch. The former champion is known for his abnormal movements which leads to opponents struggling to land effective strikes. You are safe to assume Henderson will be the aggressor in this match-up, setting Machida up for his destructive punches. However, he must beware of Machida's success as a dirty boxer. Plus, if Hendo cannot find success with his powerful strikes, does he have the ability to still do damage and take rounds? Lyoto can easily keep his opponents guessing while landing combinations and moving without taking much punishment and it will be a fine line to see if he can succeed in that strategy Saturday night.
This will be a fun cat and mouse game with potentially the next shot at Jon Jones on the line. I cannot pick against Dan Henderson because although he's come up short at certain big moments (two UFC title fights and a Strikeforce title fight to name three since 2007), Machida has not looked good against equally dangerous fighters in a number of years. Plus, I have not seen Henderson knocked out and will not believe it can happen until I see it. I like to think I'm logical like that.
Josh Koscheck vs. Robbie Lawler
In a pleasant sight, Robbie Lawler returns to the UFC after more than eight years fighting elsewhere in promotions such as EliteXC and Strikeforce. He has not competed as a welterweight since he lost by knockout to Nick Diaz at UFC 47 in 2004, but he has not fared well at middleweight in recent years, so a change may do him some good.
Lawler is 3-3 in his past six middleweight fights and 0-2 in catchweight fights since 2009. He remains a slugger with knockout power in his hands as he has practically abandoned his wrestling base. He last fought last summer against Lorenz Larkin and lost a unanimous decision but prior to that, he knocked out Adlan Amagov with a flying knee in January.
Josh Koscheck, the former top UFC contender, is back for his first fight since last spring when he lost to Johny Hendricks on Fox. He's in a tough spot in the division because he's no longer in title contention so he must work his way back up the ladder, slowly. Josh did knock out Matt Hughes in 2011, who is a friend, business partner and one-time training partner of Lawler's, in case you're looking for a storyline.
The story of this match-up revolves around Koscheck's superior wrestling. On the feet, Lawler has a solid chance to do damage and perhaps even win by knockout. So, why would Josh allow this to degenerate into a boxing match? He will shoot for double legs and almost certainly secure the takedowns. Robbie likely will not be able to stand long enough to land significant combinations in route to a decision loss.
Of course, if Koscheck feels like being stubborn and boxing, it may serve him well to taste some leather.
Urijah Faber vs. Ivan Menjivar
Much like Koscheck, except to an even further degree, Urijah Faber is stuck in no-man's land in the UFC. He is not in featherweight title contention (he has not fought there since 2010 when he fell to Jose Aldo) and his status in the bantamweight division is muddied (he lost to Dominick Cruz in 2011 and Renan Barao in 2012). So, unless he wants to cut down to flyweight at 33-years-old where his buddy Joseph Benavidez is fighting, he's going to be in several fights like this one at 135-pounds.
Faber is 2-2 in the UFC, but like has been the case with him since 2008, he has struggled against the elite fighters of his divisions. Since then, he has lost to Mike Brown (twice at featherweight), Aldo, Cruz and Barao. Over that same span, he has beaten Jens Pulver, Raphael Assuncao, Takeya Mizugaki, Eddie Wineland and Brown Bowles. Based on the eye test, while Faber is not capable of being the number one fighter anymore, his skills have not deteriorated by a significant margin. He remains a tough opponent thanks to his wrestling, his jiu-jitsu and his powerful strikes.
Ivan Menjivar is 4-1 since returning to the UFC in 2011 (one of those wins was at a catchweight since he missed weight) with wins against Charlie Valencia, Nick Pace (the catchweight bout), John Albert and most recently, Azamat Gashimov. His lone defeat was in a decision against Mike Easton last summer.
These two men squared off in 2006 in a Canadian promotion but Faber was ruled the winner by disqualification after Menjivar landed an illegal kick in the second round.
Menjivar's problem in this match-up will be revealed when the fight goes to the ground, where Faber has the edge. His best bet to win is if he can keep the fight standing and use his combinations to slow Faber down and do enough damage to win rounds. Remember that Urijah has only been finished twice in his 32-fight career and not since 2008.
The California Kid is the safe bet here to win and begin his next ascent to a title shot down the long winding road in the UFC.
---
Women have fought in MMA for years, but this weekend marks the first time they will compete on the sport's biggest platform. The graphic above notes each of the women to have won a fight while competing in EliteXC, Strikeforce or Bellator since 2007. Hover your mouse over the chart to see how many wins each fighter has had in those promotions.

---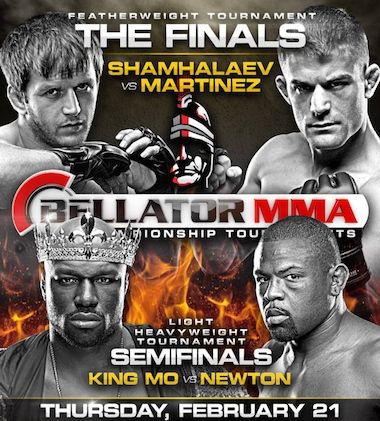 Bellator 90 on Spike Preview
Season 7 Featherweight Tournament Championship Bout
Rad Martinez vs. Shahbulat Shamhalaev
Finally, last year's featherweight tournament will conclude tonight, delayed by two months due to illness and scheduling problems. Originally, the fight was scheduled for December when Shamhalaev was deemed too ill to compete and the fight was cancelled at the last moment. While Bellator attempted to reschedule it quickly, timing did not work out for Martinez who could not fight because of his duties caring for his paraplegic father.
Thus, we find ourselves in February and these two men will fight to determine who receives a $100,000 pay day and a guaranteed title fight (against either reigning champion Pat Curran or top contender Daniel Straus) down the road.
Shahbulat (11-1-1) suffered his only loss in 2009 when Khabib Nurmagomedov locked him in an armbar. Since then, he's gone 10 fights without losing including a pair of knockout wins in Bellator last year. He finished Cody Bollinger and Mike Richman with punches to advance to the finals, where he'll attempt to earn his fifth consecutive fight due to knockout.
Rad (14-2) is on a five-fight winning streak including a pair of decision wins against Brazilian Jiu-Jitsu black belts in the tournament last year, Nazareno Malegarie and Wagnney Fabiano. His background as a Division-I college wrestler acts as his base and so far, nobody in Bellator has been able to stop him.
What's intriguing about this match-up is the striking aspect. Martinez utilizes a good counter game with plenty of combinations, but you must give the power edge to Shamhalaev who appears to have that one-punch KO power you don't see from an immense amount of lighter weight fighters.
It's likely in Martinez's best interest to get the fight to the ground, which removes that possibility of a one-punch knockout. Is Shamhalaev's takedown defense on par? We most certainly will find out tonight, and for the sake of all the riches at stake, it better be.
Light Heavyweight Tournament Semifinal Bout
"King Mo" Muhammed Lawal vs. Emanuel Newton
Bellator cannot say they root for particular fighters, but clearly, it's in their best interests to see King Mo go straight to the top. Their best interests and those of Impact Wrestling whose owner Dixie Carter was on Bellator TV two weeks ago hyping Lawal.
Muhammed Lawal (9-1, 1 NC) returned to MMA last month after a year off (due to a positive drug test for a banned anabolic steroid) in spectacular fashion. He picked Przemyslaw Mysiala apart, finishing him with a knockout punch in under four minutes. We've seen King Mo win with knockouts in the past but his technical ability definitely looked improved, even in the short amount of time the fight lasted.
Emanuel Newton (19-7-1) should not be automatically counted out because he doesn't have a name. He's a well-rounded fighter, although his strength is as a wrestler. His striking is not as technically sound as Lawal's which may be the deciding factor in this fight. Well, that, and the fact that Newton will not be the best wrestler in the cage tonight in Utah.
Newton's lone loss over the past three years came last summer in a split decision to Attila Vegh in tournament semifinals. In his two other Bellator fights, he's finished both opponents (Atanas Djambazov last month and Roy Boughton last summer) with rear naked chokes.
Lawal's only loss came when his wrestling rendered moot (thanks in some part to injury) by Feijao Cavalcante and he was knocked out in the third round of their Strikeforce championship fight in 2010. Perhaps the only way for Newton is to hurt King Mo standing and take advantage with ground and pound or go for a submission. How he does that, I'm not sure, because Lawal's power and movement should serve him well and help him advance to the finals.
Light Heavyweight Tournament Semifinal Bout
Mikhail Zayats vs. Jacob Noe
The upset of the first round last month in the 205-pound tournament was seeing Mikhail Zayats knock out Babalu Sobral with a beautiful spinning back fist. Now, the Russian will look to stamp his ticket to the finals where he would fight for a $100,000 prize and a guaranteed title shot.
But first, Zayats must stop Jacob Noe.
The 32-year-old out of Tennessee, Noe (11-1, 1 NC), will look to add to his nine-fight winning streak. In the quarterfinals, he finished Seth Petruzelli in under three minutes, good for his second consecutive finish in the Bellator cage. He will have four-inch height advantage, although they share a similar reach. Noe has 13 pro fights of experience with a majority of those ending inside the first round. In fact, he has not been past the five-minute mark since the fall of 2011 (six fights ago) when he defeated an opponent with a rear naked choke.
Zayats (20-6) has more experience in MMA and as an international competitor (he won a gold medal in the Sambo World Championships in 2008) and has seen about everything you could imagine in the cage. He is on a six-fight winning streak which has seen him win through every way imaginable and based on that experience and his grappling prowess (he's a black belt in Jiu-Jitsu along with his Sambo expertise), he's the favorite to advance tonight.
Welterweight Tournament Semifinal Bout
Douglas Lima vs. Bryan Baker
Bellator vets square off here when season five tournament champion Lima battles season six runner-up (he also was runner-up in the season two middleweight tournament and was a semifinal loser in the season five middleweight tourney) Bryan Baker.
Brent Weedman was scheduled to compete here but fell out with an injury so Baker is his replacement. "The Beast" has not competed since he was submitted by Karl Amoussou in the season six finals last summer. Prior to that, he defeated Carlos Alexandre Pereira by split decision and Ben Saunders by unanimous decision. At 18-4 overall including an 8-3 BFC record, he finds himself in prime position to finally cash in on the tourney format.
Lima (23-5) destroyed Michail Tsarev's legs with kicks last month in as technical a performance using leg strikes we have seen since Tarec Saffiedine employed the technique to become Strikeforce champion (stopping Nate Marquardt last month). Lima remains the favorite in this tournament thanks to his well-rounded striking skills and his above-average ground game.
Look for the Brazilian to hand Baker a quick exit here and move on to another finals match-up.
Welterweight Tournament Semifinal Bout
Ben Saunders vs. Raul Amaya
"Killa B" Saunders (15-5-2) is back in another Bellator semifinal and he's here after defeating Koffi Adzitso last month. His tournament losses in seasons five and six came at the hands of Lima and Baker, respectively, so a win here holds extra meaning.
Amaya (11-1) was impressive last month courtesy of his knockout of Jose Gomes in just over three minutes. Now, he has the opportunity to avenge his only loss, which took place last March when he lost a unanimous decision to Saunders in the season six quarterfinals.
100% of Raul's wins have come by stoppage, either knockouts or submissions and while Saunders has never been submitted, he's been finished by strikes on two occasions. However, in their first fight, it was Saunders getting the better of the striking exchanges and when the fight went to the ground, the former UFC fighter's active ground game was the story.
Will Raul Amaya simply be outmatched a year since that fight? I'm inclined to think so.
---
– Josh Barnett told MMA Junkie the reason he chose not to sign with the UFC and fight Junior dos Santos in May was because their offer was not as lucrative as the offer they gave Eddie Alvarez. Although Barnett did not explain specifically what it was he wanted, a safe bet is a percentage of money based on PPV buyrates.
– UFC 158 in March has experienced some changes this week courtesy of a strain sustained by Rory MacDonald afflicting his neck and back (he expects to miss about a month before he resumes training). Carlos Condit will now fight Johny Hendricks and the Oklahoma State wrestler's former opponent Jake Ellenberger will now fight Nate Marquardt. Dana White said the UFC offered Tarec Saffiedine the fight with Condit but he declined. All of these changes are done with just under a month's worth of notice to prepare.
– The UFC has announced two new bouts for May 25 in Las Vegas as K.J. Noons will debut against "Cowboy" Donald Cerrone in lightweight action and light heavyweight Glover Teixeira will fight Ryan Bader.
– Last week, Invicta FC announced they signed Cris Cyborg, who will make her debut in April. This came before Dana White said they offered Santos (and her manager, Tito Ortiz) a contract which would have given her fights with Invicta before providing her with an opportunity to fight in the UFC (Invicta and the UFC have a working relationship).
Ortiz spoke to Bleacher Report and said the UFC offered Cyborg an eight-fight deal with the first three taking place in Invicta before she comes to the UFC around 2014 to fight Ronda Rousey (although not confirmed, the feeling Ortiz received was they wanted it at 135-pounds). Ortiz wanted a four-fight deal with the fourth bout being against Rousey at a 140-pound catchweight. This is apparently why Cyborg declined the offer and signed with Invicta on her own. Also, they say the money being offered was not worth it to sign.
Ironically, this does not change much because the UFC will still have the opportunity to sign her if they are ever able to reach an agreement.
– According to an interview with referee John McCarthy on Ariel Helwani's "The MMA Hour," the ref has not been licensed to work in Nevada for the past three years because he angered Keith Kizer. The long-time referee attributes the beef to comments he made in an interview accusing Nevada State Athletic Commission's Executive Director Keith Kizer of hiring judges who do not fully understand the sport. Publicly, Kizer has never confirmed the story other than to say the state's roster of referee has been and continues to be full.
– MMA Payout believes a settlement may be near in the court case pitting Eddie Alvarez against Bellator. The date being bandied about is March 1 as it's the date the two parties have agreed to extend time so that Bellator's attorneys can respond to claims from Alvarez's representatives. While it may not be likely Alvarez finds himself eligible to sign with the UFC, there's no telling what potential agreement the two parties may be able to reach which would satisfy Alvarez.
– UFC Tonight reports Frankie Edgar is looking to fight Dennis Siver or Cub Swanson by June, so he will stick at featherweight (and not attempt to make another cut down to bantamweight).
– MMAFighting.com broke the news yesterday that the UFC cut 16 fighters with the biggest name being Jon Fitch. Others cut include Vladimir Matyushenko, Mike Russow, Che Mills, Jay Hieron, Paul Sass, Terry Etim, Mike Stumpf, Simeon Thoresen, Jorge Santiago, Jacob Volkmann, C.J. Keith, Josh Grispi, Motonobu Tezuka and Ulysses Gomez.
The UFC roster is stacked in terms of volume, especially after taking on many former Strikeforce fighters. In the case of Fitch, he was cut in part due to his base salary ($66,000) per fight and the fact he is no longer in title contention. Of course, he's still considered a top ten fighter by the UFC's own rankings (and ESPECIALLY by the 411 MMA Rankings), but that doesn't mean anything when money comes into play. One can assume he will be welcomed back after picking up some wins outside the company, and if he's willing to sign for less money than he was making before. Whether he will be interested in getting into bed with Bellator and their tournament remains to be seen.
---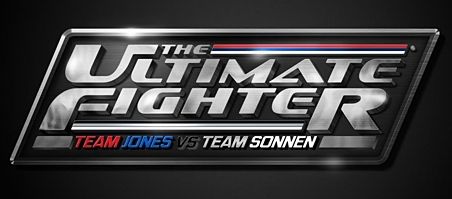 THE ULTIMATE FIGHTER (SEASON 17) QUICK EPISODE REVIEW
Episode 5
In arguably the best fight of the season, so far, we also had the biggest upset as 21-year-old Kelvin Gastelum choked out veteran Bubba McDaniel (one of Jon Jones' training partners back home).
Although Kelvin is an undersized middleweight (his optimal weight class is almost definitely welterweight), he overpowered McDaniel on the ground. The first round included a fun exchange of sweeps and counters on the ground that could have been scored either way. In the second round, they returned to the ground after a hard Gastelum leg kick landed, but unlike the first we saw Kelvin maintain top position. He landed plenty of strikes which forced Bubba to roll and when he did, he gave up his back. Kelvin took his back, locked in both hooks and went for the nick, securing the rear naked choke and tap out for the victory.
Next week, Chael Sonnen picked a fight between Tor Troeng (Sonnen) and Josh Samman (Jones).
Troeng (15-4-1) is a 6'2 Swedish middleweight with just two losses since 2008 (one of which was a submission against Thales Leites). Early in his career, he suffered losses to Mamed Khalidov and Lucio Linhares, giving up plenty of experience in both fights. Whether he can emerge from being a mid-level European competitor or not, he has certainly been portrayed on the show as someone many of the guys do not want to fight.
Samman (9-2) is 6'3 and out of Florida where he has developed into something of a prospect. In June 2011, he fought Dan Cramer in Bellator, losing a decision. Today, Cramer is in the Bellator tournament semifinals. Back to Josh, all but one of his wins came by knockout or submission.
TWITTER
http://www.twitter.com/411mania
http://www.twitter.com/411wrestling
http://www.twitter.com/411moviestv
http://www.twitter.com/411music
http://www.twitter.com/411games
http://www.twitter.com/411mma

comments powered by Disqus