The Juggernaut MMA News Report 03.08.12: Bellator is BACK!
March 8, 2012 | Posted by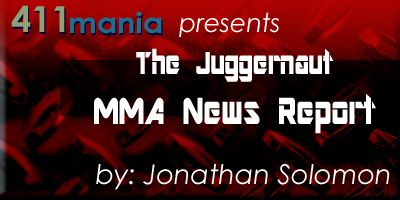 Some of the most memorable moments in MMA these past few years have not come from the UFC or even Japan, but Bellator Fighting Championships. From multiple inverted standing triangle chokes to upset knockouts, a fight of the year candidate to just plain being the home to a mix of some of the best fighters and some of the best prospects. Much like WEC and Strikeforce were routinely known for producing entertaining cards, the torch has been snatched away by this group. Season 6 begins tomorrow night on MTV 2 with a big card featuring a featherweight championship fight pitting champion and Olympic hopeful Joe Warren against Pat Curran. For a primer on what to expect at Bellator 60, read on below!

Bellator 60: Warren vs. Curran Preview
Bellator Featherweight Championship
Joe Warren © vs. Pat Curran
We get quite the main event right out of the gate to begin Bellator's final season on MTV 2 (before they jump to Spike in 2013) as featherweight champion Joe Warren makes his first title defense against Pat Curran. Recall that Curran has done nothing but win tournaments the past two years, one as a lightweight and last as a 145-pounder. For a lot of people, Warren is the underdog heading into this match-up and there are plenty of reasons why.
So far in Warren's 9-fight professional career, he is 7-2 with each loss occurring within 64 seconds of the first round. Almost three years ago, he was submitted by armbar against Bibiano Fernandes in the Dream featherweight tournament (this loss followed an impressive winter and spring where he defeated Chase Beebe and upset Kid Yamamoto). Most recently, the "Baddest Man on the Planet" participated in Bellator's season five bantamweight tournament and was knocked out by Alexis Vila in that one punch, go limp kind of way. Plus, prior to that fight, Warren fought Marcos Galvao 11 months ago at a catchweight and narrowly won the decision. The point is, since he knocked out Joe Soto to win the featherweight championship, Warren has not looked impressive at all in the Bellator cage.
The opposite is true for Pat Curran who has been one of the most successful fighters in the promotion's history. In 2010 he knocked out Mike Ricci before earning wins over Roger Huerta and Toby Imada to win the lightweight tournament. 11 months ago, he challenged Eddie Alvarez for the 155-pound title and took the champ the distance, 25 minutes. Granted, he took a beating, but he never quit. For Alvarez, it was his first opponent he was unable to finish since Shinya Aoki beat him in 2008.
Curran dropped down to bantamweight last year and was a one man wrecking crew – choking out Luis Palomino, dominating Ronnie Mann and then scoring the biggest upset of the season with a head kick knockout of Marlon Sandro. When you finish a perennially top 5 fighter in your division, you cannot be underestimated any longer.
Bellator lists Curran as 5-inches taller than Warren and while he may also be the larger fighter tomorrow night, the champion has that powerful wrestling base. Warren may best be suited to keep the fight close and attempt takedowns and go balls to the wall with his ground and pound.
While Warren does have some power in his stand-up striking, Pat Curran has never been knocked out in his career. Perhaps Curran's wrestling has not improved over the past year; we have not seen him use much of it though. If Warren can keep Curran in range, connect with strikes and mix in his shots, perhaps he can win a decision. Although he has never fought past the third round in MMA, it's safe to assume his cardio would not become a significant problem should they end up in the championship rounds.
If Curran can stay off his back and if his chin holds up, like it did against Eddie Alvarez, you are probably looking at the brand new Bellator featherweight champion.
Featherweight Tournament Quarterfinal
Marlon Sandro vs. Roberto Vargas
Now it's time to get cracking on the first tournament of the new season, the featherweights. If there were a top seed, it would have to be last season's finalist Marlon Sandro (not that that makes Vargas the #8 seed…) who ran into the foot of Pat Curran and saw all expectations was away. His opponent is California native Roberto Vargas who returns to the promotion for the first time since 2009.
For those of you who may not know Sandro, or perhaps forgot, he has been one of the elite featherweights in the world for years. He was 17-2 when he signed with Bellator (coming off a loss in which Hatsu Hioki took the Sengoku championship in 2010) and was immediately pegged as the man who could stop Joe Warren. In the summer series tournament, he won the first two rounds by beating Genair da Silva and Nazareno Malegaries, both going the distance. In August came the loss to Curran and he was knocked out for the first time in his career. He bounced back in the fall to submit Rafael Dias with a first round arm triangle choke, cementing his spot in this tournament.
Roberto Vargas is not so well known. He's 12-1 overall and perhaps best known for his two fights in Bellator three years ago. He defeated Daniel Pineda (who is now successful in the UFC) and then he lost a split decision to Wilson Reis. Since then, he is 6-0 in around the circuit and sees this opportunity as his to take and run with. He has power in his hands and he can rock an opponent, as he did against Pineda. How well he's improved since then is a question based simply on the fact we have not seen him.
On paper, Sandro has the advantage in the grappling realm and should be able to dictate the pace of the fight standing. For Vargas to win, I'm not sure whether he plans to fight a kickboxing style of fight or whether he's willing to go to the ground and test himself. Don't sleep on Vargas, but you just cannot pick against Sandro in this spot.
Featherweight Tournament Quarterfinal
Ronnie Mann vs. Mike Corey
The Englishman, Ronnie Mann is back after a busy 2011 in which he fought 4 times in Bellator, going 3-1. In that summer tournament, he was considered in the mix along with Pat Curran (but behind Sandro), and he looked impressive in his quarterfinal bout. He violently knocked out Adam Schindler, but unfortunately for him, he could not contend with Curran and lost that decision. In October, he returned to submit Kenny Foster with a first round triangle choke.
Mike Corey is a Missouri native who made his Bellator debut in the fall and fought Chris Horodecki to a draw. He was named an injury replacement for Wagnney Fabiano on just over one week's notice (he was scheduled to fight on the prelims, so he is prepared to fight). He is 11-2-1 with the biggest names on his record being a loss due to a cut against Cub Swanson in 2005 and a decision win over Brian Cobb a year later. He is a wrestler with just one TKO or KO win under his belt which may give Mann trouble, even though he was preparing to fight the Brazilian Jiu-Jitsu black belt Fabiano.
Regardless, Mann has dangerous power and only Hatsu Hioki has been able to choke him out. This is his fight for the taking.
Featherweight Tournament Quarterfinal
Genair da Silva vs. Alexandre Bezerra
Popo Bezerra may be the sexy underdog pick because he's the top prospect in this tournament. He's 12-1 overall (the one loss came in 2009 against current UFC featherweight prospect Charles Oliveira) and has finished all but one of his professional fights. He made his Bellator debut last summer and has reeled off three submission wins and a technical knockout. This is his first shot at a Bellator tournament and depending on how the brackets are arranged, could pose problems for just about any other competitor.
Genair da Silva is also Brazilian and considered a prospect although this will be his second tournament in the promotion. Last summer he fought Marlon Sandro in the quarterfinal and lost a split decision. He was able to stand and trade with Sandro and looked impressive doing so. The loss ended a five fight consecutive winning streak, although he may add a new one tomorrow night. He defeated Bryan Goldsby in October with a Brabo choke, after Goldsby moved up in weight following his bantamweight decision losses to Ed West and Zach Makovsky.
I like this match-up in the first round because between the two, they are 23-5 with just six of those fights going the distance.

Bezerra lands a right hand against Scott Heckman last year.
Featherweight Tournament Quarterfinal
Daniel Straus vs. Jeremy Spoon
We have not seen Daniel Straus since the finals of the season four tournament when he and Patricio Pitbull Freire fought for three rounds. He may have lost the decision, but Straus opened a lot of eyes in that tournament and he could be on another run beginning tomorrow night. He is 17-4 overall and was on a 12 fight winning streak until the finals (his previous loss was in 2009 when he was knocked out by Pat Curran, not on a Bellator show). He is considered one of the best high school wrestlers of the new century to never win a state championship in Ohio and the sky would have been the limit had he competed at the collegiate level. We can see why when he competes in MMA as few can hang with him when he gets top position.
Jeremy Spoon is a former lightweight with a 12-0 record including two wins in Bellator last year over Jerrod Sanders (rear naked choke submission) and Adam Schindler (decision). His base is also wrestling, but he has developed his Brazilian Jiu-Jitsu over the years and has 8 wins by submission.
Assuming neither man will look to avoid their base skills, we will likely find out which of the two featherweights are more effective on the ground. Will Straus' wrestling overpower Spoon's grappling? Or can Spoon score the upset win and send home a man who's been there and done that?
---
---
– Season 15 of The Ultimate Fighter kicks off on FX Friday night at 9 pm eastern/6 pm pacific and is set for a special two-and-a-half hour premiere. Why such a long debut show? Episode one tomorrow will feature 16 LIVE FIGHTS whittling the field of 32 fighters in half. Then next week, the series moves to its normal time slot of 10 pm eastern and coaches Dominick Cruz and Urijah Faber will pick their teams. At the end of each episode, the coaches will pick who fights and the bout will air live.
As I have written many times since the season was originally announced, remember that for the first time in the series' history, the coaches will train for their fight as the season progresses. So, instead of every other season where they act simply as coaches and training partners for the benefit of the contestants, they will be gearing up for their UFC bantamweight championship fight in July at UFC 147 (season 15 is expected to conclude in early June).
– Added to this summer's UFC 146 card on Memorial Day weekend are two (literally) big fights. The co-main event will see Cain Velasquez return for his first fight since losing the championship in November, take on Frank Mir with the #1 contenders spot on the line. Next, Antonio "Bigfoot" Silva will make his UFC debut against Roy Nelson. These are in addition to the already scheduled main event featuring Junior dos Santos' first title defense against Alistair Overeem. BIG.
– Antonio Rogerio Nogueira suffered a knee injury in training and will not compete at next month's UFC on Fuel event in Sweden. Taking his spot will be Thiago Silva against Alexander Gustafsson. This marks Silva's first fight since January 2011 when he was suspended for using a banned substance.
– Former Strikeforce fighter Brandon Sailing's fighter license has been revoked by the Ohio Athletic Commission and has since been suspended indefinitely by the New Jersey Athletic Commission for lying on his application. Sailing did not notify Ohio (nor did Strikeforce know) of his sexual assault conviction or domestic violence conviction. News of his background did not surface until after he fought and lost to Roger Bowling over the weekend. He also raised eyebrows while he fought due to Neo-Nazi tattoos he sports.
– UFC President Dana White announced on Twitter the first lightweight title defense from Ben Henderson will take place this summer against former champion Frankie Edgar.
– UFC 149 is expected to take place in Calgary at the Saddledome on July 21.
– Bellator has announced a lightweight super fight for their May 4th Bellator 67 card in Rama, Ontario between champion Michael Chandler and Akihoro Gono in a non-title bout. Gono, an MMA veteran of over 50 fights, has competed as a middleweight, welterweight and has begun fighting at 155-pounds as of 2010. He last fought on a DEEP show in Japan where he lost to Daisuke Nakamura at welterweight.
– Although former UFC heavyweight champion Tim Sylvia has started his quest to return to the UFC, Dana White has already put the kibosh on that. Don't expect to see Big Tim in the octagon anytime soon.
– According to reports, Bellator middleweight champion Hector Lombard's contract expires as soon as this summer. In an interview with MMAMania.com, Bellator founder Bjorn Rebney said they are involved in negotiations and if a deal cannot be reached before his current agreement ends, they would have the right to match any offer he receives.
Last week while in Australia, Dana White was asked about Lombard and he said, "I hear he's under contract with someone else, so we'll see. I'll probably end up with him. If he wants to fight in the UFC, then we'll probably end up with him."
Stay tuned.
---
JUGGERNAUT VIDEO OF THE WEEK
The Ultimate Fighter is BACK! It's been 7-years since the franchise began on Spike TV's Monday night line-up and much has changed. Beginning tomorrow night, the show moves to FX and will feature LIVE fights. So, let's take a look back at a fun moment from the original season in 2005. Something that has not happened much, if at all, fighters coexisting in the house together despite fighting months earlier. In the clip below, Chris Leben's mouth causes Mike Swick to get pissed off and the year before they were in the house, Leben knocked out Swick at WEC 9, handing him his first professional loss. What a great season TUF1 was!
Swick never did get that rematch…
TWITTER
http://www.twitter.com/411mania
http://www.twitter.com/411wrestling
http://www.twitter.com/411moviestv
http://www.twitter.com/411music
http://www.twitter.com/411games
http://www.twitter.com/411mma

NULL
comments powered by Disqus