The Juggernaut MMA News Report 08.09.12: Is Anderson Silva Thinking About 170?
August 9, 2012 | Posted by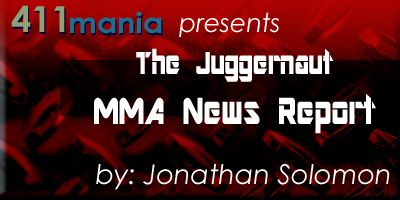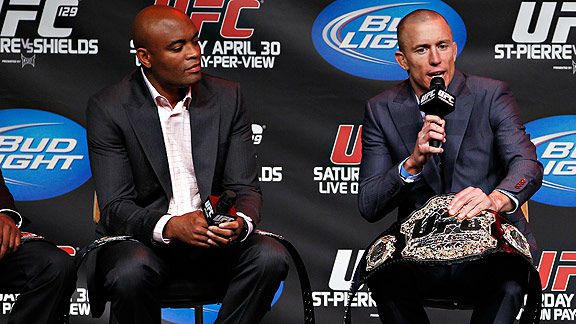 RUMOR: Anderson Silva Thinking About Dropping to 170?
A report Tuesday evening from MMAMania.com stoked the flame in relation to Anderson Silva's future in the UFC. While there is no concrete information available, the report says the middleweight champion is contemplating a drop down to welterweight…permanently.
The thought process is Silva and his managers are not thrilled with the list of potential challengers in the middleweight division. Chris Weidman, Alan Belcher, Michael Bisping, Tim Boetsch, etc., are the leading candidates but it's likely that none of them would equal big business on pay-per-view (an issue for Silva being that his big payoffs come from percentages of PPV). Only thinking about it for now, but MMAMania guesses the reason Lyoto Machida weighed in at 201-pounds for his light heavyweight fight over the weekend with Ryan Bader is he was planning on a potential drop to middleweight in the event Silva leaves the division.
Of course now, Machida has himself a shot at whomever the 205-pound champion will be. If that is accurate, Lyoto's days at middleweight would only be delayed 'x' amount of months until his title shot comes and goes (assuming he does not become a two-time champion). Otherwise, people are reading way too much into the fact he chose to fight Ryan Bader a little lighter than usual.
The biggest question in all of this is whether Silva has ever seriously thought about cutting the kind of weight we're talking about here. Over the past several years, we've seen/read/heard no signs that it was ever a legitimate possibility. As a matter of fact, one of the major hold-ups in any potential super fight between Silva and GSP in the past was the weight issue. Aside from that, both men had their own hangups about putting their cash cow status on the line for one big payday. After all, if Georges were going to move up to middleweight and lose, he's just another fighter. A catchweight had been talked about for ages but nothing ever surfaced from either side. The fight was always tremendous fodder for media and fans to deliberate about but neither the two subjects or their camps seemed too excited about the notion.
But, why such a change now, if this report is accurate? Despite the fact that Silva turned 37-years old this past spring, he has never given any indication he has considered retirement. In fact, in press conferences this year, whenever asked about the topic, he gives his routinely short answer of, "No." Maybe, after much thought, he truly believes his biggest challenge is with Georges St. Pierre. Maybe, he's just coy about this whole issue since everyone with a brain realizes the one man between any light heavyweights, middleweights and welterweights who could probably beat him is Jon Jones. Silva was quick to make friends with Jones and both champions have seemingly gone out of their way to say there's no way they would fight.
From a timing standpoint, all of this is especially odd. Georges St. Pierre is just beginning his return from an ACL tear which has resulted in him not fighting since April 2011. He is expected to fight in November against Carlos Condit and there's nobody outside of GSP's inner circle who can reasonably say that the greatest welterweight of all-time will not be effected by such a long layoff and injury. I can't see the logic in anything coming out of the Silva camp until they, and the rest of the MMA world, know for certain that GSP is not only healthy but still the undisputed champion at 170. While it would be an intriguing fight, we're never seeing Silva versus Carlos Condit in our lives.
In fantasy land, if this turns out to be true, you probably don't hear anything from Silva until 2013. At that time, the UFC could make a huge deal for their first legit dream fight in forever with Silva vacating the middleweight strap and coming down in weight to challenge St. Pierre.
In the 185-pound division, they could take the top four contenders and have a pseudo-tournament (a la the flyweight division) featuring some combination of Alan Belcher/Vitor Belfort, Michael Bisping/Brian Stann, Chris Weidman, Tim Boetsch and others.
As of right now, I would guess all of this is a pipe dream because something has to happen for Silva to be motivated to begin a weight cut down to 170-pounds, when he walks around at well over 200-pounds. Maybe, he learned his lesson from taking fights against guys he considered less than worthy (Thales Leties, Demian Maia, Patrick Cote) and instead of risking boring fights, he rather shoot for the moon and get his one last monster check before he rides off into the sunset in 2014 or 2015.
I'm fully expecting nothing to come of this, at least until next year rolls around. You'll see Dana White or Silva's camp come out and shoot this kind of talk down as unrealistic. Anderson Silva is sticking at middleweight and willing to fight all comers, they'll claim. What is actually debated behind closed doors or over the phone, we won't know unless talks get nasty or business is complete. Between these sides, you're probably better off trusting whatever Chael Sonnen has to say.
---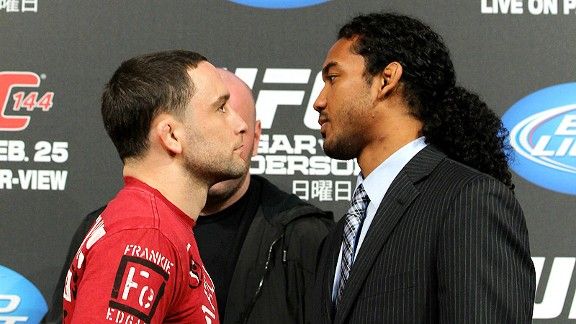 Henderson vs. Edgar I Rewatch
This weekend marks the third rematch since January 1, 2011 over the UFC lightweight championship and the outcome is still considered a toss-up at best. As champion Ben Henderson and former champ Frankie Edgar prep to step inside the octagon for the first time since February 26 in Japan, I went back to re-watch that fight (without audio of Mike Goldberg and Joe Rogan) and pick up details worth thinking twice about. Let's remember that both men are wrestlers at heart who focus their MMA styles on speed and movement. Power is a foreign concept for the most part, evidenced by the fact that neither man is much of a finisher these days. Edgar (never much of a finisher at all, just under 50% for his career) has one knockout or submission over the past two years and even that happened in the fourth round when he overwhelmed Gray Maynard in their third match-up. Henderson has not finished an opponent since his pair of guillotine choke victories in the first half of 2010 (Jamie Varner and Donald Cerrone). The point is this rematch Saturday night figures to be a long, drawn out battle decided on a few sequence of events over the course of the 25-minutes. This was the case in February, after all.

UFC 144: Edgar vs. Henderson
February 26, 2012
Saitama, Japan
Round 1: About 35 seconds in, Frankie Edgar caught the first kick from Ben Henderson. This time, Henderson balanced himself to the side of the cage and throws a vicious jumping head kick which missed. Henderson landed a head kick but the second was blocked. Edgar tripped Henderson to the mat, but they returned to their feet. Henderson threw a couple low kicks and as Edgar caught the last, he attempted a trip but Henderson backed away. Henderson faked a superman punch to land a kick to the groin and time is quickly resumed. In the best offensive move of the round, Edgar caught another kick, held on and landed a couple punches and a kick of his own. The champion landed a cross and caught another kick from the challenger. Edgar from a close distance throws a left but Henderson hit him with a knee. They clinched momentarily and Edgar landed a punch. Henderson hit a push kick and gets hit from the champion with a kick of his own. Edgar shot and scored a takedown but Ben immediately returned to his feet. Edgar grazed the challenger with a spinning back kick, and then literally threw him down but did not follow up. Edgar landed a nice left hook, returned with a single punch by Henderson. The round ends with another failed kick attempt from Henderson, while Edgar lands a back elbow.
This round definitely belongs to Frankie Edgar (10-9) although neither man looked too impressive. Both men had difficulty getting close and landing clean, effective strikes. Each wanted to establish kicks, Edgar to the legs of his opponent and Henderson with a mix of leg kicks and body strikes. Edgar was able to get him to the mat on a few occasions but was never successful in maintaining position or landing a single ground strike. The best punch of the round came late with the left cross by Edgar.
Round 2: Henderson came out a bit more aggressive, taking the center of the cage. Edgar landed a right hand. Henderson landed a body kick but the champion caught it and threw a couple kicks for himself. Edgar came in to throw a strike but gets caught with a big right hand (best punch for Henderson up to this point, by far). A leg kick struck its target from Edgar. A body kick is caught again, except this Henderson throws several punches while balancing himself on one leg. Frankie hit him with a kick on the break. Once again, Edgar comes forward looking for offense and gets caught by a right hand. They clinch against the cage, Henderson landed a knee to the head before they separate. Henderson landed a left hand and Frankie's spinning backfist misses. Edgar's left eye is now bleeding, likely from the earlier right hand or the knee. Edgar took Henderson down, but again, Ben fights up to his feet (this time avoiding a guillotine choke attempt). They trade a punch and kick in one sequence. Once again, Edgar tries to come forward and ate a pair of strikes for his trouble. There are a couple wild exchanges with both men throwing combinations although nothing major struck gold. Edgar nailed another takedown and this time gets top position in Henderson's guard. Edgar landed several ground strikes before eating a monster upkick that rocked him. Henderson landed a barrage of elbows with the round ending as Edgar's nose is now busted.
Another clear round, this time for Ben Henderson (19-19). The biggest shot of the fight was that late upkick with Edgar looking to jump back to the mat with a punch but was met by the kick instead. The round was Henderson's even before the kick, despite the takedown (although, it would have been close). Edgar found difficulty in landing effective strikes for most of the round because Henderson would quickly back-up and land a strike or a combination.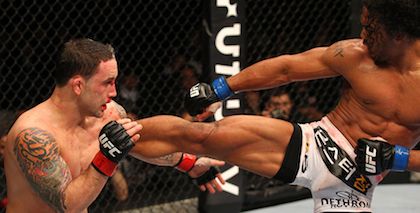 Round 3: The first minute saw Edgar pace around and pick his spots for strikes although anything that landed did not do much damage. Henderson took the center of the cage but had trouble landing any strikes. They trade combinations but Frankie appeared to land the best punch, a left cross. Edgar ducks a punch and shoots, but Henderson defended the takedown attempt. After they exchanged kicks, Edgar shoots again for a single-leg but failed. They throw kicks at the same time and it looks like Henderson's knee hit Edgar in the ground inadvertently. Nevertheless, Edgar fell to the mat and Ben jumps on him with punches. Henderson took his back, Edgar turned and stood up but was taken down. Edgar used the cage to stand back up. Edgar landed a nice left hand. Henderson hit a head kick but Edgar grabs the leg and tried a head kick of his own but it was blocked. Edgar picked him up and threw him down but it was back standing immediately. Edgar grabs a body lock and muscled the challenger to the mat just as the round stopped.
he first legitimate close round so far, I am leaning towards Frankie Edgar (29-28). Both men landed their fair share of effective strikes but Edgar was able to get the fight to the ground more often and although he was only able to land some shots there maybe once, everything else appeared to even out. What's surprising, although it shouldn't be, is just how resilient Frankie Edgar is. His nose broken, fighting with a bloody face, he maintained his movement and showed off some power on a couple of his takedowns by hoisting the much bigger Henderson into the air.

Round 4: After over a minute of trading strikes, Henderson again accidentally hits Edgar in the groin with a kick. The champion takes maybe a minute for a break before the fight resumes. Edgar lands a right hand as Henderson throws combinations although it doesn't look like any landed with a pop. Edgar secured another takedown except the challenger sinks in a guillotine choke. Henderson was forced to let go because his hands are not fully secure. In the open guard, Edgar landed some punches and elbows. Henderson rises to his feet and they separated. Ben hit Edgar with a big left hand, which left the champion backing away. A pair of kicks are caught by Edgar but Henderson landed a knee on one release. A right hand hit its target from the challenger, and another did the same.
Closest round of any because neither man landed a huge punch or kick and the biggest turn of events on the ground was a brief guillotine choke locked on the champion until he squeezed his head free. The second half of the round (after that takedown) saw Henderson land more effective punches so almost by default, he gets credit (38-38) heading into the fifth and final round.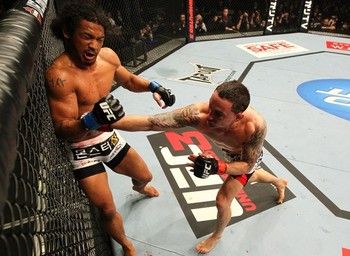 Round 5: They began the round trading strikes, as usual. But, for the first time, Edgar landed a huge punch. Henderson is rocked from the left cross, but only momentarily. Against the cage, Edgar trips Henderson and took his back. The challenger went for the arm like he was trying for a Kimura and they separated. After more exchanges, Edgar lands a sweeping right hand that puts Henderson on his butt. Edgar went for another guillotine, but Henderson defended and stood up. Under 90 seconds left in the final round. Edgar blocked a head kick. The champion shoots for a couple takedowns but each are defended. With under 10 seconds left, Henderson landed a nasty jumping knee to the head, before he took Edgar down and landed a few punches before the bell sounds.
The end of the fight makes it an interesting call because Edgar landed two great punches early on and they were the two best of the fight. Henderson's knee appeared to have rocked Edgar but who knows since the fight ended seconds later. Based on the fact Frankie hit two of the best punches in this round, I give the round to him and thus, the fight. I must admit, I'm surprised with this considering when I was watching it live at the time, I had Henderson winning. Perhaps, the fact that this was my first time watching it without any commentary, maybe that's a factor. So, here, I have Edgar retaining the title (48-47) in as close a fight as you can have without calling it a draw.
What to Watch For in the Rematch
1. Takedowns – Frankie Edgar had more success than expected in taking Ben Henderson down and even though he had only little success in doing damage on the ground, you know by now never to underestimate this in the eyes of judges. Edgar didn't want to stick to a ground fight, fearing Henderson's aggressive guard (which he showcased just before the upkick in the second round) and submissions. I wonder whether he's decided to test Henderson on the ground more than he did in February.
2. Chins – Edgar was rocked one time in February and the cause was that kick. Meanwhile, Henderson was rocked/knocked down twice in the final round from punches. Ironically, although he's never been finished due to strikes, Henderson ended up losing the WEC title to Anthony Pettis because he was knocked down by the showtime kick in the final round of their fight in 2010. Edgar's chin has been stout since his series of fights with Penn and although he's been hurt in every fight since then, he has bounced back to either win or make it to the end. While I would be surprised if Ben is the man to finish Edgar for the first time, how many times can the guy continue coming back from the dead?
3. Movement – Movement is arguably the biggest key to this fight. Both men rely on their speed and agility to cause trouble for opponents. When Henderson caught two punches in the fifth round in February, it was because he was a sitting target. Edgar must also rely on leg kicks in an attempt to slow down Henderson and give him better odds of landing that big shot again. For Henderson, you should see him look to close the distance more and perhaps even use some dirty boxing skills from the clinch. He'll be a significantly larger man than Edgar is when they step inside the cage Saturday, he should act like it. He did not in February and although he won, why risk going for another 25-minutes with Edgar?
---
– Josh Koscheck has a bulging disc in his back and is not able to compete on the UFC 151 card in three weeks. He was slated to fight Jake Ellenberger in the nights co-main event. As for his future, Koscheck turns 35-years old in November and a damaged back has to be the worst news he's received in a long time.
– Ellenberger's new opponent is Jay Hieron, who signed this week with the UFC. The 36-year old is 23-5 overall (0-2 UFC) and has not fought in the promotion since 2005 when he lost to Jonathan Goulet due to a cut. He last fought last month and choked out Romario da Silva on a Legacy Fighting Championship show. We last saw him compete on MTV 2 last fall when he lost a split decision to Bellator champion Ben Askren. Hieron is 11-1 since the fall of 2007. His fight with Ellenberger will mark a rematch of their IFL bout from 2006, which Hieron won by decision.
– Speaking of scrapped co-main events, Rory MacDonald suffered a laceration above his eye and will not fight B.J. Penn at UFC 152. It's uncertain what the UFC will do, whether postponing the fight to a later date or keeping Penn on the show against a different fighter. Siyar Bahadurzada has already called out Penn and has said he's willing to fight for free to make the fight happen.
– It seems like everyone wants a piece of Penn these days, ironic since he has not competed in over a year. Anyway, Jon Fitch called Penn a coward for hiding from potential opponents. This stemmed from Penn releasing a video saying he wished to train at American Kickboxing Academy (his former gym) and Fitch replied in an interview that Penn the coward would not be welcomed at AKA.
– The heavyweight division is anything but set in stone thanks to Alistair Overeem's suspension and Junior dos Santos' quest to punish the horse meat connoisseur. Meanwhile, Cain Velasquez is hoping he's not passed over in favor of Overeem for the next title fight with JDS, insisting guys shouldn't be able to dictate who they're matched up with. In any event, Overeem is still suspended and unable to apply for a license until December, which would prohibit him from fighting on the December 29 card. The only way he would be able to is if the Nevada State Athletic Commission offers him a deal to apply at least a month in advance.
– With Lyoto Machida having been named number one contender in the light heavyweight division, the previously expected TUF: Brasil season two coaching slots remain unfilled. Perhaps, not for too long, however. Antonio Rogerio Nogueira told Tatame he would love the opportunity to coach on the show opposite Shogun Rua and then fight his countryman later on.
– Jon Jones has signed a sponsorship deal with Nike, beginning with his upcoming September 1 title defense against Dan Henderson.
– According to FightersOnly.com, Ninja Rua told a Brazilian outlet that he was not in his brother's corner for his fight against Brandon Vera because of a disagreement with Shogun's coach, Andre Dida. Previously, he was cornering Shogun for every fight off is career. Ninja took exception to the coaching provided to Shogun during the Dan Henderson fight last year and when he voiced his thoughts, Dida removed him from the camp.
JUGGERNAUT VIDEO(S) OF THE WEEK
Here is an interview conducted by MMAHeat with Frankie Edgar this week, talking about the big title fight in 48 hours.
TWITTER
http://www.twitter.com/411mania
http://www.twitter.com/411wrestling
http://www.twitter.com/411moviestv
http://www.twitter.com/411music
http://www.twitter.com/411games
http://www.twitter.com/411mma

NULL
comments powered by Disqus