The Juggernaut MMA News Report 08.16.12: Strikeforce – Rousey vs. Kaufman Preview
August 16, 2012 | Posted by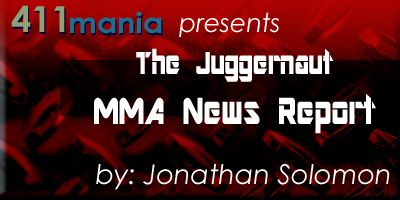 Strikeforce: Rousey vs. Kaufman Preview
Strikeforce Women's Bantamweight Championship
Ronda Rousey © vs. Sarah Kaufman
Is it just me or does this match-up have a weird tinge to it? Ronda Rousey is the "it girl" in mixed martial arts that nearly everyone loves because of her story, her looks and perhaps above all else, her ability to kick ass. This isn't even an issue that is exclusively inside the MMA bubble because Rousey is one of the few MMA fighters (men included) who has been in just about every media outlet in recent weeks. ESPN, TMZ, Conan O'Brien and Showtime's All Access documentary-style show have all been attached at the hip of Rousey as she prepared for her first Strikeforce women's bantamweight title defense.
Oh yeah, that.
Former champion Sarah Kaufman promises to be the first person in MMA to beat up Rousey to the point that she won't be so pretty anymore. It's easy to feel for Kaufman who was legitimately passed over for the title fight with Miesha Tate in March based solely on hype, trash talk and looks. Remember, there was a time a couple years back that aside from Cris Cyborg, it was Kaufman being viewed as one of the best female fighters in the world. Has anything changed? Not really, just time.
She lost the Strikeforce championship when she was (ready…) caught in an armbar by grappling superstar Marloes Coenen in 2010. Since then, she's returned to reel off three wins and leave no doubt that she is the top contender at 135-pounds with a 15-1 record.
Naturally, you could suspect whether a fighter's rise to fame would mess with their training, their desire to kick ass or just their overall mindset before a fight. Ronda is 5-0 as a professional MMA fighter (3-0 in amateur MMA) but unlike most, she has been an athlete competing around the globe for several years dating back to her teenage years. So, while Rousey has become this superstar fighter with legions of fans around the world, it's safe to assume there will be no drastic drop off for the champion preparing to make her first title defense.
The Judo black belt is ferocious inside the cage and there's simply no better way to put it. You hear it all the time before she fights; everyone knows what she is going to do and nobody has been able to stop her. Miesha Tate did land some punches, but was thrown to the mat and ultimately was forced to tap out when her arm was being torn apart. She dislocated Julia Budd's elbow last year and is so strong for a 135-pound fighter (she originally competed at featherweight) that no woman has yet been able to avoid her Judo throws.
Can Sarah Kaufman?
Miesha Tate was aggressive in March but was not able to stay on her feet, showing an undisciplined striking style which left her vulnerable in closed quarters. Kaufman, on the other hand, is recognized as the second best female striker (behind only Cyborg) in the sport. She is technically sound and has power, too. Her takedown defense has worked well against wrestlers but Rousey is not your average, shoot for a double-leg kind of woman. The champion is able to pull opponents close, flip them on their back and transition seamlessly into armbars.
An interesting quality about Rousey is that she's always fighting to finish. She's not like many fighters who take their time to set up opponents over the long haul or go into a match-up with the goal of winning rounds or points. She has only been out of the opening minute of a fight once and that was against Tate who ended up tapping out at the 4:27 mark of round one. Compare this to Sarah Kaufman who has only finished one fight in the first round (her second professional fight in 2006) and her one loss took place two minutes into the third round against Coenen. As a matter of fact, each of Kaufman's last seven wins have all come in the third round or later.
While many are undoubtedly expecting Ronda Rousey to retain her gold Saturday night, I'd be most impressed if her string of quick wins continues against a fighter like Kaufman who has proven to be as tough and durable as any other female combatant.
Our eyes haven't deceived us yet and the champion has done nothing short of take arms home with her time and again. Can she secure a win without her patented armbars? Perhaps, more surprising than a Kaufman win would be if Ronda can win with strikes or ends up going the five rounds for a decision win.
Either way, the Ronda Rousey train is gearing up for another stop this weekend and is there a good, logical reason to say she cannot stop Sarah Kaufman? Right now, I don't see how anyone could.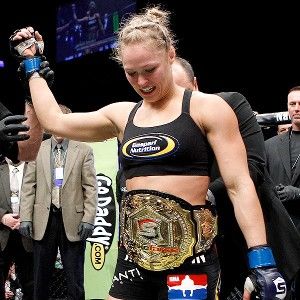 Jacare Souza vs. Derek Brunson
Finally, the Jacare-Brunson match-up is finally going down. It was originally scheduled for March but the week of the fight, Brunson was not granted a license to compete due to the eye exam. He has since undergone LASIK surgery, resulting in some time off.
Brunson ended up taking a fight in June on a ShoFight card where he lost a split decision to Kendall Grove in June. It was the first loss off his career, ending a 9-fight win streak. The 3-time Division II All-American wrestler is still undefeated in Strikeforce with wins against Jeremy Hamitlon, Lumumba Sayers and Nate James. He trains out of Team Jackson's and is a student at Renzo Gracie Jiu-Jitsu.
Speaking of Jiu-Jitsu, one of the best in MMA is his opponent in the form of Ronaldo "Jacare" Souza. The 32-year-old wants a rematch with middleweight champion Luke Rockhold (the champion wants the fight, too) and a win Saturday should be enough to secure the shot. Souza fought Bristol Marunde on short notice in March and won by arm-triangle choke in the third round, although he effectively controlled the entire fight. His loss to Rockhold by unanimous decision 11 months ago is still the only negative mark on his record since 2008, a stretch he emerged as one of the best in the world in this weight class.
While Rockhold displayed the best style to defeat Jacare, that of a wrestler with great takedown defense who can beat him to the punch, it's unclear if Brunson is on that same page. His takedown defense is almost assuredly not as refined as Rockhold's and he's fighting a Brazilian who can do plenty of damage standing (so, this is not a case of Thales Leites or Demian Maia).
There's no reason to believe Jacare will not walk out of the cage Saturday with his hand raised in victory. A Brunson win may not be the biggest upset of the year, but it's worth talking about down the list.
Tarec Saffiedine vs. Roger Bowling
Here, we have the only welterweight action of the weekend. With Nate Marquardt stopping Tyron Woodley last month to become the new champion, both Saffiedine and Bowling will look to stake their claim to being the next title challenger.
From Belgium, Tarec Saffiedine is 12-3 overall and the soon-to-be 25-year-old boasts a black belt in Shihaishinkai (a form of Karate) and a blue belt in Brazilian Jiu-Jitsu. Since he suffered the boring decision loss to Woodley in January 2011, he has returned to reel off a pair of wins against Scott Smith and Tyler Stinson in the Strikeforce cage.
30-year-old Roger Bowling is a fighter who walks around at 190-pounds and has considered dropping down to lightweight. In the meantime, he's pushing on at 170-pounds considering he has knocked out two opponents since the winter (Jerron Peoples at a 181-pound catchweight and Brandon Saling at welterweight). He's 11-2 overall and both losses came by TKO against Bobby Voelker following their first fight when Bowling was determined the winner following an eye poke.
Saffiedine trains with Dan Henderson at Team Quest and feels he'll be prepared for any attempt Bowling makes to dirty box or get the fight to the ground. He's a powerful welterweight with 9 wins by stoppage. While Saffeidine was a successful amateur kick boxer, he has not finished a fighter since 2010 when he knocked out Nate Moore. Tarec is also confident that his technical skill throwing strikes is superior to Bowling's ability and a hole will open up, giving him an advantage.
To his credit, the Belgian has never been knocked out in his career.
On the perch, just this far away from the first title fight of his career, this weekend is about seeing whether Tarec Saffiedine can pull the trigger and take his opportunity. Should Bowling turn up with a loss on Saturday, there's always a big weight cut to 155-pounds.
Lumumba Sayers vs. Anthony Smith
Sayers and Smith continue their trek up the Strikeforce ladder and clash in the middleweight division Saturday night. Lumumba Sayers is on quite the roll of late having knocked out Antwain Britt and submitted Scot Smith in his past two fights. He is 6-2 overall and despite his "Heavy Hands" moniker, boasts five wins by submission.
Anthony Smith only recently turned 24-years-old but the Nebraska native has a 16-8 professional record fighting around the country. He is 8-1 in his last nine fights and that includes a knockout win at Strikeforce Challengers 17 last summer against Ben Lagman. He was abruptly knocked out when he fought Adlan Amagov in November and he's won two fights elsewhere since then.
The key factor in this match-up, both men don't leave their fights in the hands of judges. Neither man has ever gone to a decision, which tells you all you need to know about their aggressive nature in the cage. Smith loves to brawl and has that balls to the wall from the sound of the bell mentality while Sayers could be a bit more calm and collected when unleashing his power.
This is Smith's first appearance on a main card on Showtime but I'm not so sure he has the most sound technique to give him the edge here.
Miesha Tate vs. Julie Kedzie
Although this fight is the main event of the prelims on ShoExtreme, I'll cover this instead of the OSP/Cook fight on the main card. Why? Tate/Kedzie should be a fun fight that could have title implications for the final fight later in the night.
Miesha Tate is returning from her first loss since 2009 in March when she was submitted by Ronda Rousey, losing the bantamweight championship in the process. Although it appeared like her arm was being twisted in bone-breaking fashion, it turned out she suffered several ligaments and muscle tears. Despite that, she's back just over five months since then and is gunning for a decisive win. Last July, she surprised all by submitting Marloes Coenen to become the new champion, capping off a long road to the gold.
Julie Kedzie is one of the most experienced fighters among the women in the sport with a 16-10 record. She's perhaps most famous for her fight with Gina Carano over five years ago. She trains out of the Jackson-Winklejohn camp in New Mexico where she works out with Sarah Kaufman, professional boxer and MMA fighter Holly Holm, Michelle Waterson and a host of other fighters and coaches. Kedzie last fought in July of last year when she lost a decision to Alexis Davis on the undercard of the Fedor/Henderson show. Since then, she's been sidelined because of a knee injury and is back for her first fight in just under 13 months.
Tate is a wrestler who feels most comfortable taking the fight to the ground and grinding out wins with strikes and when the opportunity arises, submissions (she handed reigning Bellator women's 115-pound champion Zoila Gurgel her first loss via submission, in addition to the Coenen win). Kedzie has a black belt in Taekwondo and is hardly a turtle on her back, meaning she has skills from training in Brazilian Jiu-Jitsu for years.
While Kedzie has never been knocked out in her career (although, she has been submitted six times), Tate lost by head kick knockout in her second professional fight in 2007.
On paper, it's logical to assume Tate will stand with Kedzie for as long as she can before it's in her best interest to take the fight to the ground. As long as she does not slip up and get swept into a dangerous position, she should be able to control the action on the ground. Unless, her takedown defense has improved, Kedzie's best bet is to hurt her standing, otherwise, she will be fighting off her back for the majority of the three-rounds.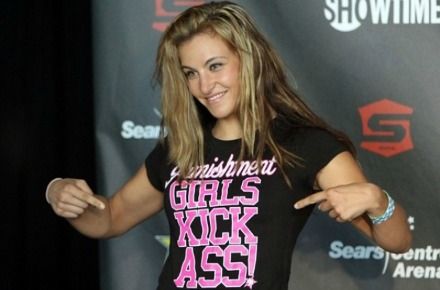 ---
– USA Today reports the next UFC on Fox special will take place on December 8 at a yet to confirmed location. Three huge fights have been booked for the show including a lightweight title fight pitting champion Ben Henderson against Nate Diaz. Also planned, B.J. Penn vs. Rory MacDonald and Shogun Rua vs. Alexander Gustafsson.
– In a terrible twist, Bellator featherweight champion Pat Curran suffered a fractured orbital bone while training Tuesday and has withdrawn from his scheduled first title defense next Friday. He was set to fight tournament champion Patricio "Pitbull" Freire but it sounds like Friere will be put on the sidelines until Curran is ready (although he may fight in the interim later this year since he is coming off a broken hand himself). Bellator 73's new main event is the tournament final of last season's bantamweight tournament between Marcos Galvao and Luis Nogueira. The co-main event will see Travis Wiuff and Atilla Vegh compete for the summer series' light heavyweight tournament championship.
– The card for UFC 151 is now official and here is how the main PPV card looks: Jon Jones vs. Dan Henderson for the light heavyweight championship; Jake Ellenberger vs. Jay Hieron; Eddie Yagin vs. Dennis Siver; Dennis Hallman vs. Thiago Tavares; and Yasuhiro Urushitani vs. John Lineker.
– Bellator middleweight Alexander Shlemenko suggested to Valetudo.ru that UFC fighters fake injuries so they can get more favorable match-ups. He believes Brian Stann is one fighter who implemented such a strategy, when he pulled out of a fight with Hector Lombard due to injury and has since signed to fight Michael Bisping later this year.
– Retired MMA fighter and former MTV "Bully Beatdown" host Jason "Mayhem" Miller was arrested in Orange County, California on burglary charges earlier this week when he broke into a church and sprayed fire extinguisher chemicals around the building while naked. Police reportedly described Miller as "coherent" as he was arrested. Mayhem has reportedly been dealing with bouts of depression recently since retiring from active competition and even got into a war of words on Twitter with UFC President Dana White in recent weeks.
– UFC middleweight champion Anderson Silva will take the rest of 2012 off, meaning his year is complete with his one fight against Chael Sonnen. Does he want to relax and take an extended vacation for those reasons, or is he just not motivated to fight Chris Weidman, Michael Bisping or any other potential UFC middleweight? Add that to the bin of unanswered questions…
– Former Strikeforce women's featherweight champion Cris Cyborg told MMAFighting.com she wants to fight Ronda Rousey but not at bantamweight. She will insist the fight happen at a 140-pound catchweight or at featherweight. Of course, Rousey started at 145-pounds but ended up dropping down to fight Miesha Tate and several weeks later, Cyborg ended up failing a drug test and getting suspended for a year. Her suspension ends in December which theoretically provides plenty of time should Strikeforce and Showtime want to throw Rousey to the wolf.
– The August 31 ONE FC: Pride of a Nation card is now complete, featuring: Bibiano Fernandes vs. Gustavo Falciroli; Felipe Enomoto vs. Eduard Folayang; Tim Sylvia vs. Andrei Arlovski; Rolles Gracie vs. Tony Bonello; Igor Gracie vs. Jung Hwan Cha; Jens Pulver vs. Eric Kelly; Soo Chul Kim vs. Kevin Belingon; Gregor Gracie vs. Nicholas Mann; Phil Baroni vs. Rodrigo Ribeiro; Andrew Benibe vs. Honorio Banario; and Shannon Wiratchai vs. Mitch Chilson.
– Shinya Aoki has been moved from this month's ONE FC show to October 6 and the 'Rise of Kings' event where he will fight Frenchman, Arnaud Lepont. Three different title fights are expected to be showcased then, too.
– Chael Sonnen announced he will move up to light heavyweight to fight Forrest Griffin later this year. While making the announcement on Fuel's UFC news program, he also pushed the envelope as only he can, talking about going after Jon Jones down the road. Well, Mr. Jones did not take too kindly to being spoken about by Sonnen and resorted to Twitter as BloodyElbow.com shows. (The seeds have been planted ladies and gentlemen)
– The next UFC heavyweight title fight has been officially booked for the December 29 UFC card. It will mark a rematch between last November's Junior dos Santos and Cain Velasquez. Rumors spread that the UFC was considering placing currently-suspended Alistair Overeem in the fight. However, Nevada State Athletic Commission's Executive Director, Keith Kizer recently said there would be no way for Overeem to apply for a license to fight before his suspension concludes on December 27.
– In relation to the news above, if Cain Velasquez were to win the heavyweight title for a second time, his American Kickboxing Academy training partner, Daniel Cormier has said he would likely drop down to light heavyweight. Cormier is fighting Frank Mir in Strikeforce in September and figures to jump to the UFC immediately after and if he were to beat Mir, logic says he'd be in line for an immediate shot at the champion (as long as it's not Velasquez).
JUGGERNAUT VIDEO(S) OF THE WEEK
One of Ronda Rousey's incredible amount of media appearances in recent weeks was a sit-down interview with the UFC's Jon Anik. Here, she talks about this weekend's fight plus the potential match-up with Cyborg down the road and more!
TWITTER
http://www.twitter.com/411mania
http://www.twitter.com/411wrestling
http://www.twitter.com/411moviestv
http://www.twitter.com/411music
http://www.twitter.com/411games
http://www.twitter.com/411mma

NULL
comments powered by Disqus