The Juggernaut MMA News Report 10.04.12: Can Travis Browne Hunt Down Bigfoot?
October 4, 2012 | Posted by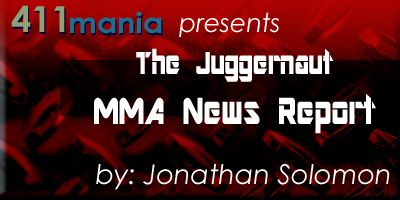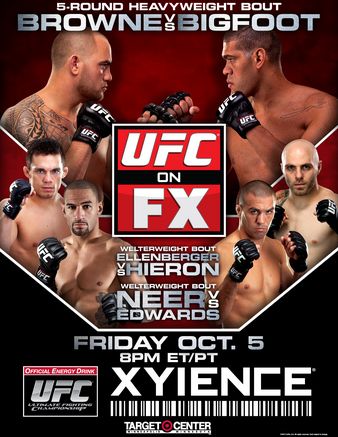 UFC on FX: Browne vs. Bigfoot
Travis Browne vs. Antonio Silva
With Stipe Miocic's loss last week, Travis Browne is now one of just two major undefeated heavyweights (the other being Strikeforce's Daniel Cormier). The 30-year old Team Jackson fighter has displayed dangerous power (his superman punch knockout of Stefan Struve in 2011 will never NOT be awesome) and abilities on the ground as evidenced by his recent won via arm triangle choke against Chad Griggs in April.
We have not seen him in difficult situations and the closest you could say he's come to that was when Cheick Kongo gave him a tough fight. Actually, Kongo would have won that match-up had he not been deducted a point (it was ruled a draw).
At 6'4 and 265 pounds, Bigfoot Silva is like no other fighter. He suffered from acromegalia which mean is body is bigger than the average person. So, he has a distinct advantage when it comes to being able to dominate rounds on the ground. He did just that when he fought Fedor Emelianenko, beat up the Russian like we had never seen en route to a win by doctor stoppage. However, Silva has his weakness, like everyone else. When he cannot boss his opponents around, he is pretty normal. Fabricio Werdum beat him by unanimous decision in a fight which was fought mostly on the feet. In his last two bouts, he was knocked out by wrestler extraordinaire Daniel Cormier and obliterated by Cain Velasquez.
Travis Browne cannot allow Antonio Silva to manhandle him against the fence, let alone take him down and win round after round with that strategy. Keep moving, find the openings and land the powerful strikes. Silva's chin can be tested, but you have to make sure you don't end up on your bad in the process.
Jake Ellenberger vs. Jay Hieron
Who knows how long Jay Hieron plans to continue fighting at this level, but at 36-years old, his return to the UFC tomorrow is the best opportunity he'll get to make one last run. The last time he stepped inside the octagon, he lost due to a cut against Jonathan Goulet at the second UFC Fight Night in 2005. Two fights later, he defeated Jake Ellenberger by decision in the IFL. The best run of Hieron's career came between 2007 and last year when he won 10 consecutive fights including contests in the IFL, Strikeforce and Bellator.
He's Back!
His one recent loss came in a close decision loss to Bellator champion Ben Askren one year ago. Hieron felt he did enough to win but it was the champion retaining his gold in his first challenging fight.
Ellenberger suffered his first pro loss in that Hieron fight when he was just 21-years old. Over six years later, Ellenberger is now looking to avoid the first losing streak of his career following his knockout loss to Martin Kampmann in June. Jake came close to finishing Kampmann early in the fight, but the Dutchman persevered and finished the fight in the second round. It's a theme that's been present in Ellenberger's career of late that he's a buzz saw early but can tire as the fight reaches rounds two or three.
Both men are strong wrestlers although you should give the edge to Ellenberger at this point in their careers. What Hieron may look to do is keep Ellenberger at a distance with leg kicks (he employed this strategy against Askren) and pick his spots from afar. Ellenberger will want to bombard the former Hofstra University wrestler early and accomplish something only Georges St. Pierre and Brad Blackburn have done – finish Jay Hieron with strikes inside of the first two minutes of the fight.
Jussier da Silva vs. John Dodson
Of all the fights scheduled for tomorrow and Saturday, this flyweight fight is THE most anticipated one for me. Why? Easy.
Jussier da Silva and John Dodson are two of the top handful of flyweights in the world and the winner tomorrow will have earned a title shot against new UFC champion Demetrious Johnson down the road.
With the exception of a unanimous decision loss to Uncle Creepy McCall in last year, Formiga da Silva has been perfect in his MMA career. He's 14-1 overall and was consiered the best flyweight in the world until that loss. Since then, he's reeled off five more wins including four wins via chokeholds. In fact, last summer, he defeated Mamoru Yamaguchi who was 26-5-3 entering the fight and on a six-fight win streak.
John Dodson has been considered a top 10 flyweight for a few years and recently returned to the division after fighting at bantamweight to get into the UFC (he won TUF 14 at 135-pounds). In that flyweight return in May, he defeated Tim Elliott by decision. Dodson is a student under Greg Jackson and Mike Winkeljohn and has a strong wrestling base with powerful striking technique.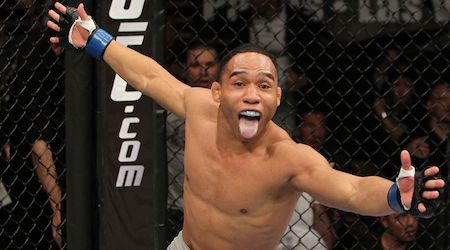 Jussier da Silva is a beast on the ground who is like a wild animal going for his opponent's backs and choke holds. Dodson will not want to go to the ground, but it will not be a disaster if he does find himself there. He should be the more powerful fighter of the two and if forced to, may be able to use his wrestling to keep Silva at bay on the ground. It's a risky proposition but it's in part what Ian McCall was able to do when he beat Silva last year.
Josh Neer vs. Justin Edwards
On paper, there is not much reason to figure Justin Edwards will control this fight. Yes, he's 7-2, but he has a pair of decision losses to Clay Harvison and John Maguire in his UFC run. He's not much of a prolific striker, enjoying to employ more of a ground-based offense with takedowns and top control.
Neer has fought all sorts of characters over his 45-fight professional career. We last saw him in June when he was knocked out by Mike Pyle (only his second loss by KO). Prior to that, he looked strong in wins over Bang Ludwig and Keith Wisniewski. He's an aggressive fighter who enjoys brawling as much as he does working on the ground.
Look for Neer to push the pace of the fight and it will be on Edwards to either live up to the moment or fall under the pressure.
---
BELLATOR HEAVYWEIGHT TOURNAMENT
#75 Preview
Bellator's seventh season continues tomorrow night in Hammond, Indiana with the start of the fresh heavyweight tournament. The promotion has not said whether their vacant heavyweight title will be the ultimate prize here, but it makes the most sense (perhaps, that means they will wait).
Eric Prindle vs. Thiago Santos
It's been nothing short of ridiculous how these two large men have been unable to settle their score. They originally fought in the finals of the season five heavyweight tournament but it ended in a no contest after Santos (for no apparent reason) kicked Prindle in the groin in clear view of the ref. That was last November. The rematch was set for March 16 and Bellator 61 but days earlier, the promotion cancelled the fight because Prindle was ill. Rescheduled for Bellator 62, Santos weighed in at 277-pounds (overweight by 12-pounds) and they simply named Prindle the winner.
Eric Prindle fought champion Cole Konrad for the gold in the spring and was submitted via Kimura in exactly 60 seconds (Konrad has since retired from the sport). Meanwhile, Santos has not fought since "the kick" in November.
Thiago Santos is a black belt in Brazilian Jiu-Jitsu and had submitted both Josh Burns and Neil Grove via rear naked choke last year in the tournament. Prindle is best known for his knockout power which was most evident in the Bellator cage when he blasted Ron Sparks and finished the fight in 40 seconds last year.
At this point, I'd be surprised if everything goes well and both men walk into the cage and can have a complete fight. If they are, Bellator should throw a massive party to celebrate the end of the saga.
Brett Rogers vs. Alexander Volkov
The biggest name in this tournament is that of former Strikeforce contender Brett Rogers. It was only three years ago that he knocked out Andrei Arlovski and gave Fedor Emelianenko everything he could handle on CBS before being decimated by Alistair Overeem. After he was choked out by Josh Barnett in the famous SF Grand Prix, he was cut after getting into trouble with the law over domestic violence. Since last fall, he's 1-1 with 1 no contest and that includes a loss to, of all people, Eddie Sanchez. Rogers debuted in Bellator this summer and stopped Kevin Asplund via TKO due to a doctor stoppage after two rounds.
His opponent is a 6'7, 230-pound 23-year old Russian out of Stay Oskol. Yes, Alexander Volkov has trained alongside Fedor Emelianenko and Gegard Mousasi at the Red Devil camp. He is 16-3 fighting almost exclusively in his native country (with the lone exception of a fight in the Ukraine). He's been submitted twice, but never knocked out. He is 7-0 since last year including a decision win against Ricco Rodriguez this February.
There are a bunch of young Russian prospects in nearly all of Bellator's tournaments this season and Volkov is one of the names. For Rogers, this is a HUGE fight considering the fact that he's turning 32-years old in about four months. If he cannot get his feet under him in the Bellator tournament, the future for him in the fight business is pretty bleak.
Rich Hale vs. Mike Wessel
A light heavyweight against a heavyweight, that's what this quarterfinal match-up features.
Richard Hale is 19-4-1 overall but has fought above 205-pounds just once since coming to Bellator early in 2011. He knocked out Carlos Flores at a 210-catchweight last October. His success came in the season four light heavyweight tournament in which he made it to the finals before losing the $100,000 payday and the championship to Christian M'Pumbu.
Then, there's Mike Wessel. The former UFC fighter (he appeared on TUF 10 and suffered a loss to Antoni Hardonk at UFC 92) is 12-4 overall. Since leaving the UFC, he's bounced around smaller promotions and made his Bellator debut this summer when he won a split decision over Ryan Martinez to earn this tournament spot.
Wessel is only six-feet tall but he's over 250-pounds and unless Hale beefed up to around 220-pounds, he's looking at having a 30 or 40-pound weight advantage. The stout Wessel against the tall Hale, someone is dropping the other and moving on.
Mark Holata vs. Vinicius Queiroz
Bellator veteran Holata returns for his second shot at a Bellator tournament win following his first round knockout loss to Ron Sparks one year ago. It's been his only blemish since 2009, while he's won nine fights in that span. He last competed in the spring when he stopped Abe Wagner with an Achilles lock.
His opponent is Brazil's Queiroz who is taking his first fight since October 2010 when he was choked out by Rob Broughton at UFC 120. Why the long break? Vinicius failed a UFC-sponsored drug test because of anabolic steroids and was fired. He sat out a year before signing with Bellator and here he is. Queiroz is a 6'7 heavyweight out of the Chute Box camp in Curitiba. Prior to his UFC loss, he was 5-1 including five knockouts.
Although Queiroz has a four-inch height advantage, it's Holata who will likely be at least 20-pounds heavier when they step inside the cage tomorrow night.
---
WEEKLY ULTIMATE FIGHTER SINKING SHIP UPDATE
As the ongoing Ultimate Fighter season on FX's Friday line-up chugs along, I will use this space to give you a weekly update on how well (but more realistically, how poorly) the show is doing in terms of attracting viewers. I have written about the earlier episodes in past columns, so here's the info on last week's third episode.
Overall Viewing Audience: 775,000 (down 11% from Ep. #2 and down 19% from the season premiere)
Rating for 18-49 Demographic: 0.5 (equal to Ep. #2 and the season premiere)
The 18-49 rating is tied for 17th overall among the top 100 cable shows last Friday night. Essentially, that's all FX cares about because they were persistent on keeping the series on that night, against the wishes of UFC President Dana White. Though, I don't know what to say about the fact FX is satisfied their primetime series is doing a lower number, in the all important demographic, than overnight reruns of such cable behemoths like Robot Chicken and Family Guy.
To its credit, TUF held the 0.5 that the preceding random FX movie did from 7pm-10pm. However, TUF lost over 400,000 overall viewers of the movie's audience while the random FX movie that followed TUF at 11pm did 809,000 overall viewers.
Can you say, buzzkill?
Source: TVByTheNumbers.com
---
– Former Strikeforce light heavyweight champion "King Mo" Muhammed Lawal will make his live Impact Wrestling (TNA) debut this evening on Spike TV. They are beginning to promote his involvement in their pay-per-view later this month in which Lawal will act as a ringside enforcer for a match. King Mo is also preparing to make his Bellator debut in January where it's assumed he will embark on a run in the next light heavyweight tournament.
– The first World Series of Fighting show is close to completion for its November 3 debut on NBC Sports. The TV portion of the card features: Andrei Arlovski vs. Devin Cole, Miguel Torres vs. Marlon Moraes, D.J. Linderman vs. Rumble Johnson, Josh Burkman vs. Gerald Harris, Rony Torres vs. Brian Cobb and Gregor Gracie vs. Tyson Steele.
The prelims will feature JZ Cavalcante, Bobby Lashley, Rolles Gracie and James McSweeney in separate fights against yet to be determined opponents. Whether these fights will air in any format has not been confirmed.
– Forrest Griffin told Ariel Helwani he failed a drug test following his loss to Anderson Silva in 2009 because of Xanax, an anti-anxiety prescription drug (Griffin said he had difficulty sleeping prior to the day of the fight). The Pennsylvania State Athletic Commision did not make public the failed test or the 30-day suspension he received. The PSAC did inform the Association of Boxing Commissions (which oversees many state athletic commissions including Nevada) of the suspension without detailing the reason. We now know the reason for the secrecy was in accordance with privacy laws (involving patients and their medical records). Based on all the information available, Griffin served his suspension and has gone forward since without failing another drug test.
– Former WWE champion Dave Bautista (finally) makes his professional MMA debut Saturday night in Rhode Island when he fights Vince Lucero (22-22-1). You can order the card on DirecTV PPV or directly on Bautista's website via internet PPV for $30. Some of the other fights scheduled include David Loiseau vs. Chris McNally, Saul Almeida vs. Calvin Kattar, John Howard vs. Brett Chism and Mike Campbell vs. Gemiyale Adkins.
– OneFC 6 from Singapore is Saturday with a card full of name fighters. The 9-fight card features the following match-ups: Shinya Aoki vs. Arnaud Lepont, (Lightweight Championship) Kotetsu Boku vs. Zorobabel Moreira, (Bantamweight Championship) Leandro Issa vs. Soo Chul Kim, Melvin Manhoef vs. Ryo Kawamura, (Bantamweight Grand Prix Round 1), Jens Pulver vs. Yanfei Zhao, (Bantamweight Grand Prix Round 1) Masakatsu Ueda vs. Min Jung Song, (Bantamweight Grand Prix Round 1) Kevin Belingon vs. Yusup Saadulaev, Bruce Loh vs. Gianni Subba and Mitch Chilson vs. Ngabdi Mulyadi. You can watch the show live for $10 via the OneFC web-site.
– Also on tap this weekend, but FREE, is Invicta Fighting Championship 3. The all-female fight promotion has featured some great fights earlier in the year and they're expecting more of the same. There's a 13-fight card, here are some of the more marquee fights: (Atomweight Championship) Jessica Penne vs. Naho Sugiyama, Shayna Baszler vs. Sara D'Alelio, Barb Honchak vs. Aisling Daly, Tara LaRosa vs. Vanessa Porto, Michelle Waterson vs. Lacey Schuckman, Julia Budd vs. Elaina Maxwell and more! The show will air live on the Invicta website for FREE Saturday night.
– Confirmed this week by MMA Opinion are UFC cuts of fighters Michihiro Omigawa, Charlie Brenneman, Walel Watson, Eiji Mitsuoka and Tommy Hayden. Combined, the five fighters went 1-10 in the UFC this year (Brenneman's January win over Daniel Roberts is the lone victory).
---
THE FIVE BIGGEST FIGHTS OF THE WEEKEND
There's a lot of action this weekend as I noted above, here are the top 5 fights you should be looking forward to just like me!
5. Dave Bautista (0-0) vs. Vince Lucero (22-22-1) – CES MMA: Real Pain, Saturday Night
– Formerly "The Animal" and now known as "Brass Body," Bautista finally makes his MMA debut tomorrow night following multiple changes in opponents. Remember, he was in negotiations with Strikeforce years ago to fight Bobby Lashley but then they sold to Zuffa and those talks came to an abrupt end. Give credit to the man for pursuing a dream despite being over 40-years old and all the damage he's absorbed after years of pro wrestling. As for Lucero, he has won his past two fights, but before that, he went 1-9-1 from 2008-2011 (including losses to Devin Cole, Lavar Johnson, Eddie Sanchez, Tim Sylvia and Ron Sparks).
4. Jessica Penne (9-1) vs. Naho Sugiyama (8-0) – Invicta FC 3: Penne vs. Sugiyama, Saturday Night
– The battle over the new Invicta Atomweight Championship (105 lbs) features the top two fighters in the division when the undefeated Sugiyama battles Penne. The 34-year old Sugiyama has dominated her opposition in Japan's GCM and Jewels promotions, while 29-year old Penne is perfect since dropping down following her loss to Bellator women's 115-pound champion Zoila Gurgel. In her last fight, she knocked out Lisa Ellis at Invicta FC 1.
3. Phil Harris (21-9, 1 NC) vs. Darren Uyenoyama (7-3) – UFC on FX 5: Browne vs. Bigfoot, Friday Night
– This flyweight fight will air on the Fuel portion of the UFC card tomorrow and is an intriguing match-up for multiple reasons. First, Phil Harris is considered the top flyweight out of Britain following his drop to the weight class ear lie this year. For his career, 17 of his 21 wins have come by knockout or submission. Meanwhile, Darren Uyenoyama returns for his first fight in 11 months since he defeated Kid Yamamoto on the first UFC on Fox card. He's fought as heavy as 145, but it appears he'll settle into his natural weight in the UFC flyweight division.
2. Melvin Manhoef (25-9-1) vs. Ryo Kawamura (15-6-4) – ONE FC 6, Saturday Night
– Everyone loves watching Manhoef fight and ironically, he's coming off his first decision win in seven years. The man with some of the fiercest knees and kicks in the sport will fight Kawamura who won his previous two fights from knocking out his opponents with a knee and a soccer kick. What does it spell? Awesome!
1. Jussier da Silva (14-1) vs. John Dodson (13-5) – UFC on FX 5: Browne vs. Bigfoot, Friday Night
– People, myself included, have been wanting to see the UFC expand the flyweight division all year aside from the recently concluded inaugural tournament and we're getting what we asked for. As I talked about in my coverage at the top of this column, da Silva (in his UFC debut) and Dodson are two of the top flyweights (125 version of JDS was considered THE best until a decision loss to Ian McCall 20 months ago) and these guys move at a pace of a mile a minute.
---
JUGGERNAUT VIDEO OF THE WEEK
In a sequel to their conversation in Japan in February, Ariel Helwani and Quinton "Rampage" Jackson spent time around New York City recently. Below is nearly an hour worth of footage, check it out when you have some free time.
TWITTER
http://www.twitter.com/411mania
http://www.twitter.com/411wrestling
http://www.twitter.com/411moviestv
http://www.twitter.com/411music
http://www.twitter.com/411games
http://www.twitter.com/411mma


*Don't forget to check out the new 411mania Comment Section below. All you have to do is quickly set up an account with Disqus (below) and voila, you're good to go!*
comments powered by Disqus